Teaser: Zegeningen van Caroline Albertine Minor
Thisishowweread zet de literaire week goed in met een teaser uit het nieuwste boek van Caroline Albertine Minor. De Deense schrijfster is een prijsbeest pur sang en rijfde met Zegeningen verschillende prijzen en nominaties binnen: de Michael Strungeprijs,  The Great Tour en nominaties voor de Montana literatuurprijs, de Politieke literatuurprijs en de literatuurprijs van de Noorse Raad.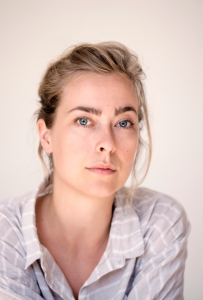 Zegeningen, een intense en oprechte verhalenbundel, brengt hoop waar duisternis en verdriet heerst. Een uitwisselingsstudente pleegt zelfmoord in Australië, een jonge moeder rouwt stiekem om de dood van haar minnaar en een dochter zoekt toenadering tot haar stervende vader. Verhalen rond rouw, maar ook rond troost en warmte uit onverwachte hoek: een toevallige ontmoeting, een koffie of vriendschap.
Thisishowweread mag een teaser publiceren uit Zegeningen. Op 2 november is Carolina te gast bij Crossing Border voor wie, na deze teaser en het boek, nog niet genoeg kunnen krijgen van deze getalenteerde schrijfster.
Op een bankje in Engehaveparken gaven we het gewoon op. Ik bleef zitten en keek hoe hij wegstrompelde in zijn halflange, zwarte jas met een enorme behoefte om hem in de rug te schieten. Ik wilde zien hoe hij omviel en bleef liggen in het grind. Een karikatuur van een mens, maar ik was onmenselijk. Ik was nauwelijks meer in staat hem met respect te behandelen, maar sloeg en beet en spuugde en schopte. In de loop van het jaar dat sinds het ongeluk was verstreken, had ik een antiek vergrootglas, onze deur, een boek met Manara's tekeningen en een aantal sweaters van hem vernield. Ik wandelde het park uit, terug naar de win- kel die we met lege handen hadden verlaten en kocht een mondharmonica en een puzzel voor onze zoon.
We zouden samen kerst vieren, dat was voor iedereen goed. Hij gaf me twee flessen rode wijn en De wolverkoper en andere verhalen van St. St. Blicher. Vijf jaar eerder, ik: twintig jaar, verdoofd door verliefdheid en seks, met mijn hoofd op zijn borst, hij leest me voor uit De zigeunerin in de slaapkamer die uitkijkt over een overwoekerde binnenplaats. Zijn stem is nog niet gebroken, maar rustig en flink hoger dan je zou ver- wachten als je hem ziet. Want hij is lang en donker en breed, mijn M., met een volle baard en een gewelfd voorhoofd. Hij las me op een avond in het begin van onze relatie voor uit De zigeunerin. Maar dat kan hij zich niet langer herinneren. Die herinnering huist nu alleen in mij en het boek heeft hij waarschijnlijk gekocht omdat hij wist dat hij zelf van Blicher hield. Hij vroeg me om de cadeaus voor het avondeten uit te pakken, alsof hij benieuwd was naar mijn reactie. Of misschien wilde hij zijn familie ervoor behoeden? Misschien dacht hij wel zo ver vooruit. Ik zat aan de keukentafel en scheurde het papier eerst van de ene, toen van de andere fles, het boek als laatste in de hoop dat het zou opwegen tegen de vernedering van de wijn. De teleurstelling kneep mijn keel dicht toen ik hem bedankte. Mijn schoonvader legde een arm om me heen en nam me mee naar boven naar zijn werkkamer. Lieve schat, zei hij, en ik huilde op zijn zachte schouder, lieve schat, lieve schat.
Ik loop de trap af naar het water en wandel erlangs. Het is 24 december, kwart over zeven, er zijn geen andere mensen op straat. Het is blauw boven de zee en het regent lichtjes. Bij het fort kom ik toch een gezin met kinderen tegen. Ze spreken een taal die ik niet versta. Ze lopen me via de trap tegemoet, ik zit op het bankje en wieg heen en weer op het rit- me van mijn eigen ademhaling. Niemand glijdt uit op de natte treden, hun gezichten lichten op tegen het donker en hun zwarte haar. Heeft ze hen alle vijf gebaard? Ik besef dat ik nooit zelfmoord zou kunnen plegen. Hier ben ik er het dichtst bij, maar ik ben er ook nog steeds ver van verwijderd. Als ik terugkeer naar de anderen, staat de gebraden eend op tafel en vraagt niemand waar ik ben geweest. M. is blij met de handschoenen en de veel te dure whisky.
De neuropsycholoog op afdeling 123 sloot een van onze korte, nutteloze besprekingen af door me een Chinees spreekwoord te citeren: Je verlaat de tuin der droefenis met een geschenk in je hand, zei hij, maar hij gaf geen antwoord toen ik vroeg wat er zou gebeuren als je zou weigeren. Als je liever bleef.
Die dag in Engehaveparken was het vijf jaar, zes maanden en vijftien dagen geleden dat ik bij de ar-chitecten als receptioniste werd aangenomen en de eerste keer dat ik in een vloeiende beweging de negen jaar oudere M. aan de andere kant van de model-werkplaats met het hoge plafond zag en liefhad, twee jaar en zeven dagen geleden dat ik onze zoon baarde en een jaar en vier dagen geleden dat de vader van mijn kind eerst met zijn hoofd tegen de voorruit van de taxi klapte, daarbij spinnenwebachtige barsten in het glas achterlatend, vervolgens tegen het asfalt, met zo'n smak dat zijn hersens in zijn schedel heen en weer werden geschud. Het ergste is niet de smak, maar de terugslag, werd me later verteld. Ik had een oproep gemist van de man die hem had gevonden. De gedachte alleen al. Dat het scherm van mijn mobiel oplichtte in onze slaapkamer, dat hij op het natte wegdek lag, terwijl ik verder sliep. De gedachte alleen al.
De agenten zeiden constant mijn naam, misschien is dat iets wat je op de politieschool leert. Je naam is als een hand die door jouw verbijstering reikt en je aan je kraag overeind houdt: Doe je kleren aan, Caroline, en kom naar beneden, Caroline, dan brengen we je naar het ziekenhuis. Doe je kleren aan en kom naar beneden. Ik trilde te veel voor sokken. Het gevoel van blote voeten in rubberlaarzen in december en borsten, zacht van het borstvoeding geven, die onder de wollen trui aan mijn buik plakten. De twee mannen zagen er doorsnee uit, schoon en gekleed in dezelfde donkerblauwe coltruien met gouden knopen op de schouders. Een van hen vroeg of ik moest overgeven. Een van hen ging op de achterbank zitten en hield mijn hand vast. Ik was die dag naar de kapper geweest en toen we later hadden gevreeën, had ik heel even het gevoel dat er een derde, sterk gepar- fumeerde persoon bij ons in bed had gelegen. In de wachtkamer van het traumacentrum kon ik de producten in mijn haar weer ruiken, terwijl een gebed in me omhoogkwam als mist en misselijkheid. Om de tijd met iets anders te vullen dan angst herhaalde ik het woordeloos. Laat hem niet sterven/ Ik ben nog niet klaar met leren/ Ik ben nog niet klaar met liefhebben, bad ik. Laat het hem niet zijn/ Laat het een ander zijn. Kon ik het lichaam veranderen, het op het laatste moment omruilen voor een willekeurige onbekende? Hij lag naakt onder een deken op de brits. Zijn urine in een matte plastic zak, de geur van feest hing om zijn lichaam. Ik kuste zijn voorhoofd en zijn jukbeen, dat glom van de stukjes asfalt, maar dat nog niet was opgezwollen, dat zou pas in de loop van de nacht gebeuren, mopperde zachtjes op hem. Je hebt me dit beloofd. Je hebt me dat beloofd.
Zegeningen, Caroline Albertine Minor, Das Mag