Met Lara naar een Huis van Liefde
Geen beter moment voor een citytrip in eigen land dan deze winter. Nu buitenlandse toeristen België tijdelijk vermijden, komt een stad als Brugge tot rust & tot haar recht. Wij hadden er een literaire date met schrijfster Lara Taveirne in 'exclusive guesthouse' Number 11.
"Ik heb een huis van liefde", grapt gastvrouw Carine Destrooper-Deprez. "Lees er mijn gastenboek maar op na. Hier komen veel jonge koppels overnachten en zijn al regelmatig huwelijksaanzoeken gebeurd."
Dat willen Katrien, Eveline en ik rustig geloven. Number 11 ademt romantiek. Het guesthouse integreert drie aanpalende 17e eeuwse panden, telt drie unieke kamers en een suite en biedt verder een gezellige gezamenlijke ruimte met open haard, een ruime keuken en een binnentuin.
"Mijn gasten komen om te onthaasten, in een luxueus kader met een persoonlijke toets. Twintig procent van ons publiek is Belgisch. Daarnaast krijgen we veel Engelsen, Duitsers, Fransen en Amerikanen op bezoek.
Enkele scènes uit de film In Bruges werden bij ons opgenomen. Amerikanen zijn daar wel gevoelig voor."
Euh, boekenmeisjes ook hoor. Wat goed genoeg is voor Colin Farrell, is goed genoeg voor ons – zeggen wij altijd maar. Bijgevolg kozen we Number 11 om de aanstaande, eerste verjaardag van This Is How We Read te vieren. "Speciale gelegenheden, daar kennen we hier iets van", zegt Carine Destrooper. "Champagne bij het ontbijt, in de zomer een flesje wijn in de tuin of 's winters gezellig rond de open haard… Wij bieden gasten een gezellig kader om iets te vieren."
Als 'special guest' voor ons verjaardagsfeest in Number 11 nodigden we schrijfster Lara Taveirne uit.
De winnares van de Debuutprijs 2015 is afkomstig van Brugge en in haar tweede roman Hotel zonder Sterren (uitgeverij Prometheus) speelt een luxehotel een bijzondere rol.
"Veel hotels in Brugge zien er aan de buitenkant leuker uit dan vanbinnen," zegt Lara Taveirne bij het binnen komen. "Dit guesthouse moet de uitzondering zijn. Zo sfeervol en ruim – echt een huis met een ziel."
En dan heeft ze de suite nog niet gezien – met een bibliotheek (!) en in de badkamer een ligbad voor twee personen.
Na ons interview en de fotoshoot met Lara (binnenkort in ELLE en op deze blog) duiken Eveline, Katrien en ik de stad in. Geen betere uitvalsbasis voor slentergangetjes door pittoresk Brugge dan Number 11. Het pand ligt in een verkeersvrije straat, vlakbij de Groene Rei (aka het mooiste kanaal van Brugge) en het oudste bruggetje van de stad.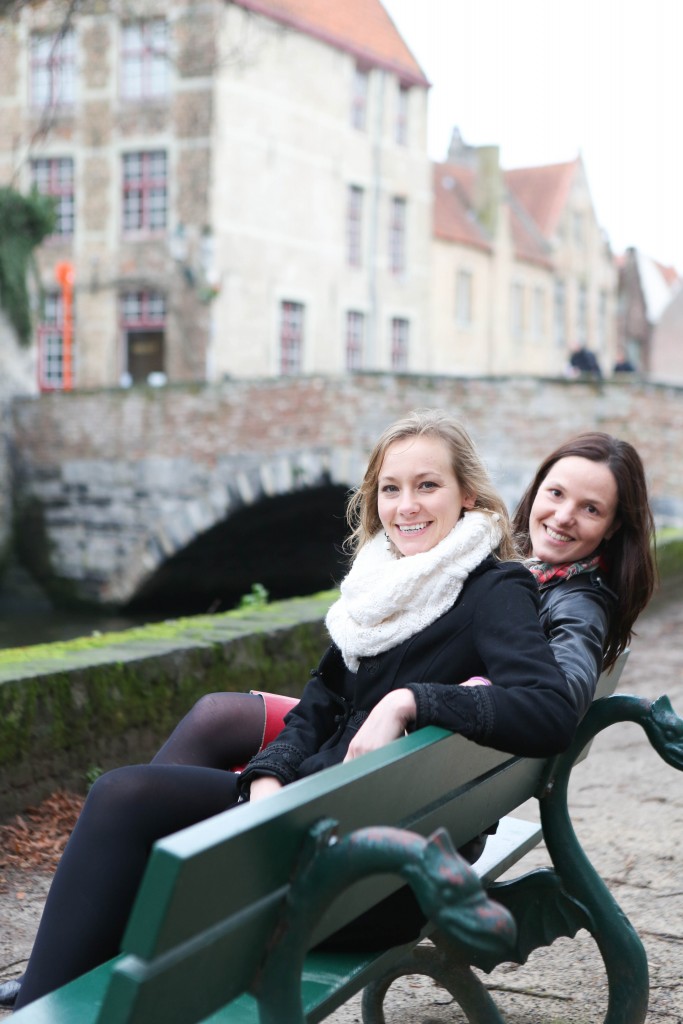 's Avonds genieten we na in onze 'Grijs-Witte Kamer' onder de nok van het dak. We laten ons vallen in de kussens, bewonderen de Italiaanse renaissanceprint van het behangpapier, zetten nog een pot thee en smeden een paar plannen voor het blogjaar 2016. Op ons bed vinden we zelfs een koekje. Van Jules Destrooper.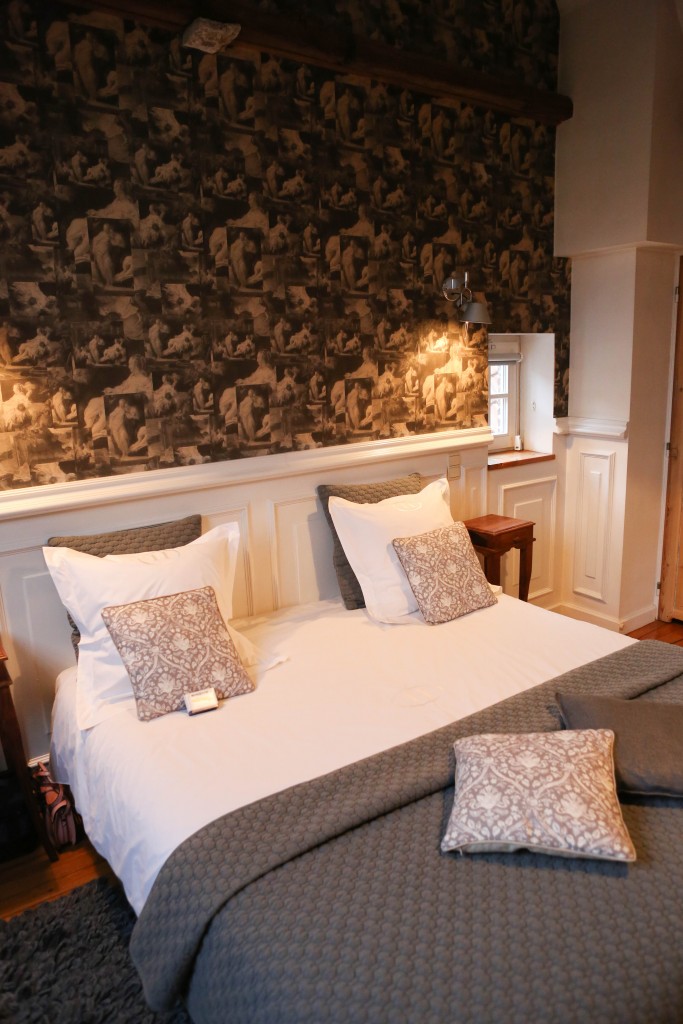 Inderdaad, Carine Destrooper-Deprez is de vrouw van Patrick Destrooper… van het koekjesimperium en de koffiebranderij. De volgende morgen vertelt ze ons haar verhaal.
Carine: "Patrick en ik logeerden hier in 2008 met een ander koppel. Aan het ontbijt liet ik me ontvallen dat ik droomde van het uitbaten van een zaak als deze.
De eigenares hoorde dat en bekende prompt dat zij en haar man – de schilder van het grote, surrealistische doek in de ontbijtruimte – met het idee speelden om hun guesthouse te verkopen. En kijk, vandaag zit ik hier!" Carine heeft één gouden leidraad bij het runnen van haar zaak: "Ik stel mezelf altijd de vraag – 'Hoe zou ik het graag hebben?'" Daarop stemt ze de kleine attenties af die ze haar gasten meegeeft. Carine: "Ik voel ook goed aan of mensen privacy willen en rust, of net een gezellige babbel en leuke tips voor hun bezoek aan de stad."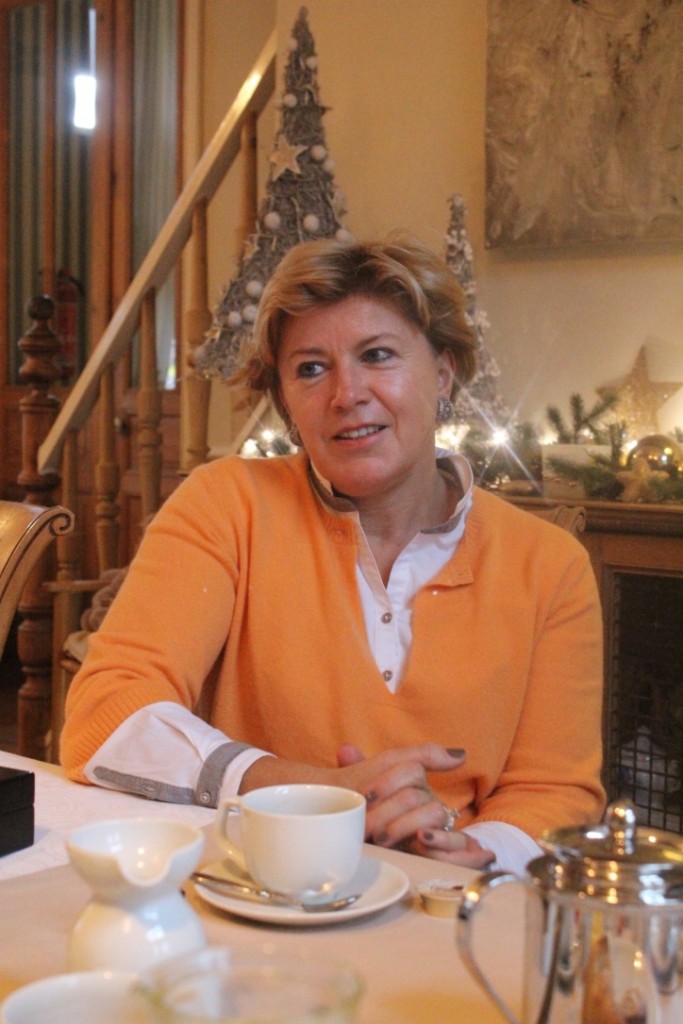 Terwijl Eveline en ik ons vervolgens op de broodjes, koffiekoeken, yoghurt, het roerei, fruit en sap storten, ziet Katrien kans om haar favoriete ontbijtboek te fotograferen. Literatuur, altijd en overal – daar gaan we voor.
PS: Lara Taveirne werd door haar ouders vernoemd naar de heldin uit Dokter Zjivago. Hoe kan papieren man Dirk Leyman nu beweren dat niemand die klassieker leest?
PPS: Nog een leeshotel en nog een literaire nieuwkomer
PPPS: Destrooper zijn literaire koekjes… Ze worden gegeten in de romans van Knausgard!