Zo, we bestookten je eerder al met literaire hebbedingen en lijsten met boekgerelateerde kerstcadeautjes. Om helemaal in de stemming te komen voor het feestseizoen, vervolledig ik de rubriek 'cadeautips' met boekentips voor literatuurfreaks, de inner DIY diva (of divo) en mensen met grootse plannen voor 2O16.
Kleppers voor de literatuurfreak.
Stad in brand, Garth Risk Hallberg.
Hallberg begon aan de roman zonder de intentie te hebben het ooit te publiceren. Wat doe je dan als schrijver? Je helemaal laten gaan. 1O88 pagina's later ligt zijn debuut in de boekenwinkel en wordt hij overal getipt als 'the one to watch'. Om zo'n boek te vullen, schept Hallberg een hele waslijst aan personages en opent hij with 'a bang': op nieuwjaarsnacht 1976 klinken enkele geweerschoten. De zoektocht naar de dader kan beginnen.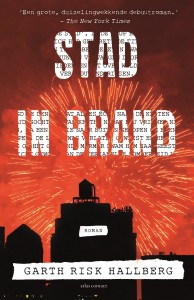 Schiet maar, ik ben toch al dood, Julia Navarro
Navarro houdt zich iets meer in en klokt af op zo'n 8OO pagina's. De opzet is echter niet minder groots: Navarro vervlecht honderd jaar wereldgeschiedenis in de levens van twee families. De Russisch-Joodse familie Zuckerman ontvlucht het Tsarenrijk aan het eind van de 19e eeuw en koopt in Israël een stuk grond van de Arabische familie Ziad. Navarro schrijft zinnelijk en brengt geuren, kleuren en emoties tot leven.
Snuisterboeken voor de DIY-diva (en divo)
DIY met decoratieve verf voor elke stijl, Annie Sloan
Annie Sloan ontwikkelde enkele jaren geleden haar eigen verf: Chalk Paint. Dit boek is al haar tweede  en bevat tal van ideetjes om zelf creatief aan de slag te gaan met muren, meubels en prullaria. In verschillende hoofdstukken brengt ze enkele diverse interieurstijlen tot leven: Modern retro, Bohémien, Landelijk rustiek en Pakhuis. Ook krijg je de ontwerp principes nog eens uitgelegd en zal de klusser in de familie meteen kunnen wegdromen bij fabelachtige foto's.
Vive la vie, Ingrid van Willenswaard
Een boekje vol kringloopgeluk met originele knutsel- en frutselideetjes, zelfmaakprojecten, fijne vondsten en beeldige plaatjes. Ingrid houdt het speels met uitknipvellen, patronen en kleurplaten. De pagina's staan vol spreuken en tips om het leven door een roze bril te zien. Ideaal voor de vrolijke en creatieve flierefluiter op het feest.
Tips voor start-ups en ondernemers
Start in je garage, Hans Hermans
Crisisbestendig ondernemersadvies voor die neef die al zo lang met z'n ei zit… en geen centen heeft. 'Start in je garage' geeft tips om goedkoop je eigen zaak te beginnen door out of the box te denken. Tenzij je een garagebox hebt staan, natuurlijk. Advies zoals werk gratis, doe aanruilhandel, combineer met coworking en recycleer verpakkingen triggert nieuwsgierigheid en zorgt voor een andere, frisse kijk op de (nieuwe) zaak. Via de site Startinjegarage volg je ook online coaching.
Geniaal begonnen, half gewonnen, Hans Hermans
En als je ondernemende zus haar oor eens te luisteren legt bij diegenen die haar zijn voorgegaan in het opstarten van een nieuwe zaak? Zo vertelt Maurice Engelen van Praga Kahn hoe hij zelf avond na avond op de dansvloer stond om energie op te pikken van de crowd en inspiratie op te doen voor een hit. Naast getuigenissen en tips krijgt de lezer ook boekentips en links naar handige sites. En je zus zal ook helemaal weg zijn van het handige handtasformaat.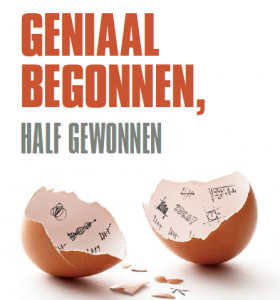 Nog niets gevonden voor de tante, vriendin of lover? Volgende week volgt deel twee van de boekentips.