Over die keer dat ik Renate Dorrestein uitnodigde op mijn leesclub
75 dagen, zo lang deed ik over Onder de motorkap van het schrijverschap van Renate Dorrestein (1954-2018). Een staaltje bewuste 'slow reading' want ik pende 38 citaten over en gaf het boek 5 sterren op Goodreads. Ambities om een roman te schrijven heb ik niet meteen, maar Dorresteins inkijkje in het brein van een schrijver kweekt ook betere lezers.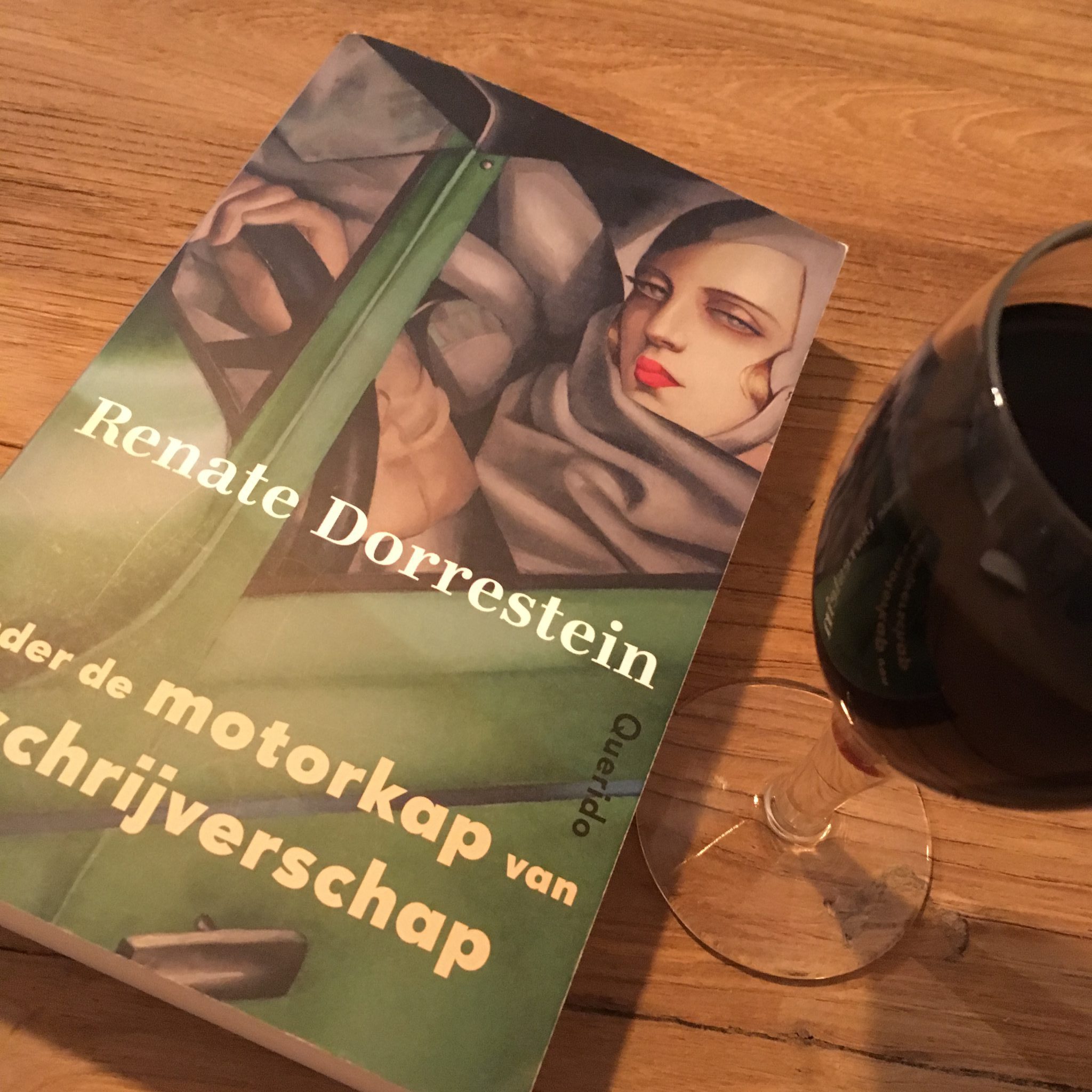 Daarom neem ik Dorrestein op een doordeweekse maandag stiekem mee naar mijn leesclub rond Buzz Aldrin, waar ben je gebleven? van Johan Harstad. Renate schuift meteen aan in een levendige discussie over welke elementen een verhaal realistisch doen aanvoelen. De dames van mijn leesclub vergelijken daarbij Johan Harstad met Murakami, sleuren er (terecht) de willing suspension of disbelief bij, om te concluderen dat een verhaal je soms moet overkomen, dat je je niet mag laten afleiden door de realiteit die zich opdringt. Heel beheerst onderbreekt Renate ons groepje:
"Het gevoel van levensechtheid dat literatuur moet uitstralen, komt zelden tot stand door realiteit uit te delen per vierkante meter. […] Enerzijds is 'waargebeurd' meestal een hinderpaal, maar anderzijds wil het gemiddelde verhaal niets liever dan waargebeurd lijken."
Ja, zo is het wel, mompelen we. Maar terwijl Renates woorden amper koud worden, rukt de leesgroep een volgend punt van kritiek aan. Dat het toch zo'n dik boek is, met veel vertakkingen, alsof de schrijver op zijn 23ste alles wat hij wist in één roman wilde stoppen. Klopt, roept Renate verrukt uit en ze voegt er meteen aan toe dat dit ook zijn gevaren heeft. Ze kan ervan meespreken:
"Aangezien je in je eerste boeken schrijft over wat je het meest na aan het hart ligt, raakt je geestelijk werkkapitaal onopgemerkt uitgeput."
Zou het dan toch kloppen, dat je pas een schrijver bent, als je een zeker aantal boeken hebt geschreven? En hoeveel zijn dat er dan? Van een columnist kan je toch ook niet spreken als hij maar één column schreef, vertelde An Olaerts ons ooit: "Iedereen heeft minstens één geweldige column in zich. Het is de kunst om elke week, of elke dag een goede column te maken."
"Maar hoe zit dat nu met dat geld?" en "Het klopt toch niet dat Harstad dat hier zo schrijft, want…" Enkele leesclubdames zijn gefrustreerd, want ze hebben zich – al dan niet terecht – vastgereden op details. Een beetje leesclubmisvorming, die ik doorgaans aanmoedig. Want uiteraard is het leuk om dieper te graven en verbanden te leggen. Maar hoe weet je nu op welke details je moet letten en welke je mag negeren. Renate licht een tipje van de sluier op:
"Als de postbode met naam en toenaam wordt geïntroduceerd, wordt de verwachting gewekt dat hij op een of andere wijze onmisbaar zal blijken te zijn in het verhaal. Gaat het in werkelijkheid slechts om de brief die hij komt bezorgen, dan kan hij maar beter uit de tekst worden verwijderd."
Na een uurtje analyseren gebeurt hetgeen ik zo bijzonder vind aan deze leesclub. Acht onbekende dames (en de mannelijke bibliothecaris) discussiëren over wat normaal is en wanneer een personage afwijkend gedrag vertoont… op een doordeweekse maandagavond tussen de boeken. Renate herkent de magie. Tevreden fluistert ze me toe:
"Dit is een roman die, zoals alleen romans dat kunnen, linea recta een kern in ons aanspreekt, die ons raakt zoals de beste non-fictie ons nooit zal kunnen raken, omdat fictie ons op een ander niveau beroert."
Even overweeg ik om Renate iedere keer uit te nodigen op mijn leesclub, maar als we even nakaarten bij een glaasje wijn en ze opvangt dat ik ook voor den brode boeken recenseer, reageert ze heel erg koeltjes:
"Er bestaat een natuurlijk spanningsveld tussen auteur en recensent, door Harry Mulisch samengevat in de verzuchting dat je zelf acrobatiek op topniveau bedrijft, maar wordt beoordeeld door leden van de plaatselijke gymnastiekvereniging."
Auch, die had ik niet zien aankomen! Volgende keer blijft Renate toch maar thuis.
Citaten uit 'Onder de motorkap van het schrijverschap' van Renate Dorrestein (Querido).