Afgelopen donderdag deden wij nog eens van date night. Als bestemming kozen we Brussel, en meer bepaald een bijzonder bar-restaurant aan de Nieuwe Graanmarkt: Brasserie Surrealiste. Een zaak met een verhaal. 7 redenen om er ook eens te gaan kijken.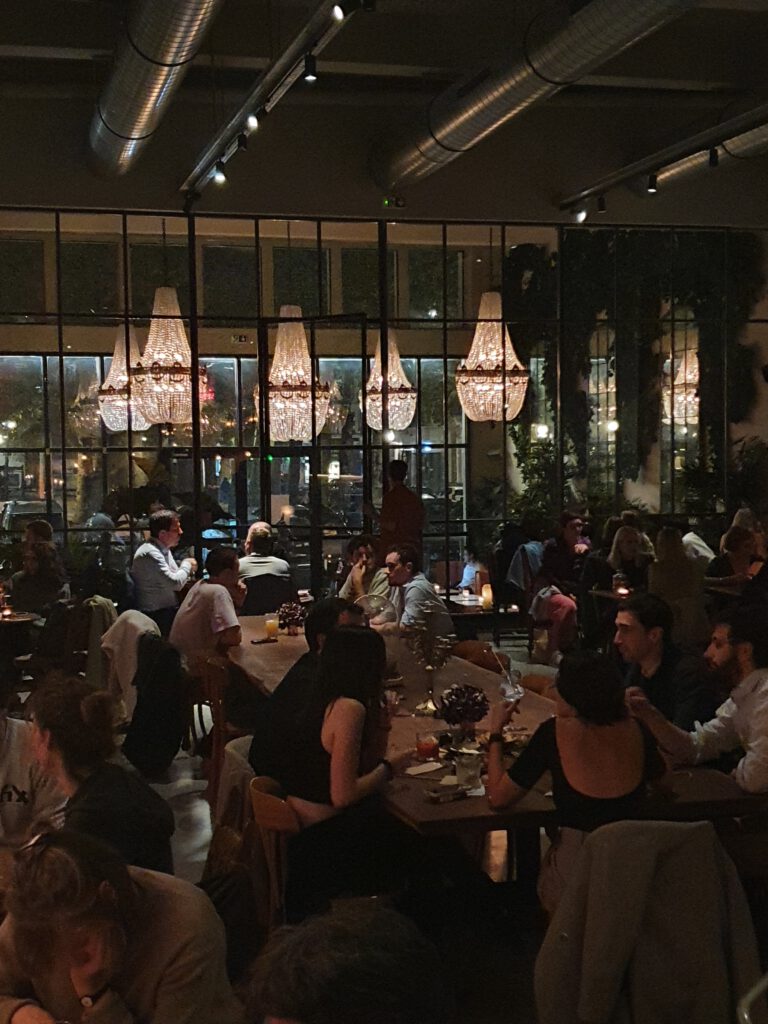 Locatie, locatie, locatie!
De Nieuwe Graanmarkt ligt in het hartje van de Dansaertbuurt. Op donderdagavond – wanneer wij erheen trekken – wordt er druk gebasketbald op het pleintje. De Brasserie trekt van ver onze aandacht: dat zal die indrukwekkende Art Deco-gevel (het gebouw dateert van 1932) in combinatie met die dramatische kroonluchters achter glazen wand zijn.
Ik herinner me dat ik in de late nillies hoedenmaker Christophe Coppens heb geïnterviewd in deze voormalige bananenopslagplaats – hij had tot 2012 zijn atelier in dit pand. Een plek met een ziel en een geschiedenis, die Brasserie Surrealiste.
De nieuwe eigenaars hebben het gebouw vanbinnen gestript zodat het industriële verleden weer naar boven komt. Nieuwsgierig gaan we naar binnen.
Swing from the chandelier
De ruwe structuur van het gebouw wordt gecounterd door de weelderige inrichting. De vijf Venetiaanse kroonluchters die ons van ver tegemoet blonken, hangen in het bargedeelte waar je binnenkomt. Je treft er ook een gesculptuurde fontein en zeteltjes die zo lijken weggelopen uit de betere Parijse salons. Wij hebben honger en gaan meteen naar het restaurantgedeelte, door de tweede hoge glazen wand. Ook daar veel stoelen met geborduurde rugleuning en tafeltjes met marmeren blad. Sfeervolle verlichting en een streepje live muziek (althans deze donderdag) maken de vibe af.
Huisgebrouwen biertje
In Brasserie Surrealiste moet je eigenlijk bier drinken, uit de microbrouwerij des huizes. Gelukkig heb ik Joris bij om die honneurs waar te nemen – zelf drink ik al een jaar geen alcohol meer. Ik bestel een Kombucha met kers als apero, Joris gaat voor de Surrealist Pale Ale. "Smaakt een beetje naar Vedette IPA," is zijn oordeel. Van een verstokte Vedette IPA-drinker is dat een compliment.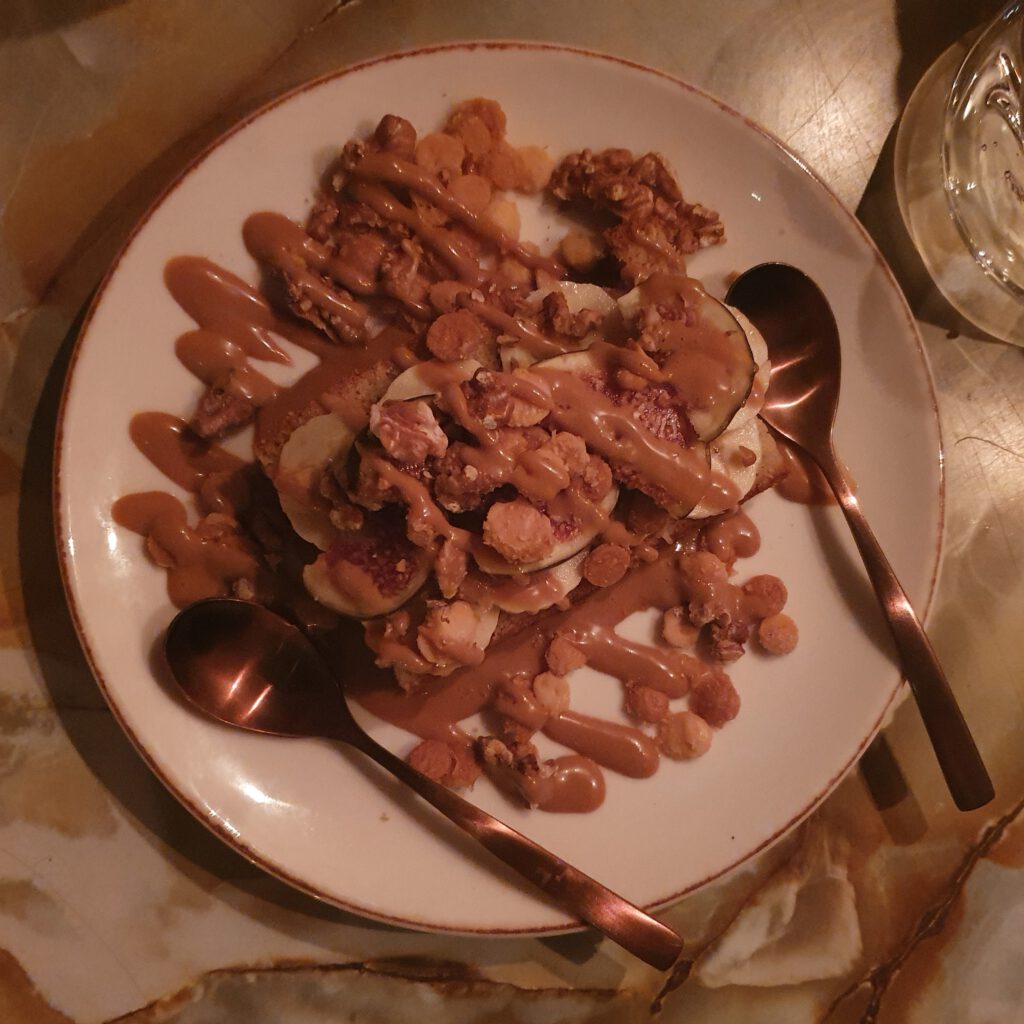 Food sharing
Ook al zit er 'brasserie' in de naam, voor een opgewarmde vol au vent of een portie op automatische piloot bereid stoofvlees, ben je bij Brasserie Surrealiste aan het verkeerde adres.
De compacte kaart bestaat uit verrassende bordjes om te delen, tapas-style.
Wij gaan voor Koreaanse ribbetjes en tijgergarnalen als appetizer, gevolgd door Argentijnse steak, pommes dauphines en heerlijk geroosterde wortels in een kruimelkorstje. Ik snap zelf niet hoe het mij lukt om daarna ook nog een snee bananenbrood weg te werken – het moet goesting zijn, want honger is al lang naar huis – maar ik ben blij met de bestelling, want die vijgen, dat sausje, die pinda's… Goddelijk!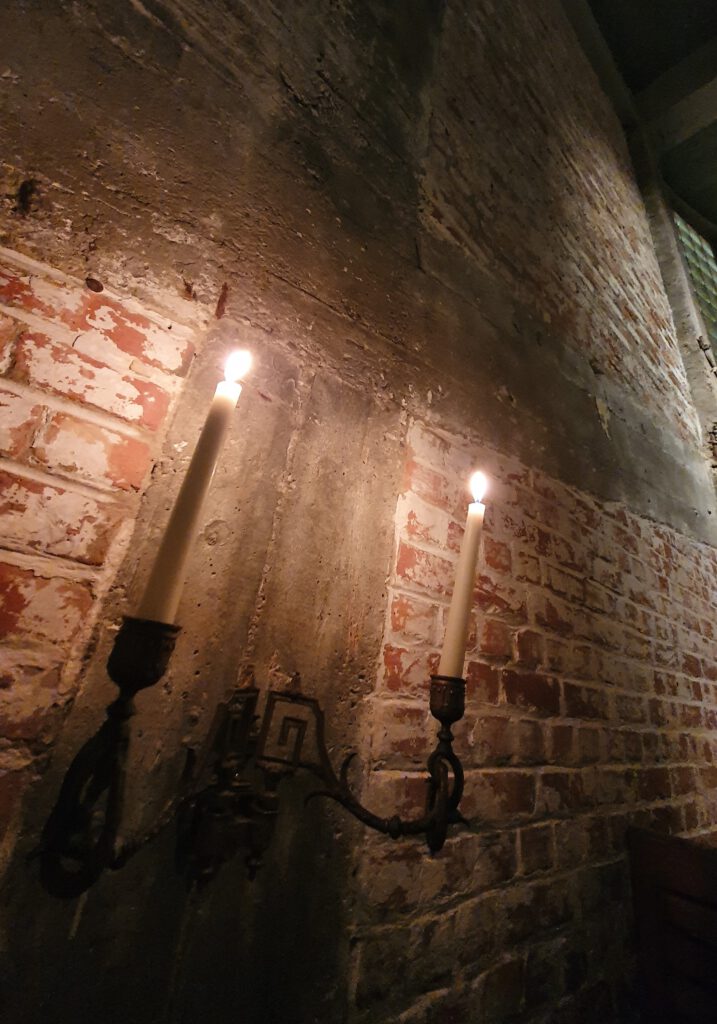 Belgisch, zo niet Belgisch
"Weet je waar deze plek me een beetje aan doet denken?" vraag ik Joris halverwege de maaltijd. "Dat art nouveau café aan die filmzaal in Praag…" Naast mij hangen twee kaarsen (geen led-lichtjes, mooie ouderwetse kaarsen) op een houdertje aan de muur. Mmmm, ja… De husband twijfelt aan die referentie. "Eerder aan die tangozaal in Buenos Aires." Enfin, ons punt is gemaakt. Deze plek doet dromen van grote steden. Waar we alleszins niet aan denken zijn alle restaurants bij ons in de suburbs van Bonheiden.
Brasserie Surrealiste trekt de kaart van het grootstedelijk élan. Met z'n rijke bierkaart en surrealistische knipoog schreeuwt deze plek België. In the most international way possible.
Brother Act
Sympathiek achtergrondweetje: de brasserie is het project van twee gedreven broers. De ene werkte bij Inbev (bier…), de andere verzorgde de marketing van desingmerken (een goed oog…). Kluts die twee werelden samen en je krijgt (anno 2018) twee broers die een biertje brouwen in hun garage en dat in Brusselse cafés op de kaart krijgen, (anno 2019) twee durvers die de sprong wagen, hun job opzeggen, een pand kopen in Brussel en verstrikt raken in coronaperikelen en red tape, (anno 2022) twee doorzetters die de deuren kunnen openen van hun droomzaak, een hotspot in onze hoofdstad, waar je kunt eten, drinken, en bier proeft dat lokaal en kleinschalig werd gebrouwen. Wil je meer weten? Elke vrijdag om 18u kun je intekenen op een tour van de brouwerij.
Verrassing!
Vergeet zeker niet om de kleinste kamer te bezoeken bij Brasserie Surrealiste. Naast de trap naar beneden staat een levensgrote – maar gelukkig niet levende – witte merrie (een paard in de gang, iemand?) en de vervormende spiegelwanden verraden dat het achterste deel van dit indrukwekkende pand af en toe dienst doet voor rave-avonden. Ceci n'est pas une combination impossible.
brasseriesurrealiste.com – Nieuwe Graanmarkt 22-23, Brussel. Open do/vrij/za