Hoe gaat het… met Ingrid Godon
Toen haar echtgenoot veertien jaar geleden onverwacht overleed, deed illustrator Ingrid Godon dapper door. Ze was zelf in behandeling voor kanker, ze concentreerde zich op haar werk en op overleven. In een nieuw boek vertaalt ze dat verdriet toch in beelden. 'Het is een heel kwetsbaar verhaal, zonder dat de mensen "ocharme Ingrid" zullen denken.'
Wij spraken met haar voor De Standaard Magazine, waar dit artikel eerder verscheen.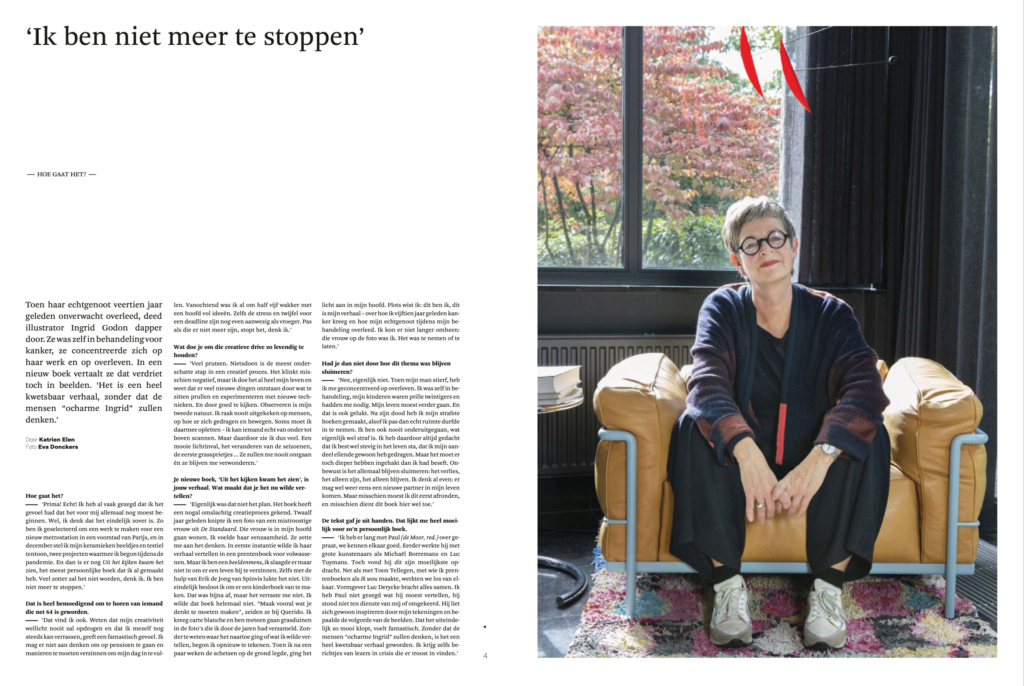 Hoe gaat het?
'Prima! Echt! Ik heb al vaak gezegd dat ik het gevoel had dat het voor mij allemaal nog moest beginnen. Wel, ik denk dat het eindelijk zover is. Zo ben ik geselecteerd om een werk te maken voor een nieuw metrostation in een voorstad van Parijs, en in december stel ik mijn keramieken beeldjes en textiel tentoon, twee projecten waarmee ik begon tijdens de pandemie. En dan is er nog Uit het kijken kwam het zien, het meest persoonlijke boek dat ik al gemaakt heb. Veel zotter zal het niet worden, denk ik.
Ik ben niet meer te stoppen.'

Dat is heel bemoedigend om te horen van iemand die net 64 is geworden.
'Dat vind ik ook. Weten dat mijn creativiteit wellicht nooit zal opdrogen en dat ik mezelf nog steeds kan verrassen, geeft een fantastisch gevoel. Ik mag er niet aan denken om op pensioen te gaan en manieren te moeten verzinnen om mijn dag in te vullen. Vanochtend was ik al om half vijf wakker met een hoofd vol ideeën. Zelfs de stress en twijfel voor een deadline zijn nog even aanwezig als vroeger. Pas als die er niet meer zijn, stopt het, denk ik.'
Wat doe je om die creatieve drive zo levendig te houden?
'Veel prutsen.
Nietsdoen is de meest onderschatte stap in een creatief proces.
Het klinkt misschien negatief, maar ik doe het al heel mijn leven en weet dat er veel nieuwe dingen ontstaan door wat te zitten prullen en experimenteren met nieuwe technieken. En door goed te kijken. Observeren is mijn tweede natuur. Ik raak nooit uitgekeken op mensen, op hoe ze zich gedragen en bewegen. Soms moet ik daarmee opletten – ik kan iemand echt van onder tot boven scannen. Maar daardoor zie ik dus veel. Een mooie lichtinval, het veranderen van de seizoenen, de eerste grassprietjes … Ze zullen me nooit ontgaan én ze blijven me verwonderen.'

Je nieuwe boek, 'Uit het kijken kwam het zien', is jouw verhaal. Wat maakt dat je het nu wilde vertellen?
'Eigenlijk was dat niet het plan. Het boek heeft een nogal omslachtig creatieproces gekend. Twaalf jaar geleden knipte ik een foto van een mistroostige vrouw uit De Standaard. Die vrouw is in mijn hoofd gaan wonen. Ik voelde haar eenzaamheid. Ze zette me aan het denken. In eerste instantie wilde ik haar verhaal vertellen in een prentenboek voor volwassenen. Maar ik ben een beeldenmens, ik slaagde er maar niet in om er een leven bij te verzinnen. Zelfs met de hulp van Erik de Jong van Spinvis lukte het niet. Uiteindelijk besloot ik om er een kinderboek van te maken. Dat was bijna af, maar het verraste me niet. Ik wilde dat boek helemaal niet. "Maak vooral wat je denkt te moeten maken", zeiden ze bij Querido. Ik kreeg carte blanche en ben meteen gaan grasduinen in de foto's die ik door de jaren had verzameld. Zonder te weten waar het naartoe ging of wat ik wilde vertellen, begon ik opnieuw te tekenen. Toen ik na een paar weken de schetsen op de grond legde, ging het licht aan in mijn hoofd. Plots wist ik: dit ben ik, dit is mijn verhaal – over hoe ik vijftien jaar geleden kanker kreeg en hoe mijn echtgenoot tijdens mijn behandeling overleed.
Ik kon er niet langer omheen: die vrouw op de foto was ik. Het was te nemen of te laten.'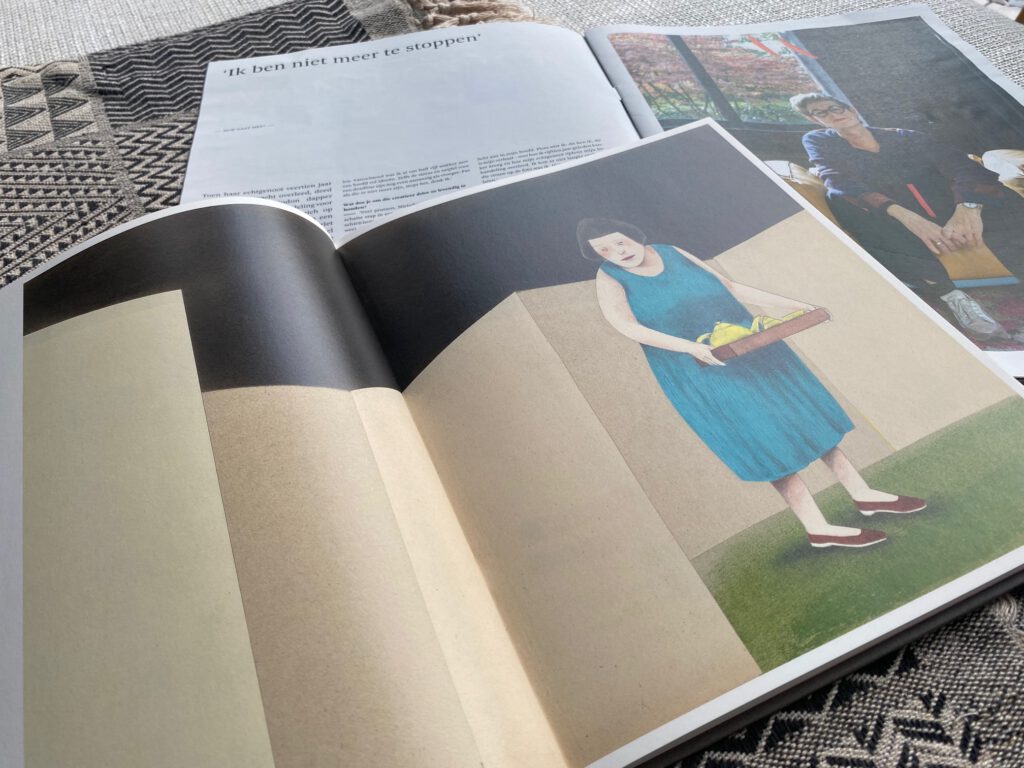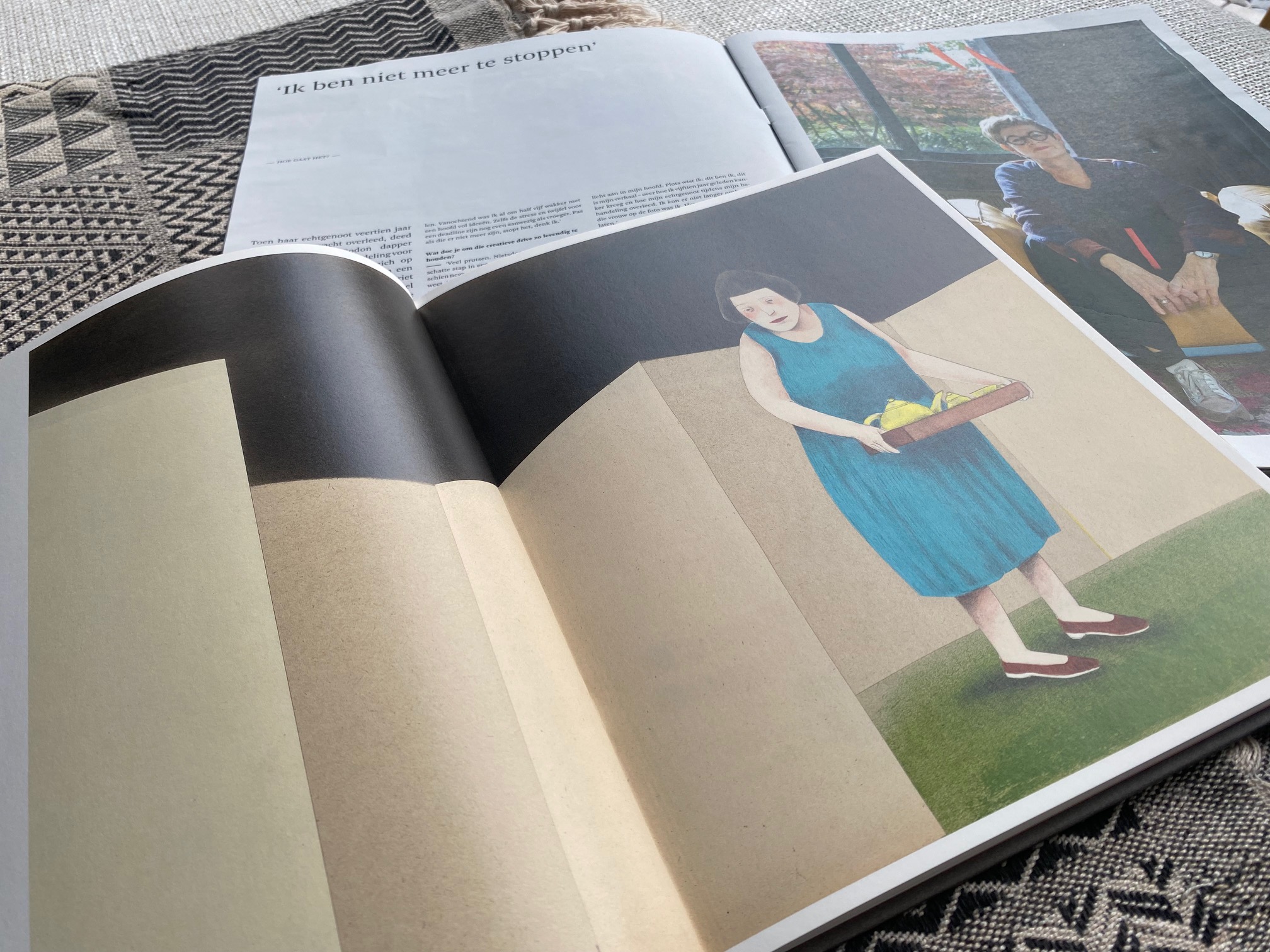 Had je dan niet door hoe dit thema was blijven sluimeren?
'Nee, eigenlijk niet. Toen mijn man stierf, heb ik me geconcentreerd op overleven. Ik was zelf in behandeling, mijn kinderen waren prille twintigers en hadden me nodig. Mijn leven moest verder gaan. En dat is ook gelukt. Na zijn dood heb ik mijn strafste boeken gemaakt, alsof ik pas dan echt ruimte durfde in te nemen. Ik ben ook nooit onderuitgegaan, wat eigenlijk wel straf is. Ik heb daardoor altijd gedacht dat ik best wel stevig in het leven sta, dat ik mijn aandeel ellende gewoon heb gedragen. Maar het moet er toch dieper hebben ingehakt dan ik had beseft. Onbewust is het allemaal blijven sluimeren: het verlies, het alleen zijn, het alleen blijven.
Ik denk al even: er mag wel weer eens een nieuwe partner in mijn leven komen. Maar misschien moest ik dit eerst afronden, en misschien dient dit boek hier wel toe.'

De tekst gaf je uit handen. Dat lijkt me heel moeilijk voor zo'n persoonlijk boek.
'Ik heb er lang met Paul (de Moor, red.) over gepraat, we kennen elkaar goed. Eerder werkte hij met grote kunstenaars als Michaël Borremans en Luc Tuymans. Toch vond hij dit zijn moeilijkste opdracht. Net als met Toon Tellegen, met wie ik prentenboeken als Ik wou maakte, werkten we los van elkaar. Vormgever Luc Derycke bracht alles op fantastische wijze samen. Ik heb Paul niet gezegd wat hij moest vertellen, hij stond niet ten dienste van mij of omgekeerd. Hij liet zich gewoon inspireren door mijn tekeningen en bepaalde de volgorde van de beelden. Dat het uiteindelijk zo mooi klopt, voelt fantastisch.
Zonder dat de mensen "ocharme Ingrid" zullen denken, is het een heel kwetsbaar verhaal geworden.
Ik krijg zelfs berichtjes van lezers in crisis die er troost in vinden.'
PS. "Hoewel ik als journalist mijn deel Hollywoodsterren heb geïnterviewd, lijk ik uitgerekend hier een beetje starstruck, tussen toptalenten als Ingrid Godon, Klaas Verplancke, Gerda Dendooven en Bart Moeyaert," schreef Valerie Eyckmans ooit op deze blog.
PS. Ook aan Maarten Inghels en Dempsey Hendrickx stelden wij de vraag: 'Hoe gaat het?'