Hoe gaat het… met Dempsey Hendrickx
Als acteur Dempsey Hendrickx niet op het podium staat, brengt hij met een krijtje poëzie aan in de Antwerpse straten. 'Niet alles hoeft mooi te zijn, zolang het maar echt is.'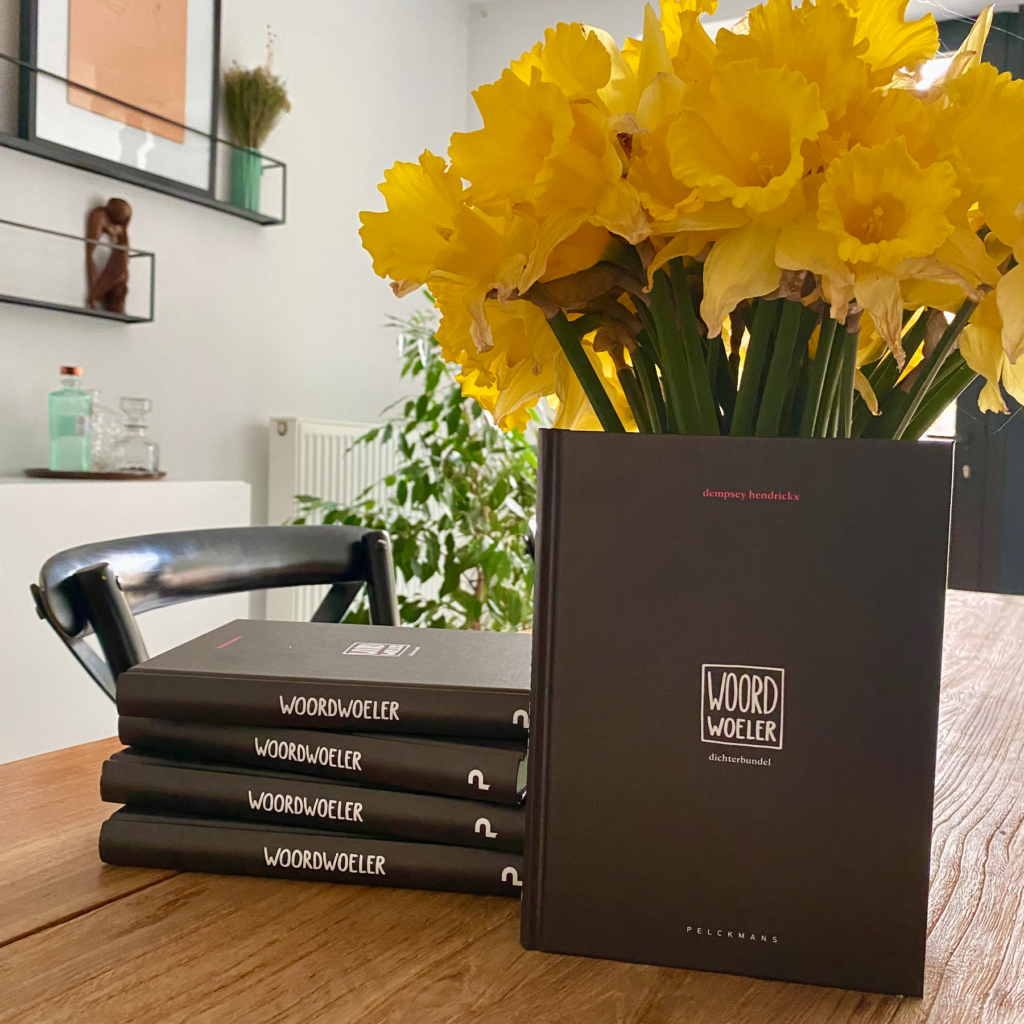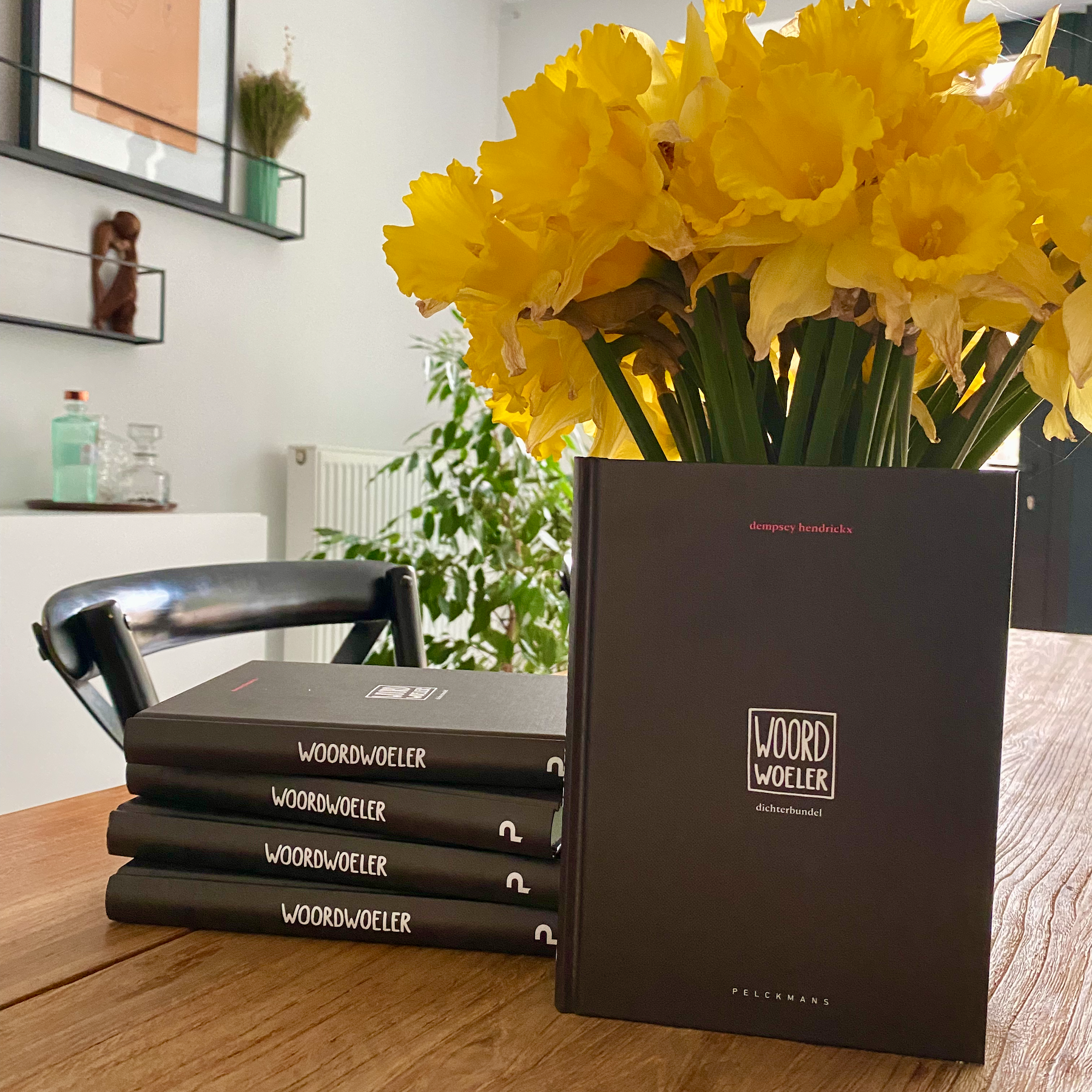 Hoe gaat het?
'Ik geniet. Ik kan mijn ding weer doen nadat ik twee jaar amper op het podium heb ­gestaan. Mijn agenda is ontploft. Er zijn de ­op­names van Buurtpolitie en Helden, ik treed op met improvisatietheaters De Kevins en BIL en deze maand lees ik als peter van de Jeugd­boekenmaand iedere avond voor via Instagram. Ik heb alles aangenomen wat er te pakken viel.'
Daarnaast vind je ook tijd om als Woordwoeler met je krijtje poëzie aan te brengen in de Antwerpse straten. Waarom doe je dat?
'Ik had al langer wat teksten in mijn gsm staan en zocht naar een originele manier om die naar buiten te brengen. Tijdens de vele coronawandelingen had ik de straat voor me. Zo is het begonnen. Het gaf meteen enorm veel voldoening. Met mijn televisiewerk heb ik geen direct contact met het publiek. Op straat wel: via toevallige passanten of omdat ik mijn creaties deel via sociale media. Bovendien is krijt heel vluchtig. Als het regent, is alles weg. Dat maakt het erg bevrijdend. Want ik leg mijn hart en mijn gedachtekronkels letterlijk op straat.'
Je Instagram-posts werden opgepikt door uit­geverij Pelckmans, die je vroeg om een dicht­bundel te maken. Dacht je meteen: dat kan ik?
'In eerste instantie voelde ik alleen maar angst. Zo'n bundel was geen plan dat al in mijn hoofd zat. Van nature ben ik geen grote held. Maar ik weet wel hoe ik in zulke situaties de klik moet maken. Dan stel ik mezelf de vraag: "Wat is het ergste dat me kan overkomen?" Zo durf ik over mijn grenzen te gaan.
Zalig toch om "ja" te zeggen zonder ook maar een idee te hebben hoe je het gaat doen.'
Heb je dat hoge 'Ik heb het nog nooit gedaan dus ik denk dat ik het wel kan'-gehalte altijd ­gehad?
'Het improvisatietheater heeft dat enorm versterkt. Iedere keer moet je springen in het niets, zonder dat je weet wat je gaat zeggen of doen. Zo leer je te vertrouwen op jezelf. Als je ­improviseert, is er bovendien geen juist of fout, dat is heel bevrijdend. De reflexen die ik zo heb ontwikkeld, probeer ik ook op andere vlakken te gebruiken.'
In je bundel verzin je woorden en lap je de taalregels aan je laars. Ben je ook een rebel in het echte leven?
'Ik heb regels nodig, maar ik vind het nog leuker om ermee te spelen.
Als iemand me zegt wat ik moet doen, is mijn eerste reflex: "Is dat zo?"
Als ik bij een presentatie steekkaartjes krijg met tekst die alleen voor mij bestemd is, is de kans groot dat ik die hardop zal voorlezen, al waak ik er wel over dat ik niemand kwets. Het leven is voor mij een speeltuin. Natuurlijk neem ik mijn verantwoordelijkheid, maar ik maak het mezelf niet nodeloos moeilijk. En omdat ik me elke dag amuseer, heb ik geen andere uitlaatklep nodig. Ik hoef niet per se tot laat te feesten.'
Je dochter leert nu schrijven. Hoe reageer je als zij een taalfout maakt?
'Dat is een lastige. Ik vind dat ze tot op zekere hoogte mag doen wat ze wil. Maar je kunt pas spelen met de regels als je ze ook beheerst. Als je niet weet dat "hard" en "hart" een andere betekenis hebben, kun je ook niet met die woorden spelen. Ik probeer dus een balans te vinden.'
In Woordwoeler maak je de lezer niet alleen aan het lachen, maar bied je ook troost. Vind jij troost in teksten?
'Ja, vaak herken ik mezelf in een liedjestekst en dan durf ik die wel eens te laten horen aan vrienden om aan te geven hoe ik me voel. Maar ook het schrijven – en dan vooral het durven benoemen van dingen – geeft troost en rust. Als ik een zin schrijf als "Wees hart voor jezelf", dan bevestig ik in zekere zin aan mezelf dat ik weet dat ik soms te hard ben, maar dat ik mezelf ook af en toe moet pushen. In mijn teksten vallen vaak persoonlijke puzzelstukjes samen. Maar het is meer dan therapie, ook voor anderen moeten ze betekenis hebben.'
Je krijttekeningen laten de lezer op een verfrissende manier naar de gewone wereld kijken. Hoe belangrijk is dat alledaagse voor jou?
'Dankzij Woordwoeler ben ik veel gevoeliger geworden voor de schoonheid in het kleine.
Ik hoef niet per se iedere vakantie de wereld te zien, ik wil gewoon elke dag goed kijken naar wat er hier is.
Dat doe ik door eens de andere richting uit te wandelen of naar boven te kijken in de straten waar ik dagelijks kom. Ik wil elke dag blij en verwonderd zijn, niet pas over vijf maanden op een of andere exotische bestemming. Niet alles hoeft ook megamooi te zijn, zolang het maar echt is.'
PS. Dit artikel verscheen eerder in De Standaard Magazine.
PPS. Deze poëzie doet het ook heel goed op Instagram.