Katten en internet, het blijft een hit. En katten en boeken, dat is helemaal scoren. Barbara haalde het aan in haar post over onze meest populaire artikels. Stoute Poes, rond het gelijknamige kinderboek van Harriet Beecher Stowe, staat op nr 1 in onze statistieken. Of dwalen er wat niet-lezers af naar onze site die op zoek zijn naar een ander soort stoute poezen? Enfin, we zijn niet kieskeurig wat betreft bezoekers op onze blog.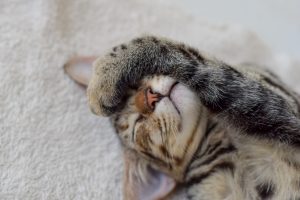 Tijd om de test te doen, en een nieuwe kattenpost te brengen. Benieuwd of deze de statistieken ook gaat 'rocken'. Want zeg nu zelf, poezels en schrijfselen, daar kunnen we pagina's over volschrijven. Miauwkes!
The Guardian verzamelde de 10 grootste literaire kleppers waarin katten zich behaaglijk in de rol van (hoofd)personage nestelen. Denk maar aan de Cheschire Cat in Alice in Wonderland, bijvoorbeeld, of de bundel Madness van Roald Dahl, dat begint met een kortverhaal over een kat die misschien wel de reïncarnatie van Franz List is.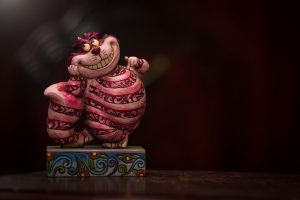 Onze favoriete boekhandel, Waterstones, blijkt weer extreem gevaarlijk terrein als het op poezenboeken aankomt. Klassiekers als A street cat named Bob, die je onwaarschijnlijk kent van de verfilming, en het verhaal van Dewey, 's werelds meest beroemde bibliotheekkat, gaan er vlot over de toonbank. Wij hebben enorm gelachen met titels als How to live like your cat, wat we volledig begrijpen. Het huisexemplaar ligt momenteel te snurken op een kussen bij de verwarming, terwijl het menselijk ras gaat werken om tonnen whiskasblikjes aan te slepen. Ze hebben het goed uitgedokterd. Wraak krijg je als mens bij het boek Cats getting stuck. Geloof ons, het is hilarisch.
Boekenknecht Kurt sprak zijn bewondering voor het boek kattenkastelen al uit. 'Build your cat a paw-some homemade habitat', whats not to like? Het prinsessenkasteel (met ophaalbrug) blijft onze favoriet.
Pinterest zou zonder katten geen bestaansreden hebben. Wij verloren aan half uurtje werkdag met het scrollen door de beste 'Cats and books' foto's. U weze gewaarschuwd, als u vandaag nog iets wil afwerken, omzeil de site dan. Ook eentje dat u beter nog even negeert: het lijstje met de 10 meest knuffelbare boekenwinkelkatten. Volgend keer dat je door St. Andrews in Schotland rijdt, stop dan even bij Bouquiniste Bookshop om huiskat Patch te aaien.
Dat het er in kattenboekenland ook serieus aan toe gaat, bewijst de site Bookwitty. Zij verzamelden boeken geschreven door topauteurs over hun favoriete viervoeters. Charles Bukowski pent zijn bewondering voor de mysterieuze pelsneuzen neer in On Cats.
T.S. Elliot schreef heel wat odes aan zijn katten: Macavity, Old Deuteronomy en Mr Mistoffelees zijn er enkelen van. De bundel met alle gedichten, Old Possum's Book of Practical Cats diende als inspiratie voor Andrew Loyd Webber's meest populaire musical, Cats.
MACAVITY, THE MYSTERY CAT

---
Macavity's a Mystery Cat: he's called the Hidden Paw - 
For he's the master criminal who can defy the Law.
He's the bafflement of Scotland Yard, the Flying Squad's despair:
For when they reach the scene of crime - Macavity's not there!
T.S Elliot
Mogen we nog twee boeken tippen die voor algemene hilariteit gaan zorgen? Het boek I could pee on this herbergt de meest grappige en herkenbare gedichten over je pluisbol.
Een boek waar een hoek af is is het How to tell if your cat is plotting to kill you. Want Snuffles ziet er misschien uit alsof hij je liefdevol zit aan te kijken, maar wie weet heeft hij zijn masterplan om je teentje voor teentje op te peuzelen al lang klaar. Die dooie muizen die je geduldig opruimt zijn geen 'cadeautjes', maar dreigementen. En als Miss Whiskers je buik lekker zit te dabben alvorens zich op je schoot te nestelen, is ze eigenlijk op zoek naar je vitale organen. Reden genoeg dus om van die Pinterest pagina weg te blijven, verder te werken, en je zuurverdiende centen over de balk te gooien aan een maxipak Catisfactions.
P.s.: nog eentje dan, voor de kattenliefhebbers die graag bulderen van het lachen. The unadulterated cat van Terry Pratchet kreeg al een ereplaatsje in de kast.
P.p.s.: En ja, we doken ook al in de boeken vol katten.