Een boekenmens leest altijd en overal. Dat lukt meestal zonder kunst- en vliegwerk, maar tijdens die ellenlange vergadering -of les- waarbij een obscene hoeveelheid slides monotoon neuzelend worden voorgelezen kan je niet zomaar vrolijk de laatste Zeh tevoorschijn snokken. De drang om te ontsnappen naar een kleurrijker wereld neemt nochtans exponentieel toe met de hoeveelheid slides en het aantal euh's per minuut, heb ik vastgesteld.
Gelukkig is er het Project Gutenberg, dat volstrekt gratis en legaal een massa klassiekers online ter beschikking stelt. Legaal, want op deze werken is het copyright al in de jaren stillekes verstreken. Je kan ze er downloaden in het e-reader formaat naar keuze, maar ook gewoon schaamteloos op je laptop lezen. Uitstekend geschikt dus voor een poos stiekem literair escapisme.
Om je op weg te helpen door het ruime aanbod -en om ervoor te zorgen dat je niet verzandt in de gortdroge werken die her en der op de loer liggen- selecteerde ik alvast wat sappige tips die uitstekend fungeren als tegengif voor acute verveling.
Alles van Arthur Conan Doyle
Zéér handig. Je vindt er alle Sherlock Holmes verhalen, die je kort en krachtig over de meest brutale vervelingsdip helpen. Inclusief spannende ontknoping en het heerlijk pedante taalgebruik van de heer Holmes. Als je na één avontuur nog niet op je positieven bent, dan lees je gewoon het volgende. Lees trouwens ook het uitstekende The Lost World, een Victoriaanse prelude op Crichtons Jurassic Parc, waarin Doyle laat zien dat hij ook kwieke avonturenromans kan schrijven.
Three Men in a Boat – Jerome K Jerome
Hier deed ik al eerder lyrisch over. Integraal beschikbaar op www.gutenberg.org. Gratis tip: om te vermijden dat je in schaterlachen uitbarst tijdens een droge monoloog, denk je na elke grappige passage best vlug aan een willekeurige voetnoot bij Ulysses.
The Mysterious Affair at Styles – Agatha Christie
Het boek waarmee het voor Christie allemaal begon, en het enige op Project Gutenberg. The Guardian nam het op in hun top 10 met beste Christies, dus je hebt hiermee een kanjer in handen. Ik vermoed dat met het verstrijken van de jaren wel meer werk van Christie rechtenvrij wordt, dus meer mysteries op komst.
Treasure Island – Robert Louis Stevenson
De man achter Dr Jekyll and Mr Hyde -ook beschikbaar, trouwens- schreef met Treasure Island een wervelend piratenavontuur, compleet met een vette schat met aangehecht krapuul. Uitstekend entertainment. Overweeg ook zijn Kidnapped. Heel toepasselijk voor deze post is zijn meesterlijke Apology for Idlers, dat je in zijn bundel met essays vindt. Ja, ik kan er uit het hoofd uit citeren.
Bartleby the Scrivener – Herman Melville
Guust Flater avant la lettre. Melville -jaja, die van Moby Dick– beschrijft hoe een kantoor op Wall Street geteisterd wordt door een bijzonder halsstarrige klerk genaamd Bartleby. Bartleby weigert niet alleen carrément elke opdracht met de beroemde woorden 'I would prefer not to', maar slaagt er uiteindelijk zelfs in letterlijk deel van het meubilair te worden. Het risico op het prevelen van 'I would prefer not to' bij weer een slide met tabellen vol minuscule getallen wordt gratis meegeleverd.
Alles van Oscar Wilde
Geef geen geld aan een dure hardcover bloemlezing met quotes van de meest gevatte man uit de Britse geschiedenis. (Sorry PG Wodehouse en Stephen Fry, het was een close call) Hier vind je Lady Windermere's Fan en The Importance for being Earnest, samen al goed voor ongeveer de helft van de beste witzen van Oscar. De andere helft staat in de rest van zijn werk. Mag ik ook even de aandacht trekken voor zijn geweldig grappige The Canterville Ghost?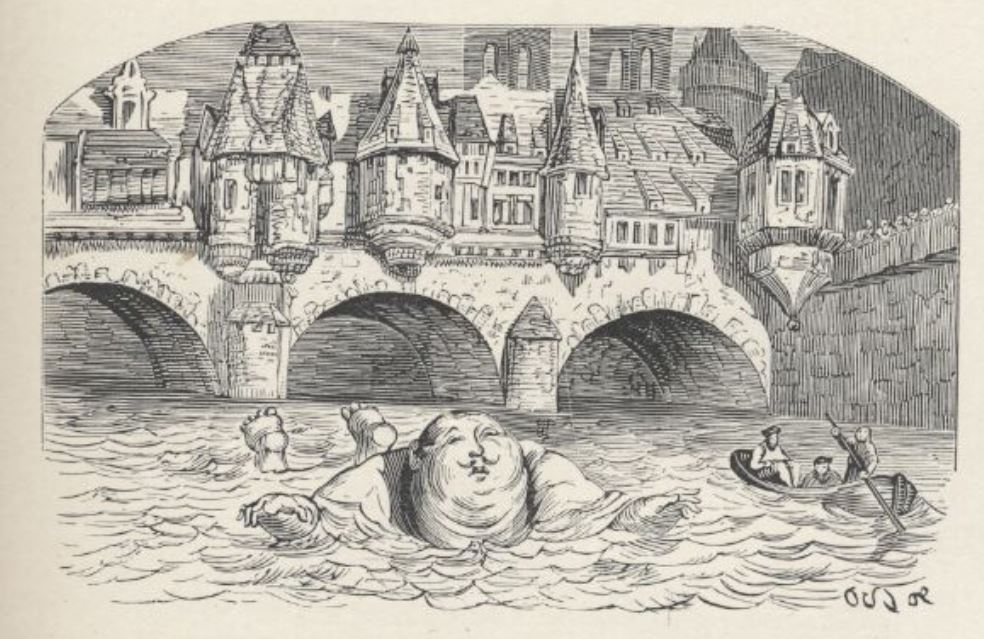 Gargantua et Pantagruel – Rabelais
Middeleeuwse kolder met een venijnige ondertoon, die iedereen die zich machtig waant of zichzelf te serieus neemt Breugheliaans te kakken zet. De reuzen Gargantua en Pantagruel -zijn zoon- beleven de dolste avonturen en zijn niet vies van een kleine dichterlijke overdrijving. Of van een paginalange opsomming, zoals wanneer Pantagruel oplijst wat hij ondertussen zoal geprobeerd heeft om met maximaal comfort zijn kont mee af te vegen. Potty humor waartegen geen 3D-grafiek bestand is. Doe me wel een plezier en herlees het nog eens in rust en stilte, want onder alle boertigheid heeft Rabelais heel noodzakelijke dingen te vertellen. Oh ja, de editie op Project Gutenberg komt met de originele illustraties van Gustave Doré. Prachtig.
Het zwevende schaakbord – Louis Couperus
Eén van de weinige Nederlandstalige werken op Project Gutenberg. En dat beperkte Nederlandstalige aanbod vinden we erg jammer, uiteraard. Couperus bijdrage tot de legende van de Ridders van de Ronde Tafel is nochtans zeer geestig en voorzien van extra couleur locale door het prachtige archaïsche taalgebruik:
—En meldde nooit ende nie zich een jonkver meer aan, die gewroken moest worden?

—Nimmermeer! Nimmermeer!

—Veronveiligde een draak nooit ende nie meer de immer onveilige foreesten van Logres?

—Nooit ende nie, ai, nooit ende nie!
En er is nog veel, veel meer dat ik hier zou kunnen tippen. But I would prefer not to. Ik hou het gewoon voor een volgende keer.
PS: moest je tijdens het grasduinen door Project Gutenberg op onverwacht lekkers stuiten, of op goed Nederlandstalig werk, laat het ons dan vooral weten!