Ja, ik heb altijd een boek op zak. En dan?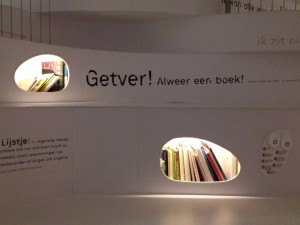 'Is dat een boek, dat daar uit je jaszak steekt?' Ze vraagt het terloops, alsof ze me achteloos een cobra in de schoot werpt. Ik kijk in paniek of de voortuin van het restaurant dat we net hebben verlaten mogelijkheden tot schuilen biedt. Nee. Twee rozenstruiken volstaan niet als bunker voor een man van twee meter. En het is achteraf altijd zo een gedoe met een pincet. Dit is een ontvlambare vraag. Hier komt altijd heibel van. Ik aarzel.
Ik slik mijn eerste antwoord ('Waar lijkt het op, een hovercraft?') in.
Mijn mama heeft me geleerd beleefd te zijn en bovendien lijkt tot bloederige pap getimmerd worden met een naaldhak me een vreselijke manier om heen te gaan. Ze zitten vol bacteriën, die dingen. Ze hebben op straat gestaan.
Ik hou het simpel en zeg 'ja'.
'Heb je dan áltijd een boek bij je?', vraagt ze dan. De gevreesde volgende vraag. Deze gesprekken volgen altijd hetzelfde patroon. Voor sommige niet-boekverslaafden is lezen immers ongeveer even cool als je vrijwillig aanbieden bij het dichtstbijzijnde bejaardentehuis om teennagels te helpen knippen. Ik ben betrapt.
Mijn street credibility krijgt plots concurrentie van tuinkabouters en Yorkshire terriers. Ontkennen is zinloos.
Ja, ik heb altijd een boek bij me. Want het helpt. Het helpt bijvoorbeeld tijdens metrotochten van een half uur lang, diep door de Antwerpse ingewanden. Zoals daarnet.
Waarom zou ik immers zitten staren naar elektriciteitsleidingen die ik al vier miljard keer heb gezien, terwijl ik naast Antoine de Saint-Exupéry kan meevliegen onder de Zuid-Amerikaanse sterrenhemel, zoals hij weergaloos vertelt in zijn Vol De Nuit? Of terwijl ik op de nog maagdelijke prairie op bizons kan jagen in Butcher's Crossing van John Williams?
Waarom zou ik aandacht schenken aan sprakeloze medepassagiers die devoot naar hun smartphone staren als een refter vol nonnen naar hun rozenkrans? Terwijl ik me ongegeneerd kan ergeren aan de marketingbobo's in Frédéric Beigbeders 99 francs, of ik me kan laten omringen door ruisende hoepelrokken in 19e-eeuws Parijs dankzij Andrew Millers Puur?
Waarom zou ik me vermeien met het opsnuiven van de geur van natte hond die door ontelbare konten in de zitjes is gewreven als ik aan de hand van Siri Hustvedt door Manhattan kan lopen in The Blindfold, of Oscar Wilde me over de kloof van de dood heen kan doen grinniken met The Canterville Ghost?
Dus ja. Ja, ik heb altijd een boek bij me. En dan?
Dit zou ik zeggen als mijn moedeloosheid me niet had gevloerd. Bovendien heeft ze nog steeds naaldhakken aan. Ik brabbel wat meligs over 'altijd een vriend bij me hebben' en bid dat ik mag ontsnappen. Want nu volgt het pièce de résistance. Ik word nu geacht te vertellen waar het boek in mijn jaszak over gaat, terwijl de tegenpartij zo gemaakt geïnteresseerd gaat luisteren dat ik spontane zelfontbranding overweeg. Om daarna getrakteerd te worden op een boekentip die écht de moeite waard is. Doorgaans Ulysses, Oorlog en Vrede of De Avonden. Altijd prijs.
'Wat lees je dan?', drong ze aan. Zie je wel. Ik ga echt niet vertellen dat Satin Island van Tom McCarthy over een antropoloog gaat die in dienst van een bedrijf de hedendaagse cultuur analyseert, om zo klanten een identiteit in de vorm van een verhaal aan te smeren. Dat het gaat over olievlekken, gesaboteerde parachutes en het Grote Rapport. Dat het naar Kafka ruikt. Dat ik niet alles begrijp, maar op een vreemde manier onderhuids eigenlijk wel. Ik kies voor de laffe uitweg en zeg dat ik er nog maar net in ben begonnen.
'Die heb ik net uit', antwoordt ze. 'Ik begrijp niet alles, maar diep van binnen herken ik het wel. Net zoals bij Kafka. Het moet bezinken.' Ze reikt in haar handtas en geeft me The Year of Reading Dangerously van Andy Miller. 'Hier. Dit ga je goed vinden. Een boek over honderden boeken, veel beter wordt het niet. Toch?'
Wel gatverdamme.
Deze column verscheen eerder in Lood Magazine.
PS: Mensen die bij het verlaten van mijn woonst worden betrapt met mijn boek in hún zak, mogen represailles verwachten.