Column op woensdag: de puddingspuwer
Tijdens de zomer presenteert This Is How We Read elke woensdag een genomineerde tekst van onze columnwedstrijd 2023. Deze week wuift Ilse een vriendin in stijl uit.
Ik had hem zelf uitgekozen. En nu zat ik er mee. Had ik hem thuis, in alle privé kunnen nemen, zou ik eerst mijn tong zo ver mogelijk naar binnen hebben gewerkt. Gezien de gelegenheid, leek me dat niet direct the way to go.
Het ding met glaceekes is dat er geen propere manier bestaat om er gracieus en ongeschonden doorheen te raken. Zeker niet als je, als zestienjarige bakvis, indruk wil maken op je potentieel nieuwe schoonfamilie. Mijn puberbrein besliste dat de bliksemsnelle-hap-theorie de beste oplossing bood.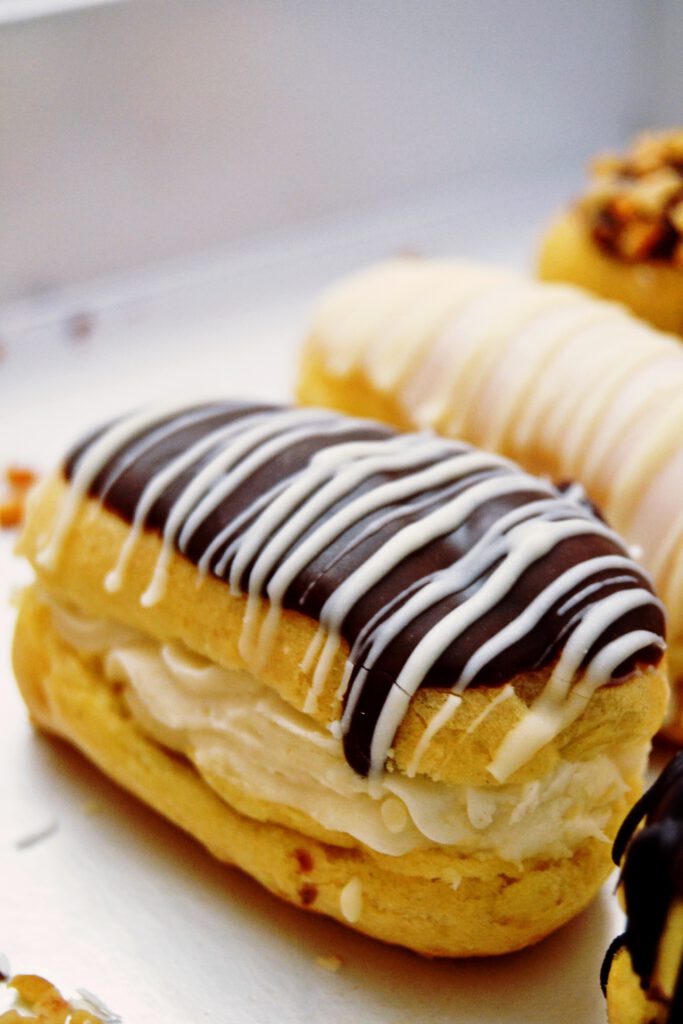 In één hap los erdoor, zodat de pudding niet weet wat hem overkomt en hierdoor braafjes op zijn plek blijft zitten. De praktijk resulteerde in een papperige, gele douche, die zich deels langs mijn kin, en deels een bord verder als een lawine over het mokkataartje van Grote Zus uitstortte.
Even bleef het dreigend stil, maar de piepende schater-uit-lach die ze daarna produceerde was zo aanstekelijk, dat de hele familie niet meer bijkwam. Enter mijn nieuwe bijnaam: de Puddingspuwer.
Grote Zus bleek, in tegenstelling tot de broer, precies mijn maat. BFF's voor het leven, tot ik me enkele jaren geleden naast haar sterfbed bevond. Samen mijmerden we over de zin en onzin van haar eenenveertigjarig, veel te korte leven.
Wat zou er van haar overblijven in de wereld die ze binnenkort zou achterlaten? Wat was er belangrijk geweest? Haar eeuwige gevecht tegen die laatste vijf venijnige kilo's, dat ze, ironisch genoeg, net voor haar exit had gewonnen? De onbetaalde overuren die ze, met het oog op de volgende iets-beter-betaalde promotie, zonder zeuren was blijven kloppen? Haar gezin, waar ze daarna wel tijd voor zou hebben? Was ze überhaupt geslaagd in de race die ons leven heet?
Tegenwoordig is perfect immers niet langer goed genoeg. Naast onze prestigieuze, vetbetaalde carrière, horen we samen met ons smetteloos cornflakes-reclame-gezin te wonen in het mooiste en properste huis uit de straat. Om daar iedere avond ecologische, energieneutraal gekookte, keurig uitgebalanceerde maaltijden op tafel te toveren. En daarna naar de sportschool, om via op maat gemaakte uitputtingsoefeningen terug te keren naar ons geboortegewicht zoals de dames op TV.
Geen plaats voor dikke mensen. Of rimpels. Op tijd naar de schoonheidsspecialist dus. Of plastisch chirurg, al naargelang de draagwijdte van het op handen zijnde probleem.
Maar was Grote Zus dan hopeloos geflest in haar nalatenschap?
Toen ik aan haar zoon vroeg, welke herinnering aan zijn mama hij het meest zou koesteren, was hij al snel heel duidelijk: het was die keer dat hij haar had mogen schminken, en dat ze dat was vergeten toen ze later die dag naar de winkel gingen. Of die keer dat ze de tut van de papfles vergat, en op het pensioenfeest van opa, de slagroomspuit van de kok moest lenen om het eten van zijn babybroer naar binnen te krijgen.
Zijn het dan misschien onze imperfecties die het meest blijven hangen bij onze geliefden?
De dag dat we haar voor de laatste keer uitwuifden, waren er geen pateekes, maar taart en sandwiches op de koffietafel. Aan de andere kant van die tafel, zag ik de zoon van mijn vriendin stilletjes wegkwijnen. De emotionele dag zoog alle energie uit zijn uit de kluiten gewassen tienerlijf.
Hoewel niet iedereen het er achteraf mee eens was, bleef er voor mij maar een ding over: de crème uit mijn knobbelkesvlaai zo vloeiend vettig mogelijk langs mijn kaken naar beneden laten druipen. Bij Seppe was het onmiddellijk een schot in de roos. Met zijn zeventig kilo zware klankkast, bulderde hij heel de straat bijeen.
Op dat moment wist ik het zeker: onze nalatenschap zit niet in grootse prestaties, maar verstopt zich onder iedere bobbel, ieder mini-steentje dat we in ons leven voor onszelf of voor een ander kunnen omkeren. Ook al is het dan als Puddingspuwer.
Ilse Croughs is getrouwd met één, mama van twee en leerkracht van velen. Omdat het hier vorig jaar erg plezant vertoeven was, goot ze haar dagelijkse beslommeringen opnieuw in een column en belande zowaar voor de tweede keer op deze felbegeerde shortlist.
P.s.: Zin in een krokant jeugdboek? De Appelflop eet misschien wat eleganter.
P.p.s.: Deze boeken rond afscheid raakten ons erg.