In 2022 kiest This Is How We Read iedere maand een Boek van de Maand. In september hebben we het in onze gespreksrecensie over 'De randen' van Angelo Tijssens!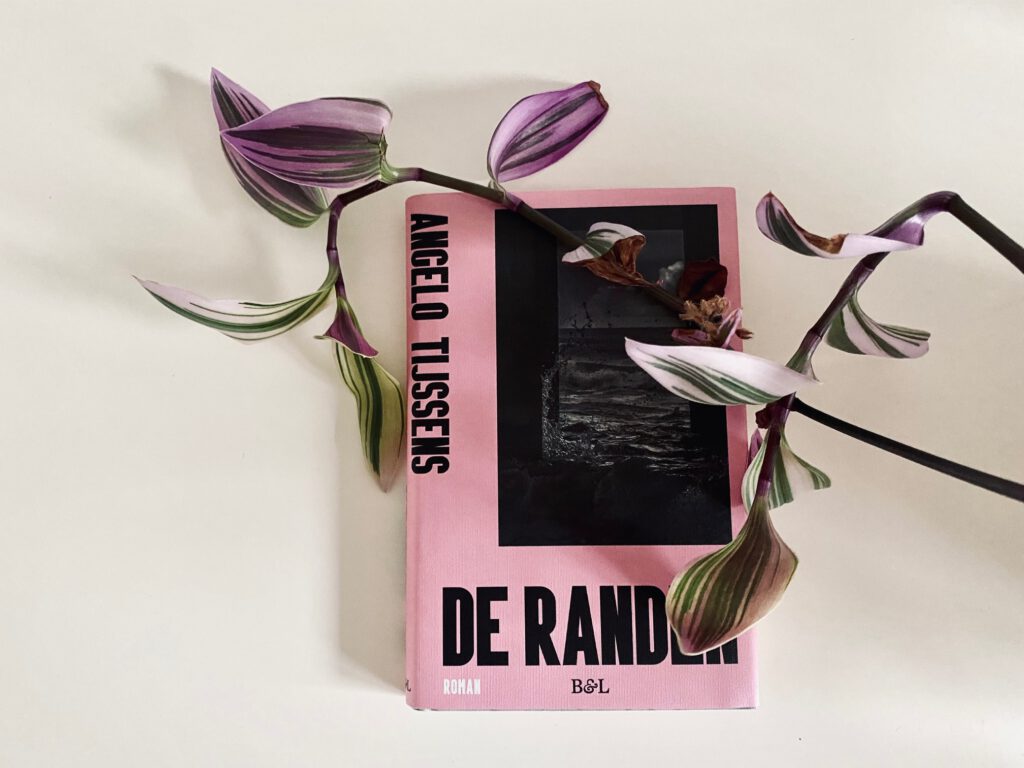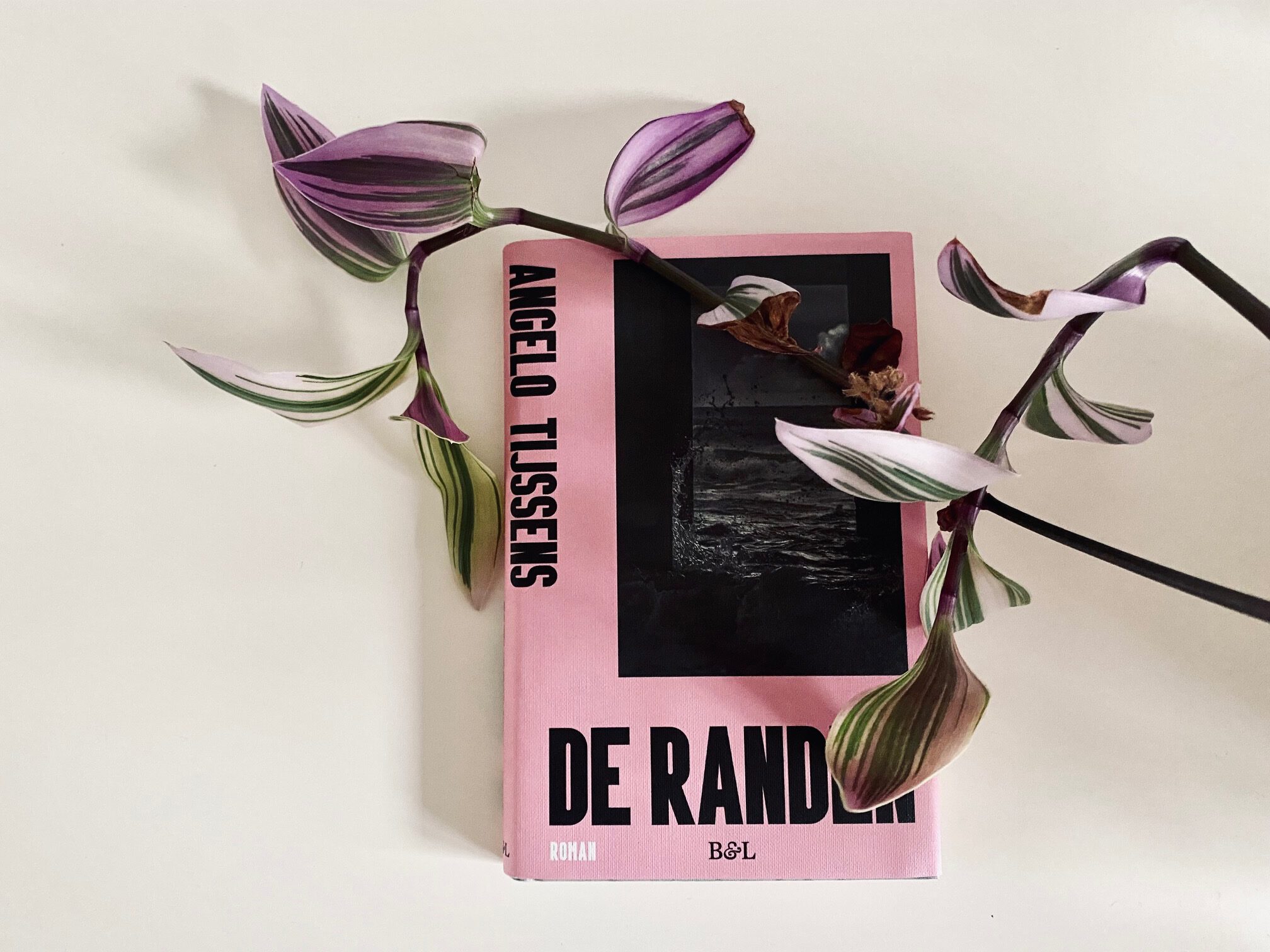 Barbara (vooraf): Sinds ongeveer een jaar ben ik de filmjournaliste van ELLE. Zo kon het gebeuren dat ik de 2e film van Lukas Dhont, Close (die pas op 2 november in de Belgische zalen komt) , al een maand geleden zag. Het is een film met schitterende beelden (die shots in het bloemenveld… die beelden van ijshockeymatches…) en een thematiek die aansluit bij de eersteling van Dhont, het bejubelde Girl over transgender ballerina Lara. Waarom is onze maatschappij zo streng voor jongens en mannen die hun vrouwelijke kant tonen? Waarom zijn het vaak de kinderen die dapper beweren 'dat alles goed gaat', over wie we ons het meeste zorgen moeten maken?
De vertelling van Close is zo goed gedoseerd en de dialogen vloeien zo natuurlijk dat ik bij de aftiteling eens goed keek welke scenarioschrijver Lukas Dhont bijstaat. Angelo Tijssens!
Een dertiger die net z'n literaire debuut heeft gepubliceerd. Katrien – dit moeten we lezen!
Katrien (vooraf): Ook bij mij doet de naam Angelo Tijssens een belletje rinkelen. Als theatermaker bij het internationaal geprezen Ontroerend Goed weet ik tot welke mindfucks hij in staat is. Hoe zal hij die vertelkracht kanaliseren in een boek, daar ben ik wel benieuwd naar.
Barbara (de 0,1%): Grofweg 99,9 % van de auteurs vertelt hun verhaal in de 1e ("Ik kwam de trap af") of 3e persoon ("Mevrouw Bovary kwam de trap af"). Schrijvers die vertellen in de wij-vorm – zoals de onvolprezen Julie Otsuka in 'Waarvan wij droomden' – zijn er amper. Af en toe durft iemand (zoals Vlaamse debutant Bert Moerman) de jij-vorm aan. Ook Angelo Tijssens schippert in de 16 hoofdstukken van 'De Randen' tussen 'jij' en 'ik'. De ik-figuur is een dertiger, die in sommige hoofdstukken zijn 10-jarige zelf als een camera-oog ('jij') gadeslaat. Het is een manier om afstand te scheppen van een moeilijk verleden, van pijnlijke herinneringen. Dat werkt heel goed. In de hoofdstukken in de jij-vorm wordt gevoelig maar subtiel geregistreerd. Ook de hoofdstukken in de ik-vorm hebben die filmische insteek, dat observerende oog, maar nu krijg je er de gedachtestroom van het personage bij. En deze verteller is zelfbewust/onzeker genoeg om z'n daden en woorden voortdurend in vraag te stellen. (Ah, super, zeg ik en ik denk: wat zeg jij nu maar ik volg hem, het huis in.)
Katrien (anders): 'Je proeft bloed en je ruikt natte kalk.' Sinds we met This Is How We Read een scheurkalender met 365 boekopeners maken, ga ik nooit meer achteloos over de eerste zin van een boek heen. Deze korte staccato-achtige beschrijving is alvast typerend voor de verteltoon van Tijssens: veel sfeer en actie, weinig expliciete gedachten en gevoelens. Show, don't tell dus. Van een scenarist hoeft dat niet te verrassen, maar het werkt ook. Zonder dat het wordt uitgesproken, voel je al snel hoe troosteloos en gewelddadig het disfunctionele eenoudergezin is waarin het hoofdpersonage (de 'je' uit de eerste zin) opgroeit.
En wat nog opvalt: Tijssens doet het 120 pagina's lang zonder paginanummers. Uit die keuze spreekt een zeker lak aan conventies, een zin om te vertellen op zijn eigen voorwaarden. Voor mij is het een manier waarmee de auteur vormelijk aansluit bij 'zijn' thematiek: anders zijn dan de norm. In Girl als transgender, in De randen als homoseksueel. Want ook daarover gaat het in die terugblikken: over een ontluikende homoseksualiteit in een homofoob naamloos stadje aan de Belgische kust. Anders zijn wordt er bestraft: 'Telkens als jullie hen later op straat kruisten, de broers, dan keken jullie kwaad want jullie dachten dat dat zo hoorde omdat ze geen broers waren, maar mannen die homo's waren…'
De ultrakorte terugblikken op de kindertijd en de adolescentie wisselt Tijssens af met al even korte hoofdstukken waarin de anonieme (hier geen je-, maar ik-) verteller zijn jeugdlief opzoekt in een uitgeleefd vakantiepark.
Barbara (geluk is elders): "Ik bedenk dat ik amper met gelukkige mensen te maken krijg" – staat in hoofdstuk XII. Eerder (in VI) klonk het: "Ben je ongelukkig? (…) Ik denk van niet. Hoe weet je dat? Gelukkig, ongelukkig, ik ken dat niet. Mensen zeggen dat zo gemakkelijk, dat is iets van op tv, van in soaps."
Tolstoj zou tevreden zijn over 'De Randen'. In dit boek geen gelukkige mensen zonder verhalen.
De gewelddadige, alcoholische moeder heeft Tijssens' hoofdfiguur als kind zo beschadigd, dat geluk voor hem iets onbereikbaar lijkt – hoe kun je reiken naar wat je niet kent? De korte scènes over het misbruik zijn niet sentimenteel, maar gaan recht naar mijn hart: "Je stelt nog een vraag en zij wordt kwaad en roept dat ze je beter niet had gekocht. Ze had beter een varken gekocht want dat kon ze nog opeten als het groot was. Jij kost haar alleen maar geld. (witruimte) Het is de eerste week van de krokusvakantie. Over vier dagen word je tien." Ik heb een dochter van bijna tien en zou haar nooit ruilen, niet voor een varken, niet voor een ander kind en niet voor een miljoenenbedrijf.
Welke moeder zegt zoiets, denk ik automatisch. Zou de moeder van Tijssens zo hebben gesproken – is mijn volgende vraag (altijd geïnteresseerd in het autobiografische gehalte van boeken, wij.)
In een interview van Tijssens (augustus 2022) met De Standaard lees ik:
Wat is er met je biologische moeder gebeurd?
Tijssens: 'Die is al meer dan de helft van mijn leven uit de picture. Dat is een afgerond verhaal.'
Gaat dit boek niet over haar?
Tijssens: 'Nee, al ligt er genoeg mest op de mesthoop om een hoop akkers te bemesten: dit is fictie, maar het is ingebed in dingen die ik ken of herken, zoals al mijn werk.'
Bedoel je dan de liefdeloosheid en de onvoorspelbaarheid van de moeder?
Tijssens: 'Ja, maar daar kan de helft van de wereld­bevolking over schrijven, over wat er schortte aan hun ouders. De liefdeloze vader is zelfs een cliché ­geworden.'
Ik geef het stukje interview mee, omdat ik nieuwsgierig ben naar de achtergrond van schrijvers. Al geldt in dit geval zeker: 'De Randen' is een authentiek verhaal, een taalkunstwerk, een nieuwe verkenning van de thema's die ook zitten in de films van Lukas Dhont met Tijssens als scenarist. Biologische moeders hebben hier niets te zoeken.
Katrien (mindfuck): Al is hun stijl – en de thematiek – compleet anders – Lize Spit heeft er heel wat meer pagina's voor nodig – toch voelt De randen voor mij erg verwant met Het smelt. Het is de sfeer denk ik, de sfeer van een duistere jeugd, een jeugd waarin dingen gebeuren waarbij je als lezer denkt: Hoe komt het dat niemand iets heeft gezien? Het is wat het hoofdpersonage zichzelf ook afvraagt: 'Jarenlang zal je je nog afvragen of hij het wist, of hij het voelde, de angst, of hij het zag of rook. Hij, de rest, de overgrote meerderheid van de wereld die het toch moet hebben geweten of op zijn minst moet hebben vermoed maar niets zei en nu, nog eens jaren later, wil je schreeuwen naar jezelf: zeg het, vertel het, vraag om hulp. Maar je liegt, natuurlijk lieg je, je liegt zo vaak en je zegt dat het goed is.'
En het is precies door die vraag dat ook dit boek – net als Tijssens theaterwerk – een soort van mindfuck is. Het doet je nadenken: Waarvoor ben ik blind? Wat zie ik niet/ wil ik niet zien?
PS: Hoe je van je dochter moet houden en Het verdriet van Roald Dahl