The Unadulterated Cat door Terry Pratchett
Het Lief heeft het opgegeven. Een boekenmeisje met meer stapels boeken dan een mens in een mensenleven over kan struikelen, tot daar aan toe. Maar een heuse kattenmoeder met bijhorende getijgerde viervoeter in huis, dat is een ander paar mouwen.
Na enkele eerste 'ik kijk de kat uit de boom' sessies waarbij tweevoeter en tijger elkaar van ver observeren, een verplicht nummer 'kat op schoot' om zijn boekenmeisje wat goede wil te tonen en enkele bloedtransfusies na een uit de hand gelopen 'vang de speelgoedmuis' lijkt er een toestand van 'verdraagzaamheid' te zijn afgekondigd. Het Lief weet dat hij mij met de kat moet delen en ik weet dat ik mijn aandacht evenredig over de kat en Het Lief moet verdelen. Let op de volgorde in het laatste deel van de vorige zin. Dat valt mijn Lief namelijk ook altijd op. De kat deelt 'just nikske', en vleit zich bij film- en boekenavondjes prominent tussen de aanwezige tweevoeters in. Om dan uitgebreid haar kont te gaan schoonlikken. Katten zijn geweldig, en ik kan mij geen leven inbeelden zonder.
Het Lief boekt echter vooruitgang, en met Kerst was er zelfs een klein gebaar van katten-appreciatie: onder de kerstboom lag The Unaldulterated Cat van Terry Pratchett op mij te wachten. Ik las het, gierde het uit, las het opnieuw en kon jullie niet langer in een wereld zonder dit geniale werk laten ronddwalen.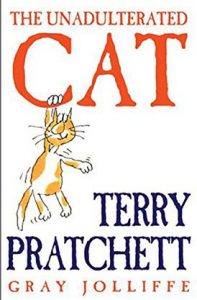 Auteur Terry Pratchett nam een kat omdat hij en zijn vrouw geen kattenmensen zijn:
Our garden was debated territory between five local cats, and we'd heard that the best way to keep other cats out of the garden was to have one yourself. A moment's rational thought here will spot the slight flaw in this reasoning.
Pratchett gaat op zoek naar de definitie van de echte kat, de rauwe, taaie en strijdlustige vechtersbazen die hun neus ophalen voor de al te perfecte, truttige en veel te fluffige varianten in reclameboodschappen.
The Unadulterated Cat is becoming an endangered species as more and more of us settle for those boring mass-produced cats the ad-men sell us – the pussies that purr into their gold-plated food bowls on the telly.
Naast de dunne scheidingslijn tussen authentieke pelsneuzen en de opgepompte TV-Variant, bewandelt Pratchett de relatie tussen mens en kat. In zijn ogen is dat heel eenvoudig:
You think it's the cat turning up obediently at the back door at ten o'clock for dinner. From the cat's point, a blob on legs has been trained to take a tin out of the fridge every night.
Katten en eten is een moeilijke zaak, zo getuigt hij. Katten eten bijna alles, maar nooit uit het speciaal aangeschafte kattenpotje:
Real cats never eat from bowls (at least not the ones marked CAT). Real cats do eat quiche. And giblets. And butter. And anything else left on the table. They can hear a fridge door opening two rooms away.
Je koopt dus, als brave fonkelnieuwe kasteneigenaar, de dure reclame-doosjes en wacht vol trots op Kitty's reactie. Kitty snuift een milliseconde aan het dure spul en haalt haar neus op. Je schaft dan maar het huismerk uit de supermarkt aan, die met de dubieuze inhoud zoals kippenpootresten, zeven soorten kleurstoffen en fragmenten oude schoenzolen. Kitty slurpt alles in één keer binnen. Je haalt drie dozen van het goedkope merk in huis, waar Kitty vanaf de eerstvolgende voeding uiteraard niets meer van wil weten. Zucht.
Over Kitty gesproken, het uitkiezen van een naam blijkt een belangrijke zaak. Pratchett refereert naar T.S.Elliot en zijn Old Possum's Book of Practical Cats, een vroege voorloper van The Unadulterated Cat. De belangrijkste tip voor het kiezen van een naam:
Never give a cat a name you would mind shouting out in a strained, worried voice around midnight while banging a tin bowl with a spoon. And stick to something short.
Enkele populaire namen volgens Mr Pratchett:
Yaargerofoutofityarbastard
Mum'stheresomethingHORRIBLEunderthebed
Wellyoushouldn'tofbinstandingthere
Eenmaal een merk kattenvoeder en een naam gekozen, kan je eindelijk beginnen spelen met je nieuwe pluizige huisvriend. Pratchett beschrijft zijn favoriet, Cat Chess:
This needs, as the playing area, something the size of a small village. Up a dozen cats can take part. Each cat selects a vantage point – a roof, the coal house wall, a strategic corner or in quiet villages, the middle of the road – and sits there. You think it's just found a nice spot to sun itself until you realise that each cat can see the other cats. Moves are made in a sort of high-speed slink with the belly almost touching the ground. The actual rules are a little unclear to humans, but it would seem that the object of the game is to see every other cat while remaining unseen yourself. This is just speculation, however, and it may well be that the real game is going on at some mystically higher level unobtained by normal human minds, as in cricket.
Ook het zen-spelletje 'staren naar de deur' bij katten die zich aan de verkeerde kant ervan bevinden, net lang genoeg, en dan nog een beetje langer, tot de 'Blob' op poten zuchtend rechtstaat, de deur opent en de kat binnenlaat. Een halve milliseconde later herhaalt het spel zich steevast, maar dan van de andere kant. Een variant ervan is beter bekend als 'staren naar de koelkastdeur'.
In de categorie 'Real cats and other animals' is de hiërarchie in de brousse heel eenvoudig:
From the cat's instinctive point of view, the animal world consists of:

things that eat it
things it can eat
things it can eat but will regret immediately

and
Item drie is heel gezellig, vooral als het resultaat je 's ochtends opwacht in de vorm van 'teruggeeflsel op het tapijt'. Van item twee vinden kattenleifhebbers af en toe evidentie terug in de hoek van de woonkamer: muizen-niertjes, een afgekloven vleugel en vogelpoot, of, voor die mindere dagen, een half konijn (dood, de achterkant) of volledige vogel (levend, wat een reddingsactie op gang zet waarbij je jongleert met een bezem, een panische gevleugelde en een katachtige die meent dat dit het meest geweldige spelletje ooit is.).
Dan zijn er nog die andere kleine wezentjes die in huis rondlopen en evenveel aandacht vragen. Katten en kinderen, een heel verhaal. Volgens Terry zetten katten in kinderhuishoudens zich best schrap voor volgende zakken: staart trekken, oorsabbelen, het worden opgesloten in de badkamer van het Barbiehuis, met een halfnaakte Ken en een Frozenkleed rond de linker achterpoot, een rol als aankleedpop en verkleedaccessoire, en:
carried around by being held in the middle, so that large amounts of cat flop down on either side.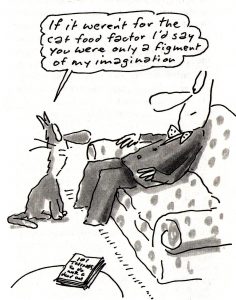 Wie goed leest, voelt tussen de regels vol ergernissen, accurate beschrijvingen van bizar kattengedrag en geweldige humor toch een enorme liefde voor het pluisbeest doorsijpelen. De opdracht aan het begin van het boek verraad dat Pratchett zijn hart verloren heeft aan, zoals mijn moeder het zo fijntjes benoemd, 'ce sac à poils'.
All right, all right.
Time to come clean.
Despite the fact that
this books clearly states
that cats should have short names
you don't mind yelling
to the neighborhood at midnight,
The Unadulterated Cat
is dedicated to:
Oedipuss.
The don't come much realer.
Dus, oproep aan alle kattenliefhebbers, kattenhaters, treinreizigers die tegen een lachbui kunnen hier en daar, mannen met kattenmoeders in huis en de rest van de wereldbevolking. Lees. Dit. Boek.
P.s.: zin in meer humor? Bill Bryson behoort tot dezelfde familie schrijvers die ons lachbuien bezorgen op gênante plaatsen.
P.p.s: beste lief, voordat de kat naast mij haar k*nt begon schoon te likken, had ze even tijd om mijmerend in de verte te staren en zich af te vragen of je jouw voederpot binnenkort ook met haar wil delen. In ruil voor dutjes op het toetsenbord van je pc, het nagels scherpen aan je pantoffels en een plek voor je dure trui in de poezenmand zou het delen van haar territorium bespreekbaar zijn.