Interview met Marek Sindelka
Op het Passa Porta Festival sprak ik met Marek Šindelka, één van de belangrijkste hedendaagse Tsjechische schrijvers. Bij een latte en een thee hadden we het over zijn mozaïekvertelling Anna in kaart gebracht (Das Mag) en de worstelingen van de hipstergeneratie.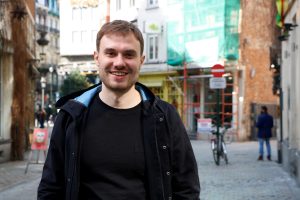 Je opent het boek met een hoofdstuk over podiumangst. Herkenbaar?
Šindelka: "Ik heb Anna in kaart gebracht geschreven vlak nadat ik een belangrijke literaire prijs in ontvangst moest nemen. Ik was zo nerveus, echt vernederend. Mijn lichaam wilde mijn geest niet gehoorzamen.
Ik werd geconfronteerd met het vecht-of-vlucht-dilemma. Ik besefte dat ik mijn lichaam onder controle moest krijgen of mijn lichaam zou mij verslaan.
Door ouder te worden en vaker op een podium te staan, is die angst verdwenen. Ik geef er minder om wat mensen van mij denken.
Ik open de roman niet toevallig met een hoofdstuk over een aan podiumangst verslaafde entertainer. Het hele boek gaat erover wat het betekent om een lichaam te hebben en over hoe we het inzetten om te werken aan ons online imago."
Je fragmentarische beschrijvingen van de personages zijn heel treffend. Ben jij een goed observator?
Šindelka: "Goed kunnen observeren, is heel belangrijk voor een schrijver. Ik observeer vreemden, vrienden en natuurlijk ook mijn partners. Voor de diepere lagen observeer ik vooral mezelf. Als schrijver moet je je eigen camouflagemechanismen durven ontmaskeren. 50% van mijn schrijven zijn observaties. Dan pas komen verbeelding en techniek."
De structuur van 'Anna in kaart gebracht' is vrij ingewikkeld, met sprongen in de tijd en perspectief. Hoe begin je daaraan?
Šindelka: "Elke roman van mij start als een kort fragment. Dat kan een sfeervolle setting zijn of een klein gebaar van een personage.
Zo'n detail kan heel explosief zijn en gaan groeien. Het is als het leven. Als schrijver probeer ik dit energetisch partikel te volgen en vooral niet dood te maken.
Op een heel organische manier laat ik ideeën toestromen. Pas na een paar pagina's begin ik aan de compositie te denken. Bij Anna in kaart gebracht was het eerste hoofdstuk over podiumvrees effectief het eerste zaadje. Heel lang wist ik niet wat er mee te doen. Anna is het onzichtbare personage van dit hoofdstuk. Zij is plots aan mij verschenen en zo werd het een boek over haar."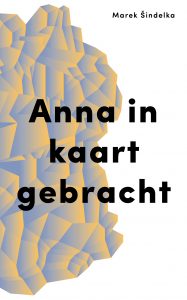 Waarom koos je ervoor om de lezer de puzzel te laten ontwarren?  
Šindelka: "Daardoor verbindt de lezer zich met het verhaal en creëert hij zijn eigen beeld. Het beeld van Anna is voor alle lezers anders. Het is een projectie van hun eigen verbeelding.
Ik reken op het verbeeldingsvermogen van mijn lezers. Zij zijn mijn partners in het schrijfproces. Ik ben enorm gefascineerd door hetgeen er plaatsvindt tussen de lezer en het boek.
Mijn eerste poëziebundel was heel persoonlijk. Ik dacht dat niemand er iets van zou snappen. Ik had het mis en was geshockeerd hoe lezers zich in mijn gedichten konden vinden. Literatuur is als open source software. Door tijd te spenderen in een boek, raak je erin betrokken en gaat het leven."
Is 'Anna in kaart gebracht' een groot verhaal of een collectie kortverhalen? Of zijn verhalen dood? De meningen zijn alvast verdeeld.
Šindelka: "De structuur is kubistisch, als een kristal. Voor mij is dat een metafoor voor de moderne wereld. De wereld is gefragmenteerd. Er zijn geen grote verhalen meer. Ik schrijf ook over 'het einde van het verhaal'. Uiteraard is dat provocerend bedoeld. Je kan niet zonder verhalen. Ze vormen zich automatisch in ons brein. Maar ik wil lezers er wel van bewust maken dat verhalen ook misbruikt worden als instrumenten van macht. We observeren de wereld immers vanuit een heel eng perspectief.
Via sociale media werken we tegenwoordig allemaal aan ons eigen verhaal. Dat maakt me bang. Wat als mijn verhaal niet interessant genoeg is?"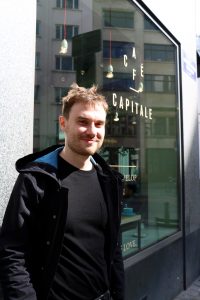 Heel wat van je personages zijn geïrriteerd en ontevreden. Wat maakt hen zo gefrustreerd?
Šindelka: "We leven in luxe, in een ultra-beschaafde wereld. We hebben geen echte problemen meer. Onze enige problemen ontstaan uit verveling.
We hebben zoveel mogelijkheden maar slagen er maar niet in om te kiezen. Ik zie vrienden die kampen met keuzestress op het kruispunt van miljoenen paden.
Doordat we langer leven, wordt onze kindertijd verlengd. Daar speel ik ook mee in mijn boek. Je vindt er meisjes in van vijftig. We zijn gefascineerd door het eeuwige leven maar kunnen geen invulling vinden voor het hier en nu.
Zelf heb ik veel geluk dat ik mijn weg als schrijver heb gevonden maar ik was enorm bang om vader te worden. Ik vreesde dat het mijn eigen ontwikkeling in de weg zou staan. Nu kan ik niet meer begrijpen hoe ik bang was voor zo iets natuurlijks. Ook de dood is zo'n taboe geworden. We vinden geen vrede met het idee dat onze tijd op aarde beperkt is.
Over al die onrust gaat Anna in kaart gebracht."
PS. Interviews met Das Mag schrijvers Catherine Lacey en Lize Spit.
PPS. Op de vorige editie van het Passa Porta Festival interviewde Barbara Ljoedmila Petroesjevskaja.