Sergeant Bertrand, brief aan Aleksandr
Beste Aleksandr,
Brieven schrijven aan schrijvers is zoals aan Mohamed Ali vragen of hij een probleem heeft. Het is nogal gevaarlijk. Ze schrijven terug, en beter. Daarom doen we dit bij This Is How We Read bijna nooit. We schrijven liever een recensie en verschansen ons dan achter de kantelen van ons hoofdkwartier. Veel veiliger. 
Maar toch. We moeten het even hebben over Sergeant Bertrand. Ik heb het gelezen zoals het betaamt: in één brandende slok achterover, zoals twintig gram Russkij Standart Platinum. En net zoals met goeie vodka beleefde ik heel wat plezier na het doorslikken. Alleen duurt dat nu al twee weken.
Eerst de feiten. Je schrijft over hoe Nikolaj wordt verteerd door jaloezie voor zijn vrouw, Vera. Misschien terecht, want als mooie actrice loopt ze voortdurend in de kijker. Om de zaak verder te compliceren loopt Nikolaj rond met een potig schuldgevoel over de dood van hun zoontje –wat er precies gebeurd is komen we niet te weten- en met een mysterieus litteken dat midden over zijn schedel loopt. Soit, de man heeft problemen. Nikolajs paranoia wordt lustig aangezwengeld door zijn vriend Sergeant Bertrand, een bijzonder sinister figuur, en door sloten vodka. Tussen droom en delirium neemt zijn jaloezie obsessionele proporties aan, wat onvermijdelijk uitmondt in een grote, tragische kladderadatsch.
Was het maar zo simpel. Sergeant Bertrand krijgt al bij de inleiding mythische proporties aangemeten, dus bestaat hij eigenlijk wel? Nikolaj is nauwelijks nuchter en wordt even in een gekkenhuis ondergebracht, dus misschien is wat hij droomt wel écht, of denkt hij dat de realiteit een droom is? En is Vera wel zo onschuldig? En hoe zit het nu met die moord op dat meisje waar hij denkt getuige van geweest te zijn?
'Ik had de indruk dat je geen ogen had. Dat er op de plaats van je ogen gaten zaten. En dat de huid van je gezicht eraf was.
Bertrand grinnikte in het donker.
'Wat een duistere fantasie heb jij, mijn kostbaar jongetje.'
Er is de gewone, logische versie. Nikolajs mentale mechaniekje loopt vast door een double whammy van schuldgevoel. Schuldgevoel over de moord die hij niet heeft kunnen voorkomen en over de dood van zijn zoon. Hij vlucht in de alcohol en Sergeant Bertrand is een product van zijn delirium. Door zijn falen vindt hij zich een minderwaardige partij voor zijn prachtige vrouw en komt hij tot de conclusie dat het dus niet anders kan dan dat zij haar fijne vleeswaren liever aan anderen tentoon stelt. Gezien door de lens van zijn paranoia lijkt elk feitje dat vermoeden te bevestigen. Klaar.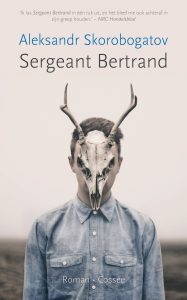 Of toch niet. Het litteken is een metafoor voor de gespleten persoonlijkheid van Nikolaj en Sergeant Bertrand is zijn duistere ik. Daarom kan hij zijn wandaden niet herinneren, of ervaart hij ze als dromen.
Of toch niet. Sergeant Bertrand bestaat echt en Nikolaj is overgeleverd aan zijn twijfelachtige hulp bij het omgaan met de niet zo onschuldige Vera.
Of toch niet. Sergeant Bertrand staat symbool voor de duivel en geeft naar behoren tegengas wanneer Nikolaj hulp gaat zoeken bij een priester, die hem aanraadt om zijn vrouw te vergeven.
Of toch niet. Sergeant Bertrand is eigenlijk de staat, die zich met alles moeit en zich manifesteert als een beklemmende, alomtegenwoordige macht, met Nikolaj en Vera als slachtoffers.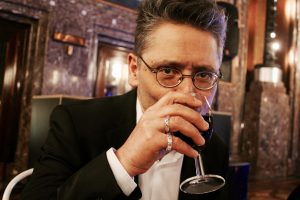 Er zijn aanwijzingen die elk scenario mogelijk maken. Er zijn aanwijzingen die elk scenario tegenspreken.
Om de gelaagdheid van deze roman te beschrijven volstaat een enkele matroesjkapop niet meer. Je hebt een heel kraam nodig, waarvan de onderdelen allemaal vrolijk door elkaar werden gehusseld. Maar welke laag je ook kiest, je ontsnapt niet aan de vervreemding, de beklemming en de obsessie.
En er is nog een laag. Na die eerste lezing gaat het kolken in het hoofd van de lezer. Je gaat aan alles twijfelen, je gaat elke scène, elke zin proberen aan elkaar te plakken tot een sluitend geheel. Elk beeld, elk detail is verdacht. Of toch niet. En in je twijfel, in je verwoed bedenken van complottheorieën terwijl je volledig in de macht bent van de schrijver, voel je je even zoals Nikolaj zelf. En dat, Aleksandr, zijn straffe toeren.
Met andere woorden, een boek dat je in één ruk uitleest en waarop je nog dagenlang loopt te kauwen staat in ons woordenboek synoniem voor heel veel plezier gevolgd door heel veel plezier. Een boek zo goed dus, dat je de drang niet kan weerstaan om dat even aan de schrijver te vertellen. Bij deze.
Dit is een bijdrage van onze vaste gastredacteur Kurt Van Gasse.
PS. Lees hier het interview met Aleksandr na Saint Amour.