4 beelden, 4 boekendingen
Januari was een goede boekenmaand: thuis, in Antwerpen, Vilvoorde en in Dublin!
Boeken shoppen in Dublin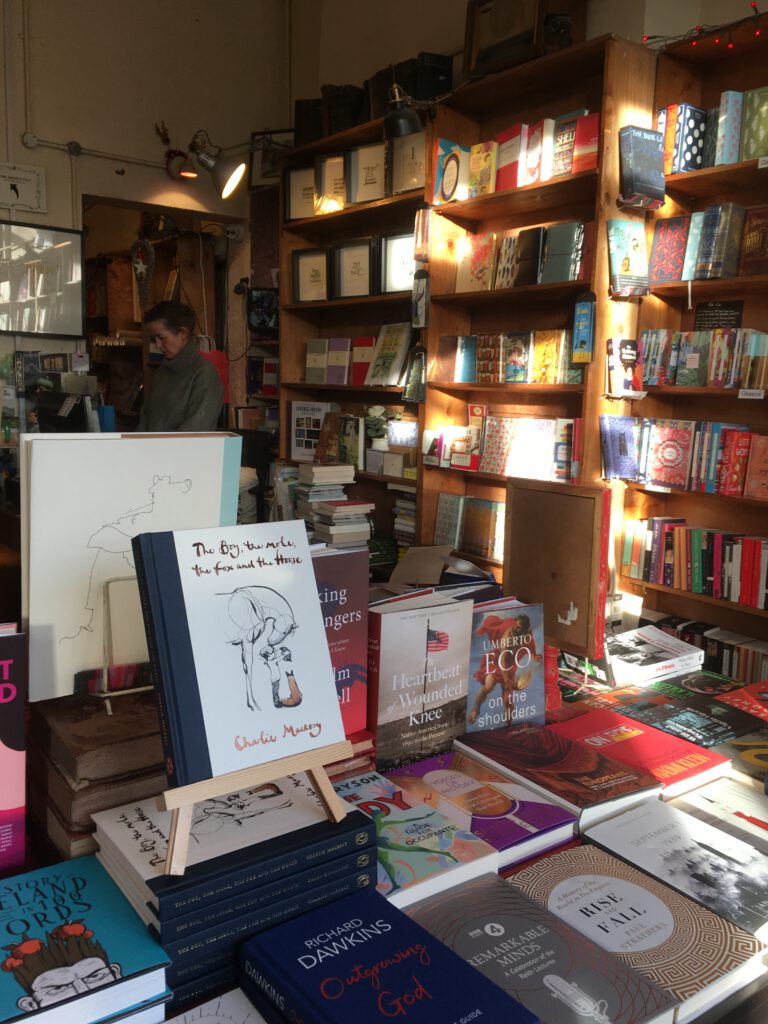 Begin januari ging ik met een paar vrienden een weekendje naar Dublin. Hoewel we niet het plan hadden er een literair uitstapje van te maken, liepen we toch een boekenwinkel of zeven binnen, namen we grappige foto's bij Oscar Wilde en keken we Little Women (een aanrader!) in de cinema. Mijn favoriet van die zeven boekhandels, vraagt u? Dat moet The winding stair zijn waar ik Girl, Woman, Other van Bernardine Evaristo kocht, dat as we speak klaar ligt om op skivakantie te worden gelezen.
Boekenclub in Vilvoorde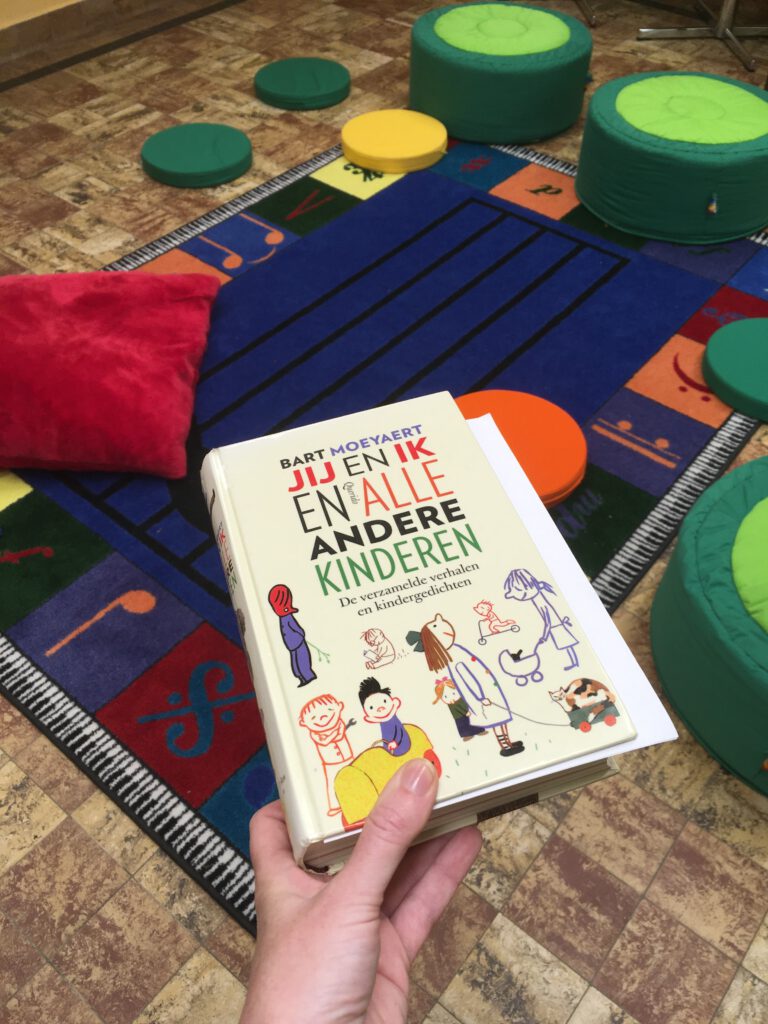 Vorig jaar ontving het team van This Is How We Read een leuk mailtje van de Bib van Vilvoorde. Of we geen leesclub voor kinderen wilden begeleiden? En zo gebeurde het dat ik op 22 januari een groepje uit het derde en vierde leerjaar liet kennismaken met De waanzinnige boomhut van Andy Griffiths, en een tweede groepje uit het vijfde en zesde leerjaar met Jij en ik en alle andere kinderen van Bart Moeyaert. Concept van de leesclub? We lezen samen enkele hoofdstukken en doen spelletjes, spelen toneelstukjes en maken tekeningen rond het boek om de leeshonger verder aan te wakkeren. Door het zo speels te houden, ligt de drempel heel laag en hoopt de bib een divers publiek aan het lezen te krijgen. Die missie is alvast geslaagd. Nagenoeg alle deelnemers van de leesclub leenden het boek achteraf uit en schreven zich in voor de volgende sessie op 19 februari. Dan lezen de jongsten Eigenlijk ben ik een flamingo van Simone Lia, de oudsten buigen zich over Spinder van Simon van der Geest.
En wat vond de juf? Die vond het bijzonder motiverend om haar enthousiasme over boeken te kunnen delen en zo een steentje bij te dragen om deze trend te keren. En vermoeiend, dat ook!
Nieuw vintage leesplekje
In januari 2019 ging ik fulltime aan de slag als zelfstandige. Omdat ik vaak thuis zou werken, vond ik het belangrijk een aparte home office te hebben om werk en privé toch enigszins te scheiden. Hoe ik die ging inrichten, daarover had ik wilde plannen. De meeste van die ideeën realiseerde ik bij de start van mijn avontuur, enkel een geschikt leeszeteltje ontbrak nog. Dat zeteltje vond ik afgelopen maand wel, in het huis van mijn overleden grootvader. Met een paar kussens uit de Ikea kreeg zijn oude schommelstoel een nieuw leven. Wat ik er zoal in las? In de eerste plaats mijn boekenbuit uit Dublin (leve Engelstalige boekhandels), met onder meer deze autobiografische mijmeringen van Deborah Levy.
Expo in de bib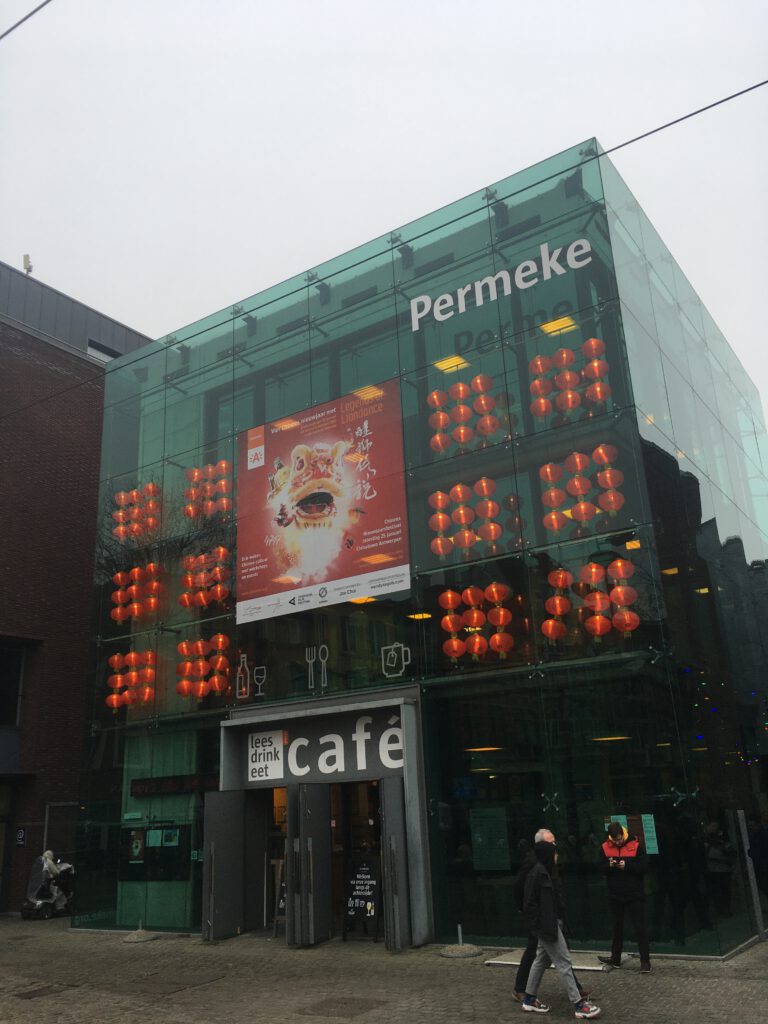 Ondanks de turbulente tijden in China, woonde ik dit jaar voor het eerst de feestelijkheden rond het Chinees Nieuwjaar bij in het Antwerpse Chinatown. Kungfudansers voeren hier ieder jaar de leeuwendans uit, een bijzonder ritueel met een rijke geschiedenis. Wij volgden de dansers op hun route, slurpten een bubble thee, proefden een Che Ba Mau én bezochten de tentoonstelling over Chinees Nieuwjaar, die nog tot 17 februari loopt, in de Permeke bibliotheek. Een casual maar toch bijzondere zaterdagmiddag!