Ik heb een broertje dood aan multitasken. Volgens vranke tongen op de redactie heb ik zelfs een broertje dood aan 'tasken' tout court, en dat vooral omdat ik vorige week een blogpost heb gemist. Met een aantal bordjes jongleren kan immers best lollig zijn, totdat het bordje met 'job' erop plots het formaat aanneemt van 's werelds grootste soepteljoor en je tot aan je navel in een hoop scherven beteuterd staat te wezen.
Jongleren met een hele stapel boeken tegelijk is me gelukkig nooit moeilijk gevallen. Multiboeken komt van pas, zo met het literaire najaar in full swing en met de boekenbeurs in aantocht. Laat me bij wijze van een sloot boekentips even delen wat er vandaag opengeslagen rondslingert in boekenknecht towers. Klaar voor een potje brutaal context switchen?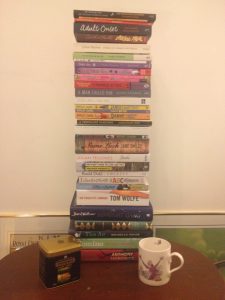 En toen werd het zwart – Yannick Ottoy
Oftewel de tragische coming of age van de kleurenblinde Noah, die eerst niet en dan heel erg verliefd is op de Rwandese Alizée. Of het wederzijds is, en of dat allemaal van een leien dakje loopt, moet je vooral zelf lezen. Of komen luisteren naar Yannick op de boekenbeurs, waar hij en Valerie Eyckmans door ons simultaan aan de tand worden gevoeld.
Zo leefde ze, zo was ze. Alles of niks. Nooit een beetje blij of een beetje verontwaardigd. Onder het bijna lichtgevende clair zat een obscur als een duizend meter diepe steenkoolgroeve, en tussen die twee gemoedsgesteldheden flikflakte ze voortdurend, als een virtuoze gymnaste.

 Tabac – Gerda Dendooven
Ik ken Gerda Dendooven uiteraard van haar bekroond grafisch werk, dus wanneer ze zich voor de eerste keer aan een roman voor volwassen waagt kan ik niet anders dan die meteen -hier en nu- te laten aanrukken. Ik las het eerste hoofdstuk –Het verhaal van mijn geboorte- en was meteen verkocht. Lees even mee en je begrijpt waarom:
Ten slotte gaat de dikke zuster boven op de gespannen buik zitten, haar vette kont ter hoogte van moeders happende mond. De zuster puft en blaast alsof ze zelf moet bevallen. Ze bijt haar gekloven vingers tot bloedens toe terwijl haar forse handen de berg vlees bewerken. Ze trommelt erop met haar vuisten, klopt en beukt om mijn weerstand te breken. Ik verzet mij als het een wilde kat maar het is vier tegen één. De dokter trekt, vader duwt, de zuster slaat en moeder perst.
Levendige literatuur met een stem die door je kop galmt, zo moet dat. Een beschrijving die evenzeer opgaat voor:
In elke vrouw schuilt haar moeder – Marnix Peeters
Oftewel de reden waarom mijn e-reader weldra de geest geeft, die dingen kunnen erg moeilijk tegen het omvouwen van hoekjes van pagina's met lekkere passages, en daar staat In elke vrouw schuilt haar moeder vol van. Wordt binnenkort vervolgd in deze kolommen.
Het belang van schoon ondergoed – Valerie Eyckmans
Eveline kwam al aandraven met 7 + 1 redenen om in Het belang van schoon ondergoed te duiken, reden nummer 8 is natuurlijk om perfect voorbereid te zijn voor het gesprek met Valerie op de boekenbeurs. Terwijl ik overweeg om hoofdpersonage Sam een snakebite toe te dienen terwijl ik test hoeveel rondjes zijn schouder kan draaien, kan ik alleen maar meesmuilen met zinnen als:
Ze rolde met haar ogen, iets waar ze naar eigen zeggen bijzonder in bedreven was geworden sinds ze mij kende.
In Europa – Geert Mak
Oktober – Johan de Boose, met tekeningen van Caryl Strzelecki
Laat me in In Europa van Geert Mak nu net aanbeland zijn bij de Russische revolutie, wanneer Oktober in mijn schoot belandt. Geert Mak voorziet de revolutie van nuchtere kanttekeningen en brengt feiten waar de legende het soms overnam. In Oktober is de revolutie de achtergrond van de liefdesgeschiedenis tussen de dakloze Maksim en Vera, een telg van de belaagde aristocratie. Oktober is naar goede Russische gewoonte bevolkt met een menigte aan kleurrijke, vaak geschifte personages, die ook opduiken in de kunstwerkjes van Caryl Strzelecki, die in grijs en bloedrood de sfeer perfect weet te vatten.
'Ik denk', viel de leider hem in de rede, 'dat wij na de revolutie geen boekenwijsheid meer nodig hebben. Een boek kun je niet opeten. Je kunt er hooguit de kachel mee aanmaken.''
Maksim klemde zijn boek tegen zich aan.
'Ik ben…'stamelde Maksim, 'ik geloof in de revolutie.'
The First Men in the Moon – H.G. Wells
The First Men in the Moon is niet meteen het bekendste werk van de peetvader van de sciencefiction, maar daarom niet minder goed. En ja, het is 'in' the moon, niet 'on'. Terwijl Jules Verne zijn helden met een reusachtig kanon naar de maan schoot, draait Wells er zijn Victoriaanse hand niet voor om ze zomaar even antigraviteit te laten uitvinden, in een hok in de buurt van Hastings. Zoals het goed wetenschappelijke experimenten betaamt, gaat dat eerst grondig fout en belandt een integraal Engels gehucht in kleine stukjes in de stratosfeer. Daar kraait naar flegmatische Britse gewoonte geen haan naar, waarna de gentlemen ongestoord hun avonturen verderzetten in de maan. 'In', ja.
'I didn't, of course, foresee this little upset. My mind was preoccupied with another problem, and I'm apt to disregard these practical side issues. But it's all right.'
'My dear sir', I cried, 'don't you see you've done thousands of pounds' worth of damage?'
The Lady in the Lake – Raymond Chandler
Voor de beste hard-boiled detectives moet je nog steeds bij Raymond Chandler zijn. Zijn Christopher Marlowe blijft ongeëvenaard. Gewapend met een zijn kaartje van privé-detective -met een tommy gun erop- en met een keiharde attitude zoekt hij klanten en daders in de zwoele straten van LA. De plots moeten het afleggen tegen Agatha Christie, maar de cynische interne monoloog van Marlowe en Chandlers rake beschrijvingen blijven een plezier om lezen.
'I don't like your manner,' Kingsley said in a voice you could have cracked a brazil nut on.
'That's all right,' I said. I'm not selling it.
Woesten – Blindelings – Kris Van Steenberge
De kinderen van Calais – Hotel zonder sterren – Lara Taveirne
Huiswerk voor ons dubbelgesprek met beide kleppers, op de sofa van de leesclub van de bibliotheek van Willebroek, en wel op 24 november.