Nederlands auteur Elfie Tromp schreef een roman over Afghaanse windhonden. En over World of Warcraft. Daar komt ook nog een disfunctioneel gezin bij, een Bill Bryson-waardige rondrit door Australië en een ontknoping waar veel actiefilms een punt aan kunnen zuigen. Underdog is spannend, intens droevig, zindert van de Unheimlichkeit en wordt bewoond door enkele doordachte, soms excentrieke, soms tragische personages. Maar die hondenshows, dat prikkelt de nieuwsgierigheid toch… Tijd voor een belletje richting noorderburen.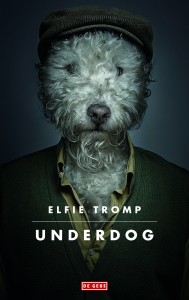 Een boek over hondenshows en World of Warcraft? Leg uit…
Ik geef lezers graag een inkijk op wat literatuur kan doen. Boeken openen werelden die ons onbekend zijn. Zo draait mijn eerste boek rond de New Age wereld. De wereld van hondenshows is een kleine biotoop die veel zegt over het leven zelf. Fokkers zijn net zo fanatiek bezig met de sport als eender welke topsporter. Wat zich afspeelt op de piste is een Griekse tragedie met alles er op en er aan. Ik ken het wereldje vrij goed, aangezien mijn moeder zelf fokker is.
Ik stel mij je research voor als poedels over hun kop gaan aaien voor de show en uren online spelletjes spelen…
Niet helemaal correct. (lacht) Ik heb 8 jaar samengewoond met een sociaal autistische jongen die World of Warcraft speelde. Ik ontdekte online gamen, ging zelf ook spelen en zag dat het spel een moderne manier is van verhaal maken.
Je personages zijn pijnlijk herkenbaar…
Mijn personages zijn gefictionaliseerd op feitelijk niveau. De moeder uit het boek is mijn moeder niet.  Zelf ben ik Adelien niet: ik heb geen urgente babywens, geen fokkersdroom, ik hou er alleen knuffelhonden op na. Adelien is manipulatief met de beste bedoelingen, wat haar extreem gevaarlijk maakt. Ik geloof dat ik een hele lieve dochter ben. En mijn ambitie ligt bij het schrijven.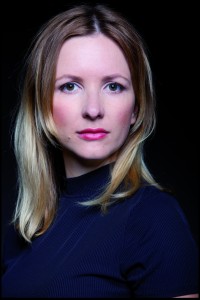 De personages kregen aspecten mee van mensen die in deze tijd leven. Het tragische aan de personages is dat het taboe is om iets te accepteren wat niet veranderd kan worden. Beperkingen worden doodgezwegen en mislukkingen zijn ondenkbaar of mogen niet uitgesproken worden.
Word je een soort van spokeswoman voor hondenfokkers?
Mensen kennen de hondenwereld op twee manieren: ofwel als een potsierlijke bedoening, ofwel vinden ze het vooral 'zielig voor de beestjes'. Ze gaan daarmee voorbij aan de passie en het verlangen om iets na te laten. Ik wil dat wereldje vooral op een genuanceerde manier in het daglicht stellen.
Je kiest in je boek voor Afghaanse windhonden?
Ik koos het ras dat ik het beste ken. Ook omdat het een ras met een uitgesproken karakter en uiterlijk is. Windhonden zijn de meest aapachtige onder de honden.
Welke reacties denk je te krijgen uit de hondenwereld?
Hopelijk zien ze het als een steuntje in de rug. Broodfokkers zijn een probleem: je krijgt zieke honden, er is sprake van inteelt,… Nu zijn er extra strengen regels voor stambomen. Voordat een hond een show mag lopen, moet hij een DNA test ondergaan. Fokkers die het vanuit de juiste motivatie doen, zijn erg welwillend. Hopelijk zullen ze het boek omarmen.
Je boek speelt zich deels af in Australië?
De keuze voor dat werelddeel is er heel bewust gekomen. In Australië rijst de vraag rond Nature/Nurture omwille van de geografische isolatie en de enorm angstaanjagend en dodelijke natuur. Ik wilde anders gaan denken en schrijven door de enorme ruimte. In Nederland is alles in hokjes geplaatst. Ook de gecultiveerde hond tegen de achtergrond van de wilde natuur fascineerde me.
Wat vind je de beste zin van het boek?
Goh, even denken…  Oh, ja, eentje die ik zelf ongelooflijk grappig en origineel vond, maar die mij uitgever absoluut niet snapte. Ik heb keihard gevochten voor die zin.
"Adelien kan niet rijden, ze heeft het richtingsgevoel van een aardappel in een kilozak."
Kan je al iets vertellen over je volgende boek?

Ik ging lang gebukt onder idee dat ik niks te vertellen had: ik ben hoogopgeleid, heb geen moeder die prostituee is, maakte geen oorlog mee of zeul niet met een trauma. Ik heb wel veel te vertellen over menselijke drijfveren en kan vanuit kleine werelden grote verhalen vertellen. Ik creëer begrip en herken personages in mensen waar velen in eerste instantie niets mee hebben. 
Rein vindt hem te vrolijk. Hij is het menselijke equivalent van een golden retriever, tegen iedereen even uitgelaten.
Underdog, Elfie Tromp, De Geus.