Koen Strobbe is één van de laureaten van de allereerste Aspe Award. Zijn debuut, Kruis en munt, is ondertussen uit. Wij waren wel heel nieuwsgierig naar deze auteur/wijnboer en konden het vragen niet laten.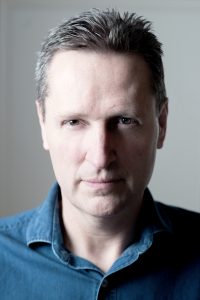 Kruis en Munt onderscheidt zich van de doorsnee thriller. Vergeet donkere Scandinavische bossen en detectives. Het boek speelt zich af tussen wijngaarden in de Provence. Een logische keuze, aangezien Strobbe er zelf al jaren wijn verbouwt. Hoofdpersonage Isabel is een sterrenchef. Het goede leven in La douce France weerklinkt vanaf bladzijde één. Maar niet alles is peis en vree tijdens Isabelle's vakantie. Haar vriend Bas verschijnt niet op de afspraak op het station en ook in zijn hotel is geen spoor van hem te bekennen… Of toch? In bed vindt ze een milt…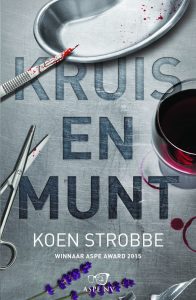 Je schreef je in voor de Aspe Award en werd genomineerd. Schreef je al langer of was dat de trigger?
Ik heb altijd al veel geschreven, professioneel, via copywriting, en later tijdens mijn job bij De Persgroep en Woestijnvis, maar ook als student Germaanse filologie.
Onbewust heb ik, denk ik, jarenlang de indruk gehad dat ik eerst héél veel moest lezen vooraleer ik het 'recht' had om iets te schrijven.
En toen las ik toevallig over de Aspe Award. Ik zag die award inderdaad als een springplank om te debuteren, onder het motto: 'Als Manteau je kortverhaal oppikt, is dat een 'teken' om eindelijk dat boek te schrijven.'
Je kiest voor Kruis en munt voor een wat atypische thriller-setting. Wijngaarden in het Zuiden. Zou je jezelf als schrijvende wijnboer omschrijven of als auteur met een wijngaard?
Net zoals het schrijven is het wijnmaken iets waar je passioneel mee bezig bent, dus geen van beide activiteiten zou ik 'werk' durven noemen. Ik heb de afgelopen 15 jaar letterlijk al mijn energie in de wijngaarden, de druiven en de wijn gepompt.
Maar schrijven is toch nog iets anders: daaraan heb ik echt mijn hart verloren. Als je me dus bovenstaande vraag stelt, aarzel ik niet om te antwoorden: 'in de eerste plaats auteur, mét een wijngaard'. Aangezien een dag slechts 24 uren telt en ik maar twee handen heb, werk ik sinds dit jaar met een partner in het wijndomein, waardoor ik me niet meer met de dagelijkse beslommeringen in de wijngaard moet bezighouden, maar me voltijds op het technisch-creatieve aspect, nl. het wijnmaken zelf, kan concentreren. Dat geeft me meer tijd om professioneel met schrijven bezig te zijn.
We willen hier even meedromen: omschrijf je schrijfplek.
De inspiratie komt bij mij in de buitenlucht, tijdens het werken in de wijngaarden. Het schrijven zelf gebeurt natuurlijk -heel traditioneel- achter de schrijftafel met de laptop, zij het dan misschien met een iets leuker uitzicht.
Vanzelfsprekend is de plek waar ik woon een fantastische bron van inspiratie. De Provence is immers een unieke mooie regio. Heerlijk weer, de culinaire hemel en een plek die een fantastische traagheid uitstraalt.
Is er al een idee of plan voor een volgend boek?
Ja hoor. Ik zit op dit ogenblik met een aantal ideeën in mijn hoofd. Een van de grote vragen die op dit ogenblik noch door mij noch door de uitgever beantwoord kunnen worden is: wordt het een nieuw, totaal losstaand verhaal, of sluit het aan bij Kruis en munt. Lezers mogen alvast hun voorkeur laten weten via de FB-pagina.
Kruis en munt , Koen Strobbe, Manteau