De 2e Kris Van Steenberge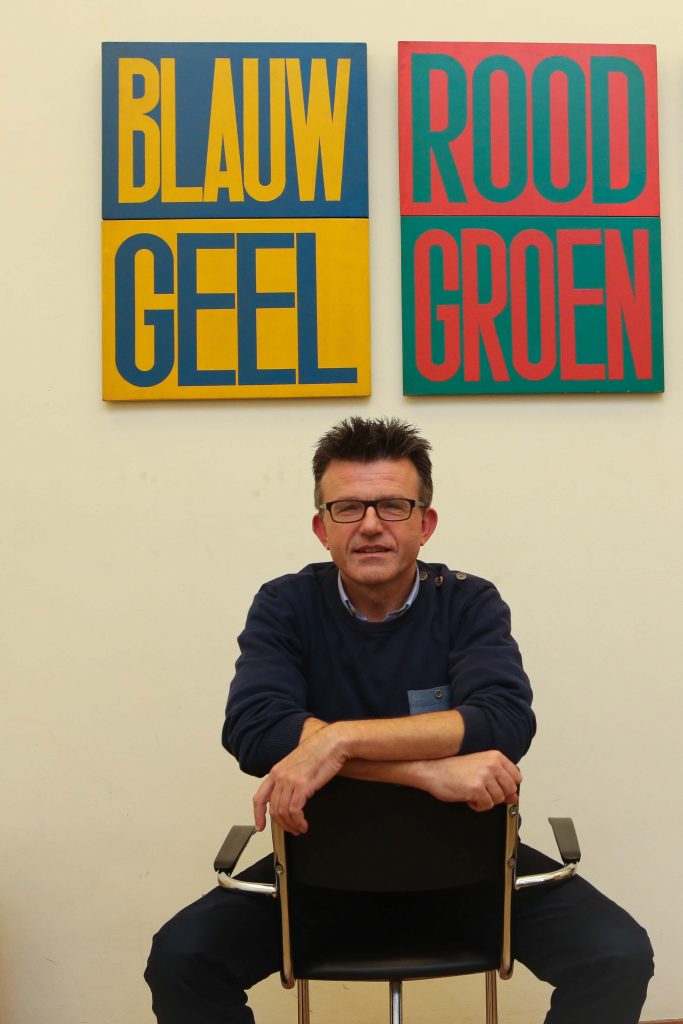 Vanmiddag had ik een afspraak met Kris Van Steenberge in het Antwerpse Letterenhuis. We kozen die plek omdat Kris er – in het kader van 'Boeken op Woensdag' – voor publiek werd geïnterviewd over zijn nieuwe roman, Blindelings.
Dat is dé roman waarmee Van Steenberge het fenomenale succes van zijn droomdebuut Woesten  (lovend gerecenseerd, goed verkocht, meermaals bekroond) moet evenaren.
Of zo zou je het kunnen stellen, als je een pak onnodige stress op de schouders van de sympathieke schrijver wil leggen.  Niet onze bedoeling, natuurlijk. Wat denkt U wel?
In Blindelings  verkent Van Steenberge – zoals hij het zelf samenvat – 'het gegeven dominantie in de relatie tussen moeder en zoon. Zodra er dominantie is, is er ook onderwerping. Elk verhaal heeft twee kanten. Jezelf ongelukkig laten maken, is ook een rol die je opneemt.'
Nadat Dirk Leyman, de gastheer van 'Boeken op Woensdag' (en geen onbekende op deze blog) zijn gesprek met Van Steenberge afrondde, mocht ik de schrijver onder vier ogen uitvragen over zijn lagere schooltijd voor een stuk in het blad 'Juf en Meester' van Uitgeverij Van In.
Schreef Kris als kind al pareltjes van opstellen?
Was hij ooit verliefd op een juf? En waarom koos hij zelf voor een carrière in het onderwijs? Voor het antwoord op die vragen moet U wachten op het officiële artikel. Voor wat lichtvoetige literaire weetjes, zit U goed hier en nu.
Kris Van Steenberge kent de openingspassage van Blindelings  (en wie weet hoeveel andere fragmenten…) uit het hoofd. Toen hij werd gevraagd om een stukje uit z'n boek voor te lezen, debiteerde hij  de eerste pagina. Best indrukwekkend. Ook al omdat het proza van Van Steenberge gewoon erg goed klinkt, luidop: 'Deze vreselijke stad. De gebarsten parel aan de kustlijn van dit lage land.
Eenzaamheid hangt hier, zelfs bij goed weer, als smog in de straten.
Bejaarden sloffen over de stoepen, hun wandelstok of rollator als enige metgezel. Anderen, die met zichzelf en hun verpierde leven nog een beetje uit de voeten kunnen, slepen een boodschappenkarretje achter zich aan, dat ze vullen met etenswaren, drank, kattenvoer en nutteloze hebbedingetjes waartoe ze zich door bedrieglijke slogans hebben laten verleiden. Een mens laat zich het liefst van al belazeren.'
In Blindelings  komen vier personages aan het woord: Abigaïl en Karel, hun zoon Jonas en het meisje Anouk. Er is ook een belangrijke rol weggelegd voor een blindengeleidehond. Van Steenberge schreef een aantal hoofdstukken vanuit het perspectief van de hond, maar die hebben de eindversie niet gehaald.
Goede collega-schrijvers, ze bestaan. In het publiek vanmiddag zat ook Diane Van Broekhoven, de schrijfster van o.a. De Buitenkant van meneer Jules.  Die novelle eindigde in de meest recente top 25 van het netwerk van bibliotheken, Verborgen Parels, als tweede – achter topfavoriet 'Woesten' van Van Steenberge… Maar geen rancune dus, bij Diane.
Schoon schrijven als je linkshandig bent, Kris Van Steenberge bewijst dat het kan. Met dank aan het toetsenbord… De schrijver zegt zelf dat hij 'een vreselijke pengreep' heeft. Ik vond het anders wel charmant bij het signeren.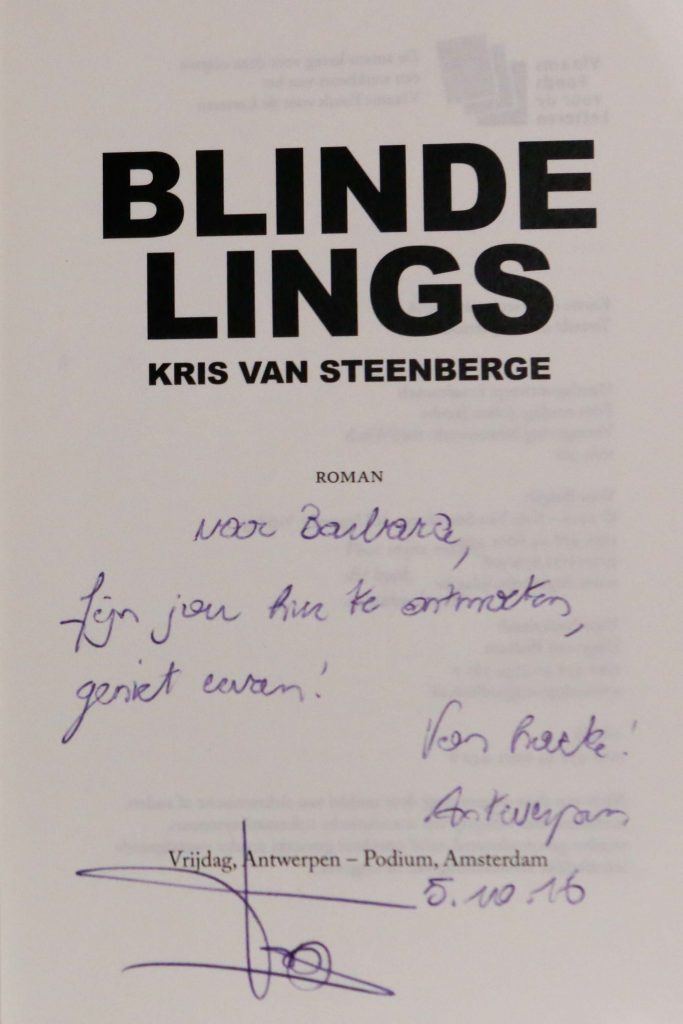 PS: Katrien was eerder al in het Letterenhuis.
PPS: Vorig jaar botsten Eveline en ik ook al op Van Steenberge, op de vooropening van de Boekenbeurs