Annemarie Peeters botst op muur
Journaliste en muzikante Annemarie Peeters debuteerde dit najaar met 'Ook bomen slapen' (Uitgeverij Vrijdag), een roman vol muziek. Niet te verwonderen dat Anna Enquist – binnen de Nederlandstalige literatuur dé stem als het over schrijven en muziek gaat – haar literaire inspiratie gaf. Op de Boekenbeurs ontmoette Annemarie haar heldin. Vandaag lees je op This Is How We Read hoe dat liep.
Muur
Af en toe doe ik gekke dingen. Zoals een boek schrijven. Of op de radio verkondigen dat ik Anna Enquist wil ontmoeten. Wil ik dat? Blijkbaar wel. Zoals ik ook dat boek gewild heb. Eerst een wens, dan een schrikbeeld, dan een plan. Een lijst vol af te vinken hoofdstukken. Een zucht, een emmer vol twijfel, nog een zucht en toen was het er. Ten slotte toch.
Als een kind zo kwetsbaar: soms wil ik er hoge muren omheen bouwen, om dat gekke boek van mij.
Aan de einder van mijn schrijversdromen stond al die tijd Anna Enquist. Een grijze wachter, een vuurtoren die af en toe het donker doorsnijdt – met die mooie beelden van haar, die kale taal. Terwijl ik op mijn eigen zinnen zwoegde, bleef ze in mijn fantasie aldoor op post, standvastig en bemoedigend. Al was ik zelf minder trouw. Haar laatste romans liet ik aan me voorbijgaan. Daarom vraag ik me af of ik dit verdien. Want het gebeurt: straks. Ik mag handen schudden met de zilveren heldin. Haar een exemplaar van mijn boek overhandigen en zelfs een handvol vragen stellen voor een tijdschrift. Ik heb te lang nagedacht over wat ik zou dragen. De boekenbeurs is druk. Mijn hartslag een tel te snel. Wil ik dit echt?
De liefde gaat ver terug, meer dan twee decennia nu al. De stramme, pianospelende vingers van de Wanda Wiericke in Het Geheim, de schaduw van Don Giovanni in Het Meesterstuk, de schreeuwende strijkstokken in haar gedichten: het had iets met muziek te maken. Dat zeker. Maar misschien nog meer met mijn moeder. We deelden Enquists boeken. Bij elke verjaardag schreef mijn moeder een vers van haar op een kaart. Altijd over datzelfde: loslaten. Over een dochter die het huis uit gaat, haar eigen leven begint. Toen ik dat ook daadwerkelijk deed, werd mijn moeder ziek. En een jaar later – godzijdank – ook weer beter. Wij hoefden elkaar niet los te laten. Nu nog steeds niet. Tien jaar daarna verscheen Contrapunt. Over een vrouw die haar dochter verliest in het verkeer, haar met de muziek van Bach bij zich probeert te houden. Over zo hard loslaten dat je botten ervan scheuren. Mijn moeder las eerst, daarna ik. Wenen deden we samen.
Boeken moeten niks, ze hoeven je niet te leren hoe te leven. Maar soms doen ze dat wel.
Daar loopt ze, mijn gefantaseerde vuurtoren, kijk. Zo dun en breekbaar dat ik terstond kussens om haar botten wil binden. In een prachtig fuchsia jasje, zijden rok en platte schoenen. Een mager rugzakje om de schouders. Niet breekbaar, zie ik: ontheemd.
Ze vraagt zich af wat ze hier doet, zoekt zich een weg naar buiten. Om adem te halen, om te roken. Wat een hel is dit ook, denk ik, zittend aan het laatste vrije tafeltje van de koffiehoek. Mijn hoofd ijl van het geroezemoes. Wat moet ze straks met mij?
Een brief. Het leek een geweldig plan. Met dat verhaal over mijn moeder erin. Ook al vlotten de woorden niet echt, gaf mijn dochter over en bleek de inkt uit mijn printer bijna op. Toch had ik ze tussen mijn boek geschoven: alle woorden die ik zo meteen alvast niet hoef te zeggen.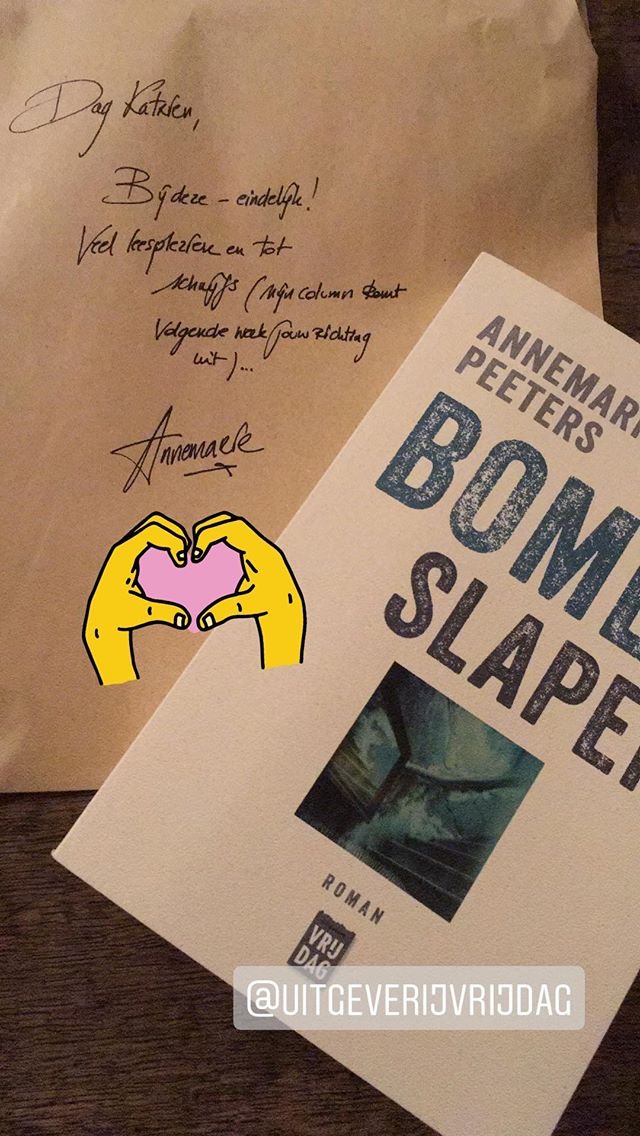 Ze zit tegenover me in de lege VIP lounge. Lekker ongezellig. Maar zij glimlacht, zacht en professioneel. Mijn boek glijdt in het grijze rugzakje. In de flap zit mijn brief. Ik zie hem nog net verdwijnen, buiten mijn bereik. Pas dan – en zoals vaak: te laat – gaan in mijn hoofd de alarmbellen af. Rouw gaat nooit over, zo zegt ze in elk interview opnieuw. Ze houdt niet van het woord, omdat er een zachtheid in zit waarin ze niet gelooft. Wat moet ze dan met dat loze verhaal van mij, zout in een wonde die nooit geneest?
Ze kijkt me aan, wil zo stilaan dat dit begint. Mijn blik verschuift geschrokken van haar rugzak naar mijn schriftje met vragen. Verdwijnen lijkt me ook wel wat. In het reuzengrote gat onder mijn voeten. Op een of andere manier lukt het toch. Ik hakkel, zij praat. Over muziek en woorden, over hoe schrijven in zijn werk gaat. Waarom ze destijds voor een pseudoniem gekozen heeft, vraag ik helemaal op het einde nog snel. Ze antwoordt iets over haar werk als psychoanalytica en de noodzaak om beide werelden gescheiden te houden. Ik kijk haar heel even aan, in die warme en toch afstandelijke ogen. Er daagt me iets.
Is die naam misschien een muur? Tussen haarzelf en haar boeken? Ze knikt vrolijk. Zo is het precies. Tussen haar ik en dat van haar lezers, tussen een veilig zelf en een meute opdringerige bewonderaars? Mijn ruggengraat ontspant, ik glimlach – voor het eerst echt.
Wat is ze goed. Ze heeft een muur die haar voor gekken als ik behoedt.
Dit is een gastbijdrage van Annemarie Peeters.
PS. Het gebeurt niet vaak, maar soms staan wij onze pen wel eens af. Gastbijdragen van Lies Galle, Annette Akkerman en Inge van Kerygma.