Dit is een geeky gastbijdrage van Kurt Van Gasse.
Nog nooit werd een goed boek zo met de nek aangekeken. Middenin mijn promopraatje duwt mijn bezoek het met rollende ogen terug in mijn kast. En wel toen ik vermeldde dat het om sciencefiction ging. Een scène die zich vast dagelijks in elke boekhandel herhaalt. Volslagen ten onrechte.
Het is de schuld van Star Wars en Star Trek. Ooit was sciencefiction immers een volbloed literair genre, met Jules Verne en HG Wells als respectabele boegbeelden. Het ging letterlijk om "wetenschapsfictie", die wetenschappelijke of maatschappelijke ontwikkelingen extrapoleerde naar de toekomst om een boodschap te brengen die tot nadenken stemt. Iedereen kent Big Brother uit 1984. Orwell schreef sciencefiction, like it or not.
Toen werd het genre gekaapt door figuren die elkaar met gekleurde TL-buizen te lijf te gaan. Uitgedost met attributen uit de afdeling sanitair. Door figuren die in een kleurige pyjama de USS Entreprise door de ruimte laten fietsen alsof er met de lichtsnelheid te onderhandelen valt. Het succes van populaire saga's zoals Star Wars en Star Trek zorgde ervoor dat sciencefiction richting fantasy opschoof en de wetenschap losliet.  De toegewijde fans in alle gelederen van de bevolking droegen die perceptie nog verder uit. Geen zorgen, de fanatici  die Klingon spreken of sokken in hun sandalen dragen vormen maar een kleine doch zeer hardnekkige subgroep.
Tijd dus om de oorsprong van sciencefiction weer op te zoeken. Tijd om enkele pareltjes uit het verdomhoekje te peuteren. Zet op dus, die Buddy Holly bril, en ruk die sokken tot aan je knieën.
We gaan op reis door Geekistan. Wees niet bang, de gids is ervaren.
Station Elf, Emily St. John Mandel (Atlas Contact)
Het boek dat achteloos weer in mijn kast werd geduwd. Omdat het zich afspeelt nadat een virus grote kuis heeft gehouden onder de mensheid behoort het tot de post-apocalyptische sciencefiction. Maar dat is maar een aanleiding. Een aanleiding om een prachtig verhaal te vertellen over een reizende karavaan artiesten, die van armetierig dorpje naar schraal gehucht trekken om halsstarrig Shakespeare op te voeren voor de overlevenden. Lees Station Elf niet voor de sappige rampspoed, daar worden maar een paar bladzijden aan gewijd.
Lees het omdat het meer laagjes bevat dan een Thisishowweread boekentaart. Lees het voor de dromerige sfeer. Lees het omdat het aantoont dat verhalen –en dus boeken- niet kapot te krijgen zijn, zelfs al gaat de mensheid collectief door de knieën.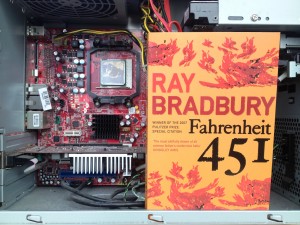 Fahrenheit 451, Ray Bradbury (Spectrum)
Fahrenheit 451 is de temperatuur waarop boeken spontaan ontbranden. Iets waarvan de regering in de 24ste eeuw handig gebruik maakt. Hun Fire Department gaat geconfisceerde boeken te lijf met kerosine, gevolgd door een lucifer. De eigenaars krijgen een spuitje waar ze nogal dood aan gaan. Boeken zijn immers de bron van alle ellende, omdat ze mensen afleiden van de lulkoek die de TV ze rond de klok inlepelt. Maar geen nood, een ondergrondse verzetsbeweging leert uit liefde voor literatuur hele boeken van buiten en geeft ze mondeling door tot lezen weer mag.
Deze dystopische science-fiction klassieker uit de jaren vijftig is een brandende –sorry, ik kon het niet laten- aanklacht tegen censuur, platte media en machtsmisbruik.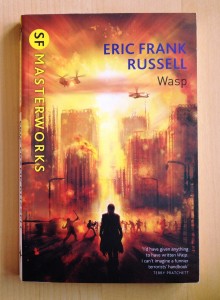 Wesp, Eric Frank Russell (A.W. Bruna)
Eric Frank Russell is een buitenbeentje in het science-fiction genre. Hij heeft een bloedhekel aan bureaucratie en pompeuze, incompetente gezagsdragers, wat hij combineert met een fascinatie voor massapsychologie. En met een gezond Brits gevoel voor humor. Zijn klassieker Wesp wordt wel eens het "meest grappige terroristenhandboek" genoemd. Geef een geboren rebel de keuze tussen aan het front aan flarden geschoten te worden en undercover te gaan op  een vijandige planeet. Geef de man ongelimiteerde middelen en geef zijn slecht karakter carte blanche. Kijk dan hoe hij een hele planeet in rep en roer zet, zoals een kleine wesp een auto kan laten crashen door maar lang genoeg de veel grotere bestuurder te pesten.
Hoe dit in zwarte humor gedrenkt kwajongensboek een heel planetair establishment vol arrogante imbecielen te kakken zet is even grappig als lekker politiek incorrect.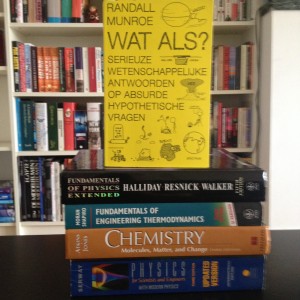 Wat als?, Randall Munroe (Spectrum)
Het ultieme science-non-fiction boek, gebaseerd op de gelijknamige website.Terwijl sciencefiction een fictief antwoord levert op realistische "wat als"-vragen, doet Randall Munroe exact het omgekeerde.
Deze ex-NASA fysicus geeft een perfect sluitend wetenschappelijk antwoord op van de pot gerukte vragen. Met stijl. En met cartoons. De wetenschap is verteerbaar en de fantasie van Munroe is grenzeloos. Net zoals zijn gevoel voor humor. Een voorbeeld? "Hoe lang duurt het om een zwembad te vullen met mijn eigen speeksel?" Antwoord: 8500 jaar, aan een constant spuugtempo. Nog eentje? "Wat gebeurt er wanneer de Pluto probe New Horizons aan zijn huidige snelheid op mijn oprit zou neerstorten?" Antwoord: de klap is zo groot dat er kernfusie ontstaat in je gladiolen, waardoor de hele wijk verdampt. Inclusief die lastige keffer van de buren. En de buren eigenlijk ook. Dus dat valt mee. En o ja, NASA is verzekerd voor dit soort akkefietjes.
PS. Sciencefiction van Michel Faber