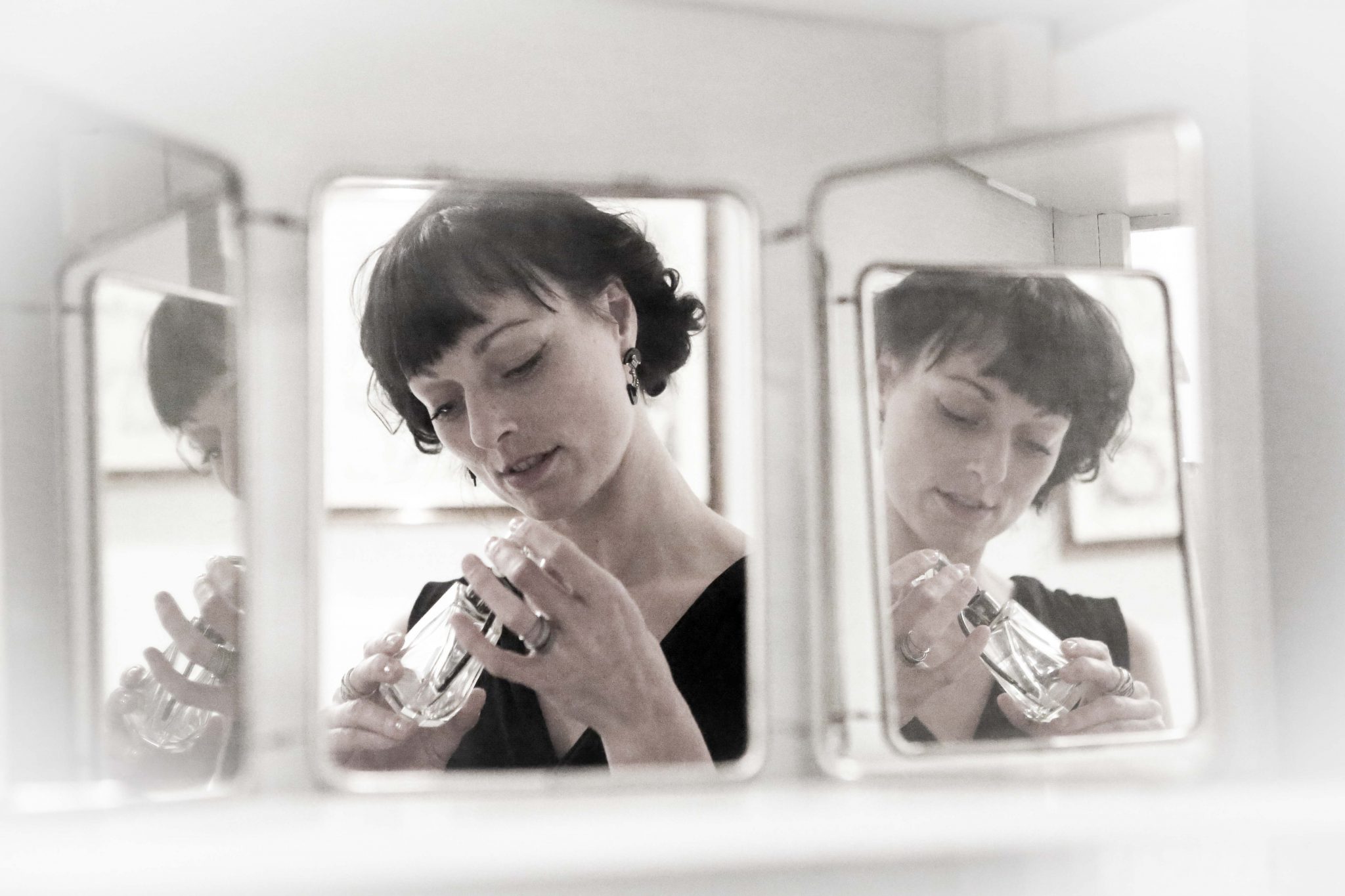 Hoe konden we de eerste verjaardag van This Is How We Read beter vieren dan met een groot interview met een interessante auteur? Euh… met een weekendje luxueus relaxen onder de boekenmeisjes, misschien? U raadt het al: we combineerden de twee.
Het is zondagmiddag, 16u en we zitten met z'n drieën klaar in de gezellige leefruimte van het boetiekhotel Number 11 in Brugge. Als Lara Taveirne binnenwaait, is ze een beetje gedesoriënteerd. Gaven we geen verjaardagsfeest? Zeker wel – maar dan van het intieme soort. We vieren de eerste verjaardag van onze boekenblog met een uitgebreid auteursinterview. "Waarom met mij?" – wil Lara weten. Alsof ze niet net de Debuutprijs  heeft gewonnen en er sinds kort geen geweldige, tweede roman ligt, Hotel zonder sterren. Lara: "Wil je geloven dat ik een beetje boos was, toen?
Er zijn zoveel dagen dat er niets gebeurt in mijn leven en dan hoor ik op de presentatie van mijn tweede boek dat ik voor mijn debuut een prijs krijg. Dan is er opeens te veel vreugde voor één dag."
Hotel zonder sterren heeft een aparte plot. Na tien jaar belt Larissa haar jeugdliefde Andreas op met een ongewoon voorstel. Ze wil hem ontmoeten, ook al zijn ze intussen allebei met een ander getrouwd. Larissa heeft geen onschuldig bijpraatmoment bij een kopje koffie voor ogen. Ze biedt Andreas een weekend buiten de tijd aan, in een Portugees droomhotel.  Twee dagen om de fouten uit hun verleden te herstellen.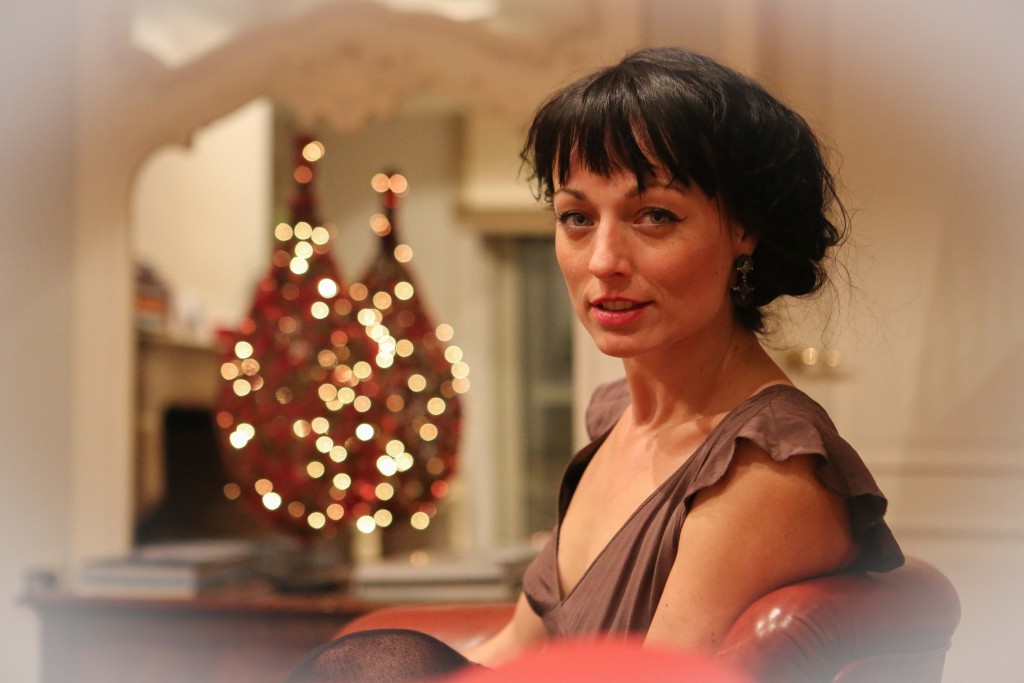 Een onconventioneel idee, zegt u? Onconventioneel is the name of Lara Taveirnes game.
De schrijfster die door haar ouders naar Lara Antipova uit dokter Zjivago werd genoemd, gaf haar eigen dochter de naam Dolores: "Naar Lolita, ja. Mensen worden daar boos om, heb ik gemerkt.
Je mag je kind blijkbaar niet naar het grootste verdriet noemen… Dolores is een beladen naam. Mijn zoon heet Samuel. Dat vond ik gewoon mooi." Taveirne bracht de baby- en peuterjaren van haar kinderen door in een primitief, afgelegen molenhuis: "Het was heel idyllisch en tegelijk heel hard. Zelf water pompen, hout hakken, bijna vier jaar onafgebroken borstvoeding geven. Ik had de eenzaamheid ervan onderschat." Op de blog van uitgeversgroep WPG beschreef Lara die periode al eens.
Uiteindelijk zou het schrijven Lara redden: "Tijdens mijn studententijd in Gent had ik – parallel aan mijn eindwerk – een roman geschreven. In mei 2013 vroeg een vriend uit die tijd, die net bij uitgeverij Manteau was begonnen, of hij die mocht lezen. Toen ben ik dat manuscript beginnen herwerken, bijna vanaf nul, want stilistisch was dat nodig. Zo ontstond De kinderen van Calais. Maar de gevoelens en ideeën in die roman stammen uit mijn studententijd. Door de Debuutprijs spreken veel mensen me er nu over aan, wat soms wel raar is." Gelukkig toeval, dat wij het met Lara vooral over Hotel zonder sterren willen hebben.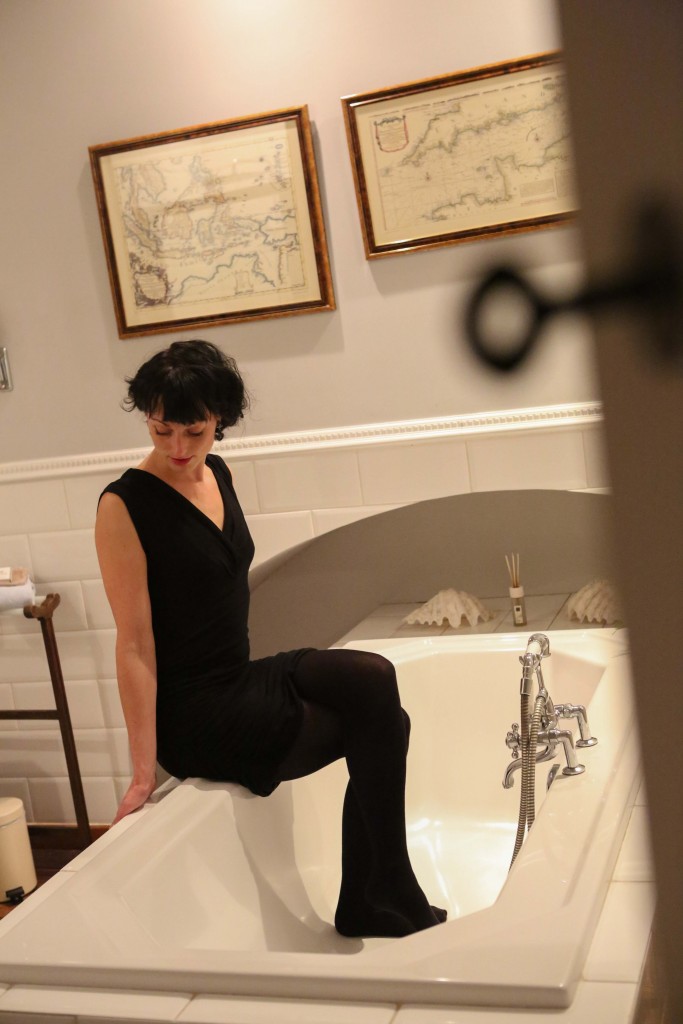 Het hoofdpersonage in Hotel zonder sterren heet Larissa… Is zij je alter ego? 
Lara Taveirne: "Ik ga in een boek nooit mijn leven vertellen, maar ik put wel uit mezelf. Larissa staat heel dicht bij wie ik was, vooral in haar relatie tot de werkelijkheid en anderen. Ze zit vast in haar hoofd en heeft het gevoel dat ze moeilijk contact kan leggen. Tegelijk heeft ze een heel euforische kijk op haar verleden met Andreas. Als lezer besef je gaandeweg dat Larissa die periode en die liefde sterkt bijkleurt.
Ik geloof dat ik intussen verder sta dan Larissa in het boek. Ik besef nu dat wat er mijn hoofd zit niet altijd met de werkelijkheid overeenstemt.
Vroeger zat ik meer gevangen in mijn fantasie en in angsten voor wat zou kunnen gebeuren."
Larissa is gulzig in de liefde. Ook uit het leven gegrepen?
LT: "Ik ben doodsbang om alleen te blijven. Ik heb ook vaak paniekaanvallen over mensen die weggaan. Natuurlijk heeft dat te maken met mijn broer, die op zijn achttiende verdween en later dood werd teruggevonden. In de eindfase van een relatie heb ik altijd al een nieuw lief klaar en tijdens mijn studententijd had ik zelfs twee lieven, omdat ik één wat weinig vond. Ik heb ook altijd gedacht dat ik met veel mannen tegelijk zou trouwen.
Na de geboorte van mijn zoontje liet mijn man zijn beste vriend bij ons inwonen. Hij begreep dat ik eenzaam was, dat één man voor mij niet volstond. Ik ging zelfs met mijn 'twee' mannen naar familiefeesten (lacht).
Uiteindelijk liep het stuk. Met drie samenwonen is niet evident. Bij het schrijven van Hotel zonder sterren heb ik me de vraag gesteld op welke manieren je een liefdesrelatie vurig kan houden, maar ik ben daarbij meer ellende dan schoonheid tegengekomen. Zelf ben ik daar nu mee in het reine. Vroeger moest ik actie ondernemen wanneer ik de passie voelde oplaaien. Nu kan ik beter stoom aflaten bij mijn man. Ik loop dan een halve dag te vertellen: 'Dit wil ik, dit voel ik.' Hij laat me praten en dan is het gezegd en voorbij. Woorden hebben mij geholpen om flinker te worden op liefdesgebied."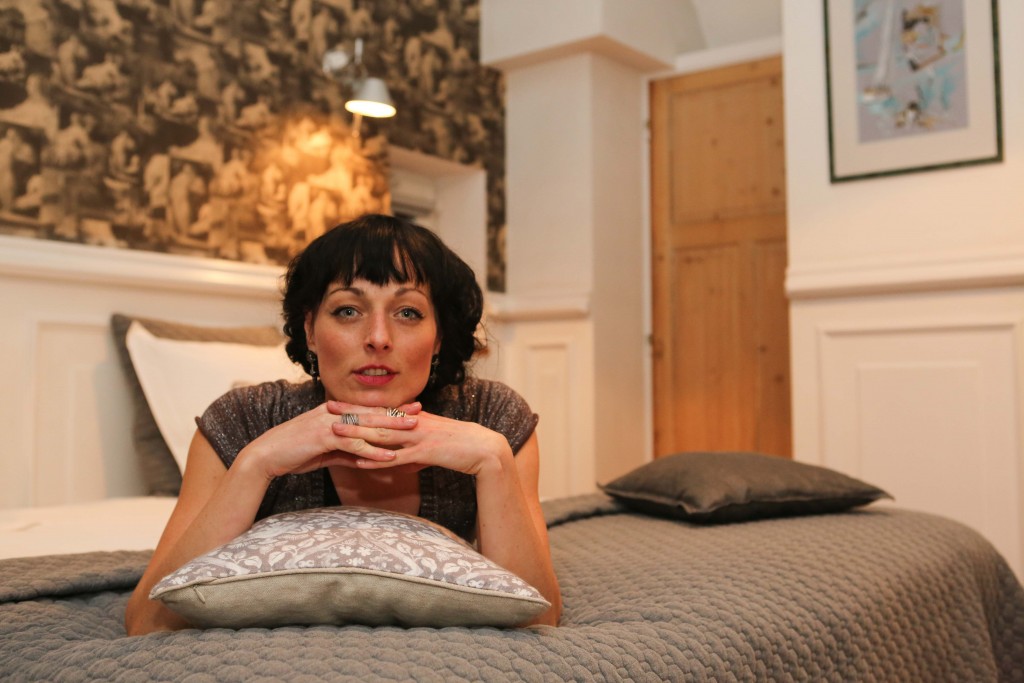 De passages over de jaren die Larissa's ouders doorbrachten in een commune, zijn van de mooiste in het boek. Hoe goed ken je die wereld?
LT: "Mijn man heeft zijn jeugd doorgebracht in een commune. Op zolder stootte ik eens op een doos met foto's uit die tijd. Op de beelden is te zien hoe ze een oude caravan binnenrijden in hun oude, rommelige herenhuis en daar een feestje bouwen. Dat maakte me zo jaloers! Ik heb het moeilijk om te aanvaarden dat mijn man, die een stuk ouder is dan ik, een heel leven heeft gehad waar ik niet bij was. Ik kan mij die periode niet toe-eigenen en ik kan er nooit deel van uitmaken maar ik heb Hotel zonder sterren wel op die foto's gebaseerd."
 Je omschrijft je man als een oerman?
LT: "Mijn man is een biologische landbouwer, hij is voortdurend buiten en heeft enorme, doorleefde handen. Daar ben ik verliefd op geworden. Toen ik hem ontmoette, had ik één dag om hem voor mij te winnen. Daarna moest hij terug naar Nederland. Ik heb hem meegenomen naar het kleine, vervallen huisje van een vriendin. Na onze eerste nacht samen werd ik wakker en hoorde het geluid van motoren. Hij was buiten in de weer met kettingzagen en de grasmachine. Dat was de eerste keer dat ik me op en top vrouw voelde, louter omdat ik omringd werd door zoveel mannelijkheid. Ik had plots zin om in potjes te gaan roeren (lacht). Ik ben nochtans lang een 'jongetje' geweest met kort haar. Op mijn vijftiende voelde ik een enorme druk: ik moet mooi worden want ik wil niet alleen blijven. De angst om vrouw te zijn en alle verwachtingen daarrond, daar speel ik mee in De kinderen van Calais."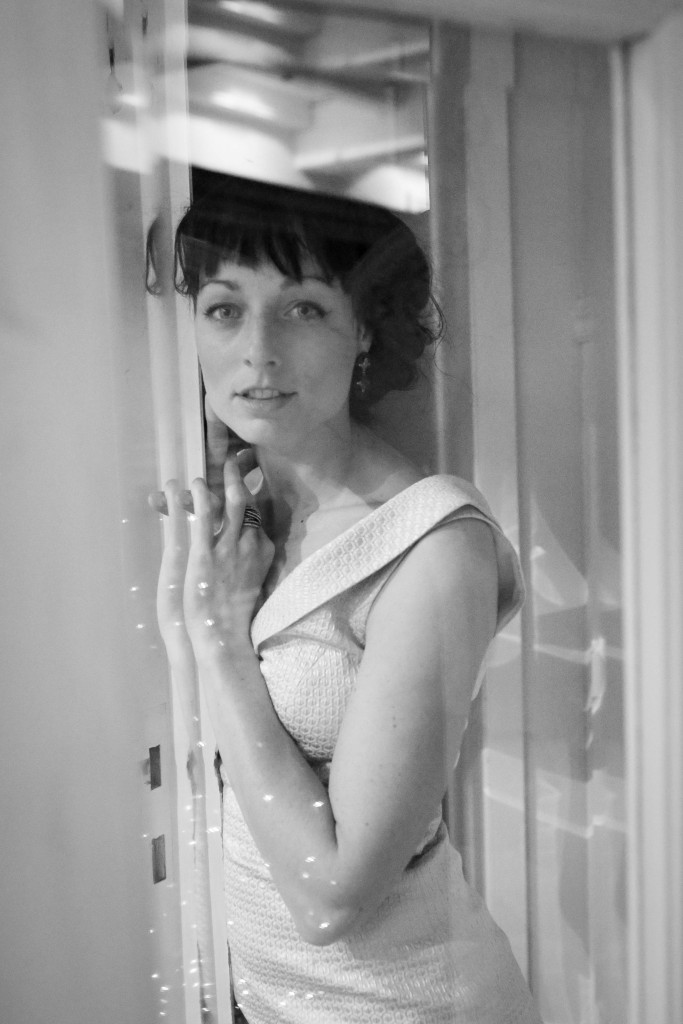 De moeder van Larissa is een gedreven, maar wispelturige vrouw met een rits minnaars. Begrijp je dat ze negatieve gevoelens oproept bij lezers?
LT: "Ik kom uit een warm nest. Na het lezen van het boek heeft mijn moeder me oprecht bezorgd gevraagd: Was ik zo verschrikkelijk? Nee dus,
in Larissa's moeder geef ik mijn eigen angsten rond het moederschap vorm.
Ik heb vier jaar in een afgelegen setting voor mijn kinderen gezorgd en ik werd daar intriest van. Ik had geen tijd om na te denken en ik voelde me ongezien. Dat heb ik van die periode geleerd: ik kan pas leven als er een getuige in mijn buurt is. Daarom schrijf ik ook brieven. Twaalf jaar lang heb ik gecorrespondeerd met een oude geliefde. Zo hield ik het gevoel dat hij over mijn schouder meekeek. Niets gebeurde ongemerkt, want ik wist bij alles wat ik deed dat ik het aan hem zou beschrijven."
Vanwaar komt die nood aan iemand die meekijkt? Is dat een behoefte aan bevestiging? 
LT: "Misschien is het eerder een vorm van zingeving? Ik heb het gevoel dat mijn daden pas zin krijgen als iemand meekijkt. Ik werk momenteel als docent, en ook als ik lesgeef, beeld ik mezelf in dat er achteraan in de klas iemand zit. Daar word ik een betere leraar van. Ik heb voor het eerst in mijn leven een echte 'job' en ik worstel daar nog een beetje mee. Voor de klas heb ik vaak dat typische middelbare school-gevoel: 'Hoor ik er wel bij? Ga ik niet door de mand vallen?'.
Als tiener dacht ik dat ik op mijn dertigste wel zou weten hoe het allemaal moet – deel uitmaken van het verkeer, terugkomen van mijn werk… Maar dat valt tegen: ik ben nog altijd dezelfde.
Ik heb aanvaard dat ik met mezelf zal moeten leven."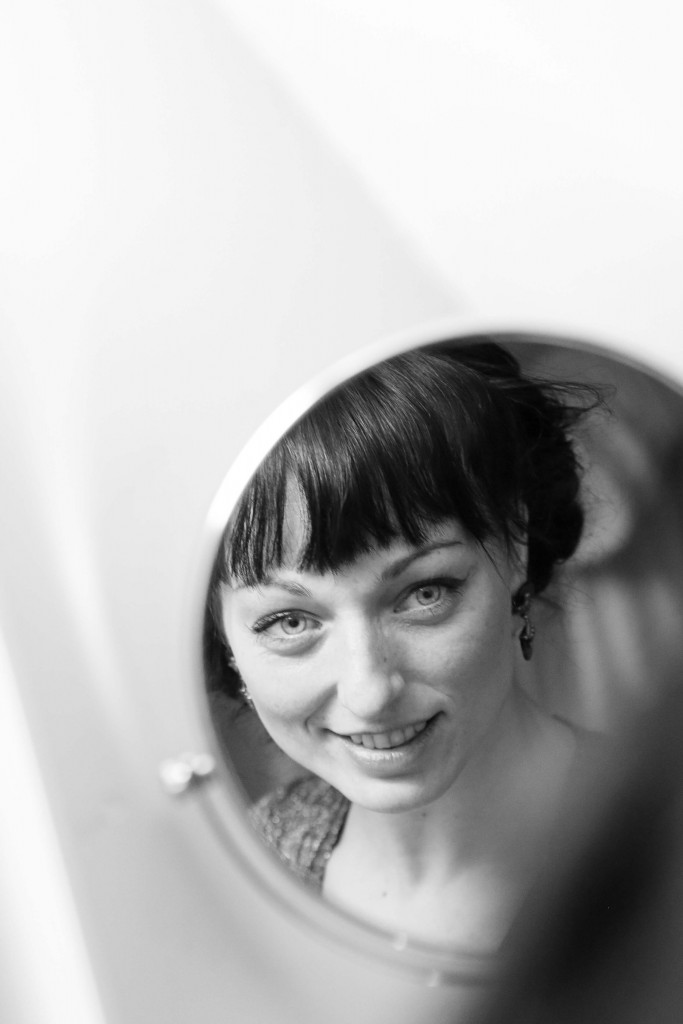 Wat brengt de toekomst?
LT: "Ik voel dat ik nog veel te schrijven heb, maar ben tegelijkertijd bang om mensen teleur te stellen. Altijd eigenlijk. Laatst had ik een fotoshoot voor een magazine. Ik voelde me slecht op mijn gemak in de outfits die de styliste had gekozen. Op zo'n moment ga ik er altijd van uit dat de fotograaf en het team denken: 'Oh, die Lara hadden we leuker en losser verwacht…' Stom, maar het is nu eenmaal zo. Of ik ooit over mijn broer zal schrijven, weet ik niet. Wat mijn gezin heeft meegemaakt, is ontzettend heftig. Mijn broer is vrijwillig naar het noorden getrokken, zonder ons over zijn plannen te vertellen. Hij heeft het niet gehaald. Op dit moment voel ik te veel schroom om daarover te schrijven of uitgebreid over te vertellen. Het is niet mijn verhaal. Het ligt voor ons hele gezin ontzettend gevoelig.
Soms, als ik een baby ruik, hoor ik mijn lichaam schreeuwen om een kind. Mijn hoofd weet dat ik geen derde baby aankan, maar toon mij een man met zwart haar en ik moet me bedwingen.
Het moederschap bevalt mij beter nu de kinderen naar school gaan. Zodra ik hen aan de schoolpoort heb afgezet, spurt ik naar huis om te schrijven. Bij het opstaan heb ik meestal een idee of vijf. Die moeten dan wachten tot na het ontbijt en het aankleden om op papier te geraken. Dat blijft moeilijk. Maar intussen kan ik ook al eens vijf dagen naar Amsterdam om te schrijven. Zo afhankelijk zijn ze niet meer."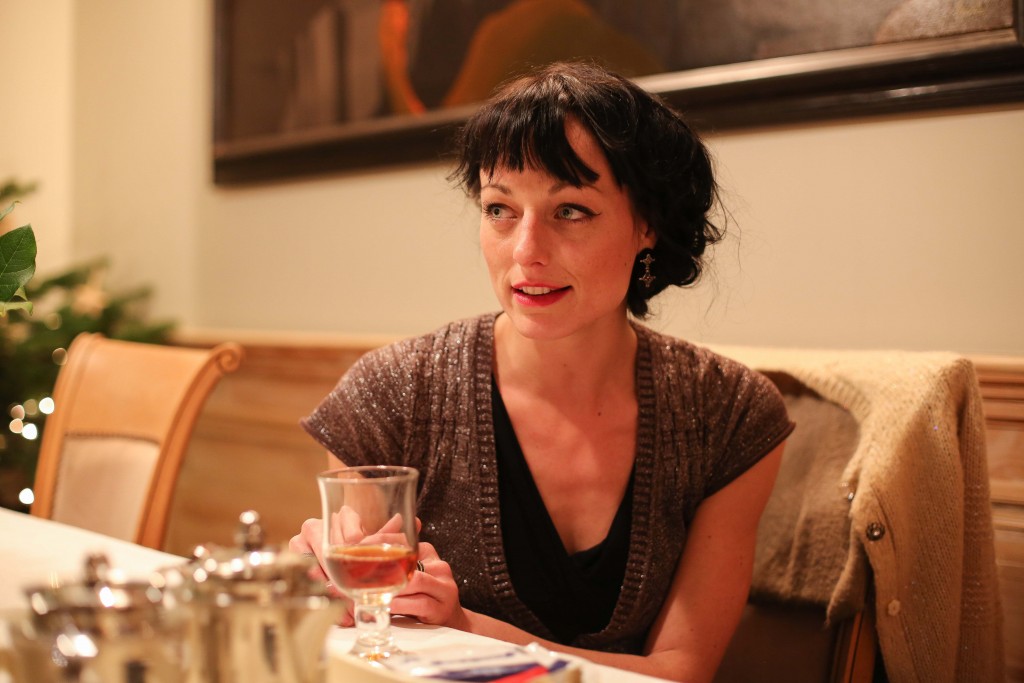 Lang nadat de maximum opnametijd van onze recorder was bereikt, zaten we nog met Lara te praten. Daarna moest de fotoshoot in ons leuke guesthouse – met binnentuin, bibliotheek en megabad – nog beginnen. Uiteindelijk was het bijna 21u voor Team This Is How We Read aanschoof in restaurant 't Schrijverke voor deel twee van ons literair verwenweekend. En wat bleek? Eén van de uitbaters van 't Schrijverke heeft Lara Taveirnes moeder vroeger goed gekend. Schrijf het op: Brugge is naast een prima citytrip bestemming ook één groot, klein dorp.
Tekst: Eveline Janssens, Barbara De Munnynck, Katrien Elen
Fotografie: Barbara De Munnynck