Slurpen in het Kinderboekenmuseum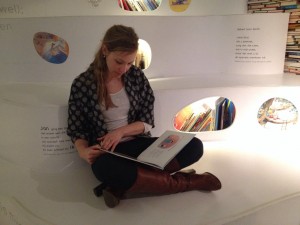 De bordjes in het centrum van Den Haag wijzen in tegenovergestelde richting. Links het 'Centrum', met een shopverlanglijstje en een heerlijke taartenbar/peolpe watching lounge dat gerund wordt door twee bevlogen taartenbakkers. Rechts het 'Kinderboekenmuseum', dat absoluut niet op het programma staat. De Elle-journaliste die niet vies is van een stevig potje shoppen en een stuk 'toert' moet het loodje leggen voor de grillen van mijn inner boekenmeisje. Rechts dus.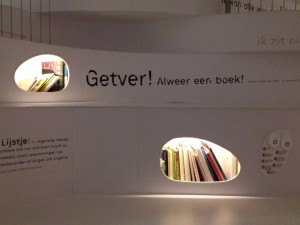 Het Kinderboekenmuseum ligt lekker ingenesteld in de schoot van de Koninklijke Bibliotheek. Het letterkundig museum, met een hoop schilderijen aan de muur en manuscripten in glazen kasten, wordt even straal genegeerd. De aandacht gaat volledig naar de slurparmbanden, waarbij je doorheen het museum leuke woorden en zinnen uit teksten en boeken kan slurpen. Na je bezoek log je in en spuwt de printer de aanzet voor jouw eigen kinderboek uit. Je personage heb je onderweg ook al bijeen getimmerd, inclusief knettergekke outfit, onwaarschijnlijke talenten en bijzondere eigenschappen.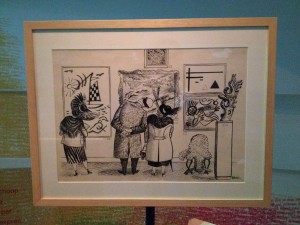 Het interieur van het museum nodigt uit met tal van leeshoekjes en boekenkasten vol lettervoer. Je waant je in het golvende Guggenheim in New York of organische La Pedrera in Barcelona.
Het museum is onderverdeeld in thema's met o.a. een griezelhoek, een avonturenbos, een date-café rond liefdesverhalen en een betoverende sprookjesafdeling. De blikvanger is de muur van boeken die om de filmruimte heen kronkelt. Het is nog even sparen voor zo iets ten huize boekenmeisje opeengestapeld kan worden, maar, wauw. Je blijft er naar staren.
De vijfjarige die in alle boekenfans huist, ervaart constante prikkels: met je slurper speel je interactieve spelletjes, ontdek je nieuwe boeken en om elke bocht wachten nieuwe gedichtjes, flarden tekst en grappige passages je op. Wanneer gaan we weer?
Het Kinderboekenmuseum:
Maandag gesloten, dinsdag, donderdag en vrijdag 14.00 – 17.00 uur , woensdag, zaterdag, zon- en feestdagen 12.00 – 17.00 uur.
Prins Willem-Alexanderhof 5
2595 BE Den Haag
telefoon: 070-333 96 66
Oh, en de people watching lounge kon nog net. Inclusief een plekje in de zon.