Dit is een artikel van onze fietsende gastredacteur Kurt Van Gasse.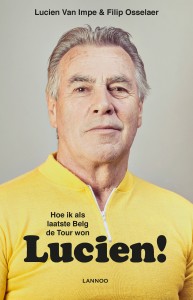 Proloog. De Chalet Reynard, op zes kilometer van de top van de Mont Ventoux. Hier geven zelfs de bomen het op. Hier regeert de Mistral.  Na vijftien kilometer klimmen door de verzengende hitte ben ik ei zo na gemummificeerd en klotsen mijn benen zo van het zuur dat je haring kan opleggen in mijn bloed. Ik snak naar verkoeling. Ik word op mijn wenken bediend wanneer de Mistral als een uitzinnige fluitist een oorverdovende toon onder de vangrail blaast. Een smalend fluitconcert voor de wielrenners die hij tot stilstand waait. Het is pijnlijk duidelijk dat ik met mijn twee meter even geschikt ben om te klimmen als een vijfjarige ballerina om potten te breken in het hamerslingeren. Ik doe koppig een trap. Een emmer pijn in ruil voor een meter asfalt. Ik doe nog een trap. En nog een. Nog zesduizend emmers en ik ben boven.
 "Of je kunt klimmen zit tussen je oren. Je moet geloven dat je het kan. Want geloof me, klimmen dat doet pijn. Als je door die pijngrens breekt, dan ben je er."
Geen wonder dus dat ik mijn exemplaar van Lucien! verslond als een powerbar tijdens een dipje halfweg de Galibier. Eindelijk. Eindelijk het verhaal van de beste klimmer ooit. Het verhaal van de legendarische Touroverwinning die ik in die magische zomer van 1976 moest missen, en wel omdat ik toen nog in een vroeg stadium van assemblage verkeerde. Maar dat ik goed ken uit de live commentaren van mijn grootvader, wanneer pakweg Chiappucci of Virenque demarreerden tijdens een bergetappe van de Tour: "Van Impe, die kon klimmen. Van Impe, dát was een echte."
"Echte klimmers vechten het op de top van de hoogste cols onder mekaar uit."
Hij was er eerst niet voor te vinden, De Kleine van Mere.  Auteur Filip Osselaer moest hem overtuigen, maar uiteindelijk begonnen ze samen aan een trip down memory lane die twee jaar zou duren. Met Lucien! als resultaat. Lucien! is geen salonboek, zoals het duo benadrukte tijdens de boekvoorstelling. Het is het spannende relaas van de jongen uit een volkscafé in Mere die met vallen –vaak gruwelijk letterlijk te nemen- en opstaan een wielermonument werd.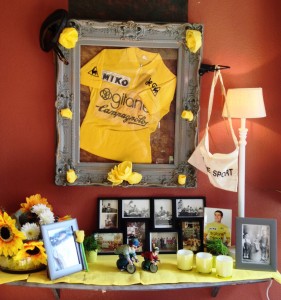 In zeventien hoofdstukken vertelt Lucien zijn stukje wielergeschiedenis. In zijn eigen stijl. Hij vertelt over de legendarische klim op L'Alpe D'Huez, waar aartsrivaal Joop Zoetemelk zich in zijn wiel vastzoog. Hij vertelt over zijn meedogenloze raid op de Pla d'Adet, waar hij de tegenstand –inclusief kleppers zoals Thévenet, Ocana en Zoetemelk- finaal in de vernieling reed en daardoor zeker was van de gele trui op de Champs Elysées. En over het zothuis dat in België losbrak toen het zover was. Hij vertelt open en eerlijk over de intriges in het wielerwereldje en over vriendschappen die de competitie en de jaren overstijgen. En dan zwijgen we nog over het unieke kijkje achter de schermen van de Tour in de jaren zeventig, waar sperziebonen en veldbedden heersten.
Dat gevecht voor de Tourwinst in 1976 staat op zich al garant voor spannende lectuur, maar wat het boek helemaal uniek maakt is de manier waarop Lucien het tot leven brengt met kleine en grote verhalen in de rand.
Er is het verhaal van de groei van Lucien als renner. Met zijn vader als eerste strenge trainer, die hem gele briefkaarten naar huis liet sturen uit verre dorpen om er zeker van  te zijn dat zijn trainingsritten geen criterium rond de plaatselijke meisjesschool werden. Zijn vader leerde hem klimmen op de Muur van Geraardsbergen. En danseuse, zoals zijn idool Bahamontes, elke keer een huisnummer hoger sprintend. En eigenlijk, eigenlijk kreeg Lucien tijdens de begindagen extra training van boeken. Je hoort het goed. Van boeken. Bovenop al het trainen en koersen moest Lucien een krantenronde verzorgen. Met de fiets, uiteraard. En laat nu de kranten elke woensdag een boek schenken aan hun abonnees, wat de rit loodzwaar maakte. Op zijn minst een deeltje van de spiermassa die hem later over de cols zou katapulteren is te danken aan boeken. Wij zouden geen This Is How We Read heten als dat geen aanleiding is om hier en nu een fles bubbels te ledigen.
"En boeken wegen veel. Heel veel. Neem dat van me aan."
Er is het verhaal van Rita, zijn vrouw. Hoe ze op haar eentje Frankrijk kriskras doorkruiste om Lucien bij te staan. Hoe ze hem telkens weer opraapte wanneer hij viel. Hoe ze een agent in hun slaapkamer moest dulden wanneer uitzinnige fans het huis belegerden. Lucien leerde haar kennen als het nichtje van de kapper die zijn gehavende scalp fatsoeneerde na een lelijke valpartij in de Tour De L'Avenir. Let wel: dit is geen beproefd recept om de vrouw van je leven tegen te komen. Ik heb het geprobeerd.
"Rita heeft mee mijn carrière gemaakt. Rita was er altijd, ze was mijn baken."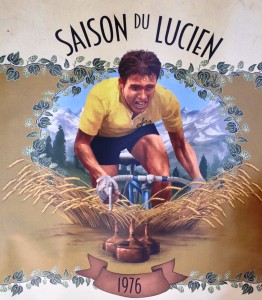 En last but not least… is er die tropische zomer van 1976. Lucien! baadt in de sfeer van die magische zomer waarin de cola op geraakte, waarin broekspijpen op olifanten werden bemeten en Armand Pien nog met lippenstift hogedrukgebieden tekende. Waarin zelfs de kleuren op TV warmer leken dan vandaag,  waarin de zon overuren indiende en waarin het asfalt smolt. En waarin het volk smolt voor Lucien.
We waren erbij vorige week, toen Lucien en Filip het boek presenteerden in De Octopus in Mere, het café van broer Raymond Van Impe. We stonden er geprangd tussen Sporza en Belga bedremmeld te wezen. "Ik ben blij dat ik het toch heb gedaan", zei Lucien voor de camera's, doelend op het boek in zijn hand. Wij ook, Lucien. Wij ook.
PS: de enige echte fietscolumn van Kurt, of waarom wij Kurt hebben gecast voor dit event.