Literaire degustatie in Brugge
Onlangs vierden wij het eenjarig bestaan van de blog met een interview met Lara Taveirne in B&B Number 11. Omdat genieten van boeken en Brugge niet op een lege maag kan, zochten we de uitgelezen plek voor een culinaire degustatie in Brugge.
Enter 't Schrijverke, het gezellige restaurant met zicht op het standbeeld van Guido Gezelle. Eén van de weinige familiezaken in Brugge waar je persoonlijk ontvangen wordt en gasten keer op keer terugkomen. Het restaurant, dat gehuisvest is in een voormalige drukkerij en notariaat, serveert Franse keuken.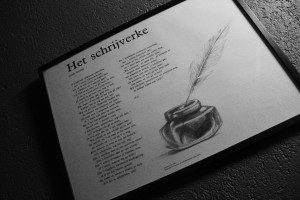 Wij spotten meteen het Guido Gezelle Menu en zijn bekende gedicht verwelkomt je in de gang. Het interieur werd tien jaar geleden volledig vernieuwd en krijgt regelmatig moderne toetsen zoals warme bronzen lampen boven de toog. (Met TIHWR fotograaf in de weerspiegeling…)
Regelmatig komen scholieren of toeristen even binnenspringen om wat hulp te krijgen bij een vragenformulier. 'Van wanneer tot wanneer leefde Guido Gezelle, meneer?' is de vaakst gestelde vraag. Nederlanders blijken meer af te weten van Brugges bekendste schrijver dan Belgen en ook veertig plussers doen het een stuk beter dan jongeren.
De boekentip van eigenaar Patriek Couckuyt? Het boekje dat hij in hotelschool Ter Groene Poorte meekreeg: Le répertoire de la cuisine, een kleinood vol klassieke bereidingen en basisgerechten. 'We moesten het tijdens de opleiding altijd op zak hebben en ook nu neemt het nog een belangrijke plaats in in de keuken.'. Zijn favoriet op de kaart? De steak bearnaise met verse frietjes. Ook de Karmeliet van het vat is een succesnummer, 't Schrijverke biedt deze specialiteit als enig restaurant in Brugge aan. Wij vallen als een blok voor de suggesties en kunnen de Parijse Champignon, een dodelijke constructie van ijs, meringue, room en chocoladesaus, niet weerstaan.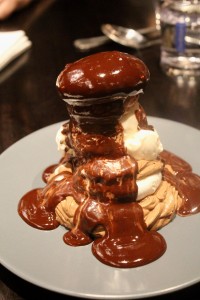 Uiteraard tippen we ook graag drie werken door of over Guido Gezelle. Perfect voor bij de koffie na die Parijse Champignon:
Het Schrijverke
O Krinklende winklende waterding
met 't zwartekabotseken aan,
wat zien ik toch geren uw kopke flink
al schrijven op 't waterke gaan!
Gij leeft en gij roert en gij loopt zo snel,
al zie 'k u noch arrem noch been;
gij wendt en gij weet uwen weg zo wel,
al zie 'k u geen ooge, geen één.
Wat waart, of wat zijt, of wat zult gij zijn?
Verklaar het en zeg het mij, toe!
Wat zijt gij toch, blinkende knopke fijn,
dat nimmer van schrijven zijt moe?
Gij loopt over 't spegelend water klaar,
en 't water niet meer en verroert
dan of het een gladdige windtje waar,
dat stille over 't waterke voert.
o Schrijverkes, schrijverkes, zegt mij dan, –
met twintigen zijt gij en meer,
en is er geen een die 't mij zeggen kan: –
Wat schrijft en wat schrijft gij zo zeer?
Gij schrijft, en 't en staat in het water niet,
gij schrijft, en 't is uit en 't is weg;
geen christen en weet er wat dat bediedt:
och, schrijverke, zeg het mij, zeg!
Zijn 't visselkes daar ge van schrijven moet?
Zijn 't kruidekes daar ge van schrijft?
Zijn 't keikes of bladtjes of blomkes zoet,
of 't water, waarop dat ge drijft?
Zijn 't vogelkes, kwietlende klachtgepiep,
of is 'et het blauwe gewelf,
dat onder en boven u blinkt, zoo diep,
of is het u, schrijverken zelf?
En t krinklende winklende waterding,
met 't zwarte kapoteken aan,
het stelde en het rechtte zijne oorkes flink,
en 't bleef daar een stondeke staan:
"Wij schrijven," zoo sprak het, "al krinklen af
het gene onze Meester, weleer,
ons makend en leerend, te schrijven gaf,
één lesse, niet min nochte meer;
wij schrijven, en kunt gij die lesse toch
niet lezen, en zijt gij zo bot?
Wij schrijven, herschrijven en schrijven nog,
den heiligen Name van God!"
Guido Gezelle