In 2022 kiest This Is How We Read iedere maand een 'Boek van de Maand'. Alleen vers gedrukt of herdrukt werk dat de hele redactie aanspreekt, komt in aanmerking. Klaar voor de 'gespreksrecensie' van onze favoriet van april? Deze maand hebben we het over 'Veranderen: methode' van Edouard Louis!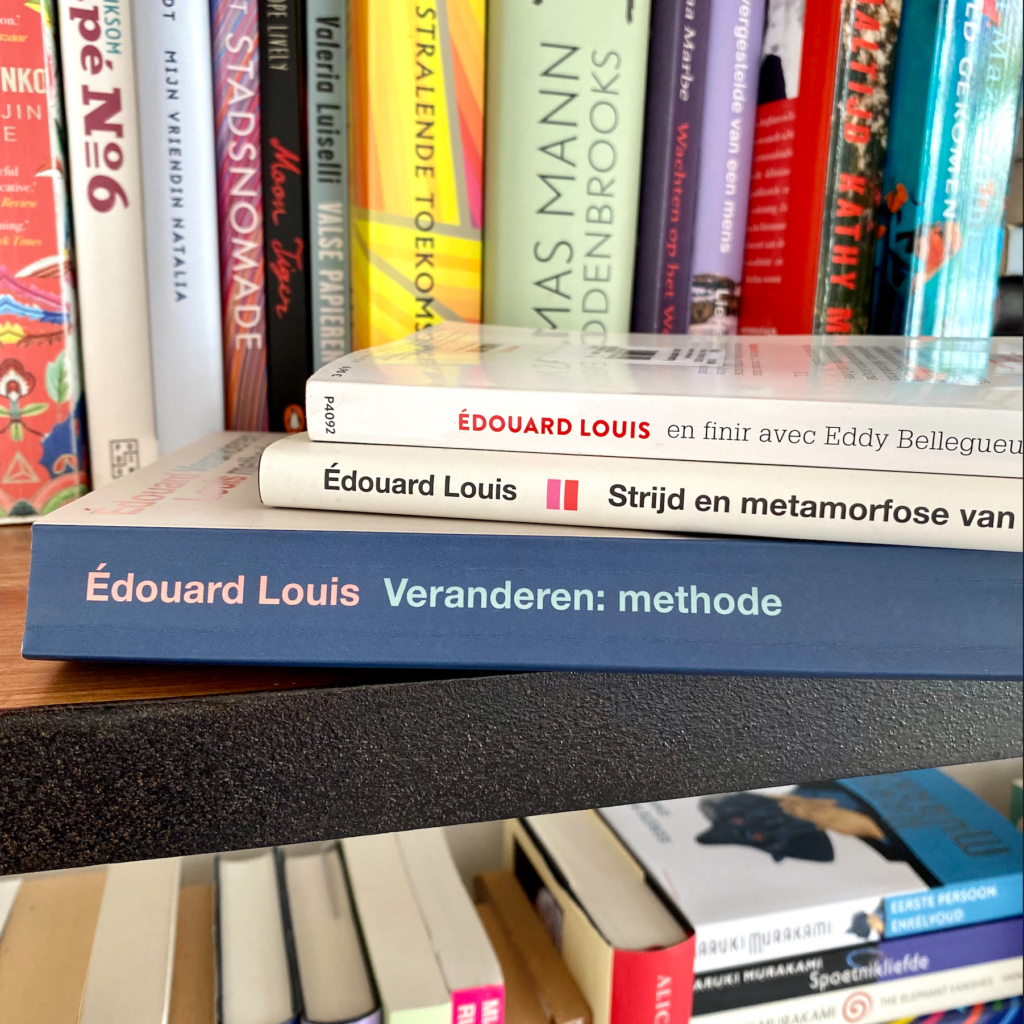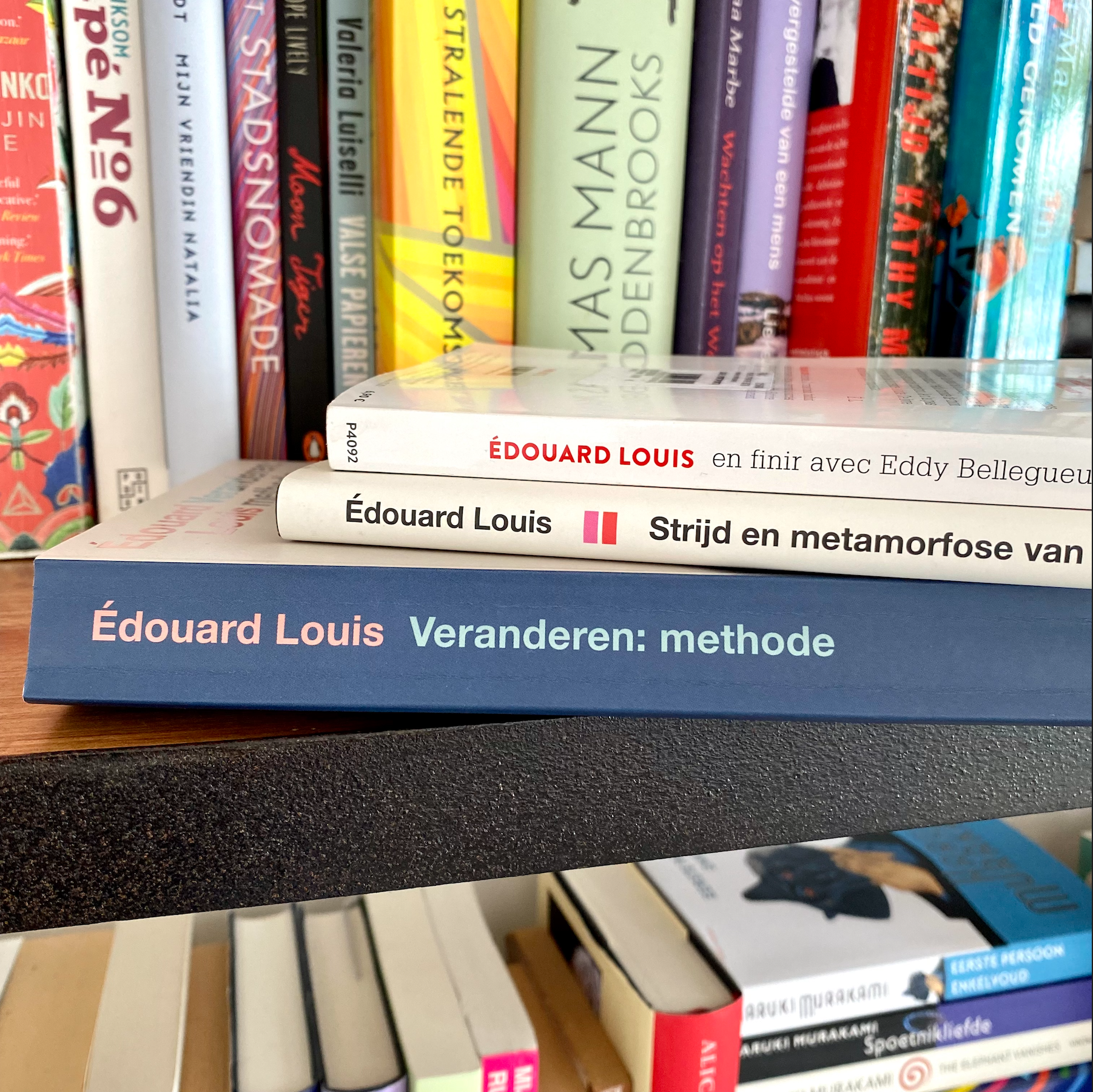 Win, win, win! Laat een reactie achter en meng je in het gesprek. Zo maak je eind december 2022 kans op een excellent boekenpakket: onze 12 boeken van de maand in één indrukwekkende stapel. Tot dusver uitverkoren: Het voorval van Annie Ernaux (onze stand-in voor januari), Wachten op het Westen van Nausicaa Marbe (februari) en Kerozine van Adeline Dieudonné (maart).
Vooraf (Barbara): Voorlopig overheerst de eensgezindheid bij het kiezen van het 'Boek van de Maand'. De selectie voor april was wel héél snel beklonken. Mijn literaire 'ontdekking van 2021', de Franse schrijver Edouard Louis, werd mij getipt door Katrien. Hoe zouden een enthousiaste neofiet en een fan-van-het-eerste-uur dan NIET voor 'Veranderen: methode' kunnen kiezen?! Pech voor 'Mungo' van Douglas Stewart (Nieuw Amsterdam) en 'Thuis is waar we beginnen' van Robin Van den Maagdenberg (Querido) – anders moois dat deze maand verschijnt. Edouard Louis it is!
Vooraf (Katrien): Edouard Louis tippen, ik doe het nog steeds vaak! Wat Barbara er niet bij vertelt, is dat ik Edouard Louis doorgaans tip in het Frans. 'Strijd en metamorfose van een vrouw' las ik ooit – wegens een dwingende deadline en geen Nederlands exemplaar beschikbaar – als 'Combats et métamorphoses d'une femme'. Wat me vooraf nogal een opgave leek, beviel zo dat niet 'Weg met Eddy Bellegueule' maar 'En finir avec Eddy Bellegueule' volgde. Deze maand maak ik een uitzondering. Ik lees 'Veranderen: methode'.
Benieuwd of de vertaling van Reintje Ghoos en Jan Pieter van der Sterre even sterk binnenkomt als een onversneden Edouard Louis.
Twee prologen (Barbara): Sinds een jaar of zeven dweep ik met de korte vorm van vertellen. Jenny Offill, de korte verhalen van Elke Geurts, 'Ik heet Lucy Barton' van Elizabeth Strout…
Ik hou van iedereen die mij met mooie zinnen weet in te pakken, maar nog het meest van schrijvers die een korte kuur schaatsen op het gladde oppervlak van de literatuur.
'Strijd en metamorfose van een vrouw' telde 110 pagina's – het eerste wat me opvalt is dat 'Veranderen: methode' een stuk dikker is. 302 pagina's: twee prologen en vier delen. Ik vraag me af of méér Louis gaat uitpakken als een traktatie of een teleurstelling. Zijn twee prologen echt beter dan één?
De eerste proloog is een samenvatting in turbostijl (6 pagina's) van de 'zesentwintig jaar en een paar maanden' die Louis al leeft. Voorafgegaan door een prikkelend idee: "Ik denk dat daar de reden ligt waarom de schrijfbehoefte zo diep is, als een manier om het leven op schrift te stellen en het daardoor vermoedelijk kwijt te raken; hoewel het verleden misschien nu zo in me verankerd ligt dat ik me gedwongen zie er constant en bij elke gelegenheid over te praten, dat het van me gewonnen heeft en dat ik door te geloven ervan af te kunnen komen, het bestaan ervan en de greep die het op mijn leven heeft, alleen maar sterker maak, misschien zit ik in de val – ik weet het niet."
De tweede proloog is een enkele herinnering (8 pagina's) aan een seksuele ervaring, tegelijk een financiële transactie, die Louis als twintiger had en waarna hij huilde in de douche – "ik huilde niet om wat er net was gebeurd (…) maar wat er net was gebeurd gaf me het recht te huilen om alle keren in mijn leven dat ik dat niet had gedaan, alle keren dat ik me had ingehouden. Mogelijk heb ik die nacht in die kamer mijn ogen laten huilen om twintig jaar niet vergoten tranen." Vervolgens neemt de schrijver zich voor "om de hele aanloop naar die scène te vertellen en alles wat er daarna gebeurde, als een poging om terug te gaan in de tijd."
Elke proloog leest vlot en klinkt mooi, maar als ik streng ben, vind ik niet dat ze zo sterk of aanvullend zijn dat de lezer ze allebei nodig heeft. Als eindredacteur had ik gezegd: "Ga maar voor de tweede, Edouard."
Deel I – Elena (Katrien): In wat volgt, begint de transformatie van Edouard Louis – of beter gezegd van Eddy Bellegueule – maar echt. Die draagt hij op aan een rijtje vrouwen. Zijn sociale mobilisatie heeft hij naar eigen zeggen aan hen te danken, niet amoureus – Louis is homoseksueel – maar het valt op hoe de ene na de andere vrouw hem onder zijn hoede neemt. In De Standaard der Letteren probeert Louis onder woorden te brengen hoe dat komt: 'Het is bekend dat mannelijke gays en vrouwen vaker een solidaire band hebben. Omdat ze allebei het geweld van de mannelijke dominantie moeten ondergaan, vermoed ik. Er is die lotsverbondenheid. Ik heb me altijd meer beschermd en getroost geweten door vrouwen.' Zo wordt Louis als tiener opgenomen in het welstellende gezin van zijn studiegenote Elena. Louis ontmoet hen in Amiens, waar hij naar het lyceum gaat. Zelf is hij op dat moment nog een ongemanierde dorpsjongen, Elena daarentegen komt uit een milieu waarin kunst en cultuur het hoogste goed zijn.
In Amiens, bij Elena, op een afstand van zijn geboortestad, lijkt zijn eigen familie ineens hun ware gelaat te tonen. Daar beseft Louis: 'dat mijn moeder niet had gestudeerd, dat ze de woorden verhaspelde als ze sprak, dat ik haar in onze veertien jaar nog nooit met een boek in haar handen had gezien.' Het contrast met zijn verleden wordt er steeds nadrukkelijker voelbaar: 'je moet in die werelden binnengegaan zijn om te voelen hoe groot het verschil werkelijk is, en hoe groot het overal is, niet alleen op het gebied van geld maar ook in manieren van denken, van lopen, van ademen, overal.' Bij Elena ontgroeit Louis zijn afkomst, in volle puberteit gaat dat gepaard met uitgesproken superioriteits- en wraakgevoelens naar zijn ouders. Terwijl hij bij Elena zijn nieuwe naam Edouard, én een spoedcursus etiquette krijgt: – 'de anderen aten en dachten dat ik ook gewoon zat te eten, maar eigenlijk was ik al etend aan het werk, ik leerde een nieuw lichaam gebruiken' – verloochent hij het gezin waar hij opgroeide.
Wat Louis vertelt lijkt op het eerste zicht een nogal particuliere rags-to-riches saga, maar vergis je niet. 'Veranderen: methode' is ook best een universeel verhaal. Is het niet eigen aan elk (op)groeitraject dat je op een gegeven moment met een heldere blik terugblikt op wat ooit vanzelfsprekend was? Bij Louis gaat het over het inzicht dat de sigarettenrook die hij in zijn kindertijd passief inhaleerde, toch niet zo gezond was. Maar heeft niet iedereen zo'n verhaal? Dingen die thuis, op school, onder vrienden, op je woonplek of maatschappelijk helemaal aanvaard waren, maar nu niet meer? Dingen waar je je plots te goed voor voelde?
Zonder het expliciet open te trekken, vertelt Louis de worsteling van iedereen die ooit transformeerde… of – simpelweg – opgroeide.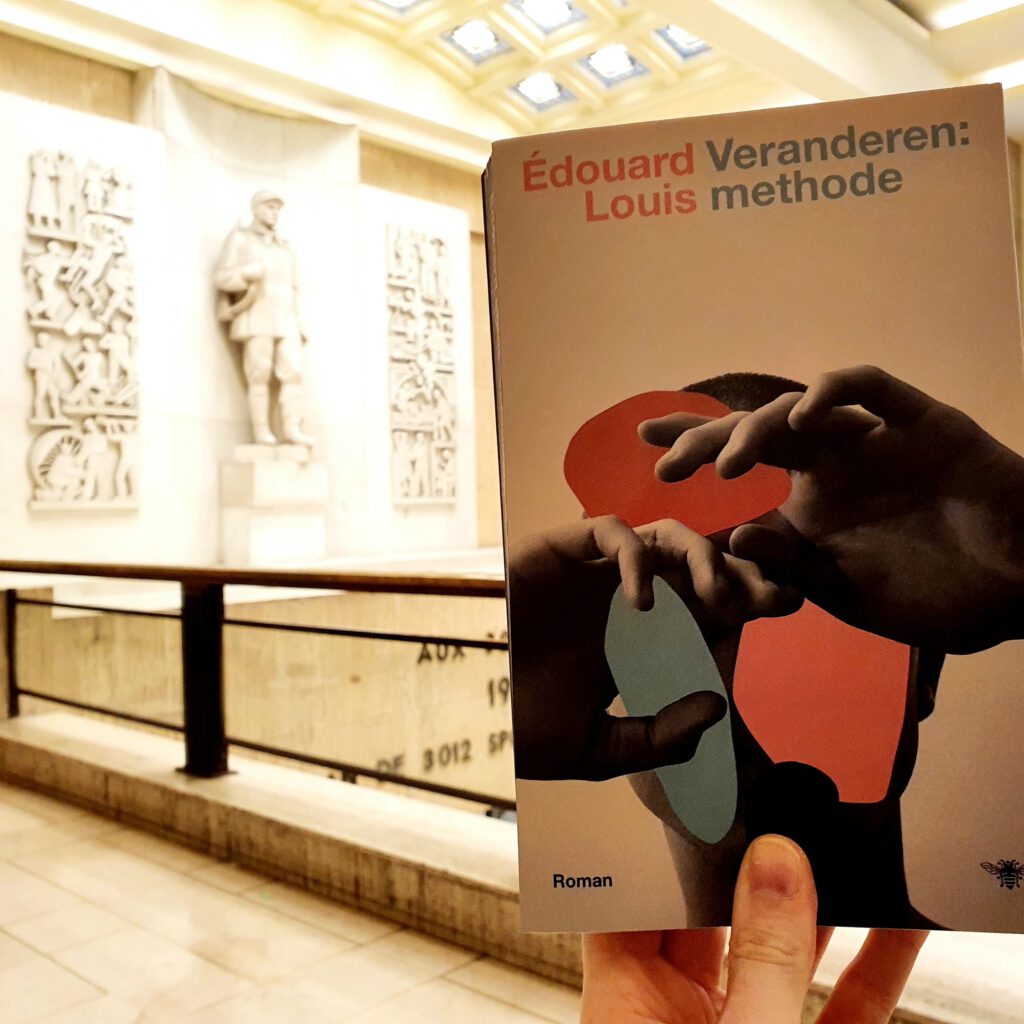 Deel II – Didier (Barbara): In het kielzog van de oudere schrijver Didier volgen we Edouard naar Parijs, het volgende station op zijn veranderingstocht. Hij is zijn sociale klasse al ontstegen, nu wil hij doorstoten tot de culturele en intellectuele elite. (Gek dat die in Frankrijk nog zo verbonden is met Parijs als plek – ik heb in Vlaanderen nooit het gevoel dat de culturele centra van Mechelen of Leuven inferieur zijn aan die van Brussel of Antwerpen. Maar dat ligt misschien aan mij…) Het tweede deel gaat snel en is (voor lezers van 'Strijd en metamorfose van een vrouw') 'nieuwer' dan het eerste deel over Amiens. Ik lees het graag. Louis toont zich andermaal de grootmeester van de zelfanalyse. Twee prachtige bespiegelingen:
"In wat ik schrijf moet niet het verhaal worden gezien van de geboorte van een schrijver, maar van de geboorte van een vrijheid, van het koste wat het kost loskomen van een gehaat verleden. Als het niet te laat was geweest en ik niet een schrijver als Didier had ontmoet maar een danser van het Parijse of Moskouse Operaballet (…), had ik dan uit Amiens willen wegvluchten om danser te worden in plaats van schrijver, had ik dan al mijn energie en mijn vermogens ingezet om dat te worden (…)? Ik denk het wel."
Dat is een eerlijke observatie van Louis, vermoed ik, maar ze steekt wel.
Iemand die zo goed schrijft horen verkondigen dat hij ook niet had kunnen schrijven, dat hij ook zijn zinnen op een andere kunst had kunnen zetten, mogelijks met even goed resultaat – dat moet wel prikken
bij al wie graag schrijft en maar moet hopen om ooit, na lange oefening, ergens op het niveau Louis te geraken.
"Alles wat ik deed had een duizelingwekkende betekenis, want in elke situatie die ik beleefde kwam de hele wereldgeschiedenis om de hoek kijken, de wereldgeschiedenis en haar dwaalwegen, haar onrechtvaardigheden. Ik ging de opera binnen en ik dacht 'Ik had eigenlijk nooit in deze zaal mogen komen', ik ging op het terras zitten van een café in de Marais om een boek van Derrida of Arendt te lezen en ik dacht '(…) Ik had eigenlijk nooit mogen weten dat deze schrijvers bestonden.' Ik voelde een soort medelijden of althans mismoedigheid als ik dacht aan de mensen die de grote Parijse theaters betraden of op een terras gingen zitten zonder te beseffen wat een geluksvogels ze waren, die zulke handelingen verrichtten zoals ze in hun kindertijd hadden verricht, (…) omdat ze in een meer bevoorrechte wereld geboren waren dan ik. Mijn voorrecht was dat ik het leven zonder voorrecht had gekend."
Ook dat vind ik een hele mooie passage, die ik onmiddellijk geloof: er ligt een extra betekenislaag (de wereldgeschiedenis en haar dwaalwegen) over de ervaringen van Edouard Louis en die voelt hij heel sterk. Tegelijkertijd denk ik als lezer, opgegroeid aan de andere, zonnige kant van de sociale scheidingslijn: 'Waarom in godsnaam moet hij mismoedig zijn als hij aan de geluksvogels denkt?' Ik zat als kind naast mijn ouders in de Koningin Elisabethzaal, de Muntschouwburg – en dat waren even goed momenten waarop de wereld voor mij openging. Dat was niet betekenisloos of routinematig, gewoon omdat ik hoogopgeleide ouders met een cultuurabonnement had. Mijn ervaring miste dan wel de 'blik van de wereldgeschiedenis en haar dwaalwegen' maar dat maakte mijn eerste kennismaking met een indrukwekkende cultuurvorm niet – hoe komt hij erbij? – meelijwekkend. Iedereen die zijn eerste opera bekijkt, heeft een wereld zonder opera gekend. De bevoorrechte kijker kan nog altijd zeggen: 'Mijn betovering was dat ik het leven zonder betovering had gekend.'
Geweldige lectuur dus, dat tweede deel van 'Veranderen: methode'. Waar anders dan in een goed boek lees je overtuigingen die je tegelijkertijd gelooft, begrijpt, respecteert – en moet weerleggen vanuit je eigen ervaring? Er is geen reden tot medelijden met de cultureel bevoorrechten. Dat maakt ons privilege wellicht nog meer onuitstaanbaar.
Katrien (slot): Barbara had graag een proloog geschrapt gezien, Louis' entourage wilde het laatste hoofdstuk schrappen: een melancholisch stuk waarin de schrijver mijmert over de onmogelijkheid om zijn transformatie ongedaan te maken, om terug te keren naar zijn naïeve – wie niet weet, niet deert – jongere zelf.
Louis volgde zijn adviseurs niet en liet zijn twijfels op papier staan. 'Net als iedereen heeft ook een "transfuge de classe" het recht om te tobben over de vraag: ben ik nu wel op mijn plaats?,' zegt hij in De Standaard.
Mocht Louis met de zelfhulpachtige titel van 'Veranderen: methode' de illusie hebben gewekt dat hij het allemaal wel weet hoe het moet, veranderen, met dat laatste hoofdstuk ontkracht hij die zelfzekere pose. Dankzij die slotpassages wordt 'Veranderen: methode' een waarachtig boek.
Louis' transformatie is klaarblijkelijk nog niet voorbij – dat suggereren ook enkele biografische details op de laatste pagina's. Benieuwd dus naar het vervolg. In het Frans of in vertaling, dat is me – weet ik ondertussen – al om het even.