Philippe Diepvents – de enige mannelijke redacteur bij Charlie – heeft een boek geschreven. This Is How We Read vaardigt voor de gelegenheid gastredacteur Kurt Van Gasse, vermomd als boekenmeisje, af op de boekvoorstelling.
Geef me een boek waarin het hoofdpersonage op bladzijde twee wordt gemold, waarvan de liefde voor boeken van de pagina's druipt en waarin de liefde zelf een handvol vreemde vogels vrolijk pootje lapt. Een boek dat ik in één nachtelijke sessie uitlees. Zeg me dan dat ik op de boekvoorstelling de auteur tekst en uitleg mag horen verschaffen en je hebt ongeveer hetzelfde effect op mijn nieuwsgierigheid als een enorme penalty onder de kont op een duttende grizzly.
Dat is precies wat de boekenmeisjes hebben gedaan. En dat is precies waarom ik nattigheid had moeten voelen. Dit is niet alleen een handje toesteken tijdens Barbara's zwangerschapsverlof. Dit is een heuse ontgroening in de boekenstiel.
Vallen in liefde van Philippe Diepvents wordt immers in de Backstay Bar in Gent voorgesteld aan het grote publiek en…  aan de bekoorlijke collega's van CharlieMag. Waarvan Philippe het enige mannelijke redactielid is.
Als dit eskader uiterst verbale vlammen je niet platwalst mag je met recht "vent" in je naam dragen.
Wacht, wacht, dit is nog niet alles. De presentatie wordt verzorgd door boekenmeisje Ianka Fleerackers, die ooit in de gedaante van de verrukkelijke Prinses Prieeltje een hele generatie adolescenten daas van verliefdheid door de acnéjaren heeft geholpen. Inclusief mezelf, maar vertel het vooral niet verder.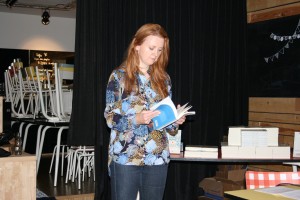 In opdracht van de dames mag ik er als boomlang surrogaat boekenmeisje op een tafel kruipen om foto's te nemen die minstens even goed zijn als die van hun Libris avontuur, of er zwaait wat. In een minuscuul rood kleedje en wankelend op belachelijk hoge hakken, liefst. De rest van de opdracht ging verloren in gegniffel.
En dat voor een menigte van smokey eyes en pal onder de neus van een jeugdicoon? Echt? Ik ga nog liever met een politietombola leuren aan het clubhuis van de Hell's Angels.  Ik negeer hun hints over het pijnloos epileren van been- en ander haar en ga gewoon als mezelf. Als fiere boekenvent.
Ik bedek mijn pecs en mijn abs met een lederen vest, vervang nog even uit pure branie de joint-de-culasse van de buurman –sorry André, sorry- en scheur aan warpspeed richting Gent. Waar ik me prompt vastrijd in een kudde studenten met een collectief promillage waar je Tihange II weer mee kan opstarten. Een frisse studentenopstand, dolletjes! Hoewel. Ze zijn er niét om verontwaardigd te betogen tegen onrecht –nochtans keuze genoeg tegenwoordig, me dunkt-, niét om te protesteren tegen de spuuglelijke en totaal overbodige Stadshal, maar voor een optreden van… Samson en Gert. Jezus weende.
Na het verwijderen van wat gekneusde schachten uit mijn wielkasten bereik ik de Backstay Bar, waar Philippe Diepvents samen met Ianka de propvolle zaal warm maakt voor Vallen in Liefde. Het is er ook letterlijk erg warm, mijn okselvijvers ledigen zich straaltjesgewijs in mijn laarzen.
Vallen in liefde wordt verteld door Holly, die al op de eerste pagina's netjes wordt voorzien van een kogel in het hoofd. In een winkelcentrum nog wel, op een schoenenwinkel na waarschijnlijk de meest troosteloze plaats om je laatste ogenblikken te beleven. Ze gaat zonder dralen dood en belandt in het vagevuur. En wat voor een vagevuur! Move over, Dante, doe mij maar Philippes purgatorium.
Als loutering vertelt ze daar het verhaal van de mensen die hebben bijgedragen tot haar dood. Niet haar eigen verhaal dus, en het idee dat we meer bepaald worden door onze omgeving dan we denken, is meteen een belangrijk thema in het boek. Dat, en de liefde. De liefde die ons meer dan wat dan ook doet struikelen. En vallen. En dat doen de mensen rond Holly, met verve, tot alles uiteenrafelt en finaal uit elkaar spat. Samen met Holly's achterhoofd.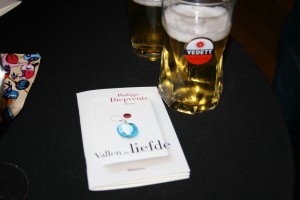 Er is meer. Veel meer. Dit is ook een boek doorspekt met de liefde voor lezen. Zoals blijkt uit mijn favoriete passage, die Philippe voorleest.
En – gejuich en high fives op TIHWR headquarters– het zit propvol met boeken. Als ze al niet geknuffeld worden, wordt er naar hartenlust geknipoogd naar andere werken en dat is een bijzonder prettige extra dimensie.
Ianka vraagt de auteur of de liefde als oudste onderwerp in de literatuur nog niet volledig is uitgepuurd. Het antwoord zit in Vallen in Liefde, in een commentaar van Holly over Feyerabends Buch der Liebe: "Hoeveel soorten liefde er in de wereld zijn staat er niet in vermeld, maar ik twijfel er niet aan dat het er minstens 2.665.866.746.664 zullen zijn. Er zijn misschien oneindig veel soorten liefde."
Dus neen, dit onderwerp is bijlange na nog niet uitgepuurd. En het moet gezegd worden, deze bijdrage van Philippe Diepvents is minstens even verfrissend als verwoed wapperen met het deksel van de diepvrieskist tijdens een hittegolf.
Vallen in liefde, Philippe Diepvents, Manteau
PS: Naar goede gewoonte horen er een handvol PS-en bij waar jullie andere posts in de kijker zetten. Mijn inspiratiebron: boekenmeisjes crashen Libris en het bezoek van de boekenmeisjes aan de schoonste stad van het land.
PPS: En of het een schone stiel is, boekenvent. Boekenmeisjes: bedankt!
PPPS: Meer lezen van Kurt, lees dan ook zijn zomercolumn.