Op vijftien september kwam 'De islam in vijfhonderd woorden' van Hind Fraihi uit. Hind is journaliste en werkt voor diverse binnen- en buitenlandse media. Ze is ook mama van twee kinderen en schreef eerder al het boek 'In mijn hoofd ga ik onder water' (Manteau) over haar zesjarig zoontje met autisme.
Uw boekenmeisje ontmoette Hind tijdens het lentefeest van de dochter van een gemeenschappelijke kennis. Ze verdacht haar dochter er een tijd lang van mijn kaartje met e-mailadres te hebben opgegeten, maar vond het enige tijd later weer terug op de bodem van haar handtas. We mailden over en weer over 'De Islam in vijfhonderd woorden'.
Hoe ontstond het idee voor het boek?
Het boek maakt deel uit van een reeks bij Lannoo Campus i.s.m. Thomas More. De boeken reiken basisbegrippen aan om de brede actualiteit te volgen en te begrijpen. Zo verscheen er al 500 woorden die iedereen moet kennen en 500 mensen die vandaag een begrip zijn.
In de actualiteit is de islam de meest besproken religie. Velen praten erover, slechts enkelen doen dat met kennis van zaken. Om de lezer en kijker meer inzicht te geven over dit thema ontstond het idee voor de Islam in 500 woorden. Los van misvattingen en vooroordelen biedt het boek een eerste stap tot een basisinzicht in de islam.
Wat hoop je te bereiken met het boek?
Velen hebben er de mond van vol maar spreken daarom niet met kennis van islamitische zaken. Dit leidt niet zelden tot platte en clichématige uitspraken over de islam en/in het Westen. Naar analogie van platitude zou ik graag een nieuwe term willen introduceren: islamitude. Om dat te corrigeren is het noodzakelijk meer aandacht te schenken aan de heterogeniteit en de differentiatie binnen de islam, alsook aan de dynamiek van deze religie.
Hoe selecteerde je de termen?
Ik baseerde me op canonieke basisbegrippen uit de islam, veel voorkomende begrippen in de media en historische bronnen.
Waarom ben jij de aangewezen persoon om 'De islam in vijfhonderd woorden' te brengen?
Ik beschouw dit boek als een deuropening tot hopelijk een brug die (vermeende) verschillen tussen gemeenschappen kleiner maakt of net die verschillen waardeert. Ik wil laten proeven van een hybride geloofsgemeenschap die groeiende is. Ik wil ook enkele misvattingen en vooroordelen uit de weg ruimen. Maar het is een poging, een kier openzetten aan het begin van een brug, want de ambitie is te groot voor slechts vijfhonderd woorden.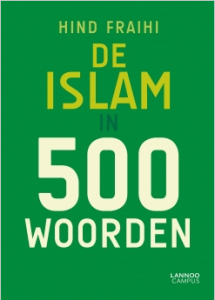 Hind selecteerde voor Thisishowweread vijf verrassende en hippe termen uit haar boek:
Hidjabista
Samenvoeging van de termen 'hidjab' en 'fashionista'. Een hidjabista (Engels: hijabista) is een moslima die zich modieus kleedt maar binnen de regels van de islamitische dresscode blijft, zijnde met een hidjab. De hidjabista's vallen niet bij iedereen in de smaak. Hun kledij wordt door voornamelijk orthodoxen beschouwd als een vernieuwend element in het islamitische geloof en als dusdanig verwerpelijk. Zij stellen dat de islam niet onderhevig is aan modeverschijnselen en dat bescheidenheid in kledij en gedrag een onveranderlijk principe is.
Mipsterz
Deze term is een samenvoeging van de woorden 'moslim' en 'hipsters'. Mipsterz zijn jonge moslims van een moderne subcultuur die hipster heet en zich moeilijk laat definiëren, al zijn er enkele uiterlijke stereotypen te noemen, bijvoorbeeld het dragen van een mannenhandtas en te grote 'nerdbril'. Vast staat dat hipsters ironisch genoeg wel hip geworden zijn hoewel ze mainstream schuwen. De subcultuur laat zich ook kenmerken door jongeren die tegendraads, liberaal en creatief zijn.
Moslimpunk
Punkmuziek ingegeven door de Koran. De Amerikaanse auteur Michael Muhammad Knight schreef in 2003 het boek Taqwacores, een verhaal over een moslimpunkhuis in New York. Het boek had zoveel succes dat er een geheel nieuwe subcultuur uit ontstond: de moslimpunk. De eerste islampunkbands zijn The Kominas, Secret Trial Five en Al-Thawra. Moslimpunk is een nieuw genre dat zich vanuit Amerika over de wereld verspreidt. De aanhangers drukken via rauwe en snelle islamitische punkmuziek uit hoe ze omgaan met de contradicties in hun leven.
Moslimhiphop
De Engelse term muslim hip hop is gangbaarder. Jonge moslimmuzikanten zetten anasheed (religieuze liederen) op de tonen van hiphop en popmuziek. Hiermee combineren ze moderne melodieën met traditionele religieuze teksten. Moslimhiphop verzoent dus hedendaagse muziekstijlen met het islamitische geloof. Een bekend duo moslima's zijn de Britse Hip Hop Hijabis.
Aya Lifestyle
Dit vrouwenblad werd gelanceerd in 2014; het is het eerste lifestylemagazine in Vlaanderen en Nederland dat zich specifiek richt op moslima's. Het blad, dat vier keer per jaar verschijnt, focust op de traditionele rubrieken van een vrouwenmagazine: fashion, beauty, kunst, reizen, koken, carrière, gezin en levensbeschouwing; maar dan op maat van islamitische vrouwen. Hoofdredactrice en verantwoordelijk uitgeefster Kawtar Najjar gaf in interviews te verstaan dat ze hoopt dat Aya ook gelezen zal worden door niet-moslima's omdat ze 'een brug wil bouwen, want de islam komt altijd zo negatief in beeld'.
De islam in vijfhonderd woorden, Hind Fraihi, Lannoo