Volgeboekt: lezen en slapen
En dan is het plots middernacht, ben je net thuis van een feestje van het Davidsfonds, en – terwijl je je afvraagt waar Eveline morgen over zal schrijven – besef je dat het gewoon aan jou is. Auch! Een eerste keer voor alles maar dat wordt pijnlijk voor de nachtrust… en omdat het met die nachtrust de laatste tijd toch al niet te behoorlijk is gesteld, heb ik meteen een thema voor deze blogpost.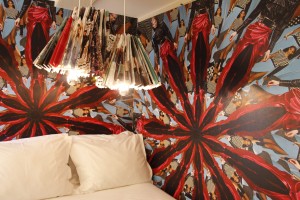 Volgens Mustreads is het goed om elke dag te lezen voor je gaat slapen. Als je dit doet, zou je brein lezen immers automatisch gaan linken aan slaap. Een soort van Pavloveffect dus. Seffens nog even verder lezen in de drukproef van Lara Taveirnes nieuwste boek dan?
Voor veel kinderen hoort een verhaaltje voor het slapengaan tot het vaste bedritueel, maar uit recent onderzoek blijkt nu dat het beter is voor de taalontwikkeling als papa's dit verhaaltje voorlezen.
In de juiste omstandigheden gaat dat slapen natuurlijk ook al veel vlotter, bijvoorbeeld in deze literaire slaapkamer of pyjama.
The Guardian onderzocht vorig jaar nog de moeilijke relatie tussen literatuur en slaap en citeerde hierbij Adrian Barnes in Nod.
"In sleep we all die, every one of us, every day. Why wasn't that fact noted more often? When we doze off each night there's never the slightest guarantee that we'll wake the next morning."
Tolstoy Therapy heeft zelfs een heuse 'Insomnia Reading List' vol literaire  voorschriften voor een goede nachtrust.
Tot slot is er natuurlijk nog het ultieme insomnia boek uit de Vlaamse literatuur: Slaap van Annelies Verbeke over de slapeloze Maya en Benoit.
Slaapwel! Ondertussen typ ik deze blogpost met de computer in bed, zowat het allerslechtste voor een goede nachtrust.
PS Goed slapen deden de boekenmeisjes dit jaar in The Exchange Hotel in Amsterdam.