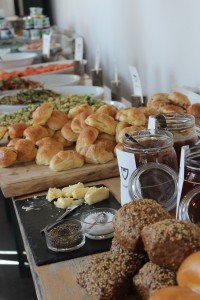 Op vrouwendag namen Barbara en ik deel aan een zonnige brunch met 60 bloggende vrouwen, het slotevent van de #boostyourpositivity challenge.
Het was een
#boostforproductivity want in de auto borrelde het ene blogidee na het andere op. De rit leek wel op een creatieve meeting. Smart is the new sexy, toch?
#boostforourego want This is how we read deed bij heel wat bloggers een belletje rinkelen. Van 'hebben jullie geen prijs gewonnen' tot 'ah ja en het derde boekenmeisje kon er niet bij zijn zeker met haar trouw.' Altijd leuk en onverwacht (ja hoor, zelfs op een bloggersbrunch) om iemand tegen te komen die je blogpost heeft gelezen.

#boostforhealth met overheerlijke quinoa, tabouleh en… Danone yoghurt. Fietsbar Bar Bidon in Gent is een aanrader.
#boostfornetworking

want – hoewel Barbara en ik samen binnen en buiten zijn gestapt – hebben onze wegen zich tussendoor gescheiden om zoveel mogelijk bloggers te leren kennen. Die vibe voelden we bij iedereen. Leuk om al die interessante vrouwen te ontmoeten. Zeg nu nog eens dat vrouwen niet kunnen netwerken… 'Van welke blog ben jij', was ongetwijfeld dé meest gehoorde openingszin. Ik kwam initieel aan een tafel terecht met maar liefst drie bloggende leerkrachten: Renilde, de vrouw achter de intrigerende domeinnaam 

Mooi ding

,

Elke

 die gedisciplineerd elke dag een nieuwe post schrijft en haar selfiestick had meegebracht en Ireen die haar

spectaculaire levensverhalen

liever neerschrijft dan ze te vertellen. Barbara vond een plaatsje in de lentezon naast

Annelore

 die blogt over het klein geluk met haar 4 kinderen en

Claire

, een copywriter die onlangs nieuw leven blies in haar oude reisblog.

Correct us if we are wrong

, Claire – maar volgens ons zou jij de humor wel inzien van dit zwaar

cynische boekje

? Aan de picknicktafel zat Barbara even later tegenover drie bloggende naaisters:

Seija

,

Hanne

 en

Heidi

.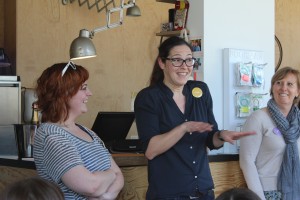 #boostforinspiration want misschien gaan we de leesclubs van Martine (in een wijnkelder!) en Kelly wel crashen, brengen we eens een bezoekje aan de Boekenkaravaan van Mieke of gooien we het roer van het leven volledig om zoals Miriam dat deed na een burn-out.
#boostforpositivity omdat we zoveel interessante vrouwen hebben ontmoet die we achteraf virtueel een bezoekje willen brengen. Wij zijn ondertussen aan ons lijstje 'uit te checken op het internet na een leuke ontmoeting' begonnen en zo las ik net deze inspirerende posts van Duitse literatuurassistente Maaike over afstuderen in taal- en letterkunde en van de Gentse Mama Maya over boekillustrator Carl Cneut. Barbara vond alvast een soulmate in Astrid en haar irrationele negatie als ontkenningsstrategie, deelt een passie voor fotografie met Kelly en spotte op de Goodreads van Falderie Chesil Beach van Ian McEwan, een korte roman die ze al heel lang eens wil lezen. Wordt vervolgd…
Dankjewel Kelly en Oon, Danone en Walkie Talkie voor dit prachtige initiatief!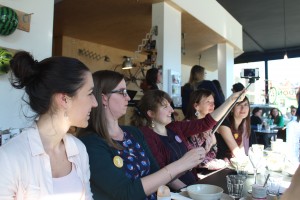 PS: En dan beseffen in de auto: 'Verdorie, nu hebben we Kathleen van De Verbeelding helemaal niet ontmoet.'