Lezen met Das Magazin en Saskia De Coster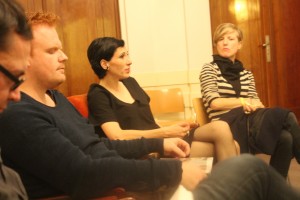 Is literatuur sexy? Voor het Nederlandse literaire tijdschrift Das Magazin is het antwoord volmondig ja. Eén keer per maand organiseert het magazine een 'sneak preview-leesclub'. Het concept is eenvoudig:
"25 mensen lezen de drukproef van een boek voordat het in de winkel ligt en gaan op een afsluitende avond in gesprek met de schrijver"
Ik woonde afgelopen donderdag de leesclub van 'de nieuwe' Saskia De Coster bij, een hippe happening met tequila, jonge culturo's, Hollandse aanstekelijkheid en een topverhaal.
Op 22 november organiseert Das Magazin een leesclub festival in Londen (ik zou zo voor Herman Koch gaan), op 12 december zakt het tijdschrift af naar Antwerpen voor boekenclubs (oooh Connie Palmen) en een 'roemrucht feest'. Ik geef je vijf redenen om erbij te zijn.
De moderator: Het concept van de leesclub is simpel doch effectief. Na een korte tequilaquiz (de eerste met een goed antwoord mag een shotje drinken) laat Lucky Fonz III – jaja we hadden een moderator met een artiestennaam – ons om de beurt uitleggen wat wij zo sterk vonden of wat ons opviel aan Wat alleen wij horen. That's it! Simple comme bonjour. Een vrijbrief voor een kabbelend gesprek? Helemaal niet. De Hollandse god stelt de juiste bijvragen, toont interesse, legt links en tilt de gesprekken naar een hoger niveau. Voor lezers met buitengewoon snuggere opmerkingen (denk: nerdie ontdekkingen over huisnummers of bewonersaantallen) of die een stukje voorlezen komt hoofdredacteur Daniël aandraven met nog meer tequila en dat zorgt al snel voor een losse sfeer.
Het publiek: De Das Magazin leesclub trekt jonge, hippe lezers met een grote liefde voor boeken. Je hoeft helemaal geen professionele lezer te zijn, maar vlot over boeken kunnen praten  helpt wel, natuurlijk. Vooraf raak ik aan de babbel met twee Mechelse meisjes die eerder al speciaal voor een Spaar de spotvogel leesclub naar Amsterdam reisden, tijdens de sessie zitten ik onder meer samen met studenten met schrijfaspiraties, de redactrice van het boek, twee wat kritischere mannen, een blogster die graag voorleest in ruil voor tequila en achteraf drink ik nog een Brussels biertje met één van de medewerkers van Watou. Een interessant gezelschap met rake meningen.
De setting: De leesclub maakt deel uit van het Bang festival dat Saskia cureert. Voor- en achteraf wordt er geborreld in de pop-up bar, de leesclub zelf vindt plaats in het Koninklijk Salon van de Bozar, een magische, ietwat verborgen plek in het cultuurpaleis.
De schrijver: Bij Das Magazin maakt de schrijver deel uit van de leesclub. Regelmatig geeft Saskia ons ook achtergrondinformatie over het chaotische schrijfproces ('Er zijn heel wat post-its aan te pas gekomen om al die verhalen te linken') en haar verteldrang ('Ik zou van iedereen hier wel zo'n miniatuur willen schrijven') en weerlegt ze subtiel en trefzeker de schaarse punten van kritiek. Tegelijkertijd relativeert ze haar woorden: 'Eigenlijk doet het er niet toe wat ik zeg, het is de leeservaring die telt'.
De exclusiviteit: Toegegeven, als boekenmeisje lees je vaker drukproeven dan het boek zelf, maar voor de doorsnee lezer is het best wel een bijzondere ervaring om bij de eerste lezers te horen. Het moment dat de bundel pagina's je bus invalt, wordt duidelijk gekoesterd. Met koorden, foto's, mapjes en de schaar krijgt de bundel bij iedereen een persoonlijke toets. Ook voor Saskia is het een speciaal moment om samen te zitten met haar eerste lezers.
Leuk aan zo'n leesclub is ook dat ik nu geen drie maar wel minstens acht redenen kan meegeven waarom je Wat alleen wij horen zeker moet lezen: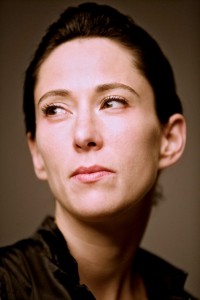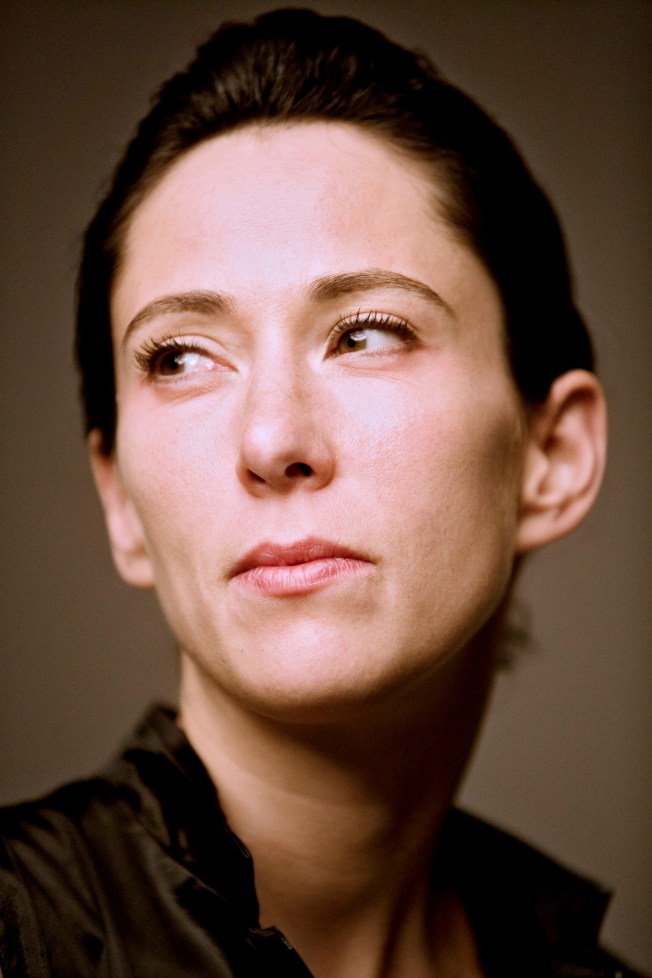 De beeldrijke scènes zoals 'die met de ballonnen': de neurotische Melanie vult na haar scheiding haar hele appartement met ballonnen om te weten 'hoe lang het zou duren voor haar verlangen zijn kracht verloor'.
De optimistische boodschap: dat de mogelijkheid van een beter leven altijd achter de hoek staat te wachten.
De poëtische taal vol metaforen. Peter Verhelst is niet voor niets haar leermeester.
De hoge inlevingsfactor. Terwijl sommige lezers zich wel in 'kindvanhaartijd' Erin konden vinden, hoorden anderen de stemmetjes van Melanie en gaven ze toe ook wel eens een Antonmoment te hebben. Zou dit iets te maken hebben met een schoolvoorbeeld van een Free Indirect Speech?
Zinnen met meer dan tien woorden. Saskia De Coster lijdt niet aan de heersende woordenanorexia.
Het Paul Jambersgehalte. Saskia laat je meekijken in de intieme levens van de appartementsbewoners maar doet de deur achteraf ook gewoon weer dicht.
De ingenieuze puzzel. Saskia schreef eerst de verhaallijn van George helemaal uit, maar deed er dan nog eens vier hoofdpersonages bij. Verbanden leggen voor gevorderden dus.
Honderd sterke verhalen. Saskia De Coster is een meesterverhalenverteller. Of ze het nu heeft over perverse chatters, jongetjes die willen vliegen of dementerende oude mannen, elk (ultrakort) hoofdstuk is een op zich staand pareltje. Benieuwd wat Saskia over de leesclubbers zou hebben geschreven?