Knockemstiff, Ohio. Wat kan je nu verwachten van een miezerige vliegenscheet op de kaart van Amerika, genoemd naar een lang vervlogen vechtpartij tussen een bedrogen echtgenote en de betrapte minnares? Niét alvast, dat het een schrijver voortbrengt van het kaliber van Donald Ray Pollock, die in 2008 met de voeten vooruit de Amerikaanse letteren tackelde met zijn gelijknamige verhalenbundel.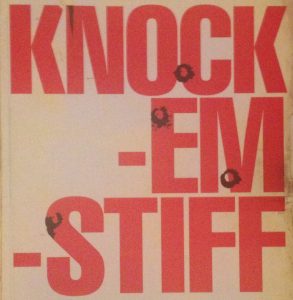 Tackelde, jawel. De stijl van Pollock is allesbehalve doorsnee. De personages in de twaalf verhalen van Knockemstiff zijn de meest zielige, gemene, perverse exemplaren van het menselijk ras die de natuur ooit op de aardbol spuwde. Sommige zijn extreem gewelddadig en een wandelende waarschuwing voor de gevolgen van inteelt, andere staan fulltime stijf van de drugs of mogen zich gelukkig prijzen dat IQ-testen stoppen bij nul. Knockemstiff is de hillbilly horlepiep op de beats van DJ Pollock.
I wasn't sure what fucking actually entailed. I just knew my mom did a lot of it. Every kid on the school bus said so.
Zoals Cormac McCarthy in zijn gruwelijke Meridiaan van bloed het Hollywoodmasker van het Wilde Westen afrukte om de afschuwelijke armoede en miserie erachter te laten zien, geeft Pollock The American Dream een vinnig knietje. Zijn personages zitten gevangen in een web van armoede, verslaving en het absoluut onvermogen om iets aan hun situatie te veranderen. Niemand verlaat Knockemstiff, hoezeer ze het ook willen.  Pollock vertrekt van het sobere naturalisme van Steinbeck en voorziet het van een vuile salopet met de zakken vol XTC.
My father showed me how to hurt a man one August night at the Torch Drive-in when I was seven years old. It was the only thing he was ever any good at.
Het spektakel begint al in het eerste verhaal –Real Life– waarin een jongetje samen met mama en papa in de drive-in naar Godzilla gaat kijken en mag getuigen hoe papa een peuk uitspuugt omdat hij whisky uit de asbak drinkt  –'want alleen dronkenlappen drinken uit de fles'- terwijl mama demonstreert hoe ze een hotdog in haar mond kan schuiven zonder haar lipstick te raken. Het uitje ontaardt in een kloppartij  waarop in grote letters 'jeugdtrauma' gedrukt staat. In Pills, dan weer, proberen twee hopeloze tieners Knockemstiff te verruilen voor Californië door gejatte drugs te verpatsen, wat zou gelukt zijn als ze van hun eigen spul hadden kunnen blijven. Verhaal na verhaal gaat de miserie door, inclusief in het gelauwerde Bactine dat in de New Yorker verscheen en Pollocks schrijverscarrière op gang trapte.
The hill-jacks loved them because a three dollar capsule made it possible to drink four times as much and still miss the telephone poles on the way home.
Het is geen uit de lucht gegrepen fictie. Pollock spreekt uit ervaring. Hij groeide op in Knockemstiff, om na een voortijdige exit op school in een papierfabriek te gaan arbeiden. 32 jaar lang, tot hij op zijn vijftigste debuteerde met deze bundel en zichzelf de redding gaf die zijn personages ontzegd wordt.
Wees gewaarschuwd, Pollock heeft geen medelijden met de lezer. Sommige passages zijn goor als een emmer gekabbelde kots van de kater van gisteren en het verhaal Dynamite hole -waarin een loner verslag doet van misbruik waarvan hij getuige was- is zonder meer schokkend. Maar wees gerust. Pollock compenseert dat ruimschoots door zijn overvloedige zwarte humor en door salvo's meesterlijke beelden. Pollocks zinnen zijn even fraai als zijn personages afstotelijk zijn.
Pulling back the feed sack that served as a shower curtain he saw that the tub was caked in hard, gray scum. He tore some pages from the atlas, and covered the trucker's slime with the endless highways of America.
Wat ons betreft mag hij in onze boekenkast naast Flannery O'Connors A good man is hard to find prijken, niet alleen omdat hij mooi aanleunt bij haar Southern Gothic stijl, maar vooral omdat hij net zoals O'Connor het vermogen heeft om door de miserie en de vunzigheid heen te kijken om begrip, misschien zelfs mededogen te tonen.
I told him all the secrets in my house, every single rotten thing that my old man had ever done to us. And though, in a stupid way, I felt like a fucking rat the more I blabbed, by the time the sun came up the next morning it seemed as if all the fear and shame I've ever carried inside of me was burning away like a pile of dead leafs.
Hou hem in de gaten, die Donald Ray Pollock.
Knockemstiff, Donald Ray Pollock – Uitgeverij Karaat. Lees hier het eerste hoofdstuk!
PS: Voor een grote portie Pollock in romanvorm: lees De Hemelse Tafel (De Bezige Bij), waarin drie klunzige broertjes per ongeluk moorddadige outlaws worden. Knockemstiff-style.