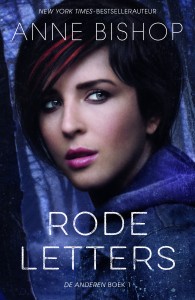 De hongerspelen… Allemaal uitgelezen… En niet eens verdoken op één of ander vakantiestrand om het uitgelezen boek achter te laten voor de volgende leeslustige reiziger, nee, ze staan luid en duidelijk te pronken in onze boekenkast. Ik schaam me niet om toe te geven dat ik dat wel verteer, zo'n Young Adult boek. En de verloofde ook, trouwens…
Veel lezers die iets minder 'Young adult' (lees: 25+) zijn, geven te kennen dat ze graag boeken als Twilight, Charmed en Once upon a time,… lezen. Onderzoek toont zelfs aan dat de gemiddelde Young Adult fan boven de 18 is. Enige bemerking? De identificatie met het hoofdpersonage is wat minder door het leeftijdsverschil.
Uitgeverij VBK hoorde de boodschap en lanceert vandaag de Urban Reeks. De boeken spelen zich af in een hedendaagse, stedelijke setting met een snuifje magie erbij. De vrouwelijke hoofdpersonen uit de Urban reeks zijn meegegroeid met het doelpubliek: twintigers in plaats van pubers zonder puisten. De boeken willen vrouwen (en mannen) bereiken die houden van YA, thrillers en fictie.
Schrijfster Anne Bishop mag in de reeks de spits afbijten met haar Rode letters. De inleiding van het boek legt uit hoe Bishop's fictieve wereld eruit ziet: Namids nakomelingen op aarde zijn de Mensen en de Anderen (hongerige weerwolven). De twee volkeren leven, afhankelijk van de goodwill, in oorlog of met een beetje verstandhouding naast elkaar.
Meg leeft in de stad en heeft als mens een heel bijzondere gave: ze is een bloedprofeet en ziet de toekomst als ze in haar huid snijdt. Daardoor wordt ze opgejaagd door een duister personage met bedoelingen die niet zo heel netjes zijn. Meg zoekt toevlucht tot de Anderen en wordt daar gelukkig niet meteen opgegeten. Onder de anderen vinden we Simon, die een boekenwinkel heeft. Hij ziet Meg niet als prooi en biedt haar een baan aan als contactmens.
Bij het lezen van de samenvatting is het even verschieten: bloedprofeten, gedaantewisselaars en een wereld die bestaat uit continenten als Afrikah (geen typfout, Barbara en Katrien), Vingerkootjeseilanden en Thaisia. Bishop verstaat gelukkig haar vak en eenmaal je door de 'Neem het nu maar van mij aan, zo ziet de wereld er in mijn boek uit' inleiding heen bent, is het Hunger Games, Games of Thrones en Twilight op z'n best. Wij zijn niet aansprakelijk voor slaaptekort, verwaarlozing van echtelieden/nageslacht of een ontevreden werkgever. Bij deze…
Bishop geeft een boodschap mee, tussen de weerwolven in: "Mensen waren slim, de Anderen ook. De Mensen bedachten elektriciteit en sanitair. De Anderen beheerden de rivieren die de generatoren konden aandrijven en de meren die zorgden voor de aanvoer van vers water." De link met hoe de wereld er vandaag uitziet is snel gelegd. Meg slaagt erin de Anderen te laten inzien dat zij meer is dan een lekker hapje en slaat een brug tussen Mensen en Anderen.
Het boek is de eerste in de reeks rond 'De Anderen'. In mei ligt het volgende al klaar: Zwarte veren, waarin Meg haar plaats heeft gevonden tussen de Anderen, maar  de rust verstoord wordt met het opduiken van een illegale drug. Laat je dus helemaal inpakken door Rode letters, er ligt nog heel veel Urban in het verschiet.
VBK stuurde ons alvast drie weggeefexemplaren op waarmee wij fans gelukkig kunnen maken. Onder de eerste tien reacties verloten wij (door trekking met een onschuldige hand) drie winnaars.
De trekking zal plaatsvinden op 22 maart 2015, reageren kan tot 21 maart 2015, middernacht. Op 23/3/15  worden de winnaars bekend gemaakt via Facebook en Twitter. Winnaars hebben 1 week om te reageren en hun adresgegevens te mailen. Zoniet wordt een andere winnaar uitgekozen. Deelnemers moeten min. 18 jaar zijn en in België wonen.
Rode Letters, De Fontein, Anne Bishop, 2015
Bekijk hier de facebookpagina van VBK.