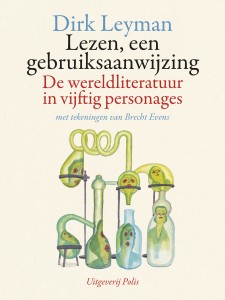 Wist je dat Emma Bovary is gebaseerd op één van de minnaressen van Flaubert en dat seriemoordenaar Gilles de Rais model stond voor Perraults Blauwbaard?! Had je ooit vermoed dat de avonturen van Alice in Wonderland hun oorsprong vonden in de fantasieën van Lewis Carroll voor de jonge Alice Liddell, zijn fetish girl?!
Papieren mannen en vrouwen hebben verrassend vaak ook echt bestaan; tot die ontdekking kwam dé Papieren Man, Dirk Leyman. De boekenredacteur van De Morgen ontrafelt in Lezen, een gebruiksaanwijzing de herkomst van vijftig personages. In pittige teksten brengt Leyman een ode aan kleine en grote personages uit de wereldliteratuur en legt hij hun reële 'waarheid' bloot op basis van vakkundig opzoekingwerk.
Zijn bronnenlijst lijkt oneindig. Toch slaagt Leyman erin om de massa feiten en details op een luchtige en toegankelijke manier in vijftig hapklare hoofdstukken te gieten.
Leyman maakt rock'n roll van 'ongelezen' klassiekers als Dokter Zjivago of Frankenstein.
Ik wacht nu al op de eerste stilte aan de kerstdis om geeky anekdotes op te rakelen als 'Wist je dat Moby Dick ook echt heeft bestaan en een gewelddadige albinowalvis was?' of 'Wist je dat de kleinzoon van Willem Elsschot zich nog steeds Tsjip laat noemen, ook al is hij hoogbejaard?'
Vanwaar komt je fascinatie voor het onderwerp?
Dirk Leyman: "Dit boek bouwt verder op een serie in de boekenbijlage van De Morgen. In Fictief personage, echt bestaan ging het over de link tussen fictieve personages en hun werkelijke evenbeeld. Van een boek was aanvankelijk nog geen sprake, ik schreef gewoon van week tot week een kort essay. Geleidelijk aan vond ik dat er meer in zat, ook door de wisselwerking met de tekeningen van Brecht Evens. Tijdens het schrijven ontdekte ik immers dat er heel wat verbanden waren, veel meer dan ik ooit had gedacht. Soms zijn het één-op-één-linken zoals in Connie Palmens Lucifer waarin ze de Amsterdamse kunstenaarsscène laat opdraven of bij Onder professoren van W.F. Hermans waarin hij zijn universiteitscollega's in Groningen in hun hemd zette. Maar veel vaker ontstaan personages uit complexe verdichtingen en modificaties van de werkelijkheid. Dat is een heel fascinerend proces om te bestuderen, zeker omdat niets is wat het lijkt in literatuur. Schrijvers zetten je vaak op het verkeerde been. En zo zijn de krantenstukken uiteindelijk grondig herwerkt en uitgebreid tot vijftig essays, uitmondend in een bijna speels naslagwerkje van 320 pagina's (lacht)"
Wat is je favoriete verhaal uit het boek?
DL: "Ze zijn me allen dierbaar. Bijzonder is wel het verhaal achter Maria Turner uit Paul Austers Leviathan. Het was de Franse performancekunstenares Sophie Calle die Paul Auster vroeg om een personage op haar te baseren. Vervolgens ging Sophie Calle in werkelijkheid uitvoeren wat Paul Auster over haar schreef. Zo ging ze bijvoorbeeld de door Auster uitgevonden maaltijden in één welbepaalde kleur bereiden en opeten. Ik heb me ook reuze vermaakt met het verhaal over de proteserige, giechelende dandy Robert de Montesquiou, die model stond voor liefst vier romanpersonages en talloze schilderijen. Zijn interieur inspireerde Joris-Karl Huysmans voor zijn verveelde dandy Des Esseintes en hij is ook te herkennen als Baron de Charlus bij Proust.
Heb je veel baanbrekende ontdekkingen gedaan?
DL: "Heel mooi was het moment dat Stefan Brijs me er zelf in een interview attent op maakte dat Victor Hoppe, de klonende embryoloog uit De engelenmaker gebaseerd is op een omstreden embryoloog en een bijzondere dorpsarts. Veel andere feiten over personages als Heathcliff of Sherlock Holmes zijn natuurlijk algemeen gekend, maar een aantal staan toch ter discussie. Jeroen Brouwers heeft bijvoorbeeld altijd ontkend dat de middelmatige schrijver Jacob Voorlandt uit Winterlicht gebaseerd is op de flamboyante uitgever Geert Van Oorschot maar de feiten spreken min of meer voor zich. Het is een regelrecht literair gezelschapsspel om al die versies tegen elkaar af te wegen."
Stel, ik wil mijn leven graag gefictionaliseerd zien. Hoe verhoog ik mijn kansen?
DL: "Word de geliefde van een schrijver en maak er ruzie mee. Wraak is vaak een zoet begin voor een roman. Kijk maar naar de turbulente relatie van Simone de Beauvoir en Nelson Algren, die de Beauvoir aanwendde in haar roman De mandarijnen. Maar natuurlijk is het antwoord niet zo eenvoudig. De oorsprong van een romanpersonage kan heel divers zijn. In de inleiding schreef ik er het volgende over:
"Natuurlijk is de liefde een belangrijk reservoir. Geliefden die met een beroemde schrijver of kunstenaar het bed delen, zijn tegenwoordig beducht voor uitgelekte blootselfies of –plaatjes. Tot de komst van de smartphone moesten ze vooral op hun hoede zijn voor een rol in een aanstaande roman… Naast de liefde is er ook de vriendschap. Nogal wat auteurs bieden hun boezemvrienden een bevoorrechte plaats aan in hun romans… Ook de academische wereld is een dankbare biotoop met al zijn geïntrigeer en gekonkelfoes… Veel schrijvers gebruiken de actualiteit en politieke gebeurtenissen als springplank voor hun verbeelding… Ook familiegeheimen blijken een voortreffelijke voedingsbodem voor romans."
Dus je merkt: het valt niet te voorspellen hoe je in een roman terechtkomt… Je hebt het zelf helaas niet in de hand (lacht). Beroemd zijn kan ook helpen, by the way."
Heb je zelf ooit je opwachting gemaakt in een roman?
DL: "Ja, ik ben bijvoorbeeld al een paar keer opgedoken in de romans van Herman Brusselmans, als strenge De Morgen-criticus. Ik kan daar steeds smakelijk mee lachen.
Schrijvers mogen met mij uitvreten wat ze willen; ze krijgen het door mij tenslotte soms ook te verduren (lacht).
Maar als ik zelf zou mogen kiezen, dan wil ik wel figureren in een roman van Jeroen Brouwers of in een roman van de Franse Nobelprijswinnaar Patrick Modiano, als zo'n door de schemering van Parijs dwalend personage. Al acht ik de kans klein dat dit ooit gaat gebeuren. Of stel je voor dat Georges Perec me had ondergebracht in een van de dertig appartementen uit Het leven, een gebruiksaanwijzing in zijn fictieve rue Simon Crubelier? Ik zou het wel op prijs stellen een puzzelstuk te zijn in zo'n magistrale roman."
En dan gaat het interview off the record verder. Dankjewel Papieren Man voor je literaire bloginzichten, kritische bedenkingen en constructieve tips.
Lezen, een gebruiksaanwijzing, Dirk Leyman, Uitgeverij Polis
PS: Ook benieuwd? Kom naar de boekvoorstelling op 12 december in De groene waterman.