Tijdens de zomervakantie presenteert This Is How We Read elke woensdag één van de genomineerden van onze columnwedstrijd 2018. Vandaag vallen Shannons vriendinnen ten prooi aan een brutaal virus.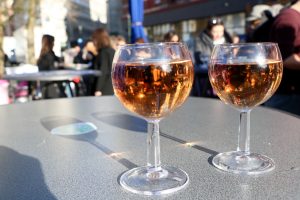 Er heerst een epidemie onder mijn vriendinnen. Festivals kunnen opeens niet meer bezocht worden, als mijn vriendinnen te lang staan krijgen ze bekkenklachten. Dit klinkt als een soort codetaal. Drank mag niet meer genuttigd worden, dat beschadigt de parasiet. Elke week moet er ge-wowt- worden naar aanleiding van groeiende ballonnenbuiken op social media en als kers op de taart: "Meiden, pampers zijn nu in de aanbieding bij de drogist, twee voor de prijs van één!" Schaamteloos werd dit gepost in onze eeuwenoude vriendinnen appgroep.  
Toen ik dat las, wist ik dat ik ze verloren had aan de duistere kant.
Mijn lieve, gekke, spontane vriendinnen die met een megafoon een kroeg overnamen, alles wat mannelijk was liefhadden of doodzwegen, mijn schreeuwende, vloekende, gillende, huilende, zoenende en vol in het leven staande vriendinnen wilden nu collectief voor tien uur in de avond naar bed. Baby Wars.  
Waar zij nu het middelpunt van de zwaartekracht zijn en als nestelende pinguïns door het leven gaan, sta ik verderop, alleen in de kroeg, zonder mijn maatjes. Er is echter nog één over net als ik.  
Een hele zomer brengen we samen door. We barbecueën aan het meer, bezoeken festivals, drinken liters wijn en honderden shotjes. Geregeld hebben we een fijne kerel in ons bed, althans, dat is onze mening in de avond, na al die wijn en shotjes. In de ochtend hebben we geen mening, want dat zijn ze er nooit. Met donkere wallen en een sterk verminderd concentratievermogen arriveren we braaf iedere maandagochtend op ons werk.  
De herfst brengt rust en kalmte. We ploegen ons door grijze, regen gevulde dagen en brengen het weekend door met uitslapen en thuis op de bank met onze beste vriend Netflix.  
Wanneer de eerste sneeuwvlokjes vallen, beginnen ook de ballonnen te knappen. Onze weekenden bestaan opeens uit roze en blauw en beschuit met muisjes. Kleine wezentjes die smakgeluiden produceren worden ons aangereikt.
Ze zijn oerlelijk, ergens is iets anatomisch gezien volledig de mist ingegaan.
We besluiten om te zeggen dat ze lekker ruiken en lieve kleine voetjes hebben om onze vriendinnen niet te kwetsen. Ze lijken zo trots.  
In de lente volgt weer een vriendinnenweekend. Op vrijdagavond zijn we samen, het lijkt net als vanouds. We spelen spelletjes tot diep in de nacht en iedereen borrelt mee. Rond een uur of twee staan we in de kroeg karaoke te zingen. We zweven op de adrenalinerush. De volgende dag worden we in de middag wakker en kijken we elkaar schaapachtig aan.   
In de avond sluit de rest van de gezinnen aan. De afgelopen maanden zijn de kleine wezentjes flink bijgetrokken, je zou ze nu zelfs 'lief', 'mooi', of 'schattig' kunnen noemen. Ik kijk rond naar mijn katervriendinnen met hun grut en pak de hand van mijn vriendin. Ik voel me warm van binnen. Mijn vriendin glimlacht. Ze legt mijn hand op haar buik, ik voel een ronding. Als ik weer in haar ogen kijk zie ik tranen en besef dat ook zij besmet is met het babyvirus.  
Arme ziel.  
Terwijl Shannon Vollemans druk bezig is met haar wetenschappelijke ontwikkeling van een humane harde schijf die via het oor verbonden kan worden met de hersenmassa, om zo de intelligentste mens ooit te creëren, houdt zij zich bezig met het schrijven en werken als verpleegkundige. Dit is uiteraard een dekmantel om te voorkomen dat ze als genie niet ontvoerd wordt door de FBI, Interpol of de Avengers. Wil je meer van haar lezen? Ga dan naar www.reismeemetmij.nl.