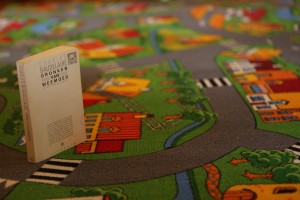 Zou het met dat 'bookcrossen' nog iets geworden zijn? Die vraag stel ik mij soms, sinds ik in 2007 een stukje over het fenomeen schreef voor De Standaard (Bevrijd eens een boek, 21/09/07).  Bookcrossing blijft een geweldig idee. Je kleeft een label op een roman die je niet meer in je boekenkast wilt. Je laat het boek achter op de trein, in een park of waar dan ook. Het noodlot doet z'n werk en een vreemde vindt jouw boek. Via de website www.bookcrossing.com laat de gelukkige vinder jou vervolgens weten wie hij/zij is en wat hij/zij van het boek vond. Zo leuk. Zo simpel. Zo 'message-in-a-bottle' in de 21e eeuw.
Het komende jaar voeren we op www.thisishowweread.com ons eigen experiment uit. We gaan minstens 150 boeken achterlaten in alle uithoeken van Vlaanderen, in batches van tien en met de oproep aan alle vinders om een reactie te posten op deze blog. Dat doen we gewoon uit menslievendheid – we delen graag gratis leesplezier uit. Oké, misschien is het ook een wanhoopspoging om onze boekenkasten in toom te houden. Slinkse reclame voor onze blog? Yep, is het ook. Uiteraard. En vergeet vooral niet dat wij competitieve bitches zijn. Op www.bookcrossing.com zeggen ze dat 20% van hun achtergelaten boeken wordt gevonden. Wij gaan voor minstens 50 reacties op 150 titels! De leukste van het jaar belonen we op 31 december 2015 met 25 gratis boeken. Beloofd.
Op 3 februari droppen we onze eerste tien zwerfboeken op tien plekjes in het Mechelse. Stay tuned voor meer informatie.
Ook over het 'officiële' www.bookcrossing.com brengen we dit jaar nog een langer stuk. Wat snelle research leert dat Vlamingen vandaag vooral bookcrossen in de regio Turnhout. Waarom daar of all places? We komen erop terug.