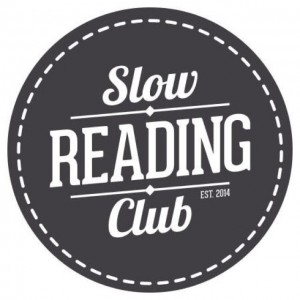 Lieselotte De Snijder is één van onze volgers van het eerste uur. Als communicatiemedewerker bij het Davidsfonds pikte ze onze blog meteen op. Lieselotte is een echte literaire passionara: ze schreef Wauw, hier leest men boeken met aanbevelingen aan bibliotheken en boekhandels, heeft haar eigen literaire blog en richtte enkele jaren geleden in Hasselt een slow reading club op. Ondertussen woont Lieselotte in Leuven en vatte ze het plan op om ook hier te starten met een slow reading club. Ze vroeg of we interesse hadden om samen te werken (jazeker!) en trok meteen richting onze favoriete Leuvense boekenbar met het verzoek om dit event te hosten. Met resultaat: op 6 november om 20u komt de slow reading club voor het eerst samen in Barboek!
Op onze blog doet Lieselotte vandaag haar verhaal.
Minder stress, meer aandacht
Als fervente boekenliefhebber lijd ik aan een vervelende ziekte: gebrek aan tijd om te lezen. De symptomen: te veel ongelezen boeken en nog meer boekentips. De oorzaken: lange to-dolijstjes en te veel multitasken. En ik ben niet alleen. Het lijkt wel een epidemie. Heb jij er ook last van? Dan ben je vast blij om te horen dat er een remedie bestaat: slow reading.
Druk, druk, druk
Het is de mantra van onze tijd: druk, druk, druk! Niet alleen op het werk, maar ook thuis. Niet alleen door alle dingen die we moeten, maar ook door alle dingen die we willen. En we willen veel. Meer dan goed voor ons is. Als je dan ook nog actief bent op sociale media en dagelijks bestookt wordt door nieuwtjes, merk je dat er aan het eind van de dag geen aandacht en geen tijd overblijven.
We staren de hele dag naar schermen, klikken van site naar site en scannen berichten en teksten. Maar steeds vaker zonder ons erin te verdiepen. Een echt boek uitlezen wordt een uitzondering.
Samen sterk
Gelukkig kom je via sociale media ook in contact met veel boeiende mensen. Mensen die worstelen met dezelfde frustraties en manieren zoeken om tijd te maken voor hun passies. Zoals lezen. Zo kwam ik Diana Goodwin tegen, met wie ik in januari 2015 een Slow Reading Club begon in Hasselt. De Slow Reading Club is een initiatief uit Nieuw-Zeeland en de idee is om op gezette tijdstippen af te spreken met andere lezers, de technologie een uurtje plat te leggen en samen in stilte te lezen. Ik was er meteen voor gewonnen. We zochten een locatie, trommelden vrienden en kennissen op en begonnen eraan.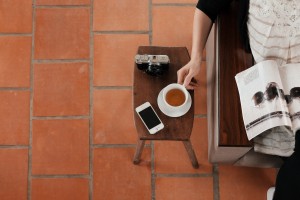 Raar maar waar
Die eerste keer was raar. Lezen doe je normaal op jezelf, ergens in een comfortabel hoekje. Het leek asociaal om niet te praten. Maar het was ook spannend. Zouden we het volhouden om niets te zeggen? Zou ik niet afgeleid zijn? Nadat iedereen zijn drankje had gekregen en ik een paar minuten lang afwisselend een regel las en om me heen keek, nam het verhaal de bovenhand. 60 minuten later – of waren het er 6? – kwam ik er weer van los. Het was van de laatste zomervakantie geleden dat ik nog zo in een verhaal zat. Het lijkt simpel, maar het werkt echt.
Het geeft rust om tijd door te brengen met mooi gevormde woorden en zinnen. Om je te laten meevoeren door een verhaal. Het voelt als een uurtje yoga of meditatie.
Dag afleiding, hallo concentratie
En weet je wat het leuke is? Ik ben niet de enige die de positieve gevolgen van slow reading ondervond. Er verschijnen steeds meer onderzoeken en artikels die aantonen dat de hele dag naar een scherm staren je brein beschadigt . Aandachtig lezen, daarentegen, heeft een positief effect op onze hersenen.
Dit zijn de goede eigenschappen die aan slow reading worden toegeschreven:
minder stress
meer concentratie
meer begrip
meer empathie
betere spelling en woordenschat
beter luistervaardigheden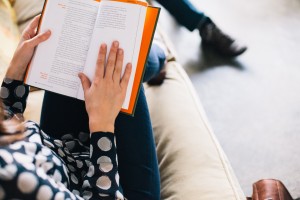 Zes tips
Niets dan voordelen dus. En toch schrikt de term slow reading sommige mensen af. Want hoe doe je dat dan precies? Is het moeilijker dan gewoon lezen? Het antwoord is eenvoudig: er zijn geen regels en het is absoluut niet moeilijk. De volgende tips vatten goed samen waar het op neerkomt:
Maak tijd om te lezen, minstens een halfuur als je je echt wilt onderdompelen in een tekst.
Kies een rustige plek en zet je smartphone, tablet, laptop of tv uit.
Neem een boek naar keuze, voel je niet verplicht om zware literatuur te lezen.
Begin opnieuw als je niet meer weet wat je gelezen hebt.
Neem tijd om de letters en de woorden in je op te nemen, er is geen haast.
Onderlijn woorden en zinnen die je mooi vindt of die je wilt opzoeken.
Goal, goal, goal, goal!
Klaar om slow reading een kans te geven? Kom dan meelezen met de Slow Reading Club van Leuven. We komen voor het eerst samen op vrijdag 6 november 2015 in Barbóék. Je kiest helemaal zelf welk leesvoer je meebrengt. Boeken, strips, magazines: alles mag, zo lang het maar offline is. Ben je toch op zoek naar leestips? Dan zit je goed op deze blog. Na het uurtje lezen is er een boekenbabbel voor wie daar zin in heeft. De voorzet is gegeven, aan jullie om binnen te koppen!
Praktisch
Vrijdag 6 november
Barbóék, Schrijnmakersstraat 17, Leuven
De deuren openen om 19.30 uur, zodat je iets te drinken kunt bestellen.
Om 20 uur beginnen we effectief te lezen.
De toegang is gratis en inschrijven is niet nodig.
Na de eerste sessie vragen we om een kleine evaluatie in te vullen, zodat we samen het moment en de frequentie van de Slow Reading Club kunnen bepalen.
PS Leesinspiratie nodig? Op de Facebookpagina van de Slow Reading Club in Leuven delen we deze week elke dag een tip!