Lig je wel eens wakker van de zin van het leven en worstel je met existentiële angsten, lees dan Siddharta van Herman Hesse, ben je pessimistisch verdiep je dan in Robinson Crusoe en kijk je wel eens te diep in het glas dan kan Malcolm Lowry's consul uit Onder de vulkaan je misschien wel helpen.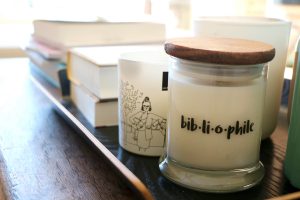 'Lees de wereldliteratuur! Bepaalde gevoelens zou ik niet eens kennen als ik de wereldliteratuur niet gelezen had. Je wordt er meer mens van. Ieder boek maakt je meer compleet', schreef Oscar Van den Boogaard in De Standaard.
Boeken lezen om er beter van te worden… Schrijfster Nina Sankovitch nam het heel letterlijk. Als haar zus op haar zesenveertigste overlijdt aan kanker, gaat Nina leven op kruissnelheid. Ze plant haar agenda zo vol, alsof ze met haar goedgevulde dagen het onvoltooide leven van haar zus probeert te volmaken. Na drie jaar rennen, realiseert Nina zich dat het verdriet met al dat haasten niet is geslonken. Ze zoekt haar toevlucht in boeken, besluit om te vertragen en een jaar lang iedere dag een boek te lezen. Na afloop van dit jaar in boeken voelt Nina zich veel meer ontspannen, lijkt ze de wereld beter te begrijpen en heeft ze geleerd positieve herinneringen te koesteren, de enige zalf tegen verdriet:
'Toen ik echt behoefte had aan lezen, hebben boeken me alles gegeven waar ik om vroeg en meer.'
Boekenvoorschrift
De Engelse Ella Berthoud en Susan Elderkin schenken elkaar al sinds hun studententijd in Cambridge boeken waarmee ze de ander kunnen helpen en maakten hiervan hun beroep. In de Londense School of Life van Alain de Botton geven zij boekentherapie. Geen verrassing want voor de Botton is het doel van de kunsten therapeutisch:
'Kunst is een therapeutisch middel dat mensen richting, aansporing en troost biedt en hen helpt om zich tot betere versies van zichzelf te ontwikkelen.'
De boekentherapie van Berthoud en Elderkin resulteerde in De boekenapotheek, een naslagwerk vol 'fysieke en emotionele 'kwaaltjes' met daarbij behorende boekenvoorschriften. Hun therapie werkt op twee niveaus. Susan Elderkin (45), bibliotherapeute: 'Enerzijds is er het verhaal. Als jij door een fase in je leven gaat, kiezen wij een boek waarin het hoofdpersonage has been there and done that. Als je bijvoorbeeld depressief bent en je leest een boek met een depressief hoofdpersonage zoals in De ondraaglijke lichtheid van het bestaan (Milan Kundera), zal je je minder alleen voelen. Anderzijds is er de leeshandeling en het ritme van het boek. Voor een maandagochtenddipje bevelen we bijvoorbeeld Mrs Dalloway (Virginia Woolf) aan dat een hele lichte toon heeft.' Ook bij Nina Sankovitch heeft het lezen een dubbele werking. Boeken geven haar de troost en zekerheid dat er altijd weer mooie momenten zullen zijn en dat haar lijden universeel is. Daarnaast geeft de daad van het lezen haar rust, discipline en structuur.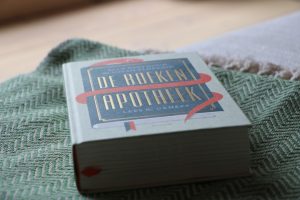 Linda Preston (docente Engels, 58 jaar) kreeg een boekentherapie bij de Vlaamse Boekencoach Silvia Derom toen ze tussen twee jobs in op zoek was naar een baan met zingeving: 'Ik heb altijd graag gelezen. Vroeger was dat vooral voor mijn plezier maar de laatste jaren ook om eruit te leren.  Je moet natuurlijk ook bereid zijn om je hiervoor open te stellen en willen reflecteren over jezelf. Dankzij Silvia's boekenvoorschrift heb ik opnieuw mijn kernwaarden gevonden.'
Het juiste boek op het juiste moment
Hoewel bibliotherapie verder gaat dan een gepersonaliseerde leeslijst, is de therapie ook een vruchtbare manier om in het overaanbod aan boeken je weg te vinden. Hoe vaak lees je geen boek waar je nog niet klaar voor bent of wenste je dat je dit boek eerder had gevonden. Susan Elderkin: 'Veel mensen stoppen met lezen omdat ze de juiste boeken niet vinden. Dat is een probleem van deze tijd. Het aanbod is immers zo groot. Veel mensen kiezen hun boeken gewoon omdat ze gisteren zijn gepubliceerd en een hype waren in de media. Mensen hebben nood aan een gids.' Dit vindt ook kinesioloog Jean Marie Albert (57) die een voorschrift kreeg van de Boekencoach, onder meer om beter om te gaan met de dementie van zijn vader:
'Dikwijls koos ik de verkeerde boeken: ze waren ofwel te moeilijk of ze voldeden niet aan mijn verwachtingen. Nu koop ik minder, maar wel de juiste boeken.'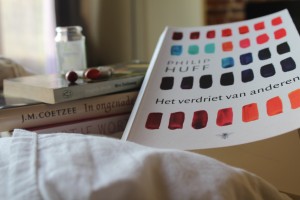 Iets voor jouw problemen?
Boekentherapie werkt meestal op herkenbaarheid en identificatie, niet noodzakelijk met het hoofdpersonage maar wel met de situatie. Boeken verwoorden wat mensen denken maar zelf nooit zo kunnen formuleren. Relatieproblemen zijn dan ook heel dankbaar om met boeken te 'genezen', net omdat er zo veel boeken over de liefde gaan. Natuurlijk is literatuur niet voldoende bij ernstige problemen zoals een echte depressie maar het kan wel één van de invalshoeken zijn om ze te overwinnen. Susan Elderkin: 'Onze patiënten komen niet naar ons voor mirakels, maar vaak geven we hen meer dan ze verwachtten en zijn ze positief verbaasd.'
Boekentherapie is bovendien heel efficiënt voor kinderen. Voor hen zijn de verhalen veel echter en net daardoor leren ze er ook meer uit. Verhalen zijn trouwens een ideaal aanknopingspunt om als ouder een gesprek met je kinderen aan te gaan. Susan Elderkin:
'Toen we van Engeland naar New York verhuisden en mijn kinderen 'die met het rare accent waren' zocht ik voor hen naar een boek over anders zijn om hen met de situatie te leren omgaan.'
De magie van boeken 
In de psychiatrie wordt er gebruik gemaakt van diverse kunstdisciplines, zo is er muziektherapie, schrijftherapie of kunnen patiënten zich uitdrukken op het doek. Wat maakt de therapeutische kracht van boeken zo bijzonder? Het hoofdpersonage van de roman Stille sprekers (Andrés Neuman) zoekt troost in boeken als haar echtgenoot ongeneeslijk ziek wordt en verwoordt het als volgt: 'Er was nóg een reden dat ik zo van de film heb genoten, vanwege het daar zijn, naast mama (…) lachend om dezelfde scènes, daar, allebei in leven, wetend dat we van elkaar houden (…) boeken deel je natuurlijk ook (…) maar daar geniet je om beurten van (…) misschien zijn boeken meer iets voor mensen die alleen zijn.' Ook Susan Elderkin vindt het solitaire karakter van het lezen heel belangrijk: 'Je bent alleen met je boek, en dat maakt het heel intens.'
Daarnaast is fictie in de eerste plaats niet didactisch bedoeld en net daarom komt literatuur veel harder aan dan een zelfhulpboek. Eva Rousselle (36), educatief medewerker van Vormingplus Gent en begeleider van een groep die samen hardop leest, bevestigt dit:
'De kracht van literatuur is dat je in een andere wereld stapt. Een boek is geen portie theorie. Als je de juiste woorden op de juiste plaats zet, dan doet dit iets met een mens.'
De Vlaamse Leesrevolutie
Leesgroepen bestaan al langer dan vandaag. Nieuw is de Vlaamse Leesrevolutie, een project geïnspireerd door de Engelse Reader Organisation van Jane Davis. Men leest hardop in kleine groepen – in tegenstelling tot de gewone leesgroepen waar iedereen thuis zijn boek leest – en bespreekt samen hoe die literaire teksten ons raken. Regelmatig wordt er teruggekoppeld naar het persoonlijke leven. Deze groepen zijn bedoeld voor mensen die schoonheid en betekenis zoeken en richten zich vaak, maar niet noodzakelijk, tot mensen met problemen (kansarmen, alcoholverslaafden, gevangenen…). In de kerstperiode mocht ik zelf zo'n sessie bijwonen in de Gentse Zuidpoort, een vereniging die de stem van mensen in armoede wil versterken.
Ik ben nog wat te vroeg en ik installeer me in de gezellige woonkamer van de vzw waar enkele deelnemers en vrijwilligers koken en de Gentse actualiteit becommentariëren: van seriemoordenaar tot verkrachter. Een a-typisch publiek voor een leesgroep, denk ik. Enkelen komen hier al voor de vierde keer, anderen zijn nieuw. Boven steekt Eva Rousselle enkele kaarsjes aan en begint voor te lezen: Sneeuwpret, een kortverhaal van Bernard Dewulf. De rust daalt neer in de Zuidpoort. Iedereen luistert naar de mooie stem van Eva. De tekst is niet gemakkelijk, Eva moet een paar stukjes herhalen maar dan begint het puzzelwerk. Wat is het 'groeiende zachte hout', waarom kleedt de vrouw zich in het grijs…? Stap voor stap ontvouwen de deelnemers samen de betekenis van dit verhaal en al snel gaat het over hoe de tekst hen persoonlijk aangrijpt. De respectvolle gesprekken gaan over het verschil tussen fantasie en verbeelding, het belang van creativiteit, over hoeveel hoop je mag koesteren en gezelligheid. De openheid verrast me. Via dit kortverhaal komen de deelnemers dichter bij elkaar als mens. Bij het gedicht Advent gebeurt hetzelfde. Een deelneemster is kandidaat om voor te lezen. Vol zelfvertrouwen leest ze voor. Waar krijgt deze vrouw de kans om een groep voor te lezen!? De tekst dringt traag door maar vervolgens wordt er gepraat over rust en eenzaamheid, de een doet het op filosofische toon, de ander met volkse wijsheden.
Regelmatig wordt er gelachen. Samen lezen is duidelijk ook plezierig en ontspannend.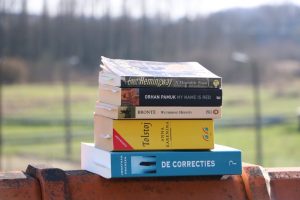 De literatuur doet haar werk
Na de sessie vertrouwen de deelnemers me toe dat ze thuis nooit lezen maar dat ze hier rust vinden en echt genieten van het voorlezen van Eva die overal de juiste intonatie legt. Bovendien hebben ze het gevoel dat de teksten hen meer inzicht geven, door er samen over te praten. Ook Eva bevestigt dit: 'Ik hou van het niet-didactische karakter van literatuur. In kwaliteitsvolle literatuur is de gelaagdheid zo enorm. Je moet linken leggen en nadenken om betekenis te geven. Bovendien zorgen al die complexe woorden voor een rijkdom in je denken. Op het moment dat je wordt geraakt, gebeurt er iets in jezelf. Die momenten veranderen je.' Ook Eva was tijdens de eerste leessessies verbaasd over de grote openheid van de groep: 'Niemand kende mij maar al na vijf minuten toonde men zijn kwetsbaarheid en ging het over het belang van grenzen trekken. Dat de literatuur zoiets kan bewerkstelligen, dat vind ik magisch. De kracht van onze sessies zit in de literatuur zelf. Ik ben zelf filosofe van opleiding en hou van het zoeken naar betekenis en het creëren van een verhaal. Via literatuur en poëzie kan je de mensen veel directer bereiken in wat hen raakt. Het komt er gewoon harder in.'
Meer lezen:
Een boek per dag, Nina Sankovitch (Artemis & Co, 2011)
De boekenapotheek, Ella Berthoud & Susan Elderkin (Podium, 2013)
Wil je zelf een boekentherapie meemaken, neem dan een kijkje op www.theschooloflife.com.
Dit artikel verscheen in 2015 in Psychologies.
PS. Nog meer Samen Lezen en een sessie bij The School of Life.
PPS. En ook Philip Huff heeft het over de psychologische voordelen van lezen.