This Is How…wij feestjes geven in Barboek
Gisteren lazen jullie het juryverslag van de columnwedstrijd 2017. Maar hoe zat de sfeer eigenlijk op de prijsuitreiking? Wat vertelden JP Mulders, Nathalie Le Blanc en Fien De Meulder zoal, daar in Barboek?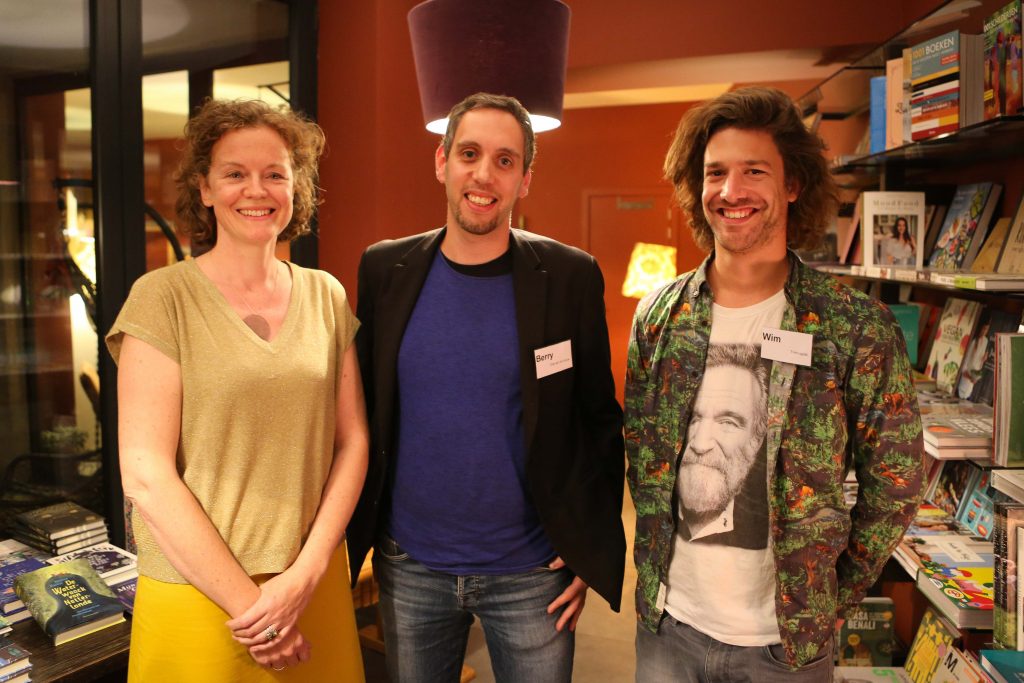 Jean-Paul Mulders over z'n carrière als columnist en over Jotie 't Hooft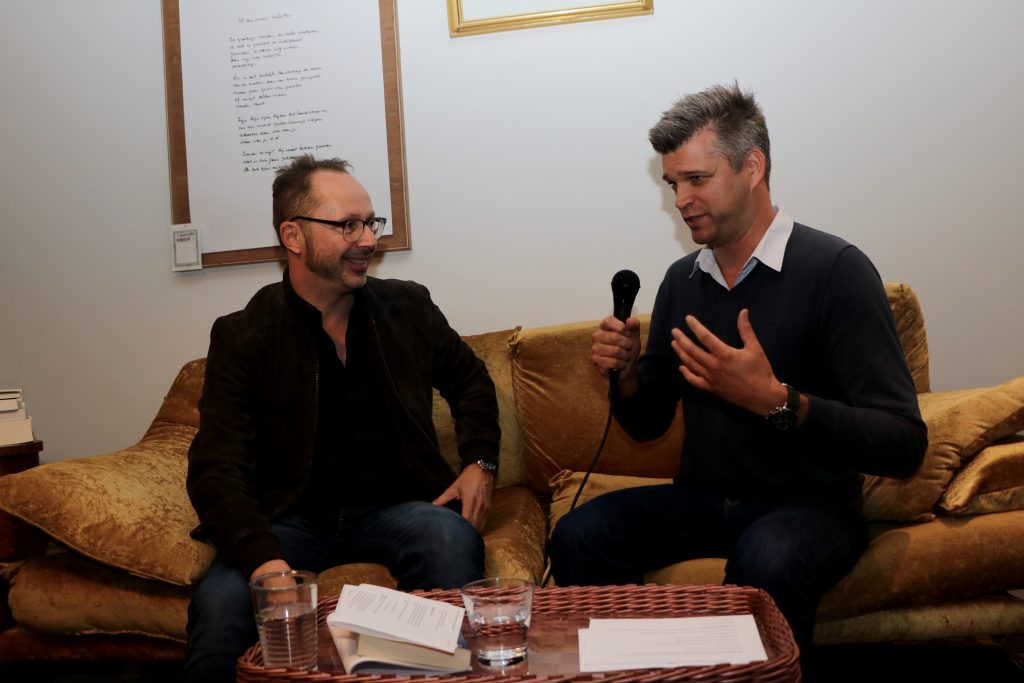 Stipt om 20u00 heette Kurt  het publiek welkom. We wisten dat we een risico namen door hem in het openbaar te laten spreken, maar tot onze grote verbazing heeft hij geen bokken geschoten en alleen maar een heel klein beetje over zichzelf gepraat.
Omdat hij ruiterlijk toegaf dat Hilde Devoghel tijdens onze eerste columnwedstrijd met hem de vloer aanveegde met het geweldige Kampioen, vergeven we het hem dat hij op het toilet zat te jammeren van de stress terwijl het publiek hem kon horen. Neen, dat waren géén stemoefeningen, beste boekenknecht, die bevatten niet uitsluitend het woord 'mama'.
Daarna voelde Kurt ons opperjurylid en Weekend Knack columnist Jean-Paul Mulders aan de tand over de harde stiel van het columns schrijven en over hoe zijn carrière als columnist van start ging. Jean-Paul gooide kwistig met goudklompjes uit zijn schat aan ervaring. In het publiek werd er duchtig genoteerd, al dan niet analoog. Naast details of je nu van columns schrijven stinkend rijk zou kunnen worden, ging het over onvermijdelijke autobiografische elementen en over hoe zelfcensuur lastig in de weg kan zitten. Jean-Paul riep Hanif Kureishi erbij, met een prachtig citaat over het schrijverschap. Maar pas toen hij -na een klungelige voorzet van Kurt- En wat dan van Jotie 't Hooft voordroeg, kreeg Barboek collectief kippenvel.
Jotie 't Hooft is binnenkort veertig jaar dood, en als auteur van Jotie's biografie Een zeer treurige prins kan Jean-Paul het weten.
Nathalie Le Blanc over Weg van jou (Van Halewyck)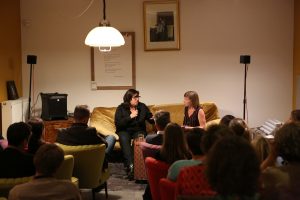 Katrien mocht op de sofa met journaliste Nathalie Le Blanc (o.a. Weekend Knack) om het over haar boeketroman Weg van jou te hebben en kreeg meteen enkele sappige details te horen: hoe Nathalie haar knappe Italiaanse skileraar een plek gaf in haar roman en hoe seksscènes schrijven gewoon een kwestie van oefenen is. Nathalie liet die bewuste fragmenten (en enkel die…) trouwens vooraf reviseren, want de bad sex in fiction award wilde ze niet winnen. Goed om weten is dat Nathalie van plan is om jaarlijks een romantisch vervolg te breien aan haar fictiedebuut. We know what you'll read next summer!
Wij moeten trouwens dringend Weg van jou herlezen om alle subtiele referenties naar Leuven op te sporen. Zo werd De Hoorn bijvoorbeeld De Klaroen en kreeg ook wijnbar – staat op de to-dolijst – Surlie een plek. Als je ons binnenkort met een knaloranje (Nathalies lievelingskleur!) boek door Leuven ziet lopen, dan weet je het wel! Pieter Aspe, opgelet, Leuven heeft binnenkort de Nathalie Le Blanc wandeling! Of is het de Monteny tocht, want Nathalie maakt een scherp onderscheid tussen haar journalistiek werk en haar roman(s). Aan het ene gaat een uitgebreide research vooraf, aan het andere… oefening en een paar witte wijntjes in de Dolomieten?
Fien De Meulder over Een Redelijk Gelukkig Huwelijk (Polis)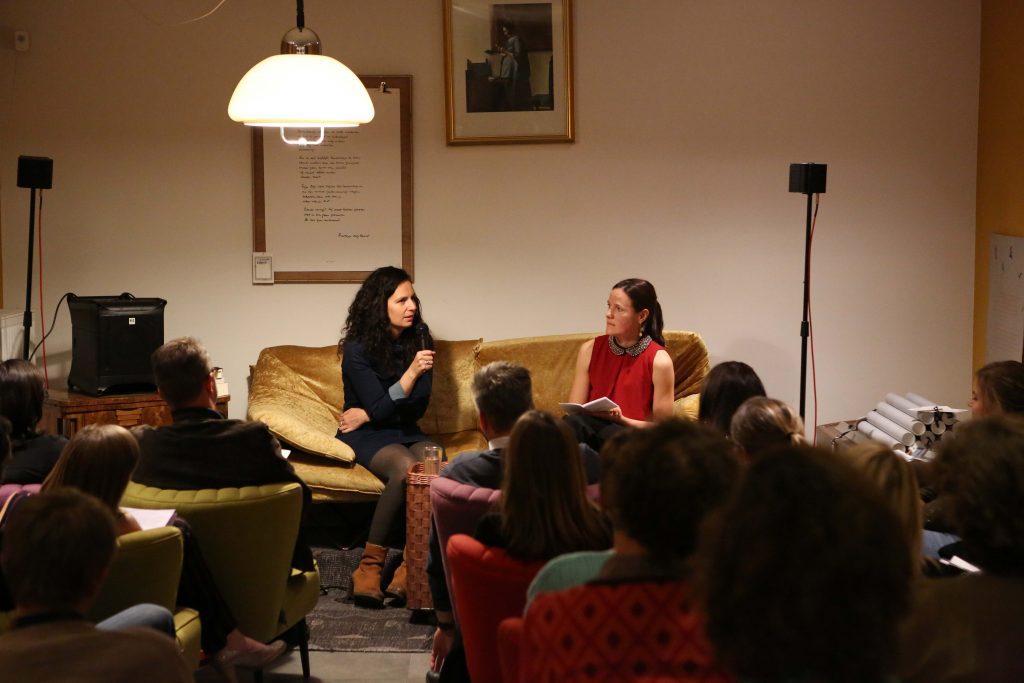 Je hoeft geen carrière te hebben bij Weekend Knack (iets wat Jean-Paul en Nathalie toevallig delen…) om kans te maken om een boek te publiceren. Met drie universitaire diploma's (Germaanse, wiskunde en filosofie), drie kinderen en gewoon gigantisch veel aangeboren schrijftalent, lukt het (soms) ook. Om die hoopvolle boodschap uit te dragen, lieten we Fien De Meulder plaatsnemen op Barboeks gouden sofa.
De Meulder bekende dat ze jaren anoniem blogde, voor ze de moed vond om met haar literaire werk naar buiten te komen.
Toen Barbara gemakshalve 'Bridget Jones!' schreeuwde als referentiekader voor 'Een Redelijk Gelukkig Huwelijk', corrigeerde de schrijfster haar vriendelijk. Fiens grappige roman in dagboekvorm over de perikelen van de neurotische Mrs. X haalt de mosterd eerder bij Philip Roth, Schotse stand-up comedians en ander mansvolk dat durft te schrijven over de dingen waar de meeste mensen in stilte mee worstelen (zeg maar: hun lichaam, seksleven, angsten en vieze gewoontes). 'Een Redelijk Gelukkig Huwelijk' is een 'doet-ze-het-of-doet-ze-het-niet'-roman over een hedendaagse moeder op de drempel van een buitenechtelijke affaire. Omdat we de plot niet wilden verklappen, lieten we Fien praten over de existentiële ondertoon in haar schijnbaar luchtige proza. Om in de geest van de avond te blijven ('columns, columns, columns') stipten we ook aan dat De Meulder gemakkelijk meningen spuit, en niet bang is van een paar columnachtige zijsprongen. Zoals in dit fragment:
Je moet weten, ik ben niet vaag filosofisch tegen Barbies omdat dat zo moet als vrouw. Nee, ik ben hartstochtelijk fanatiek tegen Barbies. Ik haat ze met elke pluk van mijn eigenzinnige haar en met elke rimpel van mijn cosmetisch onverbeterde gezicht. Ik verfoei ze tot in de uithoeken van mijn weldoorvoede dijen en tot in de puntjes van mijn anatomisch realistische borsten.
Panelgesprek 
Zei iemand daar: 'Ik haat Barbies'? Tijd voor het volgende programmapunt!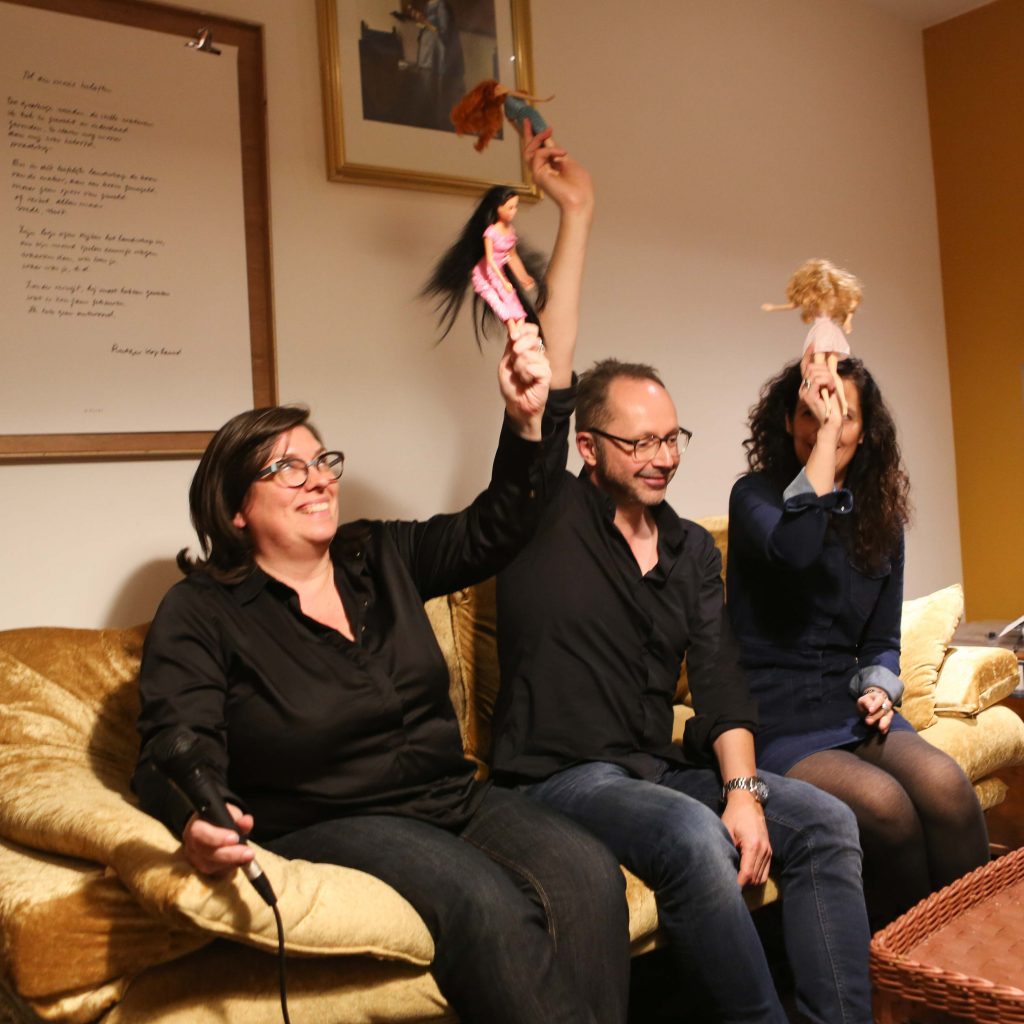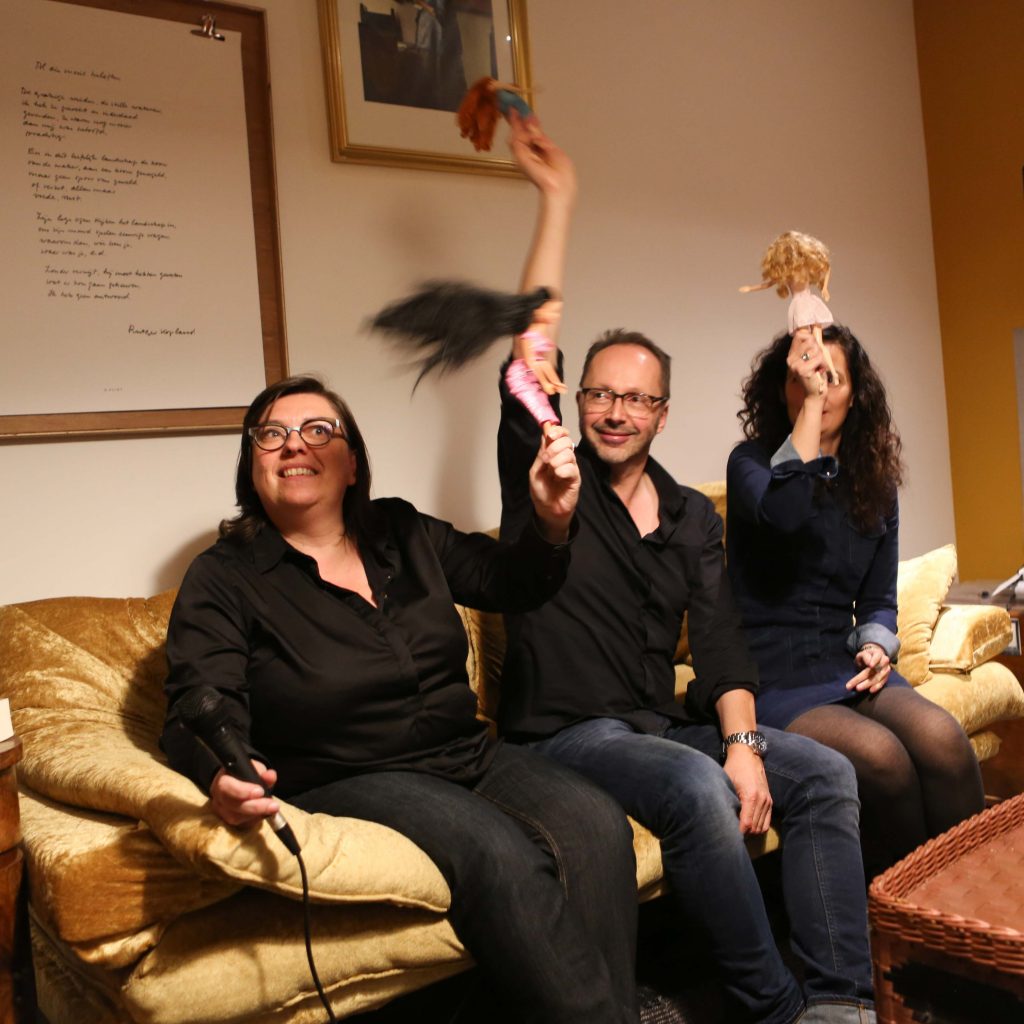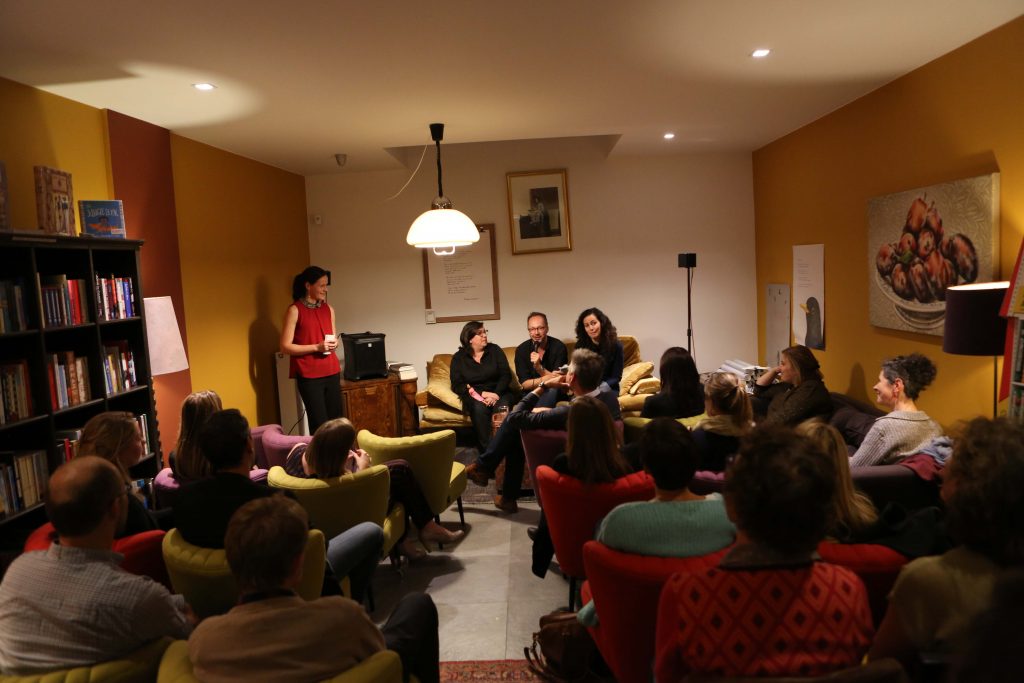 We stopten ons panel een Barbie in de hand en lieten hen reageren op stellingen die (U kent ons) van ver iets met literatuur te maken hadden, maar ook schaamteloos persoonlijk gingen. Genre: 'Ik ben ijdel, anders zou ik niet schrijven.' Of: 'Als ik worstel met een tekst, drink ik alcohol.' Wie wil weten wie met welke stelling akkoord ging…had er maar bij moeten zijn in Barboek! Al willen we wel meegeven dat er geen drankorgels zaten in ons panel.
Douchen schijnt beter te helpen tegen writer's block dan alcohol. Of dat wilden JP, Nathalie en Fien ons toch doen geloven.
Prijsuitreiking columnwedstrijd
Welgeteld 61 minuten slaagde de This Is How We Read redactie erin om consequent Jean-Paul te zeggen, maar in de 62ste minuut van de avond ontsnapte er toch een Jean-Pierre aan Katriens mond. Het zal de spanning zijn geweest want de zaal hield op dat moment zijn adem in voor het juryverslag. Alle acht de genomineerden waren aanwezig – sommigen kwamen zelfs uit Utrecht afgezakt – en elk van hen kreeg persoonlijke feedback. Het volledige juryrapport lees je hier maar wij bekroonden Wim (Trekrugzak) voor zijn uitgesproken toon en onverwachte reisobservaties met de derde plaats en Sofie (Noem me bij mijn naam) voor haar zintuiglijke en sfeerscheppende tekst met de tweede plaats. Met zijn hilarische ode aan de vrouw was het Berry die met de hoofdprijs ging lopen. Berry veroverde het overwegend vrouwelijke publiek door de tekst nog even voor te dragen en mocht achteraf met een inspirerende stapel boeken naar huis. Berry, proficiat!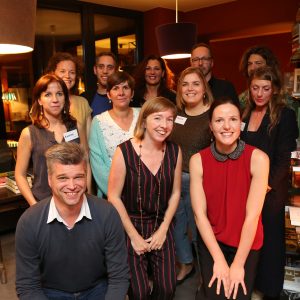 PS: Bedankt aan ons fantastische panel, aan de even geweldige genomineerden en aan iedereen die er op deze fijne avond bij was!
PPS: Stilistische speurneuzen hebben het vast al geroken. Bovenstaande tekst is een This Is How We Read co-productie, met tekstbrokken van Kurt, Katrien en Barbara.
PPPS: What happened at Les Parisiennes, stays at les Parisiennes, maar dat douchethema uit het panelgesprek was wel een keeper.