And the winner is… Berry Black
Meer dan 100 (!) schrijvers namen afgelopen zomer deel aan de derde editie van de This Is How We Read columnwedstrijd. Acht van hen kregen van de This Is How We Read redactie een plek op de blog. Uit deze acht columns koos columnist Jean-Paul Mulders van Weekend Knack een top drie die afgelopen donderdag in de bloemetjes werd gezet. De jury had echter lovende woorden voor alle acht de genomineerden. Omdat het leuk is om met complimentjes te strooien, lezen jullie hier het volledige juryrapport.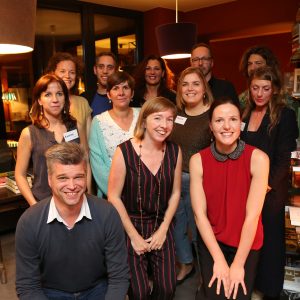 (Van links naar rechts en van achter naar voor: Sofie, Berry, Elise, Jean-Paul en Wim; Eveline, Kim, Pauline en Shadia; Kurt, Katrien en Barbara)
In willekeurige volgorde
In Podiumfluweel lazen we hoe Shadia iedere woensdagmiddag met een karafje rood in Brasserie De Artist is te vinden. De jury prijst Shadia voor haar scherpe observatievermogen dat blijkt uit zinnen als 'stevige puntige wijzers die wat terugveren net voor ze de volgende minuut aankondigen'.
Jean-Paul Mulders noemt het zelfs een column met romanpotentieel, als redacteur bij een uitgeverij zou hij het wel weten.
We houden van de subtiliteit van de observaties maar hadden het einde graag iets minder vaag gelezen. Enfin, eigenlijk hadden we graag geweten wat er nu met Fred gebeurd is, misschien kunnen we dat bij een glaasje rood bespreken.
In Oermannen rijgt Elise de jager-verzamelaar technieken van de hedendaagse barbecuekrijger aan het spit. Het is een herkenbare column vol overdrijvingen over de condition humaine. Mits een beetje schrapwerk zou de tekst volgens Jean-Paul zo een plaats verdienen in een populaire krant of magazine. Een geweldige tekst om boven te halen als manlief volgende zomer bij één graad boven nul, uitroept: 'wij gaan BBQ'en, schat en ik nodig mijn volledig zaalvoetbalteam uit'.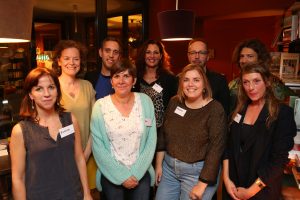 Voor Kamillethee van Eveline had de voltallige jury een zwak. Jean-Paul vond het een semi-professionele, goed geschreven en herkenbare column en werd getroffen door kleine observaties en goedgekozen details. Het wijze advies uit de tekst deed hem denken aan de Sunscreen Song van Baz Luhrmann. Misschien je tekst in een song gieten, Eveline? Wij bezorgden de tekst alvast aan vriendinnen van #teamnosleep en voelen alleen maar sympathie. Verplichte lectuur voor jonge moeders, lijkt ons.
In Kwijt moet Kim dringend leren om gewoon iets kwijt te zijn. De schrijfster trekt het niet dat iets verkeerd is gelegd en zonder toezicht aan het rondzwerven is in huis, iets waarin Jean-Paul zich helemaal kan herkennen.
Kwijt is een column met een hoek af, met uitdrukkingen die net dat tikkeltje anders zijn en opgebouwd rond een origineel idee.
Er zit iets ongedefinieerd in deze column en wij houden wel van dat aparte.
Dat Ding Ding Jackpot over het aangaan van een gemeenschappelijke rekening op de redactie voor echtelijke ruzies zorgde, doet er niet toe in dit verslag maar is wel een teken dat ook deze column herkenbaar is voor het brede publiek. De tekst is af en zit vol humor en grappige observaties en viel in de smaak bij de hele jury. Mits een klein beetje meer pit had deze column het zeker verder kunnen schoppen. Pauline, open maar een fles van de gemeenschappelijke rekening om deze nominatie te vieren.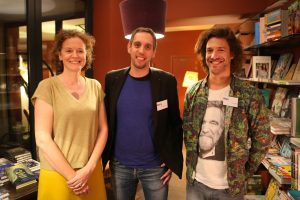 Dan zijn we bij de top drie aangekomen.
Bij de derde tekst hoorden we Jean-Paul even 'macho' mompelen, maar hij corrigeerde zichzelf al snel – de tekst deed hem gewoon aan Hemingway denken. De schrijver van deze column heeft volgens de jury een uitgesproken en sterke eigen toon (en naar eigen zeggen ook een 'lekkere kop'). We vonden het een zelfzekere stem met onverwachte reisobservaties die we graag willen aanmoedigen om meer te schrijven. Wim, de derde prijs is voor jou met je column Trekrugzak.
De tweede column is mooi en zacht en appeleert aan ons gevoel. De zintuigelijke tekst doet je vergeten dat je aan het lezen bent, dat er zoiets bestaat als een auteur die de tekst geschreven heeft. Jean-Paul zei: 'ik lees het en ik ben erbij, daar in die slagerij.' Sofie, op een A4 schep jij een heel universum. Sofie, wij gaan je naam niet vergeten! Voor Noem me bij mijn naam, krijg jij de tweede prijs.
Berry, jij schreef Ode aan de vrouw en je krijgt van ons een Ode aan de winnaar. Je tekst is 'gewoon steengoed'. De jury moest verschillende keren luidop lachen, de herhalingen werken en zijn perfect gedoseerd. Wij vonden het een professionele column die je zo zou kunnen publiceren. Het deed ons denken aan de teksten van de niet altijd vrouwvriendelijke De Standaard columnist Tom Heremans (en mocht je die niet kennen dan zit er in het prijzenpakket een boek van Tom). Lezen die handel!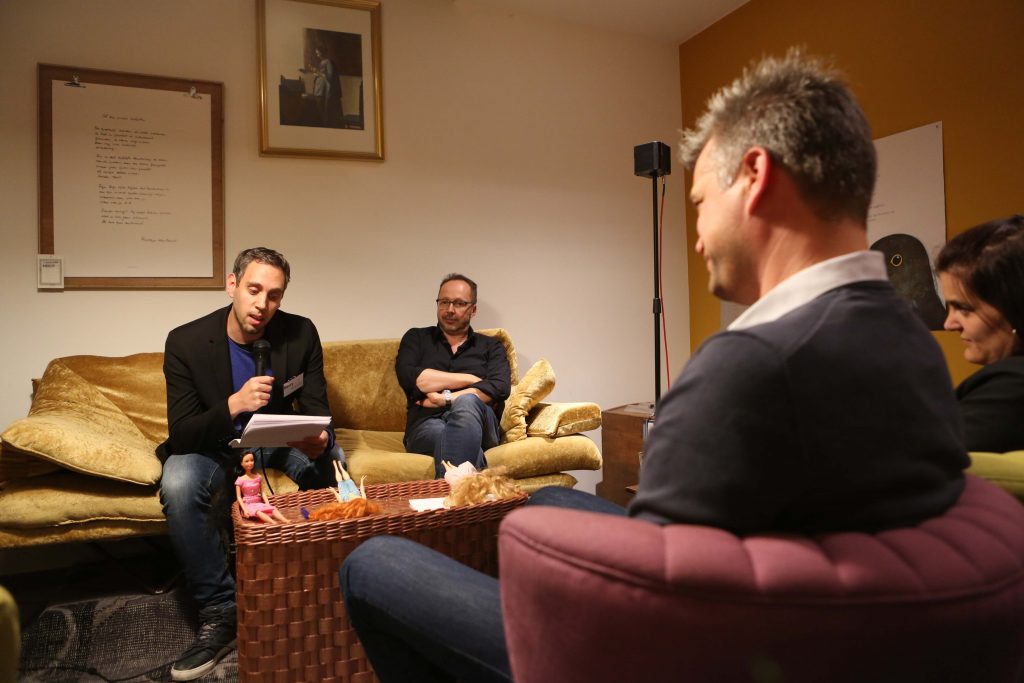 PS: Jullie zagen het al aan de groepsfoto bovenaan dit stuk. Alle genomineerden gaven present op de prijsuitreiking. Hoe fijn is dat? Bedankt dat jullie er waren (en ons zo'n fijne columns leverden om de blog mee te vullen, afgelopen zomer…)
PPS: Berry las z'n winnende column zelf voor. Voorzichtig gegniffel werd al snel luid gegrinnik. Deze tekst werkt duidelijk niet alleen op papier.
PPPS: Het juryverslag van vorig jaar… Wat denken jullie? Is Jean-Paul strenger of milder dan Katrijn Van Bouwel?