Audrey en Anne. Zelfs zonder boekcover of achternamen weet je meteen over welke Audrey en Anne het gaat. Anne Frank, het symbool van de oorlog in Nederland en Audrey Hepburn, die we steevast associëren met de glamour en grandeur van Hollywood.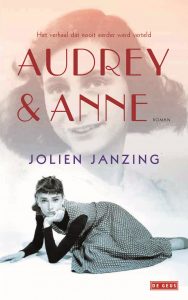 Jolien Janzing brengt twee levens bij elkaar waarvan weinigen weten dat ze elkaar zo vaak en zo dicht gekruist hebben. In mijn ogen is dit een essentieel en evident boek. Essentieel, omdat de levens van deze twee jonge meisjes griezelig veel paralellen vertonen. Evident, omdat je je afvraagt waarom niemand eerder op het idee is gekomen om dit verhaal, dat zo overduidelijk aanwezig is, te gaan schrijven.
Het verhaal van Audrey en Anne is bij Jolien in goede handen. Vakkundige handen, die door bergen archieven, boeken en documentatiemateriaal gebladerd hebben. Handen die de twee verhalen zo naast elkaar gelegd hebben, dat ze een consistent en doordacht geheel vormen. Handen die Otto, Edith, Barones van Heemstra, de moeder van Audrey en Anne en Audrey weer tot leven brengen. Vingers die op pijnlijke plekken duwen, pulken aan oude wonden en soms ook zalven.
Jolien Janzing imponeert.  'Ik voel de nood om over krachtige vrouwen te schrijven, die tegen de stroom in durven zwemmen. De geschiedenisboeken staan vol verhalen over sterke mannen, en het is tijd om deze vrouwen een stem te geven.' Als lezer voel je de aanwezigheid van Audrey en Anne. Van de twee meisjes, maar ook van de twee symbolen die klaar staan om te ontluiken. Ze lezen mee over je schouder, soms giechelend, soms heel stil.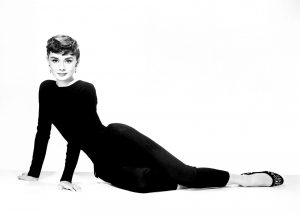 Otto Frank zocht Audrey Hepburn in de jaren 50 op om haar te vragen de rol van Anne Frank te spelen in de film. Audrey Hepburn weigerde. Uit angst dat het verleden van haar ouders zou worden opgerakeld. Uit angst ook wat Annes verhaal bij haar oprakelt. Zo zei Audrey ooit dat Anne's boek een verslag was van alles wat Audrey had gevoeld en meegemaakt: de angst, de honger, de terreur en de haat.
Sla het eerste hoofdstuk open, en verdwijn in een verhaal van een meisje dat buiten wil gaan fietsen, maar niet eens verlangend door het raam mag staren. Een verhaal ook, van een spichtige ballerina, die krantjes voor het verzet in haar kousen verstopt.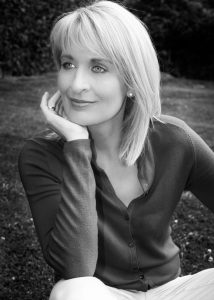 Anne en Audrey, Audrey en Anne, deze twee tienermeisjes blijven ongetwijfeld even in je hoofd rondhangen. Thisishowweread kon het niet laten om Jolien aan de schrijversmouw te trekken voor een kort interview:
Je houdt van iconen: je eerste boek ging over Charlotte Brönte en de liefde voor haar Brusselse leraar, nu voer je Audrey Hepburn en Anne Frank op.
Audrey, Anne en Charlotte zijn vrouwen met lef. Ze laten zich niet kopje onder duwen; ze zwemmen tegen de stroom in als dat moet, ze ploeteren, ze gebruiken al hun talenten, energie en levenslust. De geschiedenisboeken staan vol verhalen over heroïsche mannen, maar er zijn zo weinig vrouwelijke rolmodellen. Misschien dat ik onbewust wil zeggen: kijk, ze bestaan, de vrouwen die zich onderscheiden hebben. Ik koester een grenzeloze bewondering voor hen en hun levensverhalen zijn een bron van inspiratie.
Liefde is een belangrijk thema in je werk. Je schreef boeken over obsessieve liefde en interviewde beroemde homokoppels over liefde.
Als ik de liefde niet heb, ben ik niets. Het is een terugkerend thema in mijn romans, simpel omdat het zo belangrijk is in mijn eigen leven. Audrey en Anne gaat over de oorlog en hoe de twee meisjes en hun moeders proberen die te overleven, maar in de eerste plaats gaat het over relaties. Zo is er het tweede huwelijk van Ella, barones van Heemstra, de moeder van Audrey, dat ondanks haar toewijding op de klippen loopt. En het verlangen van Edith Frank, de moeder van Anne, naar een meer intieme relatie met haar man. Moederliefde speelt eveneens een rol in dit verhaal en hoe je je als moeder schuldig kunt voelen over de fouten die je maakt – geen enkele moeder is helemaal vrij van dat schuldgevoel.
Welk weetje over Anne en Audrey verraste je bij je research?
De grootste verrassing kwam toen ik ontdekte dat Audreys moeder, barones Ella van Heemstra, artikels had geschreven voor The Blackshirt, het ledenblad van de Engelse fascistische partij BUF. De ouders van Audrey waren nazisympathisanten en hadden zelfs een ontmoeting met Hitler in München. En dat terwijl Hollywood over Audrey de meest fantastische verhalen had verspreid over de jaren dat hun jonge heldin als koerier voor het Nederlandse verzet had gewerkt. Wat was waar en wat niet? Mijn onderzoek naar de familie Frank bracht me vooral dichter bij hen. Anne is voor mij niet langer een icoon, maar een meisje van vlees en bloed. Otto Frank ontpopte zich ook tot een hele boeiende persoonlijkheid.
Audrey en Anne, Jolien Janzing, De Geus
Een deel van het interview met Jolien verscheen eerder in Elle België.