Swingen op dinsdag (2) – met Maaike
Elke eerste dinsdag van de maand gaat This Is How We Read op uitwisseling. Je leest ons vandaag bij Maaike, een positieve blogster en psychologe uit Gent. In ruil geven wij Maaike vrij spel op ons podium. Klaar voor een pleidooi over de link tussen schrijven en geluk?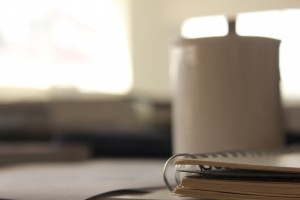 In mijn kindertijd kwamen leerkrachten in de grote vakantie op huisbezoek.
Onaangekondigd. Pure spionage.
Toen meester Johan langskwam was ik elf jaar oud en verkleed als zigeunerin.
Compleet met oorringen van vier centimeter doorsnede en een paarse zijden hoofddoek.
De schaamte, ik voel ze nog.
De kans dat je bij ons op bezoek kwam en mij middenin een fantasiespel aantrof, was nochtans reusachtig. Ik hield mijn bibliotheek open, schuilde met mijn poppenbaby's voor de bommen en maakte vuurtjes bij mijn knotwilg-huis. Ik was mezelf meer niet dan wel.
Nog steeds verdwaal ik graag in verhalen. Nog steeds verzin ik regelmatig een nieuwe ik, en ik verdicht mijn belevenissen graag tot een kloppend verhaal. Brené Brown heeft er in haar laatste boek 'Sterker dan ooit' fascinerende wijsheden over:
"We verzinnen verborgen verhalen die ons vertellen wie er tegen en wie er voor ons is. Wie we kunnen vertrouwen en wie we niet kunnen vertrouwen. Als we maar vaak genoeg vertrouwen op verhalen die onszelf beschermen, worden ze standaardverhalen. En we moeten niet vergeten dat verhalen vertellen een krachtig integratie-instrument is. We gaan die verborgen, onware verhalen met ons leven verweven en uiteindelijk verstoren ze wie we zijn en hoe we met anderen omgaan."
De effectiefste manier om je bewust te worden van de verhalen die je jezelf vertelt, en je te bevrijden van de niet-helpende, is door ze op te schrijven. Ongecensureerd neerschrijven, zonder het mooier te maken dan het is. Het verhaal dat je verzint, de emoties die je er bij hebt, de signalen die je lichaam geeft, je gedachten, je overtuigingen en je daden: alles op papier. En man man man, dit stoeien met je verhaal is zo effectief.
Ik zweer het op mijn zigeunerziel. Schrijven maakt gelukkig.
Nee, je vindt mij geen referentie, want ik schrijf sowieso graag. Terwijl jij, jij hebt niets met dat schrijven. Je las het al vaker, hier en hier en hier, dat ik pleit voor schrijven als middel om te groeien. Maar je wil het niet geloven. Je denkt dat het alleen werkt voor woordkunstenaars.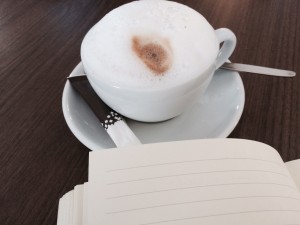 Niet dus. James Pennebaker onderzocht al in de jaren tachtig de voordelen van schrijven om te helen. Schrijven over dingen die je emotioneel raken vermindert angst, piekeren en depressieve symptomen en versterkt je immuunsysteem. Serieus? Ja, echt. Of zo echt als wetenschappelijk onderzoek het kan maken. Schrijven in spurtjes van een kwartier tot twintig minuten, enkele dagen per week. Zonder te letten op spelling, grammatica of tekstopbouw. Juist niet.
Stel je voor, dat het zo simpel kan zijn. Dat je met een vel papier en een schrijfstok jezelf krachtiger en weerbaarder kan maken. Dat je meer inzicht krijgt in wie je bent en wat je wil, en betere keuzes kan maken. Gewoon door al schrijvend naar je ervaringen te kijken.
Nog bewijs nodig? Ander onderzoek toont dat het opschrijven van je wensen de kans vergroot dat ze vervuld worden. Je plannen en doelen beschrijven brengt ze dichterbij. Als je de eindbestemming helder kan zien herken je ook de wegen die je erheen kunnen leiden.
Ik verkoop niets. Maar probeer het eens.
PS. In februari swingden wij met Kerygma.