Leestip: Het achtste leven
In de zomer mogen mijn boeken al eens wat dikker zijn dan gewoonlijk, en dat mag je bij Het achtste leven van de Georgische Nino – niet te onthouden familienaam – Haratischwili vrij letterlijk nemen. Een kleine maand zeulde ik dit 1300 pagina's tellende exemplaar met me mee, in treinen, in bed, op het vliegtuig en in wachtzalen… om de laatste pagina's van dit familie-epos uit te lezen met deze heerlijke iced coffee in Malta!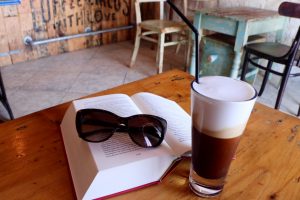 Het was dankzij deze leestip van Lies van Barboek dat ik deze zomerse investering van €34,99 deed. En het was mijn beste zomeraankoop tot nog toe, het gehuurde ligbed in de schaduw van een palmboom van waarop ik deze recensie schrijf niet meegerekend.
Het achtste leven is een meeslepend familie-epos (met een heuse stamboom in legende) in de traditie van Tolstoj. Het verhaal speelt zich af tegen de achtergrond van de geweldadige Georgische en (Oost-)Europese geschiedenis van de afgelopen eeuw, van de opkomst en ondergang van de Sovjet-Unie, van communisme tot autonomie, van opstand naar opstand, van weelde naar armoede. Het achtste leven is één lange brief van Nitsa aan haar 12-jarige nichtje Brilka, de laatste nazaat van de familie. Door de familiegeschiedenis te delen wil Nitsa Brilka haar familie doen begrijpen en haar helpen bij het herschrijven van haar eigen verhaal. Op die manier hoopt ze de noodlottige vloek die al generaties op hen lijkt te rusten te doorbreken.
"Jij bent het toverkind. Jij bent het. Overwin de hemel en de chaos, overwin ons allemaal, overwin deze regels, overwin de wereld van de geesten en de werkelijke wereld, overwin de omkering van de liefde, van het geloof, verkort de centimeters die ons altijd hebben gescheiden van het geluk, overwin het noodlot, dat geen noodlot was."
Het achtste leven heeft een hoger dramagehalte dan Thuis en Familie samen. Want de nazaten van chocolatier Ketevan hebben het niet mee. Ze trouwen met gewelddadige alcoholiekers of mannen die hun hart lang geleden reeds verloren, ze worden verkracht, verminkt met zoutzuur of medeplichtig aan moord. Oorzaak van dit onheil? Het familierecept voor de gevaarlijk lekkere chocoladedrank van de stamvader. Eenmaal je ervan hebt geproefd wil je altijd meer: "begerigheid in combinatie met genot kan een mens noodlottig worden."
De jonge Duits-Georgische Haratischwili schrijft met pathos en verweeft persoonlijke drama's met grootse geschiedenis. Zo raakt Kostja betrokken in de nucleaire ramp met de K-19 duikboot die de glans voorgoed uit zijn ogen doet verdwijnen en wordt Kitty met haar gitaar op het Wenceslasplein in Praag boegbeeld van de Praagse Lente. Het achtste leven vormt dan ook de perfecte vakantielectuur voor een reis naar Georgië of Oost-Europa en doet zelfs de staycationers onder ons dromen van Tbilisi. Het achtste leven zit vol complexe personages waaraan je je snel gaat hechten, aan Stasia die telkens ze op reis gaat in een oorlog belandt, aan de gracieuze Christine die gedwongen de minnares wordt van de Kleine Grote Man, aan de lieve Micha die nooit leerde om zich te verdedigen en in mijn geval aan Kitty, die – verliefd op een gevluchte landverrader – in een schooltje op het platteland een gruwelijke abortus ondergaat en later haar vaderland moet verlaten. Van zero to hero maakt ze carrière als zangeres in Londen, raakt ze verslingerd aan een gevaarlijke roodharige vrouw en zijn mysterieuze en anonieme telefoontjes haar enige verbinding met haar familie in Georgië. En dan vergeet ik de 34 andere dramatische episodes uit haar leven nog.
Het monumentale werk is dankzij de profetische en eerlijke vertelstem van Nitsa erg verslavend. Nitsa verwijst in deze chronologisch vertelde familiegeschiedenis regelmatig naar de toekomst en geeft af en toe grif toe dat ze naar de beweegredenen of gevoelens van deze of gene personage ook alleen maar kan raden. Het achtste leven is een boek over dé mens, over hoe die de ergste rampen altijd weer overleeft, over hoe hij worstelt met zelfhaat, domme daden stelt uit naam van liefde en soms onbegrijpelijke beslissingen neemt uit plichtsbesef. De sentimentele maar oh zo ware overpeinzende beschouwingen geven Het achtste leven de allures van een klassieker, eentje waarvan ik het einde dit keer wel haalde. In de eerste plaats is Het achtste leven echter een roman over het leven zelf, over hoe kleine gebeurtenissen de loop van de geschiedenis bepalen, hoe de beslissingen van onze voorouders nog generaties lang gevolgen hebben.
"Misschien was het die nacht dat het noodlot voor het eerst op ons attent werd, misschien was het tapijt zonder die nacht mooi, eenvoudig en pastelkleurig gebleven, misschien waren er dan geen felle kleuren in gekomen, maar misschien was het ook gewoon het toeval dat die mensen op dezelfde plaats bijeenbracht, of een gril van de natuur, een onstuitbare, snelle, wrede gril."
Kortom, een verhalenroman vol tranen, waanzin, uitzinnige vreugde en oeverloos verdriet!