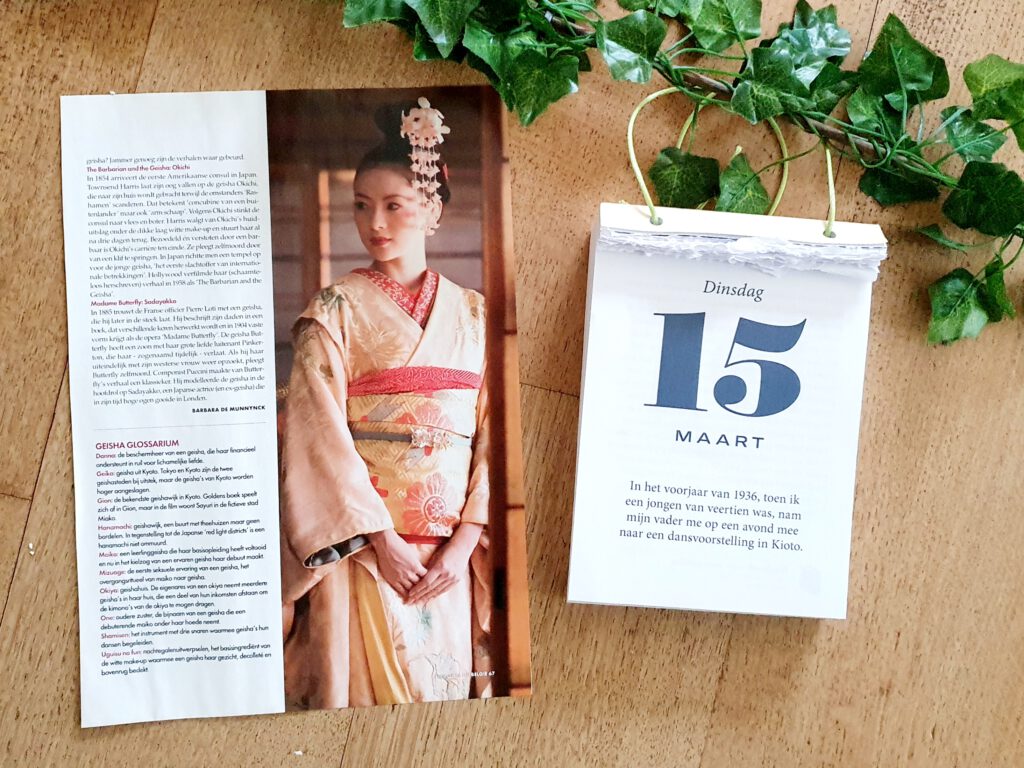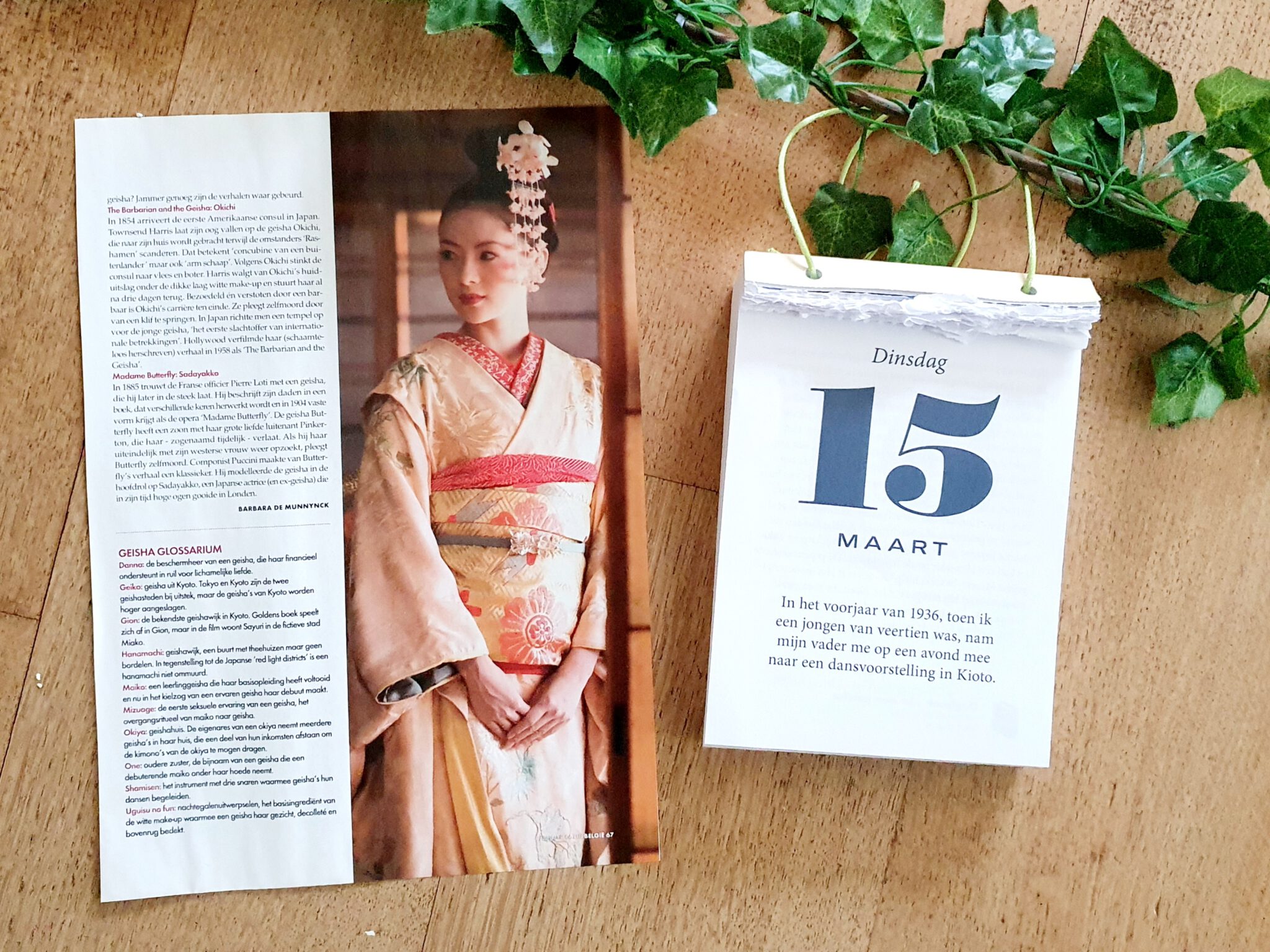 Geisha's zijn Japanse vrouwen met een kersrode mond in een witgekalkt gezicht. Ze bewegen zich gracieus en spelen verstoppertje achter hun waaiers. Mannen betalen voor hun gezelschap en af en toe ook wel voor meer. Bovenal baden geisha's in een waas van mysterie. Kan Hollywood hun raadsel ontsluieren?
Vandaag, op 15 maart 2022, prijkt Arthur Golden op onze Eerste Zin Scheurkalender. Zijn bestseller 'Memoirs of a Geisha' begint zo: "In het voorjaar van 1936, toen ik een jongen van veertien was, nam mijn vader me op een avond mee naar een dansvoorstelling in Kioto." Naar aanleiding van de verfilming van het boek in 2006 schreef ik een langere reportage over de geishacultuur. Hier gaan we:
De geishawereld gaat gehuld in geheimzinnigheid. De klassieke geisha met haar witte make-up, geborduurde kimono en plateauschoenen is een symbool van Japan én van vrouwelijkheid. Een geisha is eleganter, verzorgder en interessanter dan de doorsnee vrouw. Als Japanse mannen elkaar in een theehuis ontmoeten, bestellen ze vaak een geisha om hen te vermaken. Wat er precies gebeurt achter de rijstpapieren wanden van zo'n theezaak – waar trouwens evenveel saké als thee wordt gedronken -, is een goed bewaard geheim. Zelfs in Japan vormen geisha's een subcultuur.
Geen wonder dus dat heel wat Japanse wenkbrauwen de lucht inschoten toen Hollywood een geishafilm aankondigde. Wat weten Amerikanen daar nu van? De eerste berichten over 'Memoirs of a Geisha' klonken echter veelbelovend. Een budget van 80 miljoen dollar, Steven Spielberg als producent en Rob Marshall (van 'Chicago') achter de camera… De nieuwsgierigheid in Japan steeg. Marshall reisde met z'n productieploeg naar Kyoto om in de sfeer te komen en bouwde bij thuiskomst de stad na op een Californische ranch.
De casting wilde hij politiek correct aanpakken: geen Gwyneth-Paltrow-verkleed-als-geisha, maar Aziatische acteurs in alle rollen. Die poging tot authenticiteit brak Marshall zuur op.
Heel Azië stond op zijn kop toen bekend werd dat de Chinese actrice Ziyi Zhang (Rush Hour 2 en Crouching Tiger, Hidden Dragon) de hoofdrol zou spelen. "Hollywood cast Chinese als Japanse geisha, want het Westerse publiek ziet toch geen verschil. Wat een pan-Aziatische arrogantie!"
Nu is een beetje controverse nooit slecht voor een film en 'Memoirs of a Geisha' werd een hit in Japan. Natuurlijk waren er laatdunkende opmerkingen over fout geknoopte kimono's en verkeerd aangebrachte make-up. Maar in het algemeen overheerste trots. "Soms moet je met de geromantiseerde blik van een buitenstaander kijken, om de schoonheid van je eigen land te zien", schreef een criticus. Iedereen wist dat de film goed zat, toen een bekende geisha één van haar kimono's stuurde naar leading lady Ziyi Zhang "omdat ze zo had genoten toen ze haar oude wereld zag herleven".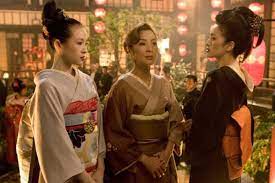 GEHEIME INFORMANTE
'Memoirs of a Geisha' vertelt dan ook geen flutverhaal. De film is gebaseerd op Arthur Goldens bestseller 'Dagboek van een Geisha'. Golden tekende niet voor het filmscript: "De filmmaatschappij contacteerde me toen mijn nieuwe roman net begon te vlotten. Ik had geen zin om 'Geisha' te herwerken. Je onderbreekt je huwelijksreis toch ook niet voor een date met je ex?"
Het script nalezen, wou Golden wel. Hij was vol lof over de beknopte maar trouwe adaptatie van zijn klepper van 400 pagina's.
In 'Memoirs of a Geisha' belandt Sayuri, een meisje uit een arm vissersdorp, na ontvoering in een geishahuis in de stad. Ze voelt zich eenzaam, bedrogen en overvraagd door de combinatie van huishoudelijke taken en dans- en muzieklessen. De sfeer in huis lijdt onder de buien van Hatsumomo, een jaloerse geisha die het op Sayuri heeft gemunt. Maar het meisje groeit op en houdt stand. Onder de vleugels van de geraffineerde Mameha ontluikt Sayuri tot één van de sterren van haar district. Machtige mannen strijden om haar aandacht, maar Sayuri heeft haar zinnen gezet op de Voorzitter. En om de man van haar dromen te krijgen, gaat de geisha onverwacht ver.
Goldens roman verscheen in 1997 en werd meteen een literaire hit. De Engelse versie ging vier miljoen keer over de toonbank en werd naar 32 talen vertaald. Wereldwijd stonden lezers verstomd. Hoe kon een Amerikaanse man anno 1997 zich zo goed inleven in een Japanse vrouw uit het interbellum? Om te beginnen weet Golden waarover hij schrijft. Hij studeerde Japanse geschiedenis aan Columbia en werkte geruime tijd in Tokyo. "Ik had àlles gelezen wat in het Engels of Japans over geisha's was verschenen en schreef een goed gestoffeerd verhaal." Bovendien kreeg hij hulp van een insider.
Mineko Iwasaki, een 42-jarige gepensioneerde geisha, was bereid met Golden over zijn manuscript te praten. Een uitzonderlijk privilege, want de meeste geisha's houden de geheimzinnigheid rond hun beroep liefst in stand.
"Mineko's openhartigheid veranderde mijn blik op de geishawereld totaal. Na onze gesprekken ben ik helemaal opnieuw begonnen." Golden zou zelfs nog een derde versie schrijven. "Alles viel op z'n plaats toen ik het verhaal als memoires benaderde." Voor de auteur gaat die uitspraak zeker op. Drie uitgeverijen die zijn tweede versie als 'te droog' hadden afgewezen, boden nu tegen elkaar op voor de publicatierechten. Goldens gouden kip zat in de oven. Maar zijn informante Mineko Iwasaki was niet blij met de 'nieuwe' verhaalvorm. Zij had toegestemd om Golden te helpen bij een fictieve roman, onder garantie van volkomen anonimiteit. Nu schreef hij een boek in de ik-vorm en vermeldde haar met naam en toenaam in zijn dankwoord. Uiteraard verwarden vele lezers Sayuri's verhaal daardoor met Mineko's leven. De vrouw ontving dreigbrieven van geisha's die vonden dat ze hun beroepsgeheim had geschonden. Mineko sleepte Golden voor de rechtbank. Ze won en publiceerde later haar echte memoires om de zaak volledig uit te klaren.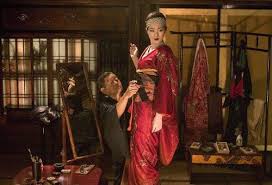 GEPRIVILEGIEERDE MAITRESSE
Een groot deel van de controverse is terug te brengen tot die ene vraag: zijn geisha's nu prostituees of niet? In het Westen wordt meestal aangenomen van wel, in Japan houdt men vol van niet. De waarheid ligt zoals gewoonlijk in het midden en 'Memoirs of a Geisha' geeft daarvan een fair beeld. In het Japans betekent geisha "zij die onderlegd is in de kunsten". Leerling geisha's krijgen een strenge opleiding van zang-, dans- en muzieklessen en moeten vlot en intelligent kunnen converseren. Geisha's beschouwen hun kunsten nooit als volmaakt en volgen hun leven lang vervolglessen. Mannen die in een theehuis een geisha 'bestellen', betalen om haar te zien dansen of praten maar verwachten geen seksuele diensten. Bovendien mag niet iedereen geisha worden, alleen de mooie meisjes komen in aanmerking. Een geisha geniet dan ook behoorlijk wat aanzien. Ze gaat gekleed in de fijnste kimono's en wordt betaald om op feestjes te verschijnen. Ze zorgt dat het kommetje saké van haar gastheer gevuld blijft, maar is geen serveerster. Het personeel van het theehuis bedient de geisha. Visueel onderscheiden geisha's zich van prostituees door de manier waarop ze hun kimono dragen. Geisha's knopen hun obi, de band om hun taille, in een kunstig kussentje op hun rug. Ze kunnen zich zo'n folie permitteren, want ze ontkleden zich toch niet voor klanten. Prostituees strikken hun obi in een eenvoudige wikkel vooraan omdat ze daar in hun beroep veel tijd mee winnen.
Zijn geisha's dan onafhankelijke kunstenaressen, die uit vrije wil in een geishahuis wonen? Die voorstelling is helaas te rooskleurig. De opleiding en garderobe van een geisha kosten veel geld. Haar uurloon, hoe riant ook, volstaat doorgaans niet om al haar kosten te dekken. De meeste geisha's hebben dan ook een danna of 'beschermheer' nodig. Zo'n danna – meestal een gehuwde, welstellende man – engageert zich om op lange termijn voor een geisha te zorgen, als ze in ruil daarvoor met hem slaapt. In zekere zin verkopen geisha's dus hun lichaam, want de danna kiest de geisha, niet omgekeerd. Maar dat maakt hen nog geen prostituees, want niemand koopt een geisha voor één nacht. Er bestaat geen Westers equivalent, maar je kan een geisha best vergelijken met een geprivilegieerde, ontwikkelde maîtresse.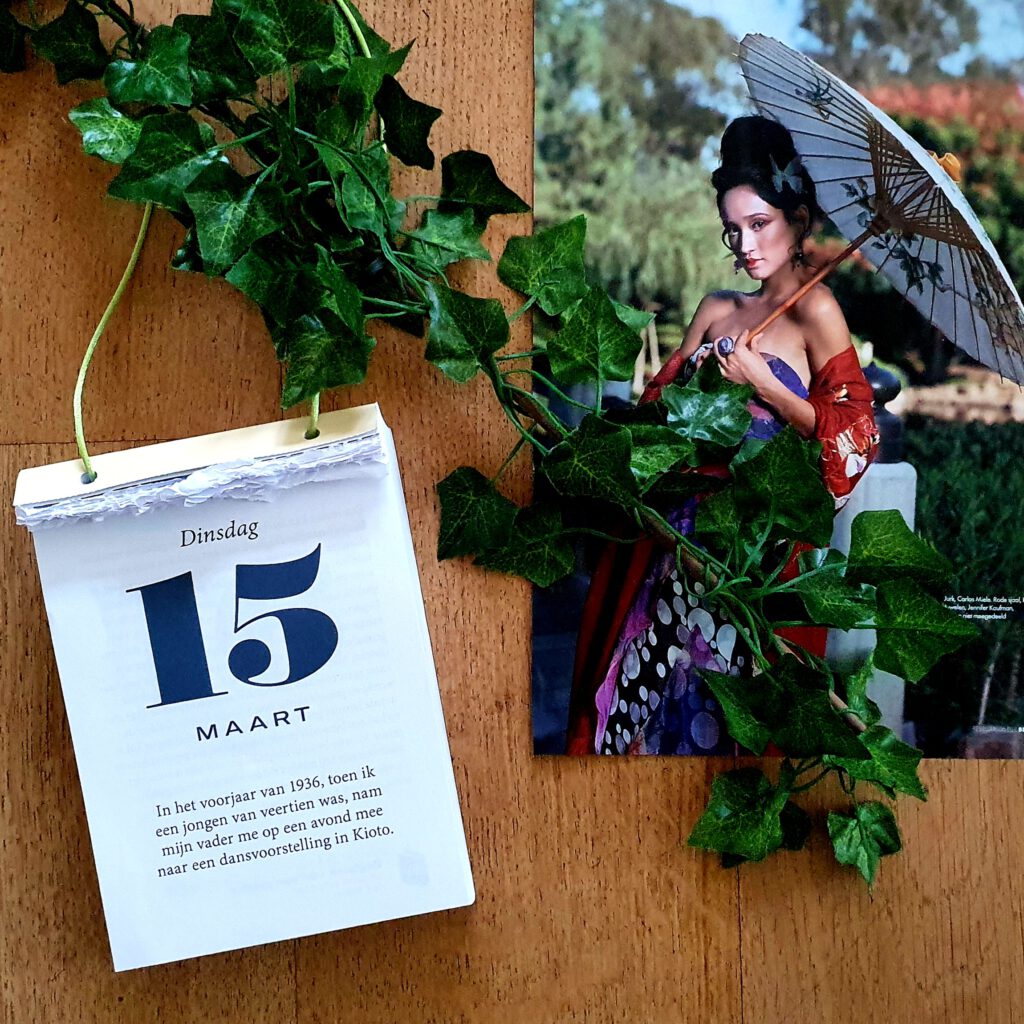 TRADITIE EN RITUELEN
Tegenwoordig telt Kyoto zo'n 200 geisha's en 75 leerling geisha's of maiko's. Zij zijn bezorgd dat 'Memoirs of a Geisha' – een film over de jaren 1930 – hun imago zal schaden. Minstens twee praktijken die in de film veel aandacht krijgen, komen in werkelijkheid immers niet meer voor.
Ten eerste kiezen geisha's hun beroep nu zélf na hun zestiende verjaardag, terwijl Sayuri als kind werd ontvoerd en verkocht. "De levensstijl van een geisha is ouderwets, met veel aandacht voor rituelen en symboliek", zegt antropologe Liza Dalby, de enige Westerse vrouw die ooit als geisha werkte. "Precies daarin ligt voor sommige meisjes de aantrekkingskracht." Zo raadplegen geisha's alle dagen hun almanak, en baseren ze hun beslissingen op de adviezen die ze daar vinden. Ze dragen andere haarspelden naargelang de seizoenen en voeren bij het begin van elke lente een reeks eeuwenoude dansen op. Niemand speelt zo mooi shamisen (een drie-snarig instrument) of jongleert zo snel met waaiers als een geisha.
"Als er vandaag minder geisha's zijn, ligt dat niet aan de onderdanigheid van het beroep. Die idee van de geishaslavin is een Westerse fantasie. Veel meisjes vinden de opleiding gewoon te veeleisend", beweert Dalby.
Een tweede praktijk die tot het verleden behoort, is de mizuage of het verkopen van de maagdelijkheid van een maiko aan de hoogste bieder. Voor de Tweede Wereldoorlog bood een leerling geisha die klaar was voor haar overgangsritueel, haar beste klanten een stukje ekubo aan, een zoet rijstgebakje met een suggestief rood kuiltje in het midden. Zo wisten de mannen dat het bieden ging beginnen. Een paar preutse geesten houden vol dat mizuage nooit bestaan heeft, maar Lesley Downer's studie "Women of the Pleasure Quarters" bevat zoveel getuigenissen over die praktijk, dat je wel weet wie je mag geloven. In de geishadistricten was het publiek geheim of een maiko nog maagd was of niet. Je zag het meteen aan haar kapsel: een ware-shinobu coupe was voor maagden, een ofuku coiffure voor geplukte bloemen. Mizuage was trouwens een belangrijke stap voor een maiko, die na haar eerste keer een volwaardige geisha werd.
BEROEMDE GEISHA'S
In 'Memoirs of a Geisha' wordt Sayuri verliefd op de Voorzitter, een Japanse zakenman. Dat is in zekere zin origineel. Uit de bekende geishaverhalen van vorige eeuw walmt immers allemaal een muf luchtje van kolonialisme. Wrede blanke man ruïneert weerloze kleine geisha? Jammer genoeg zijn de verhalen waar gebeurd.
The Barbarian and the Geisha: Okichi
In 1854 arriveert de eerste Amerikaanse consul in Japan. Townsend Harris laat zijn oog vallen op de geisha Okichi, die naar zijn huis wordt gebracht, terwijl de omstaanders 'Rashamen' scanderen. Dat betekent 'concubine van een buitenlander' maar ook 'arm schaap'. Volgens Okichi stinkt de consul naar vlees en boter. Harris walgt van Okichi's huiduitslag onder de dikke laag witte make-up en stuurt haar al na drie dagen terug. Bezoedeld én verstoten door een barbaar is Okichi's carrière ten einde. Ze pleegt zelfmoord door van een klif te springen. In Japan richtte men een tempel op voor de jonge geisha, 'het eerste slachtoffer van internationale betrekkingen'. Hollywood verfilmde haar (schaamteloos herschreven) verhaal in 1958 als 'The Barbarian and the Geisha'.
Madame Butterfly: Sadayakko
In 1885 trouwt de Franse officier Pierre Loti met een geisha, die hij later in de steek laat. Hij beschrijft zijn daden in een boek, dat verschillende keren herwerkt wordt en in 1904 vaste vorm krijgt als de opera 'Madame Butterfly'. De geisha Butterfly heeft een zoon met haar grote liefde luitenant Pinkerton, die haar –zogenaamd tijdelijk- verlaat. Als hij haar uiteindelijk met zijn Westerse vrouw weer opzoekt, pleegt Butterfly zelfmoord. Componist Puccini maakte van Butterfly's verhaal een klassieker. Hij modelleerde de geisha in de hoofdrol op Sadayakko, een Japanse actrice (en ex-geisha) die in zijn tijd hoge ogen gooide in Londen.
GEISHA GLOSSARIUM
Danna: De beschermheer van een geisha, die haar financieel ondersteunt in ruil voor lichamelijke liefde.
Geiko: Geisha uit Kyoto. Tokyo en Kyoto zijn de twee geishasteden bij uitstek, maar de geisha's van Kyoto worden hoger aangeslagen.
Gion: De bekendste geishawijk in Kyoto. Goldens boek speelt zich af in Gion, maar in de film woont Sayuri in de fictieve stad Miako.
Hanamachi: Geishawijk, een buurt met theehuizen maar geen bordelen. In tegenstelling tot de Japanse 'red light districts' is een hanamachi niet ommuurd.
Maiko: Een leerling geisha die haar basisopleiding heeft voltooid en nu in het kielzog van een ervaren geisha haar debuut maakt.
Mizuage: De eerste seksuele ervaring van een geisha, het overgangsritueel van maiko naar geisha.
Okiya: Geishahuis. De eigenares van een okiya neemt meerdere geisha's in haar huis, die een deel van hun inkomsten afstaan om de kimono's van de okiya te mogen dragen.
One: Oudere zuster, de bijnaam van een geisha die een debuterende maiko onder haar hoede neemt.
Shamisen: Het instrument met drie snaren waarmee geisha's hun dansen begeleiden.
Uguisu no fun: Nachtegalenuitwerpselen, het basisingrediënt van de witte make-up waarmee een geisha haar gezicht, decolleté en bovenrug bedekt.