Gelezen en goedgekeurd (3)
Cognitieve dissonantie is zowat het handelsmerk van de moderne mens, las ik vorige week in Yuval Noah Harari's zeer te pruimen Sapiens. Dat vermogen om probleemloos totaal tegenstrijdige ideeën binnen dezelfde hersenpan te koesteren, verklaart veel. Onder andere hoe het komt dat rabiate literaire snobs die met geen laserpistool binnen een lichtjaar van een sciencefiction boek te dwingen zijn, zich plots in de meest kleffe superlatieven uitlaten over Margaret Atwoods The Handsmaid's Tale.
Het is een sciencefiction boek, bitches.
Het feit dat er een zeer gehypte geweld-en-tieten serie over gemaakt werd verandert daar niets aan. Een uitstekend sciencefiction boek, dat wel. Kom, om het goed te maken dat ik sommige medemensen als bitches heb versleten: Atwood schreef ook het uitstekende Moral Disorder -geen sciencefiction- dat dus zonder gezichtsverlies uit het rek met 'normale' boeken kan gehaald worden.
Let wel, niet achter elke topserie zit een topboek. Ik las in een moment van zwakte George R.R. Martins boeken achter A Game of Thrones, die andere gehypte draken-en-tieten serie. Ik begrijp dat wanneer je in elke tweede paragraaf iemand op een gruwelijke manier om zeep helpt, je een lijst personages nodig hebt die ongeveer even lang is als het eerste boek. Logisch.
Dat het overgrote deel van die personages vrijwel niets bijdraagt tot de ontwikkeling van de plot is geen probleem, want die is er niet.
Dat komt goed uit, want plots hebben de neiging om een conclusie te bereiken en die is vooralsnog niet in zicht.
Wat me naadloos bij de Brexit-perikelen brengt, die ik op de voet volg. De beoordeling van de plot en de personages laat ik graag over aan de columnisten van The Guardian –John Crace en Marina Hyde, bijvoorbeeld- wiens vlijmscherpe pennen overuren draaien. De beschrijving van hoe de wereld eruit ziet als het allemaal verkeerd uitdraait, laat ik dan weer over aan John Lanchesters De muur, waarin Groot-Brittanië letterlijk van de wereld gescheiden is door een enorme kustmuur. Wat er nog van het eiland overblijft, eigenlijk, want door de klimaatopwarming is het een en het ander ondergelopen, samen met zowat de rest van de wereld. De muur wordt bemand door gewapende dienstplichtigen, met als enige taak elke bootvluchteling overhoop te knallen. Om de dienstplichtigen gemotiveerd en de bevolking op peil te houden, wordt er per vluchteling die over de muur geraakt een verdediger van het eiland geschopt. Lanchester volgt in deze donkere roman Joseph Kavanagh, een rekruut op de muur die -jaja, er is een plot- aan een peloton toegewezen wordt dat hem noodlottig zal worden.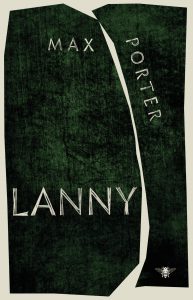 Zo ver is het nog niet in Max Porters Lanny, dat ik hier al eerder tipte en deze week in één ruk uitlas. Ik ben heel karig met vijf sterren op Goodreads, maar hier was geen twijfel mogelijk. De manier waarop Porter Dead Papa Toothworth -deels mythe, deels faun, deels natuurkracht- opvoert om in de meest levendige, originele taal de ziel van een dorp te vatten is al voldoende reden om aan Lanny te beginnen. Dat, en de confrontatie  aan de voordeur tussen Lanny's moeder en Mrs Larton, waarin Porter het steeds sneller wisselende perspectief dat Lanny zo'n vaart geeft even vertraagt om ons er volop van te laten genieten. Prachtboek.