Onze winnaars zijn winnaars (en geven goed opvoedingsadvies)
Precies één week. Zoveel tijd hebben jullie nog om een column in te sturen. Niet twijfelen, maar doen. God weet wat voor moois er kan komen van deelname aan een columnwedstrijd… Een ereschavotje bij ons blijkt wel vaker de springplank naar meer. Zoals bij deze 3 prijsbeesten van vorig jaar!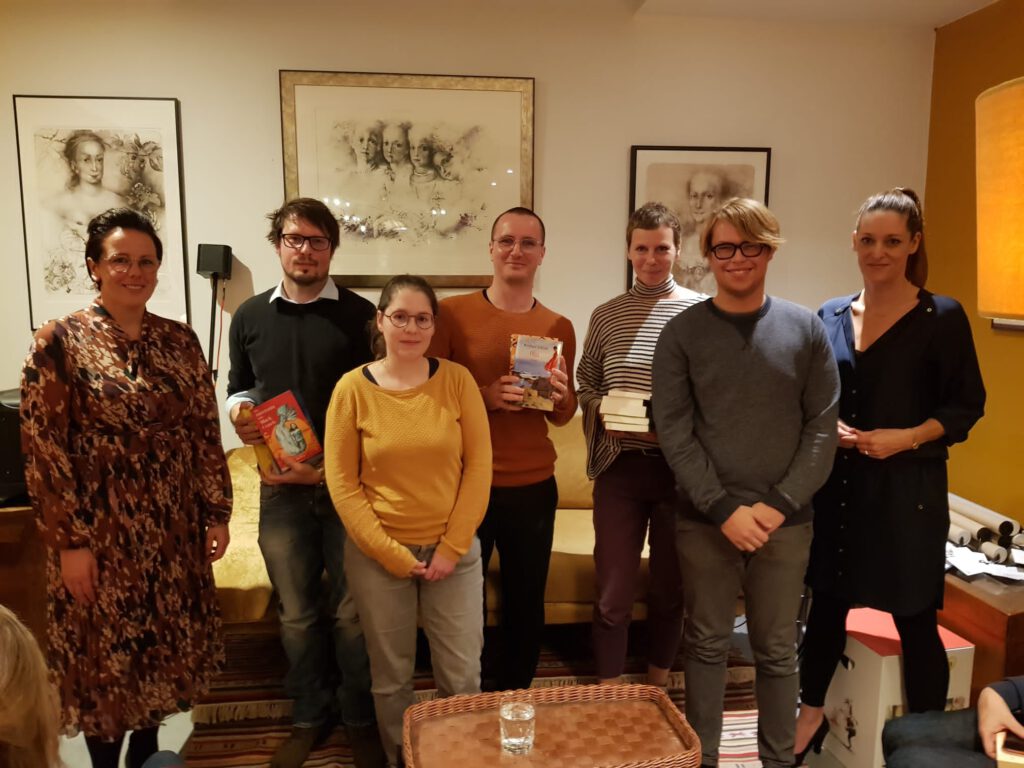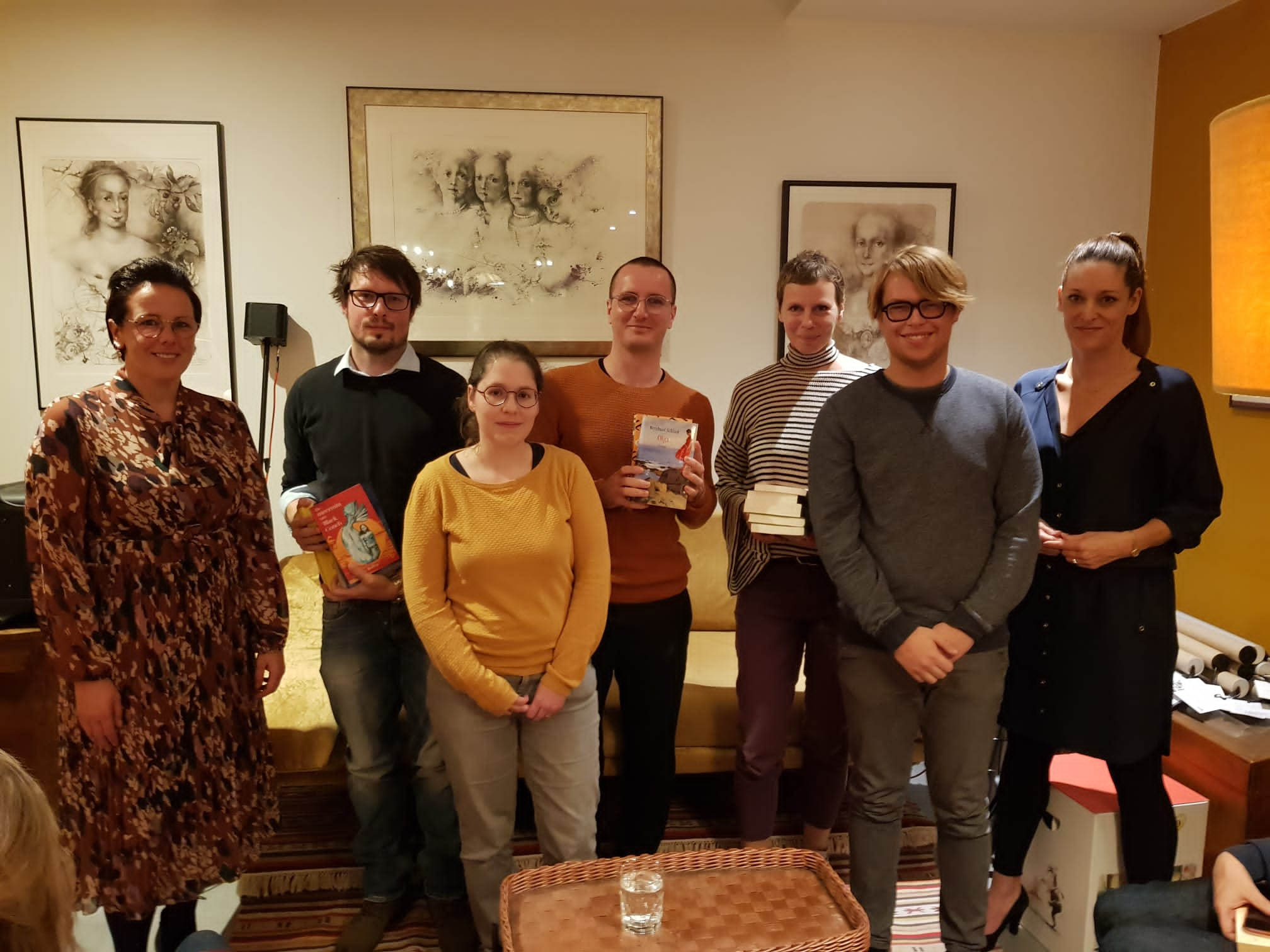 De column van Marleen van de Camp (uiterst rechts op de foto) belandde vorig jaar meteen op de 'zeker weten!'-stapel van onze redactie. Heerlijk hoe Marleen de wilde weldoeners van Instagram op de hak nam, die "als een soort prestige clubje besmuikt neerkijken op de onbewustere medemens: 'Wat goed dat je je afgeragde tuinset aanbiedt, sommige mensen kopen alles maar nieuw.'" Na haar nominatie bij ons, versierde Marleen een vaste column op de website Werk & Geluk, waar ze vertelt hoe ze op haar 41e eindelijk leert nee zeggen. Haar leermeester(s) zijn geen "energieke twintigers met power podcasts over 'het leven'" maar haar zoon van 9 die "geen 16 verschillende verontschuldigingen bedacht voor de situatie, maar kort en krachtig had gecheft. "Ik wil niet op jouw feestje komen" had hij gezegd "want jij bent niet mijn vriend"." Duidelijk!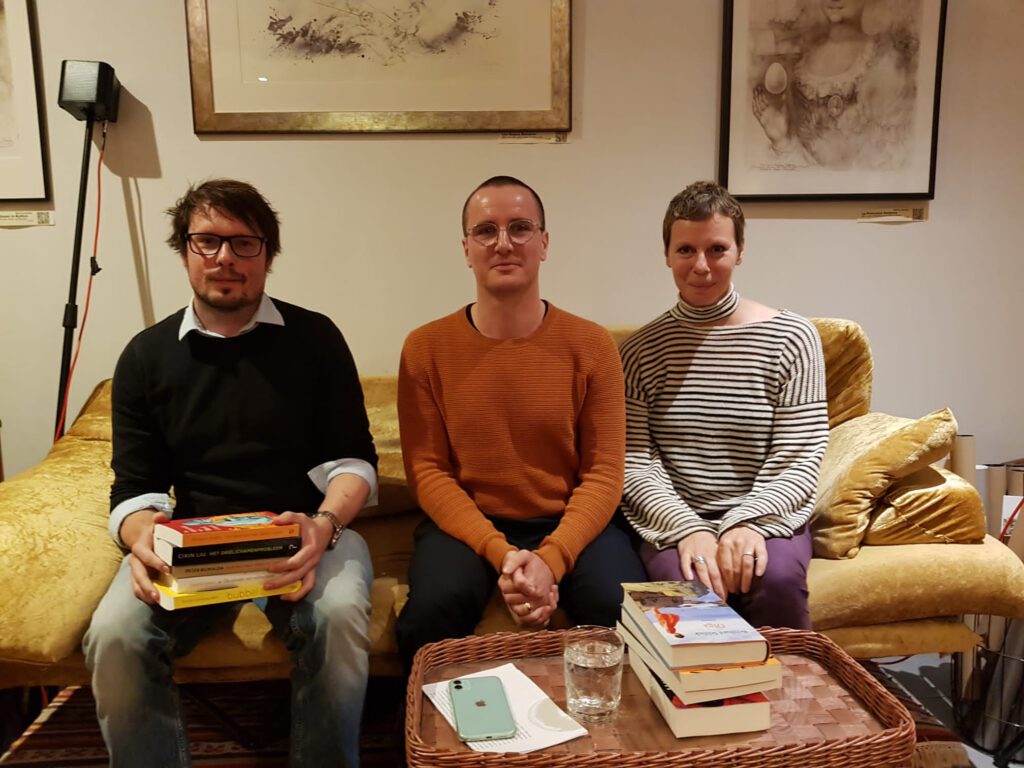 Nelson Morus (nom de plume van Marc Van de Looverbosch – centraal op de foto) won in 2021 de tweede prijs met zijn column De Sneukelclub, waarin hij een 'problematische verhouding met snoepen' bekent. Zijn verhouding met literaire jury's is echter opperbest. Zo won Morus in 2022 de eerste prijs bij Babylons Interuniversitaire Literaire Prijs, in de categorie Engels. Volkomen terecht, als je het ons vraagt. Zijn verhaal The hand that holds the tear (integraal te lezen via zijn website) ontroert en bevat geen woord te veel. Een zwakbegaafde jongen heeft 'anger management issues' – getuige de openingszin van het verhaal: On bad days, Geoffrey smashes everything to bits, but today is a good day. Waarna die 'goeie dag' jammer genoeg een wending for the worse neemt – goed opgebouwd, geloofwaardig en in alle onafwendbaarheid toch verrassend. Well done, Nelson!
En omdat de winnaar de neiging heeft to take it all, overklast Philippe Noens – onze oppercolumnist van 2021 en de man links op de foto hierboven – nogmaals iedereen. Op This Is How We Read schreef Noens over zijn eigen zoon, maar als doctor in de pedagogische wetenschappen verbonden aan de Odisee hogeschool durft hij ook ideeën aanreiken voor de opvoeding van jouw of mijn kind. Je kon het afgelopen jaar meedere van zijn opiniestukken over opvoeding lezen in De Standaard. Noens kent de clichés (opgepast, er komt zo meteen iets over een dorp…) en doorprikt ze met helder geformuleerde argumenten of op z'n minst interessante vragen. Zoals in zijn stuk over de 'onaanraakbaarheid van kinderen in coronatijden': Het veelgeciteerde ­gezegde "it takes a village to raise a child' bekt goed, maar legt in de praktijk de duimen voor de waarschuwing 'don't talk to strangers'. We zijn vergeten dat elke 'vreemde' volwassene in principe een eerstelijn­opvoeder kan en mag zijn. Kinderen en jongeren aanspreken, een oogje in het zeil houden wanneer we ze in onze buurt zien spelen of rondhangen, of de eerste hulp bij ongemakken toedienen: het ligt steeds moeilijker.
In mei 2022 volgde een boek bij Owl Press, Mogen we nog wel straffen? – over de (on)zin van streng opvoeden, dat ik (Barbara) zeker wil lezen. Noens belooft om in z'n boek te onderzoeken waarom of waartoe we onze kinderen opvoeden, minder dan hoe we het praktisch zouden moeten aanpakken. Hij reikt ideeën aan over opvoeding, met gevoel voor zelfrelativering: "Die ideeën zijn niet zo nieuw. Ik sta op de schouders van vele reuzen. Twee giganten springen eruit: de Duitse pedagoog Klaus Mollenhauer en de Franse pedagoog Philippe Meirieu."
Ik ben heel benieuwd, want ik voel al een tijdje onbehagen bij de gangbare invulling van 'mild ouderschap', waarin ik me niet herken, ook al vind ik mezelf een milde en betrokken moeder, met veel meer oog voor het mentale welzijn van mijn kinderen dan voor de praktische was en plas. In al mijn mildheid bedien ik mij namelijk regelmatig van de dreiging-met-de-straf ("Je moet geen courgette eten als je echt genoeg hebt, maar wie vol zit krijgt ook geen dessert"). Works wonders, als je consequent bent – maar in sommige moedercirkels kan zo'n uitspraak echt niet meer. Mijn hart juicht dus bij deze passage uit de intro van Noens' boek. En of ik het helemaal ga lezen! #goedadvies
"Het is in de opvoeding praktisch onmogelijk om kinderen, en
dan in de eerste plaats hun wensen, niet af en toe 'geweld aan te
doen'.
Je vertrekt altijd vanuit een asymmetrische relatie, al was
het maar omdat de opvoeder een lange tijd fysiek overwicht heeft
op het kind.
Een ouder torent nu eenmaal boven een kleuter uit.
Kinderen kijken letterlijk en figuurlijk naar ons op. Iemand die
de rol van ouder of leerkracht opneemt, heeft t.a.v. het kind of de
leerling meer kennis en levenswijsheden opgedaan, meer levenservaring ontwikkeld, sterker het gevoel dat zijn bestaan geworteld is
in een gekend verleden en gericht naar een welbepaalde toekomst.
Vanuit dat 'overwicht' of die meerwaarde doen opvoeders de vragen,
de wensen, de bevliegingen en de gewoontes van kinderen met de
beste bedoelingen 'geweld' aan. We verzorgen en koesteren niet alleen, we begrenzen ook, we dagen uit en leggen aan banden. 'Nu niet.' 'Stop daarmee.' 'Had ik je niet gevraagd dit weg te leggen?'
We doen vervelend uit liefde, berispen uit zorg, verheffen onze stem uit aandacht, komen steeds opnieuw tussenbeide uit dat eeuwigdurende verantwoordelijkheidsgevoel dat in ons binnenste brandt."
En soms (hier stopt het citaat uit het boek), soms sjacheren we ook met onze kinderen uit eigenbelang. Of heb ik het niet begrepen en ben ik de enige bad mom die soms haar toevlucht tot omkopen neemt? Voer voor een column, lijkt me. Niet vergeten: insturen kan tot 19 juni.
PS: Nog één citaat uit het voorwoord (bestempeld als 'dankwoord') van Mogen we nog wel straffen? – gewoon omdat elk citeren ook een uit-de-context-rukken is, hoe goedbedoeld ook. En deze passage vult de bovenstaande mooi aan:
"Opvoeden is niet alleen weerstand bieden, het kind voortdurend
uitdagen over het muurtje van zichzelf te kijken. Opvoeden is ook
nog eens veel weerstand ervaren. Het zijn vaak onze kinderen die
het ons moeilijk maken. Die ons duidelijk maken dat ze 'niet mee
zijn', dat ze 'het' of ons niet begrijpen. (…) Een opvoedingssituatie waar de spanning stijgt is vaak gebaat bij een opvoeder die een stapje terug zet en zijn gezag laat spreken. Onder gezag begrijp ik: iets te zeggen te hebben, én dat iets dan ook (als het kan, rustig en to the point) meedelen.
In gezag schuilt kwetsbaarheid. Het vergt zelfdiscipline om dat stapje achteruit te zetten en het ijzer te smeden als het koud is.
Een machtshebber wil in de eerste plaats blinde gehoorzaamheid, een gezaghebber wil 'gehoord', begrepen, worden. Opvoeden vanuit gezag is dan ook, ietwat paradoxaal, 'vragen' om begrip."