Tijdens de zomervakantie presenteert This Is How We Read elke woensdag één van de genomineerden van onze columnwedstrijd 2021. Vandaag vertelt Philippe Noens hoe hij met andere ogen naar Trainspotting kijkt sinds het autozitje in zijn wagen gevuld is.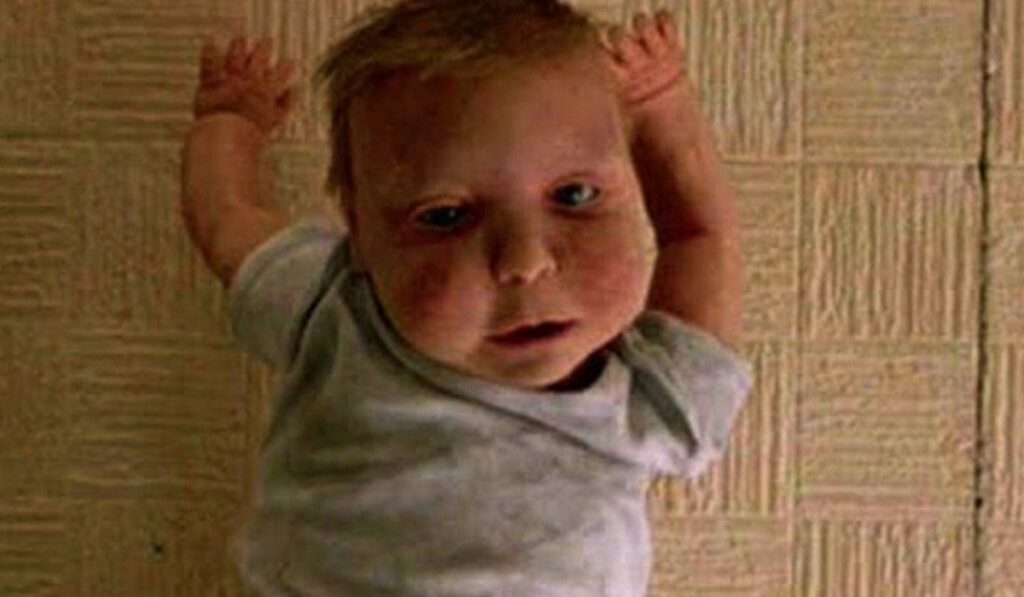 Daarvoor zag je het ventje niet in zijn eigen vuil zitten, omringd door gebruikte naalden. Eerlijk waar, als iemand het je had gevraagd, je had het met kracht ontkend. Geen sprake van, tenzij in de afkickscène, dan kroop er eentje over het plafond, maar dat was niet meer dan een illusie. Trainspotting telt geen zuigeling, daar ging je prat op.
Je vraagt je nu af waar die blindheid vandaan kwam.
Vroeger had je dat soort nieuwsberichten overgeslagen. Uit desinteresse, zo puur als onversneden heroïne. Was dat nu nieuws, had je gepreveld boven je koffie, meer drama dan relevantie. Over knulletjes die, met hun biggenruggetjes tegen een keukenkast gedrukt, moesten wachten op hun eten. Ze kwamen al eens thuis met een paar blauwe plekken. Wat schrammetjes. Dat was erg, het tegendeel hoorde men jou niet beweren, maar om daar nu een pagina tekst aan te wijten.
Nu schud je de krant op. Je voelt ergens vanbinnen een schakelaar omdraaien als je leest over dat schoudertje uit de kom. Je wil die onthaalmoeder, de titel moeder onwaardig, graag eens spreken. Die heks die kinderen onthaalt in een huis vol scherpe kantjes en steile trapjes. Je wil maar wat graag met haar een ruimte zonder ramen delen. Je wil iets ondefinieerbaars uitspoken met een hamer en een drilboor. Haar Guantánamo zijn.
Er was een tijd dat je vrienden had. Of liever, kinderen met jouw vrienden. Je vroeg je af wie zijn kroost niet bovengemiddeld intelligent was? Dat gemiddelde moest toch ergens vandaan komen? Maar nee, zonen excelleerden in schaken. Dochters blonken uit in hockey. En maar uitweiden over hun addergebroed.
Nu doe je het zelf, en gretig. "Hij puzzelt al goed hé!" "Kijk eens hoe natuurlijk hij met zijn voetje op een bal trapt."
Jouw nulmeridiaan loopt rond op schoentjes maat drieëntwintig.
Jouw wereldbeeld brak in 2019, net als haar vruchtwater. Je ziet jezelf nog die bewuste ochtend in de keuken staan, verbaasd over zoveel vocht uit zo'n klein lichaam. Je ziet jullie nog rijden naar het ziekenhuis. Of nee, je ziet jullie vooral huiswaarts rijden. Het gevulde autozitje. Die verantwoordelijkheid die zo hard op je drukte dat je er misselijk van werd. Bijna automatisch werd er teruggeschakeld van vier naar drie, daarna naar twee. Eigenlijk wou je stilstaan, terugkeren, hem afgeven, in de warme couveuse achterlaten tot hij een jaartje of drie- vierentwintig was. Jouw medepassagier die niks zei, die, dat voelde je aan, dertig ook twintig kilometer te veel vond. De bange nieuwe ouders die jullie waren.
Wie behoedt hem ervoor om over het plafond kruipen? Wie vertelt hem dat er geen enkele reden bestaat, werkelijk geen enkele, om met zijn ruggetje tegen een keukenkast te moeten wachten op een hapje puree?
Verderop staat een paard in de wei. Een paad! Dieren met r liggen hem niet. Koe, muis en poes, dat gaat nog wel, maar tijger, beer of gorilla, daarvoor moet de tong naar voor rollen, het gehemelte strelen en vooraan de mond neerploffen. Gelukkig telt papa geen r. Hoe hij je steeds opnieuw gijzelt met die twee lettergrepen. Papa. Zo eenvoudig, zo juist, zo alomvattend wie je bent geworden. Daarvoor zag men jou niet huilen.
Philippe Noens groeide, net als Herman Brusselmans, op in het zoete Waasland. Zijn moeder dropte hem op deze aardbol in dezelfde 'Temsche' gemeente als Christophe Vekeman, en hij liep verschillende scholen plat in de stedelijke heimat van Tom Lanoye. Hij schrijft af en toe een stukje (non-)fictie. Hij wordt weinig tot niet (eigenlijk niet) vermeld in de korte biografie van streekgenoten.
PS. Of Barbara de baby zag in Trainspotting? Geen idee. Haar bleef de soundtrack van de boekverfilming bij.