Tijdens de zomervakantie presenteert This Is How We Read elke woensdag één van de genomineerden van onze columnwedstrijd 2018. Vandaag vreest Sofie dat ze haar lezers verveelt.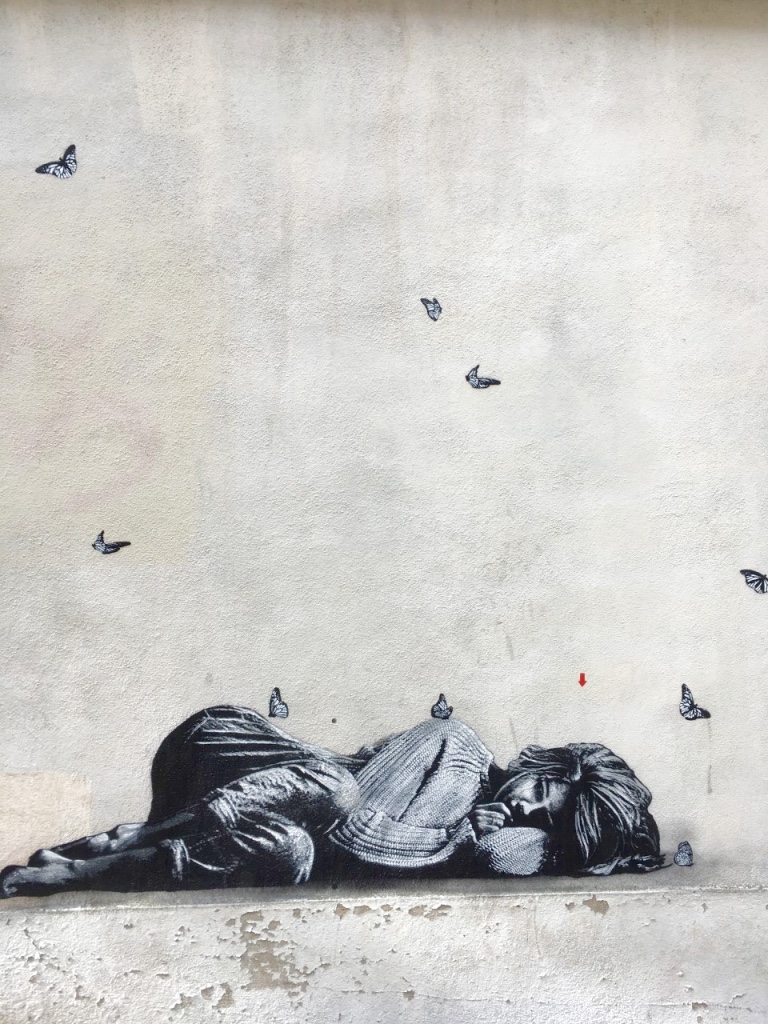 Ik heb iets ontdekt. Ik blijk een angst te hebben waar ik me niet bewust van was. Ik ben bang om saai te zijn. Inderdaad, bang om totaal oninteressant, voorspelbaar en langdradig te zijn. Bang dat mensen een geeuw moeten onderdrukken als ik iets vertel of doe. Terugkijkend besef ik dat deze angst al heel lang met mij meereist. Misschien is het zelfs aangeboren. Het is alleszins versterkt door mijn opvoeding, zoveel is zeker. Als ik vroeger thuiskwam van een fantastisch, ongelooflijk, mega-onvergetelijk scoutskamp bijvoorbeeld, keken mijn ouders na een minuut of twee van mijn enthousiaste verhalen al even weg.
Ze maakten net geen "afronden" gebaar met hun handen, maar dat zag ik wel. En dus rondde ik af.
Overtuigd dat mijn verhalen niet interessant waren. En zoals dat gaat met ervaringen uit je kindertijd, nestelde ook deze zich ergens comfortabel in mijn systeem, sloot het gordijntje rond zich en hing er een etiket op: "Opgepast, saai".
Ik hoor dat u zich – totaal meegesleept door deze eerste paragraaf – ongeduldig moet inhouden om niet te roepen: "Vertel verder Sofie! Hoe komt het dan dat deze saaiheidsangst nu terug wakker geworden is?". Ik zal u niet langer in spanning houden, we zijn tenslotte al een 200 woorden ver.
Het is simpel. Ik ben een boek aan het schrijven. En dat doe je niet alleen. Als ik schrijf, word ik gezelschap gehouden door mijn innerlijke criticus. Hij leest over mijn schouder mee terwijl ik op mijn toetsenbord ram. U kan al raden welke mantra mijn criticus eropna houdt. Inderdaad: "SAAI!" In hoofdletters, en met een langgerekte "AAA".
De opmerkzame lezer zal nu in zichzelf mompelen: "Dit is duidelijk een geval van projectie. Die Sofie kan zelf niet tegen saaiheid." Prima opgemerkt zou ik zeggen. Ik ben inderdaad zeer gevoelig voor saaiheid. Een stand-upcomedian die net iets te voorspelbaar is. Een wachtkamer van een dokter waar ik in mijn eentje moet wachten, zonder boek of smartphone, enkel omringd door posters over stoppen met roken, osteoporose of het belang van borstkankerscreening.
Met een beetje geluk liggen er wat folders waarin ik op zoek kan gaan naar typ- of spellingfouten.
Het zit al lang in mij. Toen ik aan het einde van mijn studies Psychologie een onderwerp moest kiezen voor mijn thesis, had ik het licht gezien. Ik zou een thesis maken over creativiteit. Zo was toch alvast het onderwerp boeiend. De eerste pagina's die ik geschreven had, kreeg ik volledig in het rood terug. Het was te lyrisch, te weinig systematisch geschreven. Wanhopig riep ik uit dat mijn thesis dan super saai zou worden. Waarop de promotor mij rustig antwoordde dat een thesis per definitie saai moet zijn. Zelfs een thesis over creativiteit. Murw geslagen droop ik af. Tegen het saaiheidsbastion van de wetenschappen zou ik het niet halen. Maar toch, met de moed der naïviteit, schakelde ik een versnelling hoger. Ik ging een doctoraat maken, over een boeiend onderwerp: de genetica van temperament. Bijna zonder uitzondering roept iedereen dan enthousiast: "Tof, en vertel eens?".
Veel kan ik er niet over vertellen. Enkel dat ze mij na vijf jaar totaal verschrompeld van verveling buitengedragen hebben.
Saaiheid dus.
Om helemaal mee te zijn, heb ik een naam verzonnen voor deze angst. Ik noem het FOD: Fear of Dullness. Of bestaat die afkorting al?
Sofie Van Gestel zoekt nog steeds naar de juiste woorden om te vertellen wat ze doet in het leven. Het draait om schrijven, ontrafelen, verhelderen en verbinden. Zoveel is zeker. Maar een beknopte USP heeft ze nog niet. Sfeer opsnuiven kan op sofieflora.be.