Interview met Julie Buntin
De Amerikaanse schrijfdocente Julie Buntin schreef de zinderende debuutroman Marlena over de heftige tienervriendschap tussen de destructieve en permanent benevelde Marlena en haar jongere sidekick Cat. Marlena is een junkie met een methadon stokende vader die jong aan haar einde komt. Cat blijft als volwassen vrouw in New York worstelen met de schuldvraag… en de drank.  Buntin baseerde Marlena op haar jeugdvriendin Lea  die – terwijl zij studeerde en carrière maakte – haar leven verwoestte. Ik ontmoet Julie Buntin in Brugge, na haar passage – samen met Lize Spit – op het literatuurfestival Bru-Taal.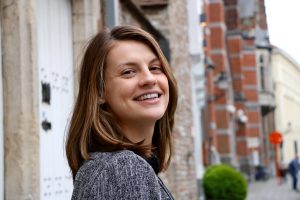 Hoe was het om samen met Lize Spit op het podium te staan?
"Lize is fantastisch. Ik wil Het smelt heel graag lezen maar het boek verschijnt pas in 2019 in het Engels. Het was jammer dat ik geen vergelijking kon maken maar Lize had het over parallelle thema's zoals vrouwelijke seksualiteit en coming of age. En hoewel het twee romans zijn, hebben ze allebei ook enkele autobiografische links."
Je boek kwam pas in april uit in de Verenigde Staten maar was al een hit voor het verscheen. Hoe voelt dat?
"Je droomt er natuurlijk van dat er veel reactie zal zijn, maar je kan het echt niet voorspellen. Ik was bang voor de stilte. Zelf werk ik voor een onafhankelijke uitgever en weet ik dat de magic van vertalingen en buitenlandse book tours niet altijd gebeurt. Ondertussen zijn er plannen voor een Duitse, Italiaanse, Braziliaanse en Chinese vertaling en verschijnt het boek in juni in Groot-Brittannië. Dat is een interessant verschijnsel en heeft te maken met distributierechten. De taal blijft hetzelfde, mijn boek wordt niet verbritst ofzo. Maar mijn uitgever had enkel de rechten in Noord-Amerika. Picador zal het boek verdelen in Groot-Brittannië en de Commonwealth.
Wat me nu al opvalt is dat Europese lezers geduldiger zijn dan Amerikaanse. Ze staan meer open voor zwaarte en hebben oog voor het minder evidente.
In Amerika zeggen veel lezers: 'ik heb je boek graag gelezen maar het was zo droef'. Hier zegt niemand dat. Ik hou van droeve boeken, ik zou nooit iets lezen waarvan iemand zegt: 'dat is nu echt een vrolijk boek'.
Ik ben heel blij met de reacties. Maar hoewel de recensies positief zijn, vind ik het soms wel jammer dat ze het boek vastpinnen op de vriendschap tussen Cat en Marlena, terwijl verslaving, klasse en herinneringen ook heel belangrijke thema's zijn. Verslaving was mijn drijfveer om het boek te schrijven."
Marlena gaat inderdaad over een hechte vriendschap tussen twee tieners die erg verschillend zijn. Wat maakt de dynamiek van tienervriendschappen zo anders dan die tussen volwassenen?
"Als adolescent heb je veel tijd. Het leven is saai en je kan je vervelen zoals je je in je volwassen leven nooit meer zal vervelen. Tieners staan meer open voor vriendschap. Als Cat verhuist, verlangt ze zo hard naar een vriendin. Ze is eenzaam en kwetsbaar. Marlena is toevallig haar buurmeisje, the girl next door. Die toevalligheid boeit me. Ze heeft immers levenslange effecten."
De vriendschap krijgt haast mythische proporties, althans in de ogen van Cat. Krijgt de lezer een vertekend beeld?
"Het perspectief van Marlena zou misschien anders zijn geweest. Maar ook Cats verhaal zou niet hetzelfde zijn als Marlena niet was gestorven. Als iemand sterft, verandert de hele betekenis van het verhaal. Marlena kan niet meer reageren. Ze bestaat enkel nog in de herinnering van Cat en daardoor is het een egoïstisch verhaal waarvan je alleen maar kan hopen dat het gedreven is door liefde. Mocht Marlena zijn blijven leven en als de vriendinnen op een natuurlijke manier uit elkaar waren gegaan, dan had Cat misschien geen mythische parallellen tussen hun levens getrokken."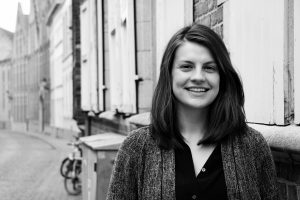 Het boek zit vol "wat als" vragen. Stel jij jezelf die vraag vaak?
"Ja! Ik heb een autobiografische link met mijn roman. De plot is fictie. Mijn vriendin Lea stierf op een andere manier en op een andere leeftijd maar er zijn parallellen. Door er vaak mee bezig te zijn, ben ik mezelf de vraag gaan stellen. Wat als ik toch iets had gezegd of er meer aandacht aan had geschonken? Wat als ik toen de situatie beter had begrepen? Nu kan ik zo duidelijk zien dat er iets mis was.
Het is hartverscheurend dat je als tiener zo veel observeert zonder te weten wat het echt betekent.
Daarom navigeer ik in Marlena ook tussen het volwassen en tienerperspectief van Cat, tussen iemand die weet wat er gaat gebeuren en iemand die best veel observeert maar de essentie mist. Ik geef ook schrijfcursussen aan tieners en dan valt me op dat tieners erg raak kunnen schrijven over hun gemene moeder, maar dat ze volledig missen waarom hun moeder zich zo gedraagt."
Wat is hét verschil tussen de twee meisjes? Waarom draait het bij Cat goed uit en loopt het bij Marlena fataal af?
"Cat kan rekenen op haar moeder. Ook al is die niet perfect, ze weet dat ze er is indien nodig. Zij is haar safety net, ook al is Cat vaak gemeen tegen haar. Marlena is haar moeder kwijt en haar vader is compleet onbetrouwbaar. Maar dat is niet altijd de cruciale factor. Mijn vriendin kwam uit een heel fijn gezin, maar de verslaving nam het van haar over. Soms is het gewoon pech hebben en lukt het niet om grenzen te stellen.
Of Cat haar vriendin had kunnen redden, weet ik niet, ze was amper 15 jaar oud. Ze kan niet verantwoordelijk zijn.
Maar het is de drijvende vraag uit het boek, of ze iets had kunnen doen. Ook voor mezelf stel ik die vraag. Ik heb nooit 'stop' gezegd aan Lea of gevraagd of ze hulp nodig had, misschien wel op een lachende manier, maar nooit serieus.
Maar dan nog, een van mijn naaste familieleden is verslaafd aan alcohol. Aan haar hebben we dat allemaal wel gezegd, maar we hebben als familie moeten accepteren dat we eigenlijk maar heel weinig kunnen doen. Misschien hadden we bij haar vroeger moeten tussenkomen. Ik wil niet klinken als een public service announcement, maar te veel drinken als tiener is gevaarlijk."
(Op dit moment komt de barman onze bestelling opnemen en bestellen we elk een glas wijn) 
Hoe is jouw relatie met alcohol? 
"Ik drink af en toe maar mijn drinkgedrag is nooit ongecontroleerd. Ik heb een interne rem en mis het gen dat neigt naar verslaving. Ook al was ik een wilde tiener, toch is het allemaal goed gekomen.
Cat is voor mij een functionerende alcoholieker. Met haar wilde ik een ander beeld schetsen van hoe verslaving eruit ziet. Ik wilde dat ze nog een andere connectie had tot dat fatale jaar dan de dood van haar vriendin. Het is immers ook het jaar dat ze begon te drinken. Het is een theorie over verslaafden dat het jaar waarin ze beginnen te drinken, het jaar is waarin ze vastzitten.
Ik groeide zelf op in Michigan en begon te drinken om dezelfde redenen als Cat en Marlena. Het was een kleine stad, het was er saai en er gingen veel drugs en alcohol om.
Ik voelde alleen maar verveling, verveling en verveling. Ik had geen idee wat het leven voor mij in petto had.
Ik fantaseerde wel maar zag niet concreet in dat ik een fantastische toekomst zou kunnen hebben als ik bijvoorbeeld mijn best zou doen op school. Die uitzichtloosheid is gevaarlijk. Toegegeven, Michigan is een leuke plaats om op vakantie te gaan, maar er is veel economische ongelijkheid en de winters zijn er lang en donker. Voor een veertiger met een job en gezin is het er aangenaam wonen maar als je wil weten wat de wereld is en de dichtstbijzijnde shopping mall ligt op 1,5 uur rijden, dan is dat anders."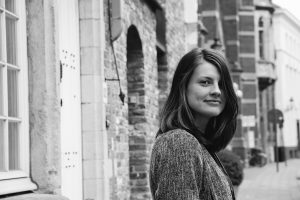 De persoonlijke link met het verhaal lijkt de impact van je boek nog groter te maken. Hoe voel je je daar bij? 
"Het boek is fictie en mijn vriendin was echt. Ik respecteer haar. Toen ik dat artikel schreef over mijn persoonlijke band, was ik naïef. Ik had nog nooit zoiets persoonlijks geschreven voor zo'n groot publiek. De BBC interviewde mij en ik kreeg honderden berichten. Ik had spijt van mijn bekentenis en voelde me ongemakkelijk. Dan ben ik gaan beseffen dat er zo veel reactie kwam omdat mensen hetzelfde hadden meegemaakt en ze iets aan mijn ervaring hadden. Lea's familie heeft goed gereageerd maar hoewel de roman niet waargebeurd is, blijft schrijven over iemand anders een ethische kwestie. Ik probeer hier zo respectvol mogelijk mee om te gaan.
Ik weiger dan ook om Lea's leven te benoemen als mijn inspiratie. Dat doet het zo positief klinken, terwijl het alleen maar pijnlijk is. Er is geen wereld waarin het ok is dat dit is gebeurd.
Ik moest dit boek schrijven. Maar meer dan mijn overleden vriendin, was de verslaving van mijn familielid dé reden. De laatste jaren – terwijl ik aan het schrijven was – zijn er zoveel zwarte momenten geweest. Deze zaten in mijn hoofd tijdens het schrijfproces. Het boek was een manier om het te verwerken. Marlena is urgent op verschillende vlakken. Ik heb zoveel vrouwen gezien die het slachtoffer zijn geworden van hun impulsen.
Dat familielid heeft mijn boek ook gelezen en ze steunt mij. Haar reactie was: "you really got it right". Ik wilde Cat zo authentek mogelijk laten klinken maar ik voel me tegelijkertijd zo schuldig dat ik het allemaal juist heb geobserveerd. Ik wilde dat het allemaal niet had gehoeven."
Wat zou jij jonge meisjes adviseren om niet in die val van alcohol en drugs te trappen?
"Wees je ervan bewust dat de keuzes die je maakt als tiener je toekomst zullen beïnvloeden. Wees lief voor jezelf zodat je de vrouw kan worden die je wil zijn op je dertigste. Leef niet enkel in het moment, ook al weet je nog niet wat er gaat gebeuren. Er staat je nog zoveel te wachten.
Toen ik boeken las als kind, had ik nooit gedacht dat ik ooit een schrijver zou zijn die hier in Brugge over haar boeken zou praten."
De lezer weet vanaf het begin dat Marlena zal sterven. Een gewaagde keuze? 
"Ik haat boeken die in de eerste persoon zijn geschreven op een heel intimistische toon maar waarin informatie wordt achtergehouden.
Ik wil dat de verteller alles wat hij weet gewoon op tafel legt.
Deze roman gaat niet over hoe Marlena aan haar einde is gekomen, maar wel over rouw en de onafwendbaarheid van haar dood. Tegelijkertijd wilde ik dat de lezer steeds zou blijven hopen dat het anders had kunnen lopen. Het is geen boek met een spannende plottwist, wel een boek dat wordt gedreven door Cats inzichten in zichzelf."
Je man is ook schrijver. Hoe loopt dat?
"Hij steunt me heel erg. We zijn elkaars eerste lezers. Het is dus nuttig om hem in huis te hebben. Dan stuur ik hem een paragraaf en geeft hij zijn mening. De laatste keer zei hij: 'je kan beter'. Ik was echt pissed maar hij had gelijk. Dit jaar verschijnt ook zijn debuut. Dat zal niet gemakkelijk zijn. Dezelfde juryleden van first novel prijzen gaan ons lezen. Wat zal er gebeuren als zijn boek niet en mijn boek wel door de New York Times wordt gerecenseerd? Maar so far so good. Zijn boek is meer experimenteel. Het zal andere lezers aantrekken."
PS: Ook dit weekend blijft Brugge de literaire hoofdstad van België met onder meer Aleksandr Skorobogatov, Bart Moeyaert en Alicja Gescinska.
PS 2: Lees ook onze interviews met Lara Taveirne, Bregje Hofstede en Catherine Lacey.